What kind of pest problem are you having?Select all that apply.
Pest Control In Autryville, North Carolina
While Autryville is known for its hardworking business owners and enjoyable community feel, these attributes don't necessarily keep the bugs away. Whether you're a homeowner or a business owner, you probably take pride in caring for your Autryville property on your own, which is why this is such a great place to live and work. However, if pest problems are one of the things you're trying to deal with on your own, you could end up making the problem worse.
Image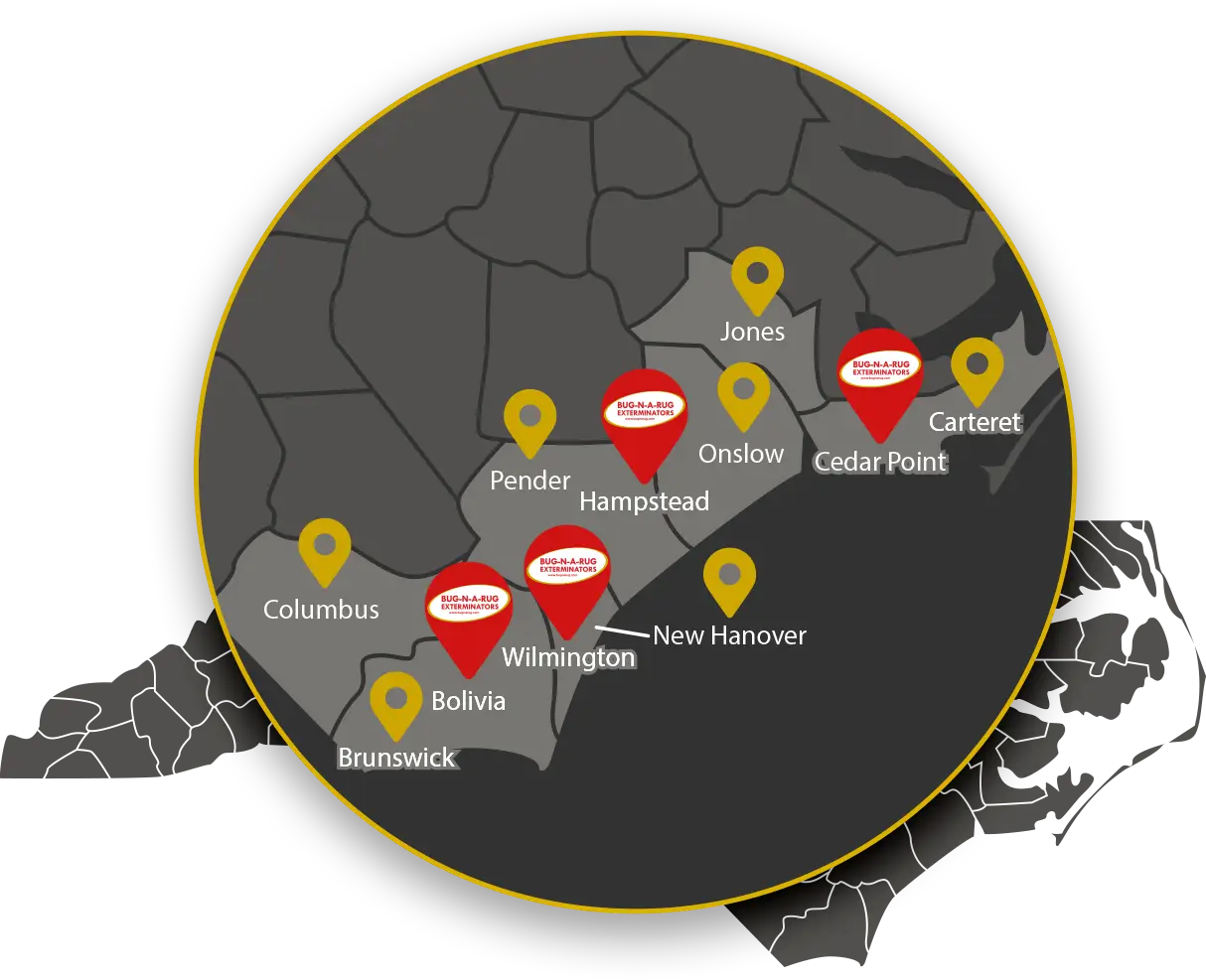 Home Pest Control In Autryville, NC
When pests invade your home, it can become incredibly dangerous to all of the occupants very quickly. If you try to ensure that your property and family are protected on your own, you might end up making matters worse. Instead of wasting your time and money on the inconsistent results of store-bought solutions, try getting the professional solutions you can count on.
In order to get guaranteed assurances against the destructive and dangerous pests that invade all sorts of Autryville homes and businesses, trust all of your pest problems to the experts at Bug-N-A-Rug Exterminators. Our commitment to customer satisfaction is based on the following promises:
Attentive customer service.

Completely free estimates.

Free professional termite inspections.

General and specific pest protection plans.

Comprehensive property care for homes and businesses.

Pest-repelling moisture control services.
There's no reason to deal with pests in your Autryville home or business all year long when the solution is just a phone call away. Call Bug-N-A-Rug Exterminators to get the pest control services that can protect what matters most to you.
Get a Free Pest Inspection Today!
When have get Bug-N-A-Rug Exterminators on your side in the battle against pests, you'll get the attentive customer care that your home and family deserve. Plus, we can provide all kinds of specific pest services, from termite inspections to roach control and more. We can even provide moisture control solutions that will repel all kinds of pest activity. Give us a call today for a free estimate.
Commercial Pest Control In Autryville, NC
When you're running a business in Autryville, your reputation in the community can make or break your business. If you want to protect your reputation, inventory, employees, and customers from the ever-present threat of pests in your business, then professional assurances are what you need.
With customizable pest plans, comprehensive coverage, and expert technicians providing monthly treatments, we can provide the pest-free guarantee you're looking for in your commercial facility. When the best commercial pest control is what you need, then give us a call for a free estimate for your commercial facility, no matter what kind of business you run.
Moisture Control In Autryville
While you might not usually relate moisture buildup to pest problems, you could be unaware of how much moisture buildup on your property can attract pests. In fact, moisture buildup can wreak havoc on your lawn and home in the following ways:
Attracting destructive pests like termites, rodents, and ants.

Creating conducive conditions for wood-rotting fungi.

Offering an ideal habitat to disease-spreading insects like roaches and ants.
Fortunately for you, Bug-N-A-Rug Exterminators has the expert moisture control solutions that can reduce all of these risks on your property. Our crawlspace remediation plan includes sub pumps, strategically placed dehumidifiers, vapor barriers, and eradication treatments for wood-eating fungi.
If you've invested a lot of money into your home without protecting the foundation from moisture damage, then you're putting your family, home, and wallet in a very risky position. Give us a call today for a free estimate on the professional moisture control solutions that can protect your equity.
Termite Control In Autryville
Termites are small, wood-eating pests that resemble white ants, but you'd probably never see them if you had a problem. Termites can work for years without being detected, racking up devastating amounts of property damage before homeowners realize they have a problem.
That's the value of a professional inspection. While there are signs of a termite infestation you might be able to notice (such as mud tubes, damage to exposed wood in the yard, or the shed wings of termite swarmers), these can still be difficult to see with an untrained eye. If you do notice these signs, there isn't anything you can do to get rid of termites on your own. Home remedies and store-bought sprays will only cure a small portion of the issue, leaving your home vulnerable to more expensive damage down the road.
For quality termite prevention and eradication methods you can count on, have our professional pest technicians come out for a free inspection. They'll check for any sort of termite activity or any sort of conditions that may be conducive to a termite infestation. We'll then put together a customizable game plan for immediate termite eradication and long-term prevention. Don't wait until you're stuck with huge repair bills. Call us today to schedule your free inspection.