What kind of pest problem are you having?Select all that apply.
Pest Control In Clinton, North Carolina
Clinton is a small city located in Sampson County and is a wonderful place to live and work. Keep your Clinton home or business wonderful by keeping pests out with complete pest protection from Bug-N-A-Rug Exterminators. We have been providing high-quality pest control services since 1996, which means you can depend on us to get the job done right. If you need modern, effective, affordable, and eco-friendly pest control solutions, Bug-N-A-Rug Exterminators is right for you. Get in touch with us today to ask about our commercial and residential pest control services. 
Image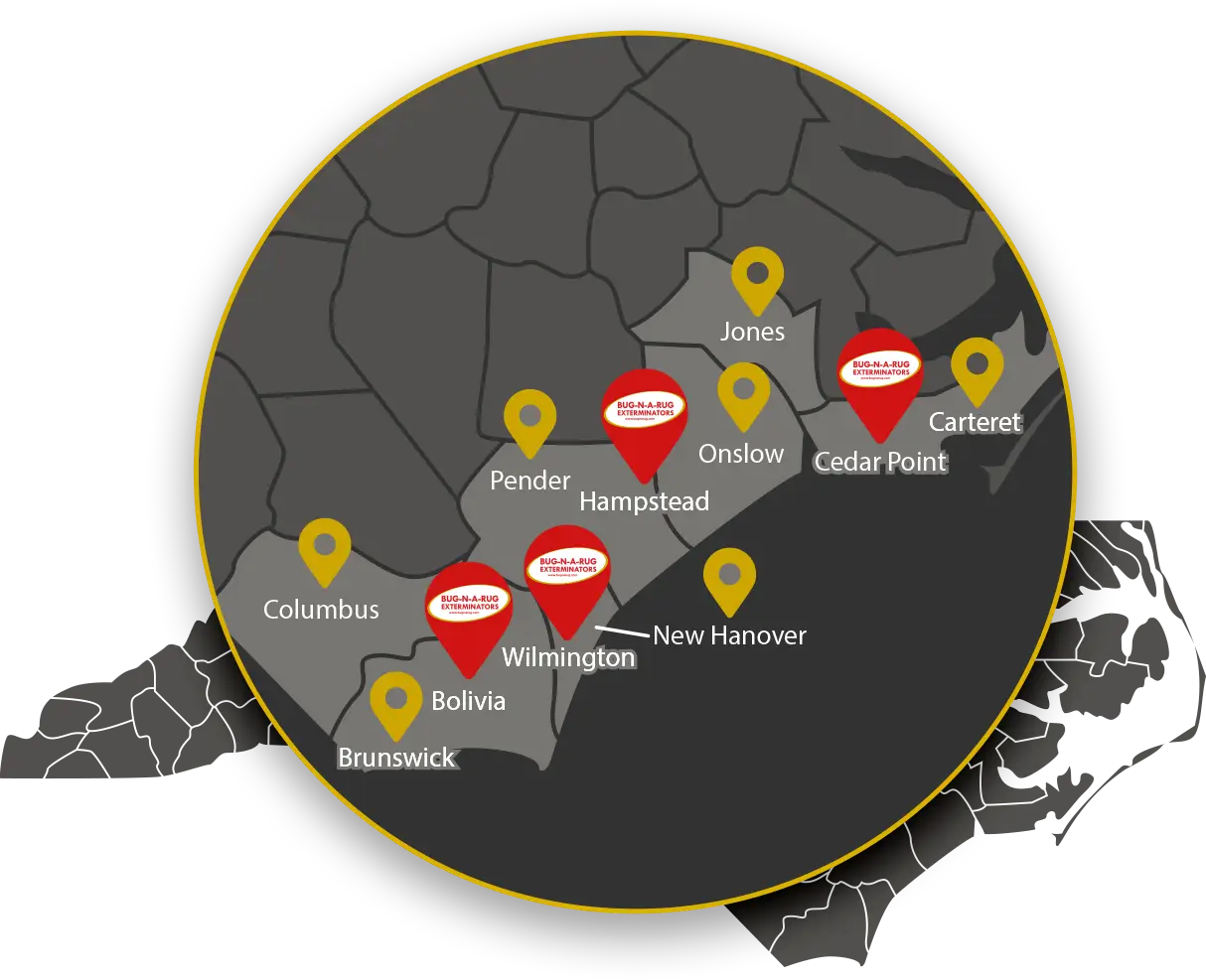 Home Pest Control In Clinton, NC
There are many reasons why you never want pests to find their way into your Clinton home. Pests have the potential to damage structural elements of your home, spread dangerous diseases and pathogens, destroy personal belongings, and contaminate food. Bug-N-A-Rug Exterminators offers several reliable home pest control solutions to ensure pests are eliminated and prevented throughout every season. Our home pest control process includes detailed inspections, exterior treatments, interior treatments, and much more. If you're ready to get rid of rodents, cockroaches, termites, and other pests, the professionals here at Bug-N-A-Rug Exterminators have you covered. Give us a call today to get started with your journey to a pest-free future. 
Commercial Pest Control In Clinton, NC
Customers noticing pests such as mice, roaches, or ants in your commercial facility, will negatively impact the success of your Clinton business. Bug-N-A-Rug Exterminators provides excellent commercial pest control services using Integrated Pest Management (IPM) methodologies. We ensure current pest problems are eliminated and won't return. We are experienced with providing effective, affordable pest treatments for a wide variety of industries, including restaurants, hospitals, and schools. Protect your Clinton business from pest threats with a little help from the pest experts here at Bug-N-A-Rug Exterminators.
Bed Bug Treatment In Clinton
Bed bugs are blood-feeding pests that can invade your home with help from you. These tiny hitchhiking pests gain access from public spaces to Clinton properties after crawling onto a person's clothes or belongings undetected. Although bed bugs don't spread diseases or cause structural damage to your property, they can still cause many problems when they invade. Bed bug infestations can lead to poor sleep, restless nights, stress, paranoia, and even anemia in prolonged or severe cases. Bed bugs can be difficult to prevent, which is why you should always keep an eye out for signs of an infestation. Here are a few signs that bed bugs have invaded your Clinton home: 
A common indicator that bed bugs have invaded your property is bloodstains on your bedding, sheets, and pillows. 
Another way to tell if bed bugs are in your home is rows of itchy red bites. Unlike other pests, bed bugs bite in a predictable pattern.
Large bed bug infestations can produce a strong musty odor in your home. Some describe this odor as smelling like coriander. 
Bed bugs leave behind reddish-brown spots of excrement, which are often found on your furniture, sheets, and blankets.
If you suspect that bed bugs have taken up residence in your Clinton home, contact the professionals here at Bug-N-A-Rug Exterminators right away. Our bed bug control services are designed to eliminate bed bugs in all stages of their life cycle. Contact us today for more information about our effective bed bug heat treatments. 
Termite Control In Clinton
Termites are small, white, soft-bodied insects. They have the ability to damage the structural integrity of the homes and businesses they infest. These invasive, wood-destroying pests cause extensive damage that is often incredibly costly to repair. What's worse is that this damage isn't covered under most homeowner insurance policies. Depending on the size of the colony, it can take anywhere between 5 and 11 years for termites to cause significant damage to your Clinton property. However, it's important to identify your termite infestation as soon as possible to receive the termite control treatments you need. A great way to avoid termite damage in the first place is to remove factors that may attract them. Avoid attracting termites to your Clinton home or business with the following termite prevention tips: 
Limit wood-to-soil contact by keeping at least 2 feet between the soil and wooden components of your property.
Seal gaps and cracks around your foundation, utility openings, doors, windows.
Cut weeds and other vegetation away from your foundation to allow the sun to dry up excess moisture. 
Repair leaking drains, pipes, faucets, and other faulty plumbing.
Eliminate moisture problems in your home.
Remove logs, dead trees, stumps, and woodpiles from your lawn.
Termites cost American property owners billions of dollars each year. No matter how many prevention tips you utilize, professional termite treatments and prevention services are your best bet. At Bug-N-A-Rug Exterminators, we offer several termite treatment options based on your unique needs and budget. No matter what control service you choose, you can trust that your Clinton property will remain free of termites year-round. Reach out to Bug-N-A-Rug Exterminators to ask about our termite treatment options.