What kind of pest problem are you having?Select all that apply.
Pest Control In Roseboro, NC
Roseboro is a historic town located in Sampson County, North Carolina, best known for the railroad that was built here in the late 1800s. Roseboro is a fun-loving and free-spirited community, but that fun can be brought to an abrupt halt by the presence of pests in your home or business. 
 
To protect your Roseboro home or business from pests such as rodents, insects, spiders, and more, the professionals here at Bug-N-A-Rug Exterminators have developed effective and long-lasting pest control services. Since 1996, we've been protecting people and properties from dangerous, destructive, and disease-spreading pests. No matter what type of pest problem you're facing, you can count on the pest experts here at Bug-N-A-Rug Exterminators to provide a comprehensive solution. Get in touch with us today for more information about our residential and commercial pest control programs.
Image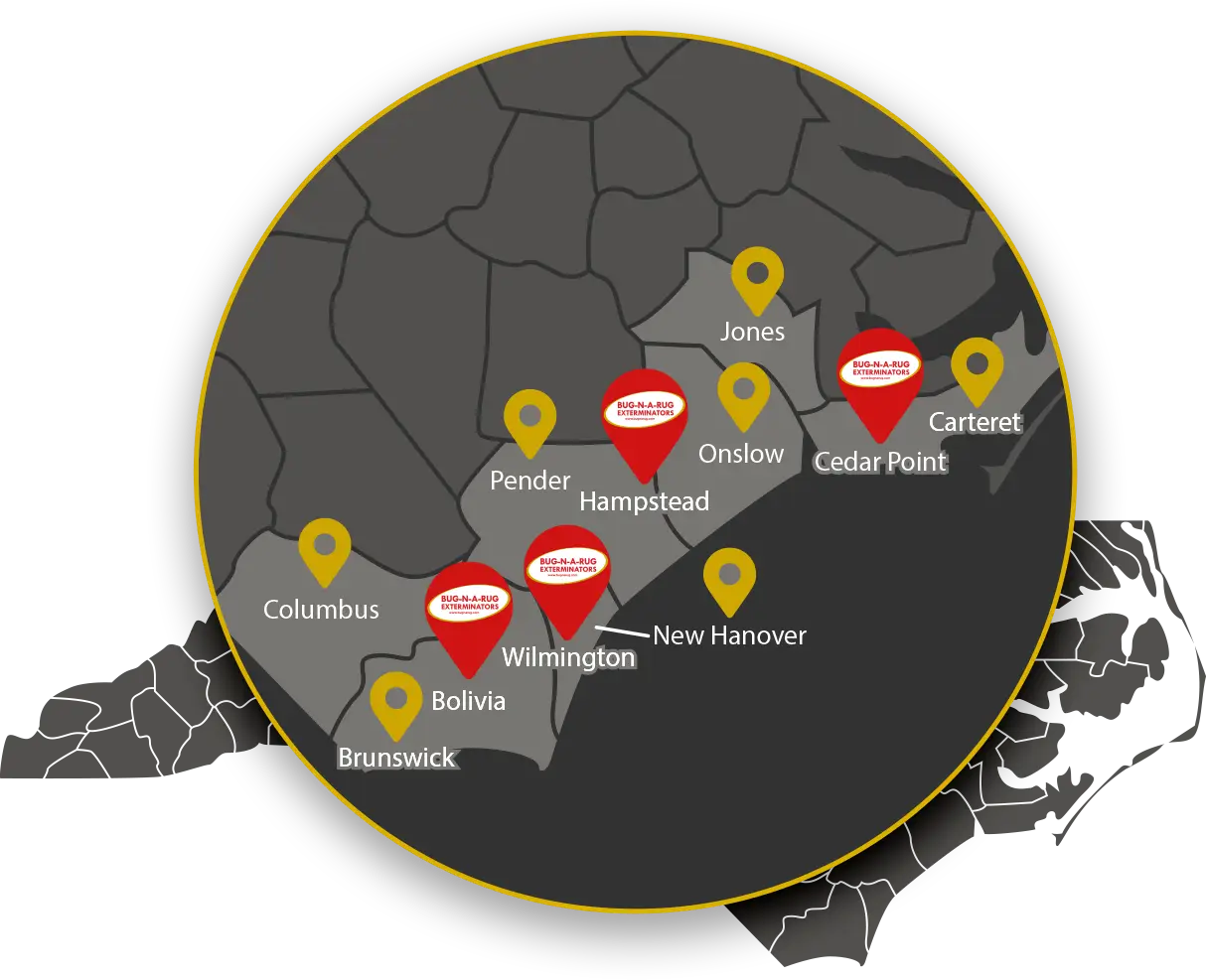 Residential Pest Control In Roseboro, NC
Your Roseboro home is supposed to be a sacred place where you can relax and unwind after a long day at work or after attending social events. Invading pests such as termites, ants, cockroaches, and rodents are certainly not welcome in your house, especially when they threaten your family's health and well-being. To stop pests before they have the opportunity to enter your home, you need professional pest control services from Bug-N-A-Rug Exterminators. Whether pests have gotten into your house due to seasonal changes, unfavorable conditions, or other events that are out of your control, Bug-N-A-Rug Exterminators have what it takes to get rid of them in no time at all. Contact our skilled pest technicians today to ask about all of our residential pest control options.
Commercial Pest Control In Roseboro, NC
Running a successful business requires a lot of time, effort, and dedication. Pest infestations put your Roseboro business at risk by driving away customers and harming your reputation. To put an end to commercial pest problems, you need comprehensive commercial pest control services from Bug-N-A-Rug Exterminators. We understand that every business is unique, which is why we tailor our pest control programs to fit the specific needs of your budget, industry, and schedule. No matter what type of business you own, the professionals from Bug-N-A-Rug Exterminators are ready to provide a reliable solution. Don't hesitate to contact us today to learn more about how we control and prevent commercial pest problems year-round. 
Mosquito Control In Roseboro
When you walk outdoors to enjoy your backyard and the warm summer air, the last thing you want to deal with is mosquitoes leaving itchy red welts scattered across your skin. Mosquitoes are the most common warm-weather pests found around Roseboro properties. These irritating pests become active when the temperatures rise above 50 degrees, which is why they are most common during the spring and summer months. If you want to avoid dealing with the many problems mosquitoes cause, it's important to take steps that will reduce your exposure to them. 
Minimize your mosquito exposure by implementing the mosquito prevention tips listed below: 
Wear insect repellent when you go outdoors. Mosquitoes are highly sensitive to smell. They locate their victims by detecting the carbon dioxide on your breath when you exhale and chemicals found in your sweat. Insect repellent helps mask the smells that attract mosquitoes and emits a strong scent that most mosquitoes don't like. 
Reduce excess moisture and eliminate sources of standing water. Mosquitoes depend on a source of standing water to lay their eggs. By removing potential breeding grounds, you greatly reduce the number of mosquitoes around your home or business. 
Trim your lawn short and cut hedges, shrubs, and other foliage away from your exterior walls. Thick vegetation traps moisture and provides shaded areas for mosquitoes to rest during the hottest parts of the day. By keeping your lawn maintained, you make your property less appealing to mosquitoes. 
There are many prevention methods you can implement to reduce mosquitoes around your Roseboro, but nothing is effective as professional mosquito reduction services from Bug-N-A-Rug Exterminators. Contact our licensed service technicians today to learn more about our mosquito control process. 
Termite Control In Roseboro
Termites are common property-invading pests that eat wood and cause significant damage to the structure of homes and businesses. When it comes to dealing with termites in or around your Roseboro property, it's important to learn how to identify signs of their presence. 
If termites live in your home or business, there are some signs they might leave behind, such as discarded wings. Winged reproductive termites shed their wings when they find a location to build their nests. If you notice discarded wings around the exterior of your property, it's a definite sign that termites are nearby.
You may also discover mud tubes. Termites create mud tubes to travel from their nests to a wooden food source. You'll often find these mud tubes on the exterior walls and foundations of buildings.
If you believe termites are in your Roseboro home or business, then it's time to contact the professionals here at Bug-N-A-Rug Exterminators. We have what it takes to combat all kinds of pests, including termites. Contact us today to get started!