Image

Same-Day Eco-Friendly Mosquito Treatments
Mosquito Control in Wilmington and the Surrounding Areas
Mosquito Control in Wilmington isn't something you should take lightly and it can be hard to tackle on your own. That's why Bug-N-A-Rug Exterminators is here to help, providing expert services that allow you to enjoy the outdoors without worry. We understand how important it is for you and your family to be able to relax in a pest-free environment, so call us today and let us keep you safe from mosquitoes! With our same-day service, there's no need to wait any longer to get the relief you need.
At Bug-N-A-Rug Exterminators, know that your safety and comfort are our top priority. That's why we only use the most effective pest control treatments available, ensuring that you can enjoy the outdoors without worrying about irritating mosquito bites. We'll get to work quickly, performing an extensive inspection of your property and using the latest pest control methods to eliminate any mosquitoes from your home.
Take back control of your yard today!
About Our Mosquito Services
Sticky bug sprays and smelly candles only go so far—if you want real relief from mosquitoes, you need professional mosquito control. We target mosquitoes at their source, disrupting their breeding cycle and actually lowering the number of mosquitoes flying around and mosquito larvae, not just repelling them. 
When you partner with us, our exterminators will:
Evaluate your property to identify problem areas and determine the severity of the mosquito infestation.
Use environmentally-sensitive practices that won't harm surrounding ecosystems.
Eliminate mosquito breeding areas and places with standing water, discouraging mosquitoes from laying eggs.
Apply insecticides that eliminate adult mosquitoes on contact, as well as larvae.
Return regularly to ensure you're protected from mosquitoes all season long.
SAVE $50 ON YOUR FIRST SERVICE
Protect Your Family from Mosquitoes
Mosquitoes aren't just a nuisance, they're also a danger. These insects can easily transmit a variety of harmful diseases to humans, including malaria, dengue, and West Nile virus. That may sound scary, but the experts at Bug-N-A-Rug are here to keep you and your family safe.
While our mosquito control is the most effective treatment, there are simple steps you can take to further protect your yard. Mosquitoes lay their eggs in water, so by removing sources of standing water, you're also removing mosquito breeding areas. Other things you can do include:
Keeping gutters free of debris that can clog them, causing water to pool.
Change the water in fountains and birdbaths at least once a week.
Trim overgrown grass, weeds, and vegetation.
Store wheelbarrows vertically to prevent rainwater from collecting.

Remove empty flower pots, plastic swimming pools, and other things that hold water.
We Offer One-Time Mosquito Treatments, Too!
If you're planning an outdoor party, wedding, or another event, we've got you covered! We offer one-time treatments to ensure your guests aren't bothered by pesky mosquitoes. We'll treat your space ahead of time, giving our products plenty of time to start working before any guests arrive.
Same-Day Scheduling For Mosquito Relief
Mosquitoes make it impossible to enjoy your time outside, which is why we're dedicated to giving you relief as soon as possible. With our same-day mosquito control, that's just a few hours! Our speedy service and no initial fees means there's no better option than Bug-N-A-Rug Exterminators.
Image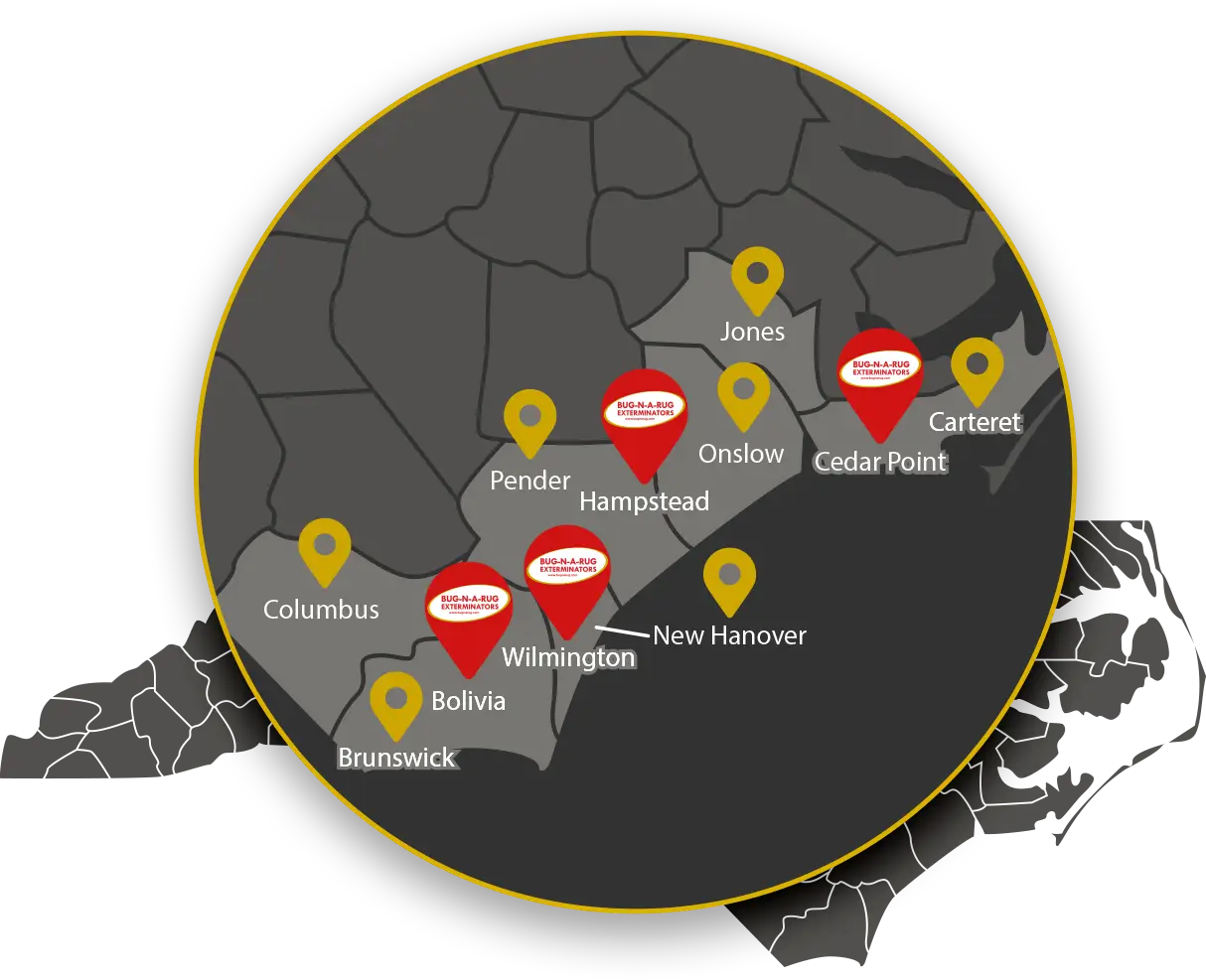 Local Pest Control Experts
Areas We Service in North and South Carolina
The Carolinas, while a wonderful place to live and raise a family, has no shortage of pest-related challenges. Fortunately, we're here to meet your every need, offering comprehensive and accessible service across the Coastal Carolinas. Whether you're looking for pest, termite, or mosquito control, we have you covered!