What kind of pest problem are you having?Select all that apply.
Pest Control In Sneads Ferry, NC
Located right on the water, but away from all the big beach cities of North Carolina, Sneads Ferry is a great place to live for people who love the outdoors but not the crowds that come with them. While you may be able to avoid the crowds that flock to places like Wilmington, you won't be able to avoid the pests that call our area home.
At Bug-N-A-Rug Exterminators, we are here to make sure that those pests don't cause issues for you in Sneads Ferry. We have more than 20 years of experience in local pest control and believe in providing high-quality service at a fair price. 
Aside from Sneads Ferry, we also offer our professional pest services in Trenton, Jacksonville, Topsail Beach, and throughout Onslow County.
Image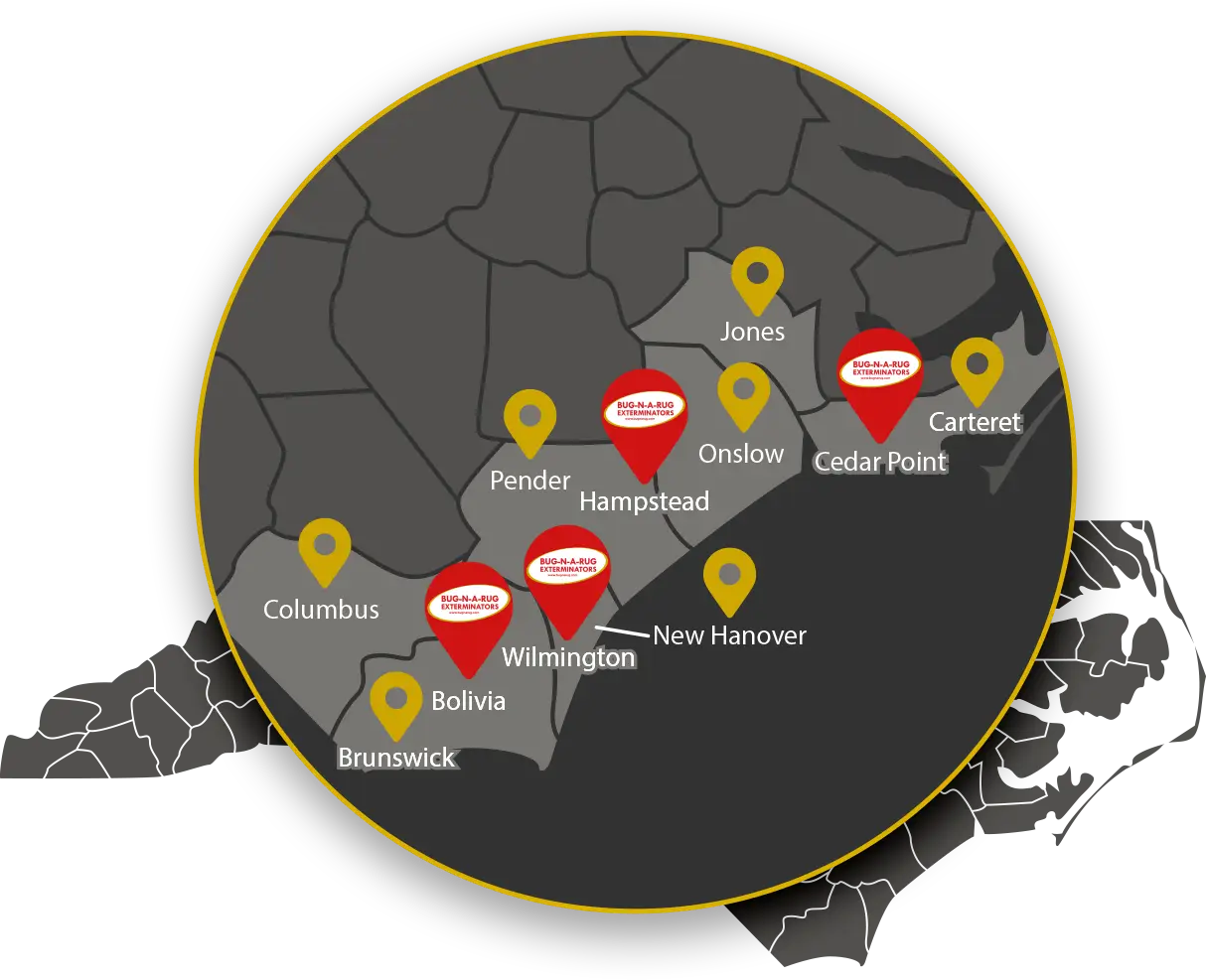 Home Pest Control In Sneads Ferry, NC
Do you love living in Sneads Ferry but hate the local pests? If so, we're here for you. We'll quickly get to work for you, inspecting your property and developing a custom treatment plan for both the interior and exterior of your home. These exterior treatments include:
Crawl spaces, vents, and weep holes
Flower beds, bushes, and landscaping
Eaves for spider web removal
Patios, decks, and porches
Driveway and walkway joints
Backyard fire ant mounds.
Some areas we will treat inside:
Around and under all appliances
Entry points
Trash areas and garbage receptacles
Garages
Around pipe fittings
Crack and crevice injection system treatments in all target areas
Pests can ruin your time at home and put you and your family's health at risk. Call us today to learn more about our residential pest control and we will keep pests and all the issues they bring out of your home year-round. 
Commercial Pest Control In Sneads Ferry, NC
If you run a business, you know just how important your reputation is. Especially in a small beach town, positive online and word-of-mouth reviews help draw visitors and residents alike to your business.  Whatever that business is, nothing can ruin its reputation faster than a pest problem. All it takes is one pest and one online review. When people come to Sneads Ferry, they'll pick a different restaurant or store if they read about pests in yours.
While the need for commercial pest control isn't unique, every business has unique pest control needs. That is why we customize every commercial pest control to fit the exact needs of your business and your budget. We start by thoroughly inspecting your building and property, identifying any active pest issues and conditions that may be conducive to future infestation. Based on these results, we build a plan to fit your business.
Customized pest control means you won't pay for services you don't need but get everything you want. We'll make sure your business is protected so pests don't ruin your reputation or waste your time and eat away at your profits. 
Termite Control In Sneads Ferry
Termites are a destructive pest for homes around the world, and Sneads Ferry is no different. These tiny pests can cause thousands of dollars in damage and if left untreated, can threaten the structural integrity of your home.
The key to keeping this from happening is to act quickly at the first sign of termites. Be alert for these four signs that you may have a termite problem:
1. The presence of mud tubes on the exterior of your home.
2. The appearance of frass, a fine, sawdust like substance around your home. It is usually found near holes in wood.
3. Paint that is uneven or bubbling.
4. Discarded wings from swarmers, which are termites that leave the nest to expand the termite colony to new areas of your home.
If you see any of these signs, call us immediately for termite control. Taking quick action can prevent a termite infestation from spreading, which will protect other areas of your home and save you from having to make costly repairs. 
Bed Bug Control In Sneads Ferry
Bed bugs are a growing nuisance in residential neighborhoods across the United States. You may think because your home is clean, you are safe from the issues they can cause, but this may not be the case. 
Bed bugs can sneak into your home in a variety of ways. Here are some tips to keep bed bugs from making their way into your home and ruining your sleep:
When you travel, keep luggage and clothes off the floor of your hotel.
Consider wrapping your luggage in trash bag for hotel stays.
When you return from a trip, immediately wash your clothes in hot water and vacuum the outside of your suitcases.
Vacuum high traffic areas of your home and business.
Monitor your pet's bedding for signs of bed bugs.
Wash new clothes in hot water or steam treat them immediately after purchase.
If buying new furniture or a mattress, especially secondhand, carefully inspect it for bed bugs before you bring it inside.
If bed bugs have made their way into your home, seek professional assistance. Our trained pest control experts can quickly eliminate a bed bug infestation with state-of-the-art treatment that is proven effective. The sooner you call, the sooner we can control these nuisance pests with our bed bug control services and keep them from spreading. 
Mosquito Control in Sneads Ferry
Don't let mosquitoes ruin your time outdoors. Take advantage of our Mosquito and Tick Service in Sneads Ferry and reclaim your outdoor spaces today. Call us now to schedule your free inspection! Our services include the following:
Free Inspection: Our expert exterminators will evaluate your property to identify problem areas and assess the severity of the mosquito infestation in Sneads Ferry.
Fogging: We use specialized fogging techniques to eliminate adult mosquitoes on contact, providing you with immediate relief from these pesky insects.
Family-Friendly Treatment: Our environmentally-sensitive practices ensure that our mosquito control in Sneads Ferry won't harm the surrounding ecosystems, making it safe for your family and pets.
Larvicides in Targeted Areas: We strategically apply larvicides to eliminate mosquito larvae in specific areas, disrupting their breeding cycle and reducing the number of mosquitoes flying around your property.