What kind of pest problem are you having?Select all that apply.
Pest Control In Briarcliffe Acres, SC
Briarcliffe Acres is a beautiful coastal town located between Myrtle Beach and North Myrtle Beach. To prevent pests from taking over your home or business, the professionals at Bug-N-A-Rug Exterminators provide excellent pest control solutions. We understand how frustrating it is when pests invade your property and threaten your peace of mind, which is why our pest control services are designed to prevent pests problems at their source. Since 1996, we have been proud to provide superior protection against pests by utilizing both general and specialized pest control methods. Don't wait for pests to cause problems in your Briarcliffe Acres home or business. Instead, get in touch with Bug-N-A-Rug Exterminators for outstanding pest control services you can depend on.
Image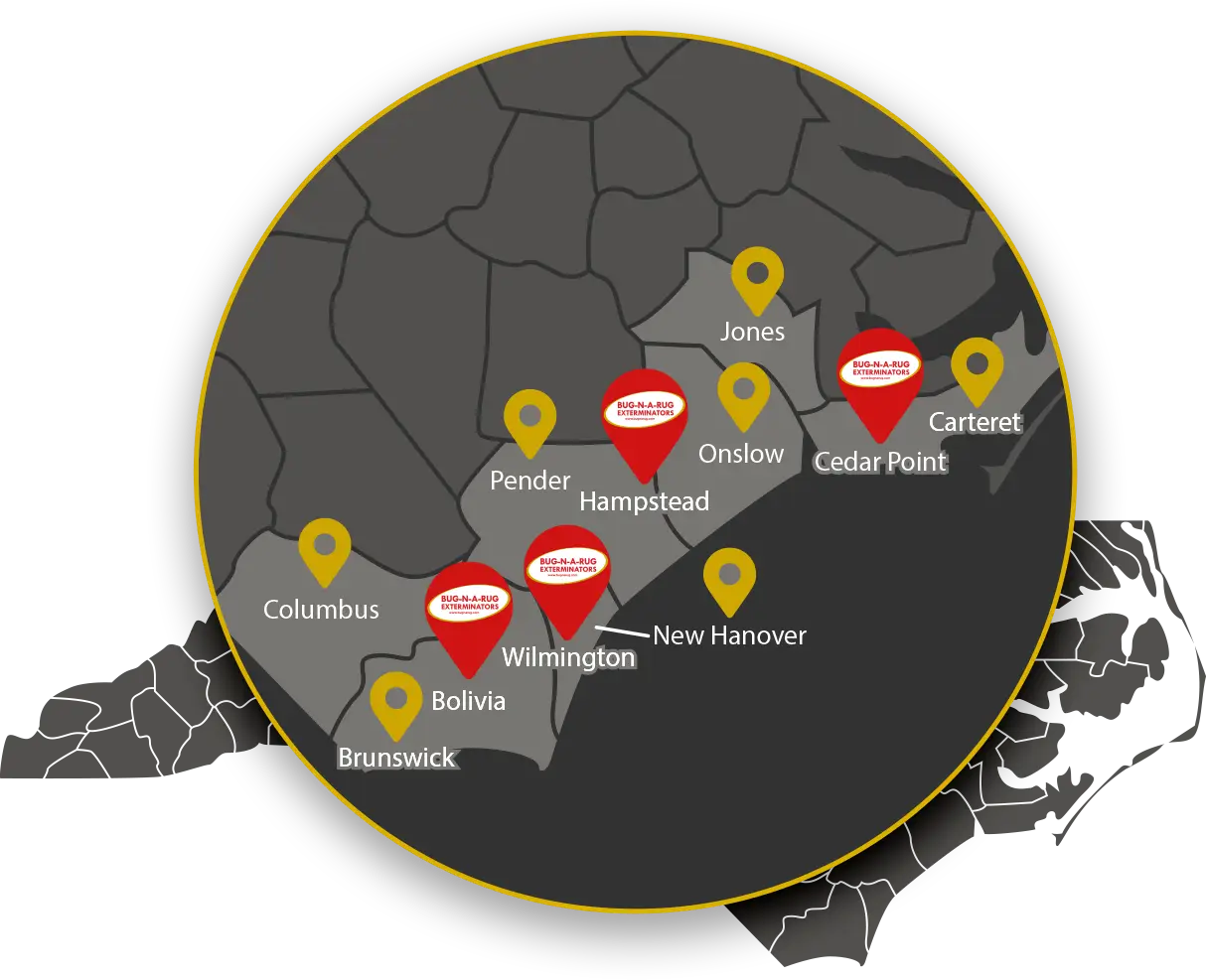 Residential Pest Control In Briarcliffe Acres, SC
Pests cause many problems for homeowners in Briarcliffe Acres, including contaminating food items and counter surfaces, spreading harmful diseases, and causing property damage. At Bug-N-A-Rug Exterminators, we believe in providing excellent home pest control solutions to keep your home and family safe from the area's toughest pests. Our goal is to find an effective solution to target and eliminate your pest problems at their source. We offer a variety of maintenance plans, including monthly, bi-monthly, and quarterly treatment options. If you're tired of dealing with pests in and around your Briarcliffe Acres home, the professionals at Bug-N-A-Rug Exterminators can help. Reach out to us today to learn more about all of the residential pest control treatments we have to offer.
Commercial Pest Control In Briarcliffe Acres, SC
Invading pests threaten the success and reputation of your Briarcliffe Acres business. Not only can pests damage important equipment and threaten the health of your customers, but they can also drive away your loyal customers and prevent them from returning in the future. To protect your business from the many pests that live in our area, you need ongoing commercial pest control services from Bug-N-A-Rug Exterminators. Our commercial pest management plans are designed to eliminate current pest infestations and prevent new pests from invading in the future. And, because we understand that your business has unique pest control needs, we customize our services to suit your budget, schedule, and pest situation. Say goodbye to nuisance and dangerous pests when you turn to the professionals here at Bug-N-A-Rug Exterminators for all of your pest control needs.
Problems Bed Bugs Cause In Briarcliffe Acres, SC
Bed bugs are fascinating insects that can be found throughout the majority of the United States. They have reddish-brown bodies and feed on the blood of humans and animals, though they strongly prefer human blood. Unlike other pests, bed bugs never crawl around the exterior of your property looking for a way to invade. These small pests aren't found out in nature at all. Due to their dependence on humans, bed bugs make themselves comfortable in houses, libraries, schools, businesses, and other public spaces. Bed bugs cannot jump or fly. Instead, they are hitchhiking pests that climb onto the bags, clothing, and belongings of unsuspecting individuals to travel from one location to another.
 
Unfortunately, bed bugs cause many problems when they get into Briarcliffe Acres homes and businesses. Some of the most common problems bed bug infestations cause include restlessness, paranoia, stress, frustration, and a lack of sleep. Although bed bugs are not known to transmit any dangerous diseases, they can still affect your health in other ways. Long periods without sleep can take a toll on your immune system, making you more vulnerable to sickness. Extreme or prolonged cases of bed bug infestations can even lead to anemia, a condition in which there are not enough healthy red blood cells being produced to carry oxygen throughout the body's tissue.
 
If you believe bed bugs have gotten into your Briarcliffe Acres property, don't hesitate to contact Bug-N-A-Rug Exterminators today. We utilize a proven heat treatment called thermal remediation to eliminate bed bugs in all stages of life. Give us a call today to get started.
Termite Control In Briarcliffe Acres
Termites are one of the most destructive pests in the world. These small, social insects live in large colonies and are capable of causing extensive damage to the structure of your property in as little as six months. Each year, termites cause more damage to homes and businesses than floods, storms, earthquakes, and fires combined. To prevent termites from getting into your Briarcliffe Acres property, implement the following termite prevention tips:
Avoid using wood-based mulch around the perimeter of your property.

Remove stumps, woodpiles, logs, fallen trees, and other wooden materials from your lawn.

Minimize sources of moisture around your property by replacing broken A/C units, repairing leaky pipes, and clearing debris from your gutters.

Trim thick foliage away from your exterior walls and roofline.

Seal all gaps and cracks in your foundation and exterior walls.
At Bug-N-A-Rug Exterminators, we have what it takes to identify, eliminate, and prevent termite infestations year-round. Contact us today for more information about our termite control process.
Mosquito Control in Briarcliffe Acres
Experience mosquito control in Briarcliffe Acres like never before. Our professional service targets mosquitoes at their source, disrupting their breeding cycle and lowering their numbers. With our fogging and family-friendly treatments, you'll be protected all season long.
Here's what we offer:
Free inspection: We evaluate your property and determine the severity of the mosquito infestation.
Fogging: Our environmentally-sensitive fogging practices eliminate adult mosquitoes on contact, ensuring immediate relief.
Family Friendly Treatment: Our treatments are safe for your family and won't harm surrounding ecosystems.
Larvicides in targeted areas: We eliminate mosquito breeding areas and discourage them from laying eggs.