What kind of pest problem are you having?Select all that apply.
Pest Control In Oak Island, NC
As the locals know, Oak Island is a wonderful place to live, boasting beach access, fishing at the pier, and a variety of biodiversity along the Intracoastal Waterway. But, as it turns out, pests love life here too, often ending up in our homes! If you need pest control, Bug-N-A-Rug Exterminators has you covered with fast service, safe techniques, and straightforward rates.
When you partner with us for pest control services, you can expect:
A pest inspection

by one of our highly trained Oak Island exterminators.

A pest treatment

tailored to your specific infestation and needs.

Exterior treatments

that prevent pests from entering your home.

Targeted interior treatments

to effectively get rid of pests.

Family-safe products and techniques

so you rest easy.

One-time treatments

with no commitment.

Recurring pest services

for total peace of mind.

Free re-treatments

if pests return.
Same-Day Pest Control
If pests are active in your home, don't wait to get rid of them! Give us a call for same-day pest control. If you call before noon, one of our experienced exterminators will be at your door within hours.
Image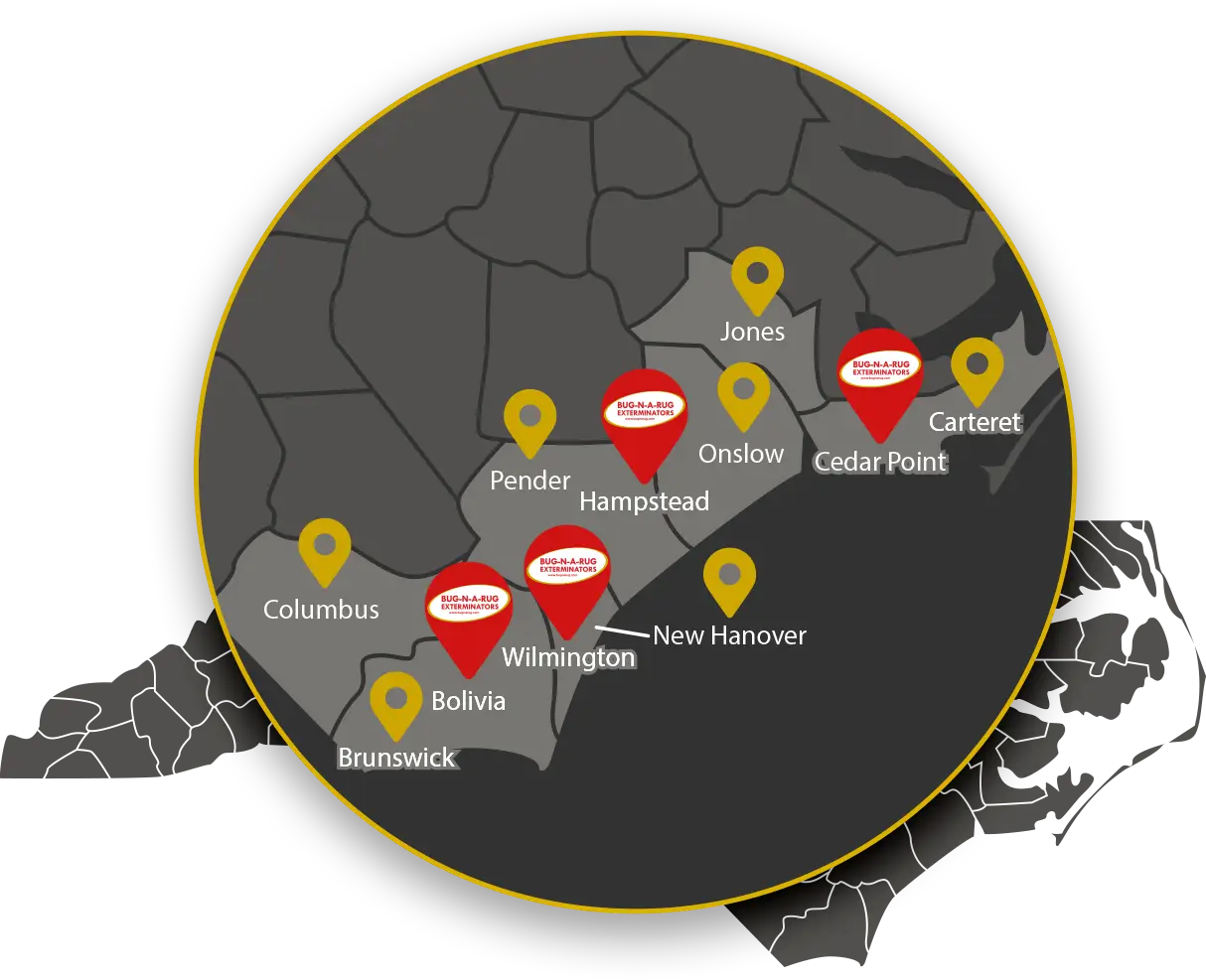 Bed Bug Treatment in Oak Island
These pesky insects hide anywhere from mattresses to electrical sockets during the day, then come out at night to feed on the blood of sleeping humans. Thankfully, bed bugs don't spread diseases, but the idea of them in your home is no less disturbing. Our bed bug treatment gets rid of bed bugs safely and effectively so you can rest right.
Here's how our bed bug control in Oak Island works:
We'll perform a

thorough bed bug inspection

to identify where they're hiding.

We will build a

bed bug removal plan

that fits your unique situation.

We'll use

family-friendly removal methods,

such as heat treatment, to get bugs out.

We will return to

re-treat for free

if bed bugs return!
We know how unsettling bed bugs in your home can be, which is why our services are designed to work quickly, giving you back the place of rest you need.
Termite Treatment in Oak Island
The generally mild climate of the coast means termites can stay active here all year long. They're stealthy workers, hollowing out wooden timbers in homes without breaking the surface, which makes it very difficult to know if you have an infestation until a large amount of damage has accumulated.
As part of our termite control in Oak Island, we offer:
A professional termite inspection.

A tailored termite treatment plan for your home.

Highly effective termite baiting.

Long-term termite monitoring.

Our termite-free guarantee!
Our guarantee ensures that when you pay for termite removal, you get nothing less than termite removal! Why else would you call for professional help? We're dedicated to protecting your home, and will return to re-treat for free if termites persist.
Ant Control in Oak Island
Ants are one of the most common, and most annoying, pests that Oak Island residents deal with. Once they make their way onto your property or into your home, they can be almost impossible to get rid of. 
If you are dealing with an ant infestation, get professional help. At Bug-N-A-Rug Exterminators, our technicians have experience dealing with ant infestations. We can identify the species of ant that is threatening your home and develop a plan to quickly and thoroughly eliminate them. 
Mosquito Control In Oak Island
Mosquitoes can quickly turn even the most beautiful days into a nightmare. When they come buzzing around your outdoor event, the party quickly moves inside. Not only are bites from mosquitoes painful, but they can also be dangerous. These pests can transmit a variety of diseases like malaria and the West Nile virus.
For professional help keeping mosquitoes under control, call us today. Our eco-friendly mosquito control methods will eliminate mosquitoes on your property. We offer one-time mosquito control treatments to make sure mosquitoes don't ruin your next outdoor event or monthly treatments for long-term mosquito control. Whatever you need, we'll make sure you can enjoy your time outside without the threat of mosquitoes. 
Commercial Pest Control In Oak Island, NC
As a business owner, you have enough going on without worrying about any additional headaches. Yet it seems like there is always some issue that pops up daily that demands your time and attention. One of those issues that can be quickly dealt with is pests.
At Bug-N-A-Rug Exterminators, our goal is to eliminate pests in your commercial building and the headaches they cause. We will develop a custom commercial pest control plan that treats for a wide variety of pests, including:
Bed bugs
Ants
Mosquitoes
Cockroaches
Rodents
Spiders
Termites
Beetles
Silverfish
Earwigs
Stored product pests
Wasps
Hornets
Wildlife
Many more!
Running your business is hard enough without dealing with the unexpected headaches that pests can cause. Let us get to work keeping your business pest-free, so you can worry about all the other issues that are sure to pop up. 
Count On Transparent Pricing
We believe you should have an accurate picture of how much services will cost from the get-go—no hidden or initial fees. So that's how we operate. When you choose to work with us, you can count on straightforward and fair pricing from start to finish!