What kind of pest problem are you having?Select all that apply.
Pest Control In Cape Fear, North Carolina
Sick and tired of dealing with pests that can spread diseases, inflict damage, and cause problems in your home or business? The professionals here at Bug-N-A-Rug Exterminators can help. We are committed to helping you maintain a pest-free Cape Fear property. Our residential and commercial pest control services are designed to eliminate pest problems at the source. Through the use of high-quality products and advanced control methods, our professionals have what it takes to provide effective pest control solutions. Bug-N-A-Rug Exterminators has been providing specialized pest treatments since 1996. We have the experience and pest-knowledge needed to get the job done. Protect your Cape Fear property from pests by partnering with Bug-N-A-Rug Exterminators today. 
Image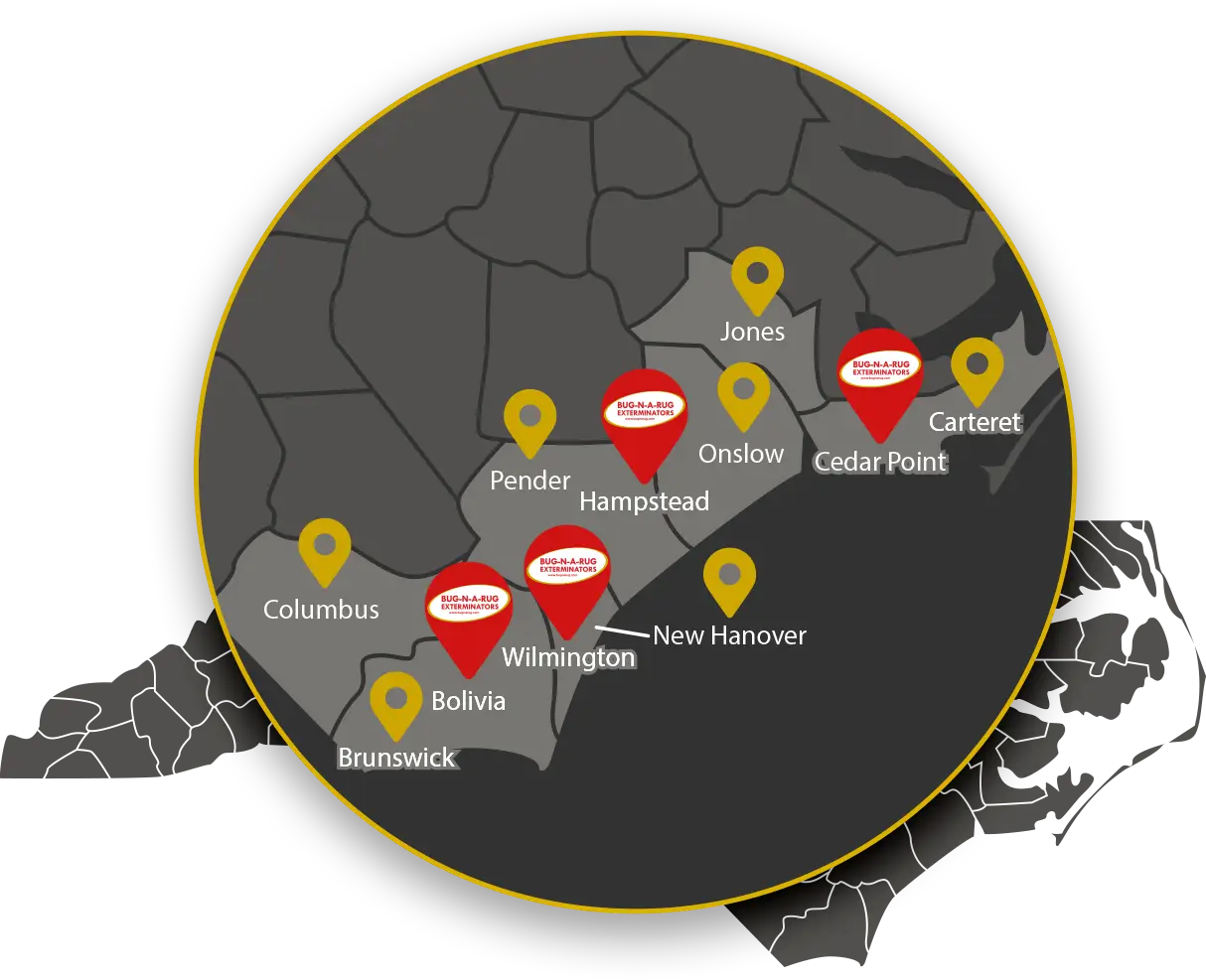 Home Pest Control In Cape Fear, NC
At Bug-N-A-Rug Exterminators, we understand the importance of protecting your home and family from the many pest threats in our area. Cape Fear is home to a wide range of pests, including bed bugs, ants, cockroaches, rodents, and termites. No matter what type of pest you are dealing with, depend on the reliable pest technicians here at Bug-N-A-Rug Exterminators to provide exceptional home pest control services every time. Our plans are affordable, effective, and designed to meet your specific pest control needs. In addition to our normal home pest control plans, we also offer environmentally-friendly pest control services. This eco-friendly option has a low impact on the environment and still eliminates common Cape Fear pests. No matter if you're looking for pest control in Wilmington or Cape Fear, if you're ready to say goodbye to pests, contact Bug-N-A-Rug Exterminators today to schedule your no-obligation inspection
Commercial Pest Control In Cape Fear, NC
In a perfect world, pests would never have the opportunity to infest your Cape Fear business. However, the reality is that pests will always find a way to invade your commercial property. Once there, they can damage your inventory, lower the productivity of your employees, and scare away your customers. It only takes one pest sighting in your business to spark a wave of negativity and distrust. Protect your property and your reputation with a complete commercial pest control plan from Bug-N-A-Rug Exterminators. We customize each commercial pest control program to suit unique needs and budgets. Whether you own a restaurant, school, or healthcare facility, Bug-N-A-Rug Exterminators has you covered. With our highly-trained technicians by your side, your Cape Fear business will remain free of pests year-round. Give us a call today to learn more about our effective commercial pest control services. 
Ant Control In Cape Fear
Ants are small insects that are typically black or red in color. They are social and live and work together to feed, grow, and protect their colonies. Although ants are tiny, they can still become a huge issue if they manage to invade your Cape Fear home. Ants send out scout ants to locate easily accessible food sources. Unfortunately, it only takes a single scout ant to lead an entire colony right into your property. To keep ants out of your Cape Fear home, consider a few of these ant prevention tips:
Keep garbage cans sealed and stored away from your exterior walls.

Clean counters and sweep floors on a regular basis to pick up crumbs and sticky spots.

Store food items in airtight plastic containers or in the refrigerator.

Avoid leaving food out on countertops.

Seal gaps and cracks around foundation, doors, and windows.

Install weather stripping around doors that lead outside.

Minimize sources of excess moisture. 
If ants are bothering you this season, the pest experts here at Bug-N-A-Rug Exterminators have what it takes to stop them. Avoid the stress and frustration that ants cause by reaching out to us today for outstanding ant control and prevention services.
Bed Bug Control In Cape Fear
It's easy to believe that no one wants to deal with bed bugs. These tiny, flat, oval pests have a widespread reputation for getting into homes and businesses and causing problems. Bed bugs feed on the blood of animals and humans but prefer human blood. They get into homes by hitching rides on bags and other belongings. Once they invade your Cape Fear home or business, they're nearly impossible to get rid of. To avoid bringing bed bugs into your home, keep a few of these bed bug prevention tips in mind: 
Never bring secondhand or used furniture and mattresses into your home or business. 

Avoid laying down your personal bags and belongings on the ground in public spaces such as airports and libraries.

Check your hotel room for signs of bed bug activity and ask to be moved to another room if any signs are present.

Store your clothing in plastic bags while traveling.
The best way to eliminate bed bugs is with treatment from Bug-N-A-Rug Exterminators. We have the experience needed to get rid of all kinds of pests, including bed bugs. Partner with us today to ask about all of our pest control options and solutions.