What kind of pest problem are you having?Select all that apply.
Pest Control In Carteret County, NC
A coastal county in beautiful North Carolina, Carteret County is one of the oldest parts of our nation. Home of Beaufort and Morehead City, this part of North Carolina is known for its maritime economy and historic homes. But places, where warm, coastal weather prevails, are often areas where pests can thrive. That's why local property owners need to learn how to prevent pests from invading, rather than waiting for an infestation to already be a problem before starting with proper protection.
Image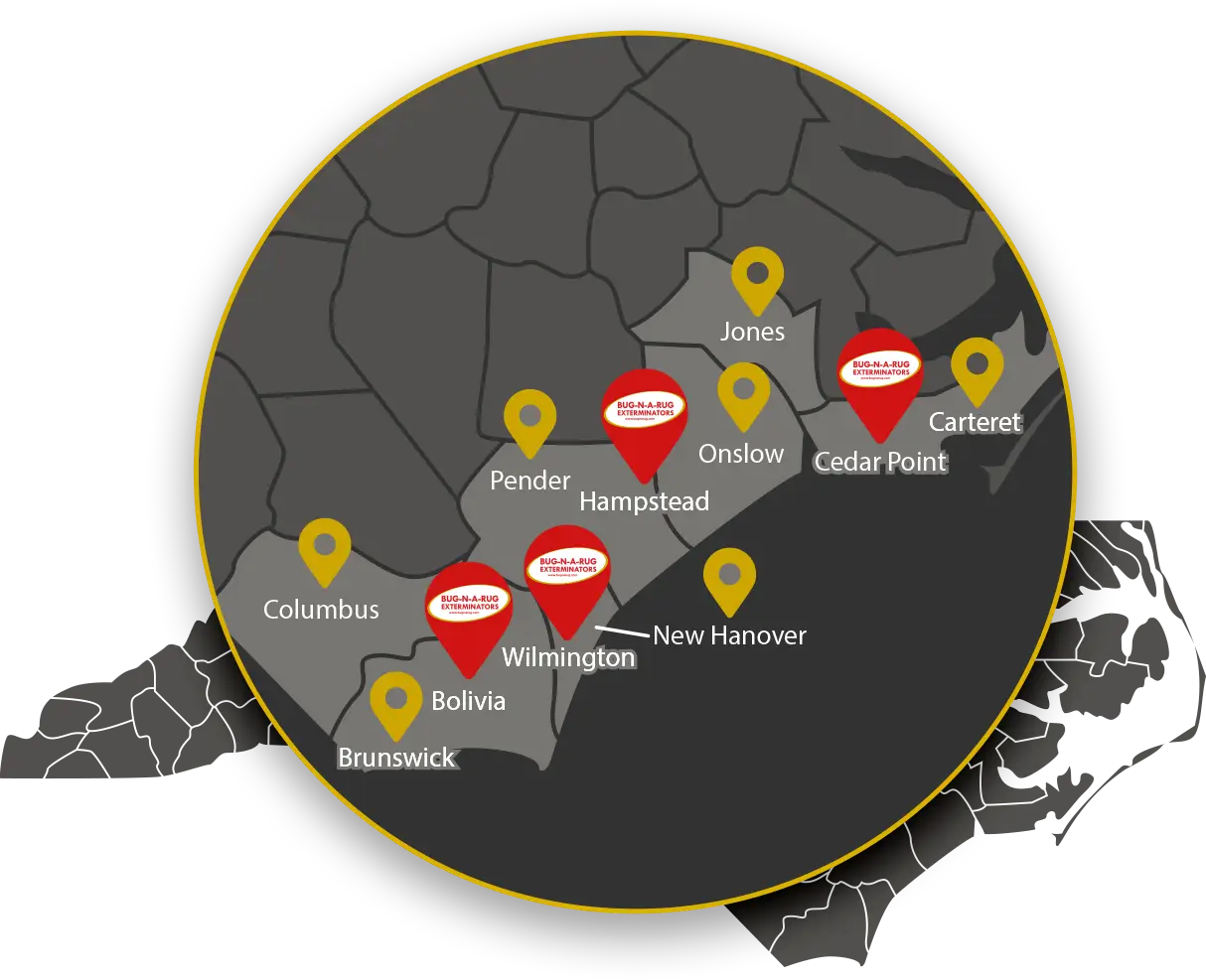 Home Pest Control In Carteret County, NC
Overall pest protection requires attention to a lot of factors, which is why at-home methods often fail. The sad truth of the matter is that average homeowners simply aren't equipped with the knowledge and treatments to properly eliminate and prevent pest populations. This is why the best course of action is to turn to the experts. At Bug-N-A-Rug Exterminators, we know all the places pests might gather or be attracted to around your property. That's why we incorporate it all into our residential treatment process:
Exterior Treatments: The first place to focus on is your home's exterior, where the vast majority of pest problems form before invading other parts of your property. Our thorough treatments drive away populations and defend against future infestations.
Interior Treatments: Then, we move to your interior, where pests may already have invaded or where other factors can draw them in. Our interior treatments are designed to be effective and non-intrusive.
Environmentally Friendly: Because we treat areas that are literally near and dear to you, we make sure to use safe and environmentally friendly treatments that will harm only the pests, not you or your loved ones.
Let us get started on overall pest protection for your Carteret County home. Contact Bug-N-Rug Exterminators today.
Commercial Pest Control In Carteret County, NC
As much as homes can attract pests, businesses can be at even greater risk. From the food sources, water, and shelter found in every property, commercial ones tend to have an extra activity that calls out to pests. This is why local businesses need to learn how to partner with pest professionals to keep their properties safe. At Bug-N-Rug Exterminators, we specialize in helping all kinds of local businesses deal with pest problems. Whether they're already there or you simply want to be proactive and protect against future infestations, we can help these kinds of businesses:
Restaurants: When people think of businesses that are at-risk for pests, they tend to think of bars and restaurants where eating and drinking are the primary activity.
Schools: But even non-food-service properties can still have lots of food stored inside. Schools, for instance, are veritable treasure troves of packed lunches and school-served platters.
Healthcare: Even healthcare buildings tend to have a cafeteria, and food isn't the only attractant of pests. For pests like bed bugs, healthcare settings provide lots of linens to infest.
Many other kinds of businesses can find themselves with pest problems, which is why we serve all types of Carteret County properties. No matter what business you own, contact Bug-N-Rug Exterminators today to get started.
Mosquito Control In Carteret County
When you picture dangerous animals, you probably don't think of tiny little insects that are commonplace. But some of the most dangerous creatures on the planet are mosquitoes. They may not look as scary as a bear, but they have caused way more human deaths throughout history than whatever big, scary creature you probably fear the most. That's because of the diseases that mosquitoes spread. It's this added threat that makes mosquitoes some of the most important pests to keep out of your property. Unfortunately, in the moist, humid South, mosquitoes are absolutely everywhere. That's why local property owners have to learn how to reduce their risk of a mosquito infestation. Here are some tips:
Landscaping: Lawns with overgrown grasses, shrubs, or trees are more attractive to flying insects because there are lots of easy landing pads for them to rest until a person wanders by to bite.
Water Features: Mosquitoes are also attracted to moisture, so yards with water features or puddles in them are instantly more appealing.
Treatments: The most effective way to ward off the broadest range of invasive insects, including mosquitoes, is to get professional treatments applied to your yard.
Contact Bug-N-Rug Exterminators today to get started on quality treatments to protect your property from mosquitoes.
Termite Control In Carteret County
In terms of threats to your property, termites are some of the most dangerous pests around. While they don't bother humans directly -- in fact, they are rarely seen -- termite activity can lead to widespread damage that threatens the structural integrity of your property. This is why termite prevention is so important, not just addressing problems after they're already there. When it comes to proper termite protection, you can't do better than professional treatments from Bug-N-Rug Exterminators. Rather than relying on DIY methods or self-inspections that might miss the subtle signs of termite activity, go straight to the experts who will give you the best chances of avoiding damage. It's important not to assume that you don't have a termite problem just because you haven't noticed one. Instead, be sure that you're safe by contacting Bug-N-Rug Exterminators today.
Cities We Service In Carteret County: