What kind of pest problem are you having?Select all that apply.
Pest Control In Atlantic Beach, North Carolina
Living right by the water definitely has it's perks, but the beach means moisture and moisture means pest activity. When you live in Atlantic Beach, it's important to protect your property from pest infestation. You need protection from a professional pest control team, and that is exactly what we're here for.  
 
Here at Bug-N-A-Rug Exterminators, our mission is to provide effective "Green Pest Control" solutions to homes and businesses throughout coastal southeastern North Carolina. Our family-owned and operated company has been providing environmentally friendly pest control services since 1996. We value the continued education of our expert staff and the frequent improvements of our treatment technologies. Call us today to schedule your free home evaluation. Our custom pricing options allow us to create a service plan that is just right for you.
Image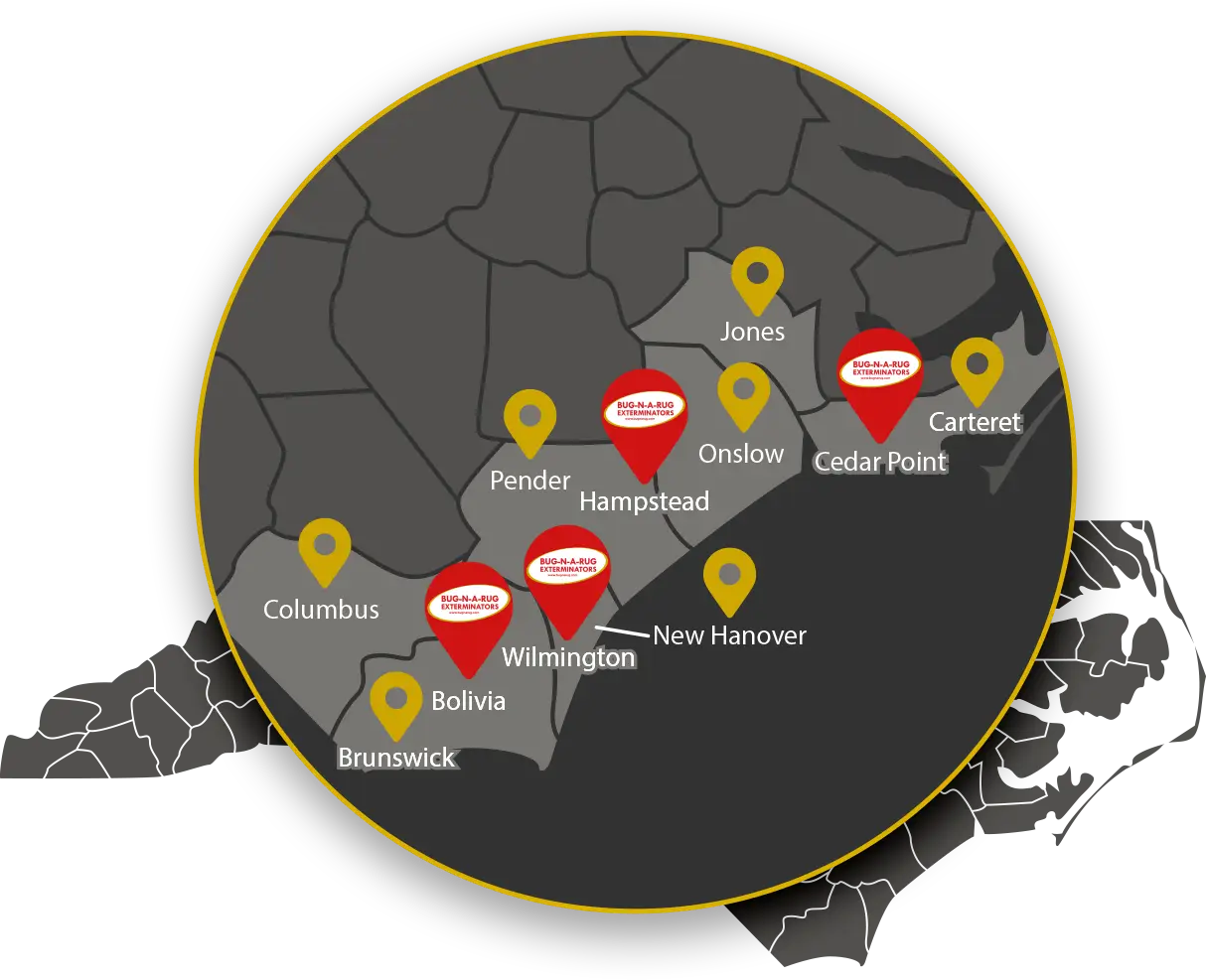 Residential Pest Control In Atlantic Beach, NC
Your beautiful Atlantic Beach home is brimming with pest attractants, which is why you need to be prepared for the possibility of infestation. The team at Bug-N-A-Rug offers complete residential pest control services that provide year-round coverage from common North Carolina pests. We cover both the interior and exterior of your home, leaving no stone unturned and no pest left behind. Some of our residential treatments include:
Interior Treatments
Appliances (stove, dishwasher, fridge, washer, dryer)
Attic and crawlspace
Cracks and crevices
Electrical outlets and wall voids
Entry points (doors, windows, fireplace, etc.)
Garage and shed
Kitchen, bathrooms, utility areas
Pipe fittings under sink
Trash receptacles and garbage areas
Exterior Treatments
Crawl space, vents, weep holes
Driveways and walkways
Eaves
Foundation perimeter
Patios, decks, porches
Yard & all flower beds, bushes, landscaping
No matter what your residential pest control needs may be, we can help. We provide comprehensive real estate inspections as well as pre-build treatments for new construction. Our services are available monthly, bi-monthly, or quarterly to suit your needs. From gel methods and customized bait stations to comprehensive cockroach extermination, we've got you covered. Give us a call today to learn more.
Commercial Pest Control In Atlantic Beach, NC
There is so much to think about when it comes to running a business, believe us, we know! There's a lot going on; it can be hard to juggle it all. With pest activity in the mix, it can be too much, so we're here to alleviate some of the pressure. We offer commercial pest control services that effectively protect businesses from the dangers of pest infestation. Our team of licensed pest technicians provides year-round coverage from a long list of pests, including:
Ants
Bed bugs
Earwigs
Hornets
Mosquitoes
Old House Borer Beetles
Powder Post Beetles
Roaches
Rodents
Silverfish
Spiders
Stored Product Pests
Termites
Wasps
Wildlife
Whether you currently have a pest situation on your hands, or you just want to be proactive with preventative treatment, you've come to the right place. We are experienced in the effective inspection, identification, and removal of commercial pest activity, and our custom pricing options allow us to personalize a plan to specifically meet your needs. From schools and restaurants to healthcare facilities and warehouses, we do it all. If you're not sure whether we service your industry, just give us a call and we'll answer any questions you may have.
Moisture Control In Atlantic Beach
Water seems harmless, but when excess moisture starts building up in your home, you're in harm's way. Damp, humid environments lead to the growth of mold and mildew, meaning everyone in the house is breathing in spores. This can restrict your airways and lead to a variety of other adverse health conditions, such as:
Allergic bronchopulmonary infection
Allergic fungal sinusitis
Hypersensitivity pneumonitis
Infection of the skin or mucous membranes
Irritation of the eyes, nose, and throat
Mold-induced asthma attacks
Mycotoxin toxicity
Respiratory problems & bronchitis
Sinus and nasal congestion
As if these weren't enough, excess moisture can also lead to extensive property damage, learn more about our moisture control services! This threatens the structural integrity of your home and puts you and your loved ones in danger. Call the team at Bug-N-A-Rug today to discuss the benefits of professional moisture control services. You'll be glad you did.
Termite Control In Atlantic Beach
Termites can cause large-scale property damage, putting the safety and health of you and your loved ones at risk. In order to effectively detect termite activity, you need to recognize the signs. Here are some common indications of termite infestation:
"White ants" in the soil (worker termites)
Ceilings and walls that buckle
Damp, damaged, or weakened wood
Gallery tunnels through drywall
Hollow-sounding wood when tapped upon
Mud tubes reaching from the ground to openings along your foundation
Painted walls that bubble and peel
Signs of water damage
Swarmer termites flying around looking for new places to nest
Visible cracks and crevices along the foundation
Termite swarmer wings discarded on the floor near doors and windows
Wood structures with maze-like designs (when a wall is ripped out)
Termite damage isn't something you want to treat casually. It can be enormously destructive, and it's crucial that you secure year-round coverage from termite activity. We offer comprehensive termite control services that protect your property from these wood-eaters, keeping them away for good. Call us today.
Bed Bug Control in Atlantic Beach, NC
Are bed bugs keeping you up at night? Don't lose sleep over it! Our expert team at Bug-N-A-Rug Exterminators is here to help you get rid of bed bugs for good. We offer fast and reliable bed bug control service in Atlantic Beach, NC, so you can enjoy a peaceful night's sleep again.
Here's what sets our service apart:
Same-day bed bug inspection: We understand the urgency of dealing with a bed bug infestation. That's why we offer same-day inspections to quickly assess the situation and provide you with a solution.
Family-friendly bed bug treatments: Your family's safety is our top priority. Our experienced team uses advanced treatment methods that are safe and effective, ensuring that your home is free from bed bugs without any harm to your loved ones.
High-intensity heat treatment: Say goodbye to bed bugs with our high-intensity heat treatment. This method raises the temperature of your home to 140 degrees Fahrenheit, effectively eliminating bed bugs, nymphs, and eggs. It's the most effective and minimally invasive way to get rid of bed bugs.
Mosquito Control in Atlantic Beach, NC
Tired of sticky bug sprays and smelly candles? Say goodbye to those temporary fixes and experience the real relief of professional mosquito control in Atlantic Beach, NC. Our experts target mosquitoes at their source, disrupting their breeding cycle and lowering their numbers. With our service, you'll enjoy a mosquito-free environment all season long.
Why choose our mosquito control in Atlantic Beach? Here's what we offer:
Free inspection: We'll evaluate your property to identify problem areas and determine the severity of the mosquito infestation.
Fogging: Our fogging technique eliminates adult mosquitoes on contact, providing immediate relief.
Family-friendly treatment: Our practices are environmentally- sensitive and won't harm surrounding ecosystems, ensuring the safety of your loved ones.
Larvicides in targeted areas: We eliminate mosquito breeding areas and places with standing water, discouraging mosquitoes from laying eggs.