What kind of pest problem are you having?Select all that apply.
Effective Pest Control In Surf City, NC
You might not see any obvious holes in your home, but that doesn't stop insects from finding their way inside. They only need tiny gaps, like a hole in a window screen or an opening around a pipe or electrical cords. Once they're inside, pests quickly start making your home into their own. For hassle-free relief, trust Bug-N-A-Rug Exterminators. Our pest control in Surf City is effective, personalized, and fast!
Our team of experienced pest exterminators will help protect your home from:
Roaches

Spiders

Ants

Earwigs

Flies

Beetles

Bees

And more!
Image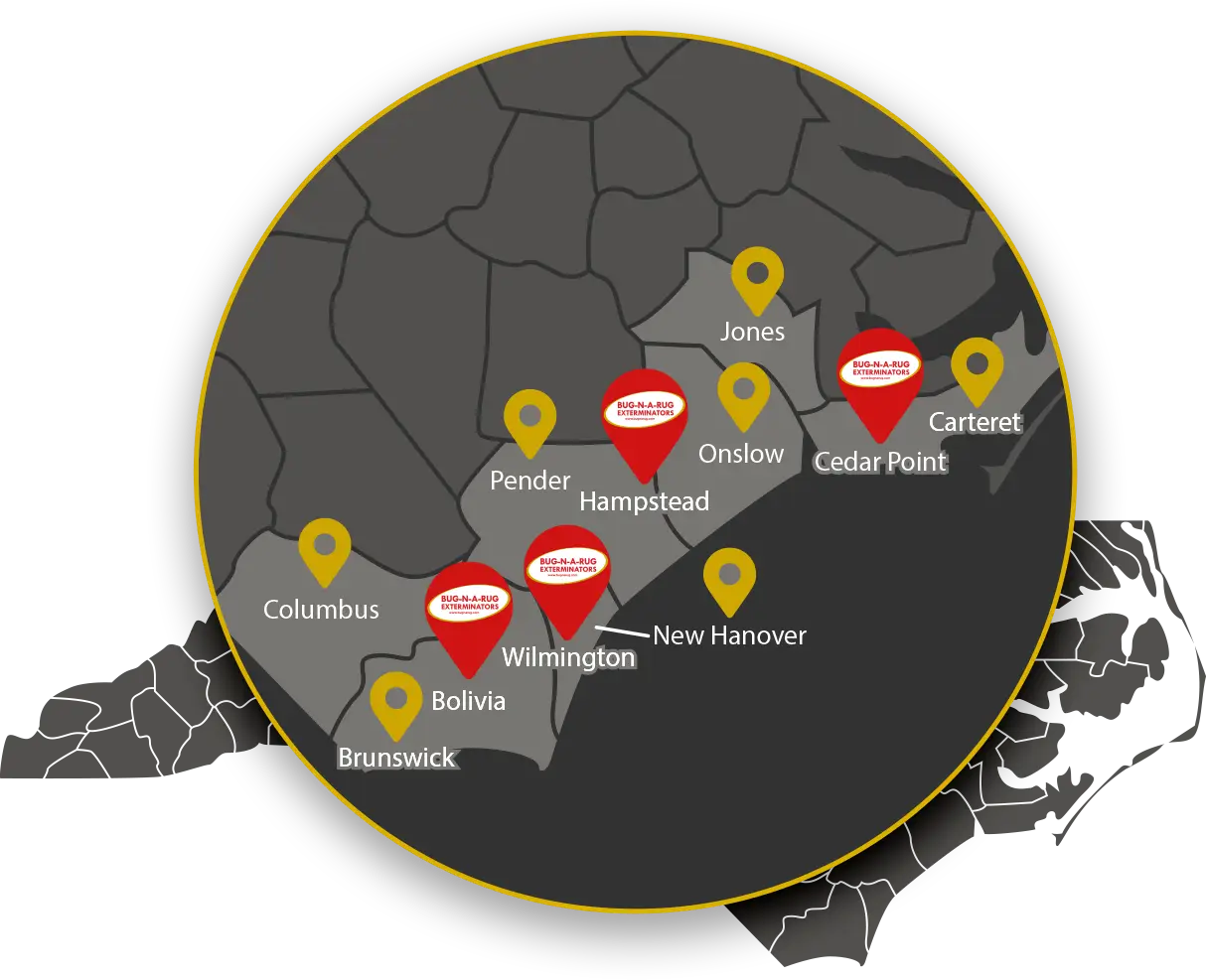 Home Pest Control In Surf City, NC
If you've ever tried to get rid of pests on your own, you know how difficult it is. Using store-bought traps and sprays gives you some relief, but they don't target pests at their source. That's why roaches and ants keep coming back, despite your best efforts. For long-lasting relief, trust our pest control in Surf City. We take the time to listen to your concerns, understand your unique situation, and make a treatment plan that fits your needs.
When you partner with us for pest control, we will:
Carefully inspect your home for signs of pest activity.
Find where pests are hiding and how they're getting inside.
Customize our treatment plan based on your home's needs.
Create a protective barrier with exterior treatments.
Eliminate pests inside with targeted treatments.
See Results the Same Day
At Bug-N-A-rug Exterminators, we understand how frustrating it is to share your home with pests. We work as quickly as possible to give you the relief you deserve. That includes offering same-day pest control in Surf City! All you have to do is give us a call and a friendly exterminator will be at your door in no time.
Ant Control In Surf City
Ants are tiny, this we know, but do you know what we may be doing to attract them? There are a number of things that attract ants. So it's important to pay attention to your contribution to ant infestation and the many methods of prevention that may help:
Practice proper sanitation and maintain a high level of cleanliness.

Promptly wipe up spills and crumbs.

Keep food stored in tightly sealed containers.

Wipe down counters, sticky jars, and residue.

Regularly take out the garbage and store it outside in a lidded bin.

Put away pet food and store it in sealed plastic containers.

Get rid of standing water and sources of excess moisture.

Fix leaky pipes, faulty facets, and malfunctioning drains.

Install dehumidifiers in damper areas of the house.

Maintain functional downspouts and gutters.

Block off entry points and seal cracks and crevices.

Trim branches, trees, and bushes away from the structure.
The most reliable way to protect your property from ant activity is to seek professional help. The team at Bug-N-A-Rug Exterminators is experienced in the extensive inspection, identification, and elimination of North Carolina ants. We know the necessary measures to keep them off your property, moving forward. Give us a call today and we will come up with the right plan of action to effectively tackle your ant situation.
Bed Bug Treatment In Surf City
Sleep is important, but quality sleep is impossible to get when you have bed bugs. They make you feel uncomfortable, leave behind irritating bites, and are incredibly difficult to get rid of. That's where we come in! Our bed bug control in Surf City will give you relief with just one treatment. With our heat treatments, you don't even have to rearrange your furniture or deep clean it.
Here's how our bed bug removal works:
We'll complete a bed bug inspection to determine the extent of the infestation.
Specialized machines raise the temperature of your home to 140 degrees Fahrenheit.
The hot air circulates and eliminates even the most well-hidden bed bugs.
Once your home cools, it's completely safe for you to go inside.
Termite Control in Surf City
Termites are an expensive pest, costing homeowners over $5 billion in damages every year. While that's an intimidating statistic, it's easy to protect your home with our termite treatment in Surf City. Instead of giving you a one-size-fits-all solution, we get to know your property with a thorough termite inspection. We'll look for mud tubes, damaged wood, and other signs of damage that can be easy to miss. 
Our termite removal includes:
Custom treatment tailored to our inspection findings.
Liquid treatments to eliminate termites.
Trelona bait stations to protect against future infestations.
Our termite-free guarantee.
Mosquito Control in Surf City
We understand the importance of a mosquito-free environment for your family. Our free inspection, fogging techniques, family-friendly treatment, and targeted larvicides ensure a comprehensive approach to mosquito control. Experience the power of knowledge and take control of your outdoor space today! Our mosquito treatments include the following:
Free Inspection: Our professional exterminators will assess your property to identify problem areas and the severity of the mosquito infestation, giving you a tailored solution.
Fogging: We use environmentally-sensitive practices that won't harm surrounding ecosystems, effectively eliminating adult mosquitoes on contact.
Family-Friendly Treatment: Our methods are safe for your loved ones and pets, providing effective mosquito control without compromising their well-being.
Larvicides in Targeted Areas: By targeting mosquito breeding areas and places with standing water, we disrupt their breeding cycle and lower the number of mosquitoes flying around and mosquito larvae.
Surrounded by water and with a warm climate, Surf City, NC is a haven for mosquitoes. Don't let these pesky insects ruin your outdoor enjoyment.
Commercial Pest Control In Surf City, NC
If you want to protect your Surf City business from the potential destruction of pest infestation, you've come to the right place. Bug-N-A-Rug Exterminators offers comprehensive commercial pest control services that provide complete protection against a long list of North Carolina pests. Some of the pests we cover are:
Ants

Bed bugs

Earwigs

Hornets

Mosquitoes

Old house borer beetles

Powder post beetles

Roaches

Rodents

Silverfish

Spiders

Stored product pests

Termites

Wasps

Wildlife
In order to effectively protect your employees, your customers, and your reputation, you need professional services. Call us today to discuss your commercial pest control needs and we will set up an inspection as soon as possible.