What kind of pest problem are you having?Select all that apply.
Effective Pest Control In Surf City, NC
Located on Topsail Island, our community of Surf City, NC, is a lovely beach town that attracts many visitors. Our climate is relatively humid all year long, and that means some of these visitors are nuisance pests. Pest infestation is, unfortunately, a reality in Surf City. That's why it's crucial to secure the help of a professional pest control company.
Bug-N-A-Rug Exterminators is a family-owned and operated company that offers customized residential and commercial pest solutions to Pender and Onslow counties. We have been serving the greater Wilmington metro area since 1996, and we pride ourselves on our "Green Pest Control options" that prioritize environmentally friendly solutions that are safe for you, your loved ones, and the surrounding ecosystem. Contact us today to schedule your free home evaluation. We look forward to solving your pest problems, whatever they may be.
Image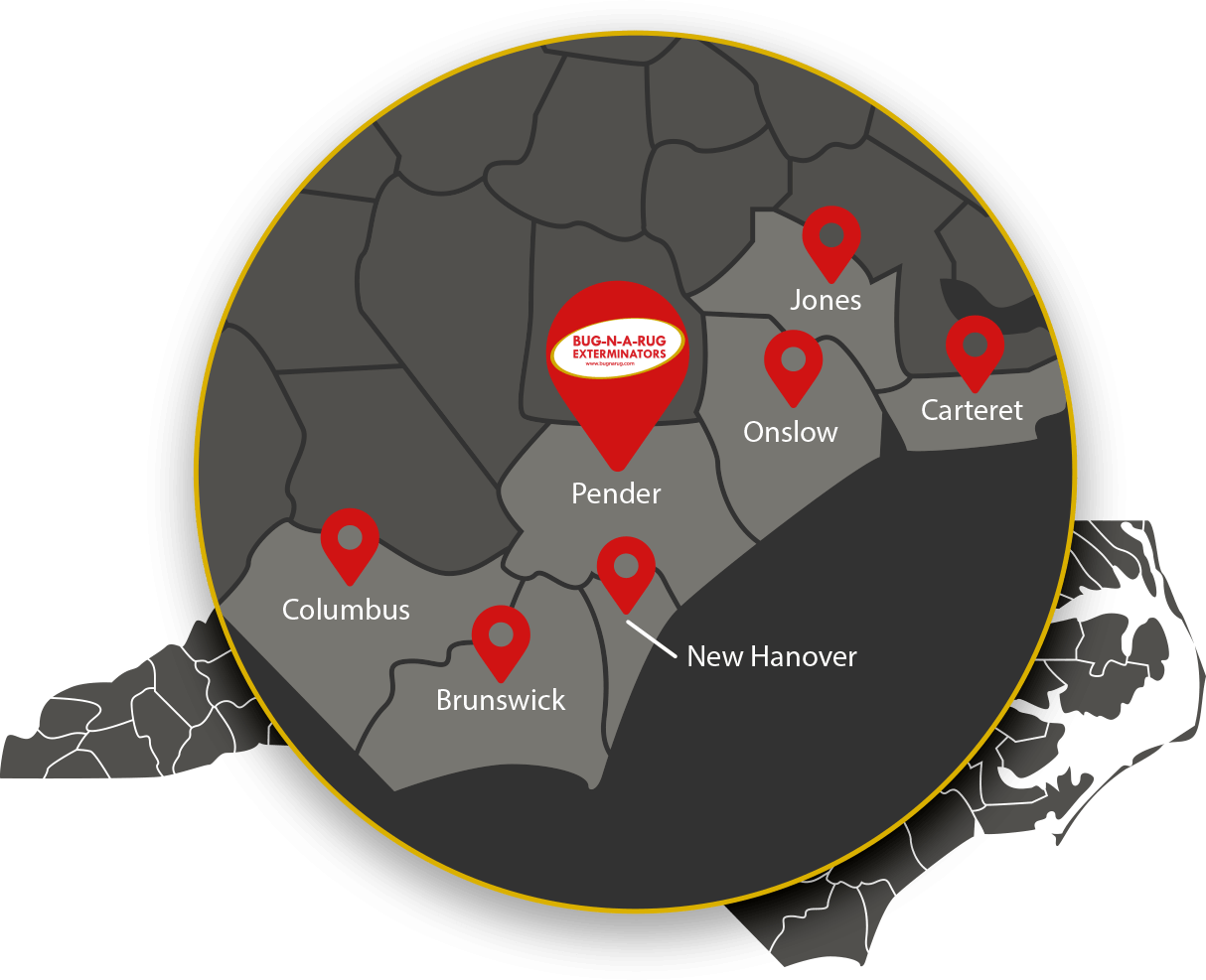 Home Pest Control In Surf City, NC
Your beautiful Surf City home is probably full of pest-attractants. There is so much food, water, and shelter, why wouldn't pests want to infest your property? For the best protection from common household pests, you need professional pest control. Bug-N-A-Rug Exterminators offers complete residential pest control services that guarantee year-round protection from the dangers of pest infestation. We cover your property from the inside out.
Exterior:
Crawl space, vents, and weep holes

Driveways and walkways

Eaves

Foundation perimeter

Patios, decks, and porches

Yard, flower beds, bushes, and landscaping
Interior:
Appliances (stove, dishwasher, fridge, washer, dryer, etc.)

Attic and crawlspace

Cracks and crevices

Electrical outlets and wall voids

Entry points (doors, windows, fireplace, etc.)

Garage and shed

Kitchen, bathrooms, and utility areas

Pipe fittings under the sink

Trash receptacles and garbage areas
No matter the nature of your residential pest situation, we've got you covered. Whether you're looking for pest control in Hampstead or Surf City, Bug-N-A-Rug is here for you! Our treatments are available quarterly, bi-monthly, or monthly and we work closely with our clients to develop the perfect plan of approach for their particular problems. Call us today to discuss your residential pest control needs. We also offer comprehensive real estate inspections and pre-build treatments for new construction.
Commercial Pest Control In Surf City, NC
If you want to protect your Surf City business from the potential destruction of pest infestation, you've come to the right place. Bug-N-A-Rug Exterminators offers comprehensive commercial pest control services that provide complete protection against a long list of North Carolina pests. Some of the pests we cover are:
Ants

Bed bugs

Earwigs

Hornets

Mosquitoes

Old house borer beetles

Powder post beetles

Roaches

Rodents

Silverfish

Spiders

Stored product pests

Termites

Wasps

Wildlife
In order to effectively protect your employees, your customers, and your reputation, you need professional services. Call us today to discuss your commercial pest control needs and we will set up an inspection as soon as possible.
Ant Control In Surf City
Ants are tiny, this we know, but do you know what we may be doing to attract them? There are a number of things that attract ants. So it's important to pay attention to your contribution to ant infestation and the many methods of prevention that may help:
Practice proper sanitation and maintain a high level of cleanliness.

Promptly wipe up spills and crumbs.

Keep food stored in tightly sealed containers.

Wipe down counters, sticky jars, and residue.

Regularly take out the garbage and store it outside in a lidded bin.

Put away pet food and store it in sealed plastic containers.

Get rid of standing water and sources of excess moisture.

Fix leaky pipes, faulty facets, and malfunctioning drains.

Install dehumidifiers in damper areas of the house.

Maintain functional downspouts and gutters.

Block off entry points and seal cracks and crevices.

Trim branches, trees, and bushes away from the structure.
The most reliable way to protect your property from ant activity is to seek professional help. The team at Bug-N-A-Rug Exterminators is experienced in the extensive inspection, identification, and elimination of North Carolina ants. We know the necessary measures to keep them off your property, moving forward. Give us a call today and we will come up with the right plan of action to effectively tackle your ant situation.
Bed Bug Treatment In Surf City
We may say good night and we may pray to sleep tight, but neither of those keep the bed bugs from biting. These tiny nocturnal pests feed on the blood of birds and mammals, especially humans. They typically only emerge at night when they feed on our blood while we're asleep. In order to avoid bed bug activity, consider the following preventative techniques:
Wash and dry all linens, bedding, and clothing on high heat to kill off any bed bug activity.

Steam clean upholstery, curtains, and other fabric items that bed bugs can attach to.

Inspect items for bed bugs before bringing them into your home.

Use mattress and box spring encasements to prevent bed bugs from entering or escaping.

Eliminate clutter around the home.
If you need to eliminate a bed bug infestation, contact us today. Our pest experts are skilled in identifying all areas of bed bug activity and then using effective strategies to take out all sites of infestation. We can also educate you on bed bug identification, signs they leave behind, and additional bed bug prevention strategies. Contact us today and let us help you keep those pesky bed bugs away.
Testimonials
Read What Our Clients Are Saying