What kind of pest problem are you having? Select all that apply.
Pest Control In Emerald Isle
Pests often make their homes in hard-to-reach areas of your home, like inside wall voids, under appliances, and in the attic. This makes it difficult to locate pests and even harder to treat them. Rather than struggle with ineffective and messy store-bought treatments, trust the professionals here at Bug-N-A-Rug Exterminators. 
Our same-day pest control will protect your home from:
Roaches

Spiders

Ants

Earwigs

Flies

Beetles

Bees

And more!
Our first concern is the safety of you and your family, which is why all of our pest control services are 100% family-friendly. This will allow you to feel confident in the treatments being used in your home without compromising your health.
Image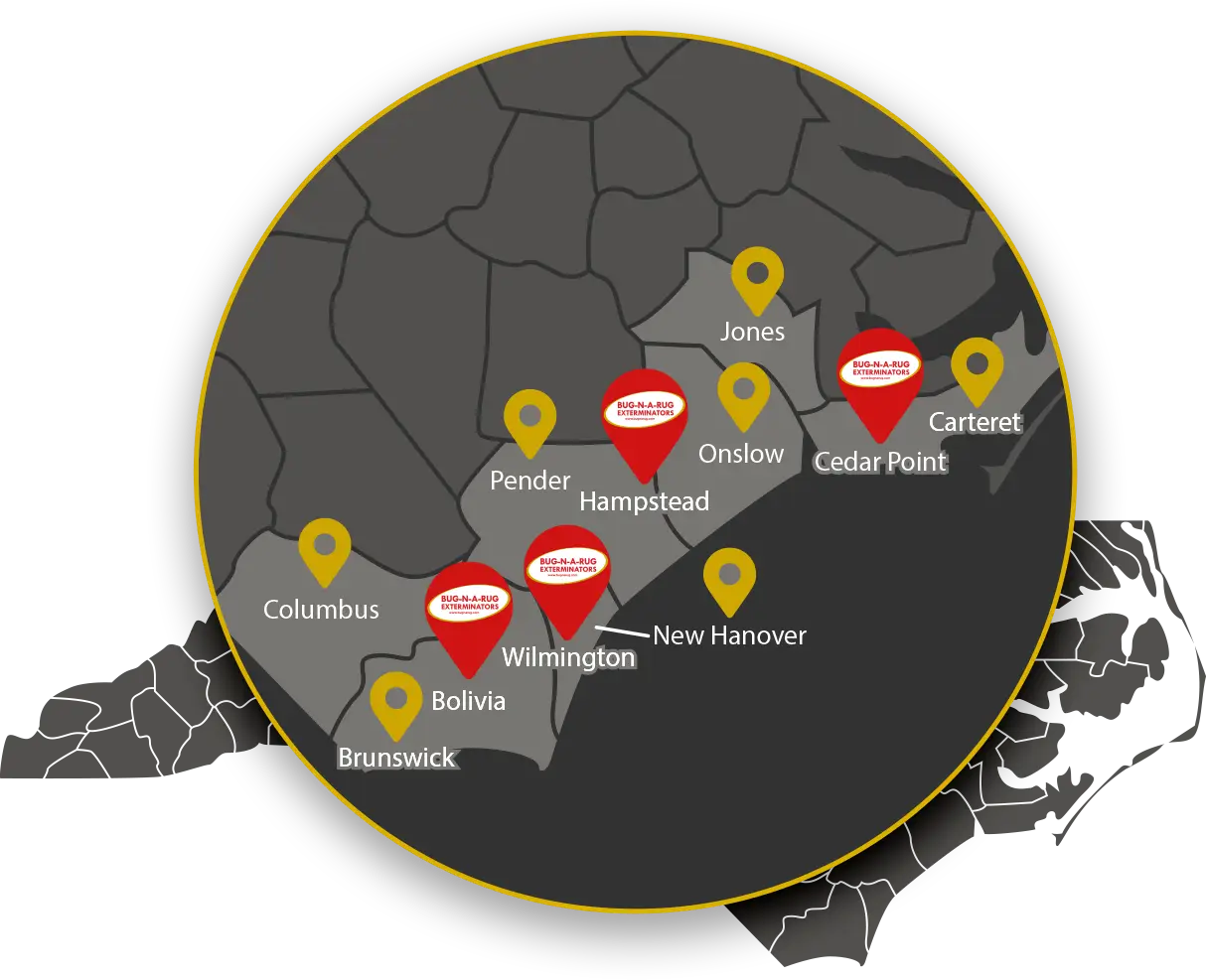 Treatments Tailored To Your Needs
Our goal is to eradicate any infestations completely as well as prevent any future issues, which is why our process includes the following steps:
We start with a

comprehensive inspection of your home

, assessing any possible breach points for pests to enter the home and where they take residence after entering. 

Our team of experienced exterminators proceeds by talking you through the process and

creating a custom treatment plan

based on the needs of your family. 

Next, we

treat the exterior of your home

to create a protective barrier and prevent future infestations. 

Then, we will

strategically treat indoors

, focusing on entry points and common hiding places.

If the problem persists, we will

return to your property free of charge

 until all concerns are thoroughly addressed.
Termite Control in Emerald Isle
Termites are small, but powerful insects that, when left unchecked, can cause major structural damage to your home. Known as "silent destroyers", termites can chew through wood, flooring, and even wallpaper undetected. Don't wait until the damage is irreversible—let Bug-N-A-Rug help you by providing quality termite control services.
Our professional termite exterminator services include:
Providing a comprehensive termite inspection

, making sure to take note of any and all signs of breaching into the home. 

Creating a tailored treatment

based on the severity of the infestation. 

Applying liquid treatments

that eliminate termites, preventing them from causing further damage. 

Installing Trelona bait stations around the perimeter of your home

, stopping future termites from even entering in the first place. 

Our termite-free guarantee

, which ensures that if the termites aren't fully eradicated, we will return to the property until they are at no cost to you.
Bed Bug Control in Emerald Isle
Bed bugs' small stature and hiding skills make them a particularly difficult pest to spot and exterminate. Infesting furniture, clothing, and even behind wallpaper, they can come from anywhere, often traveling on shoes and clothing and dismounting once you enter a warm building.
That's why our bed bug exterminators offer the following service:
A thorough inspection

of your home or business to locate the infestation.

Heat treatment, which effectively kills adult bed bugs, nymphs, and eggs while being completely safe for your family, pets, and your home!

Fast and lasting results, guaranteed

.

And so much more!
Mosquito Control in Emerald Isle
Anyone who's spent time on the Carolina coast during the spring and summer knows how bad the mosquitoes here can get. Their itchy bites, high-pitched buzzing, and dogged persistence mean they can spoil even a nice day out in the yard, so if you want to get the most of your outdoor spaces this year, you need mosquito control in Emerald Isle. You and your loved ones deserve to be able to relax in a mosquito-free environment and while the market is flooded with DIY options, none of them have the lasting effect needed to ensure lasting relief. Once our trained and experienced mosquito exterminators get to work for you, you can expect: 
A thorough mosquito inspection around your home

to establish both the local standing population and your unique needs.

Eco-friendly practices

which keep your local ecosystems safe. 

Specially-targeted mosquito treatments

that eliminate their preferred breeding areas, as well as adult and larval specimens. 

Regular treatments

throughout the mosquito season.

Protection from mosquito-borne diseases

like Malaria, West Nile Virus, and Zika.

Available same-day service

And much more! 
Over 25 Years Of Local Experience
Bug-N-A-Rug Exterminators has been providing quality and dependable service to homes, agencies, schools, and local businesses since the moment our doors opened in 1996. We pride ourselves on prioritizing our community's health and safety—especially as our expert exterminators are locals as well, living in the neighborhoods we serve.