What kind of pest problem are you having?Select all that apply.
Pest Control In Bolivia, NC
There aren't many places in America where you can find the charm of a small southern town mixed with the beauty of the ocean. Bolivia, NC, is one of those places. Residents in Bolivia love being able to enjoy nature and the beach without having to deal with the constant mobs of tourists that flock to the bigger North Carolina beach cities.
There is one aspect to life in Bolivia that residents don't enjoy. The unique combination of climate, geography, and population density make Bolivia a hot spot for pests. That is where we can help. We are Bug-N-A-Rug Pest Exterminators and we have been helping North Carolinians with their pest problems for over 20 years. We offer a wide variety of pest treatment services and our technicians are highly trained. Using both years of local knowledge and the newest in pest control technology, our goal is to keep you living pest-free so you can enjoy everything that Bolivia has to offer. 
Image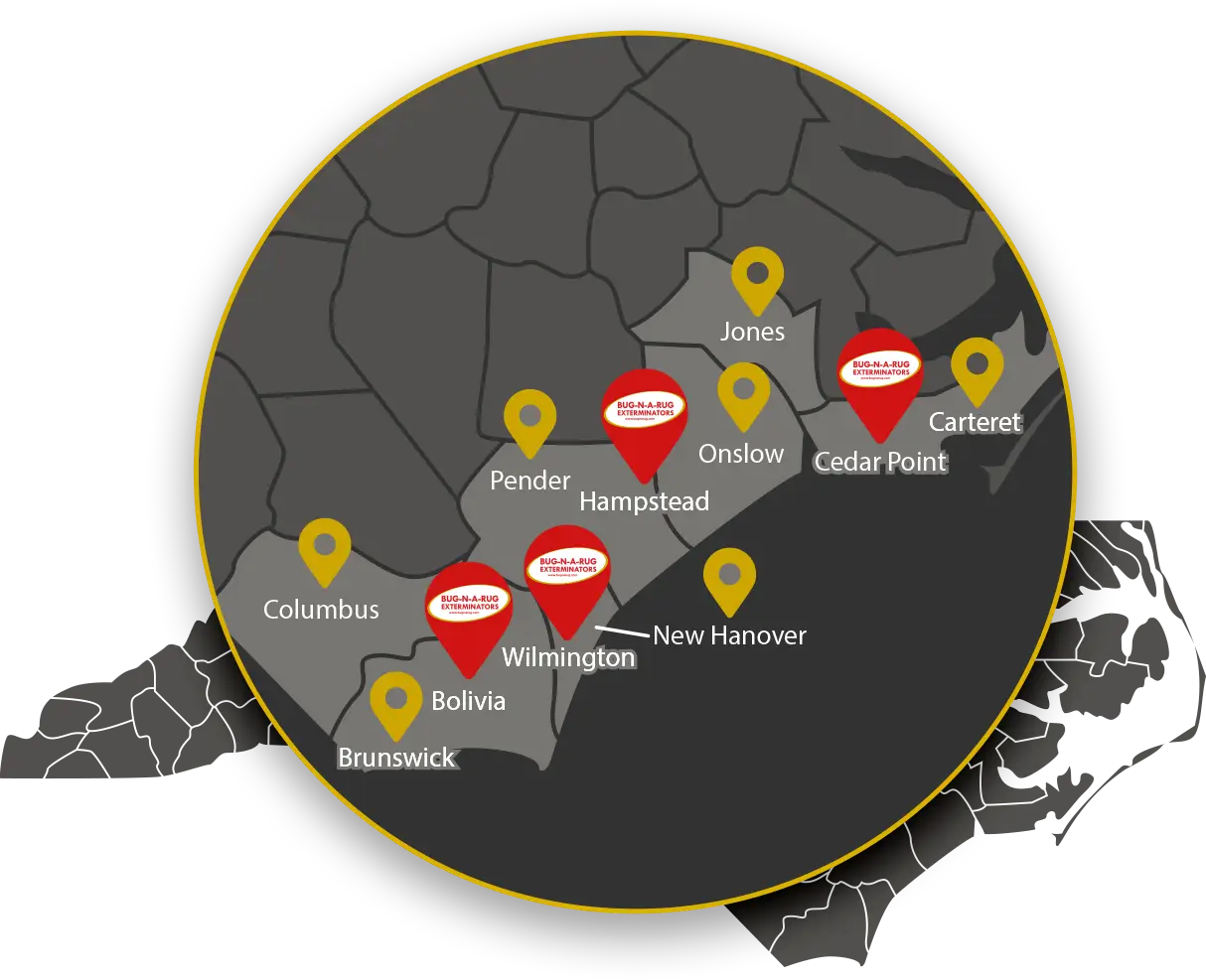 Effective Pest Control Services In Bolivia, NC
At Bug-N-A-Rug Pest Exterminators, we know how important your home is to you. We also know that nothing can ruin time at home faster than a pest problem. Fortunately, we have a variety of options to keep your home safe from pests year-round without breaking your budget. Here are some of the services we provide:
Clean and treat eaves where spider webs and wasps nests collect.

Treat both the surface of and beneath decks, patios, and porches.

Inspect for and treat fire ant mounds.

Treat your flower beds, bushes, and other landscaping.

Inspect and treat crawl spaces, vents, and weep holes.

A crack and crevice injection system to treat kitchens, bathrooms, utility areas, etc.

Treat all entry points.

Garage and attic treatments.

Other services as needed.
We also specialize in environmentally friendly pest control options. Our Green Pest Control Plan eliminates pests without harming the surrounding environment. Whatever services your home needs, we have the tools and experience to make it happen. Contact us today and we will get to work making sure your home and family are safe from pests with our home pest control.
Commercial Pest Control In Bolivia
Running a business is no easy task. As a local business ourselves, we know the pressures you face daily trying to keep your business moving forward. That is why we take pride in offering commercial pest control that not only treats current infestations but prevents them in the future.
We can offer a variety of commercial pest control services that are individualized to your specific business.  This means that each plan is designed around what you need for your business, your specific pest pressures, your goal for commercial pest control, and your budget.
 We know that you have a lot going on when it comes to running your business, and we want make sure pest control isn't something you have to think about. Contact us today and let us take care of all your commercial pest control needs, so you can run your business without worrying about pests.  
Ant Control In Bolivia
Treating ants isn't as simple as some make it seem. Sure, there are things you can do yourself to keep ants out of your home, but given the different species and prevalence of ants in our area, chances are you will end up with an ant infestation in your home or yard at some point. When this happens, the best thing you can do is call us and let our trained technicians solve your ant problem.
While you may think that taking care of ants is as simple as grabbing some bug spray from the store and spraying ants on your counter, all that does is treat the symptoms and not the problem. Different species of ants require different types of treatment. Not only that, but with ant infestations, chances are, most of the colony is hidden somewhere on your property that you can't easily find. Our trained exterminators are experts in identifying what species of ant is threatening your home, knowing exactly where to look to find the colony, eliminating the current threat, and helping you develop a plan to prevent ants from coming back.  
When it comes to ant control, don't go it alone. Let our exterminators eliminate your ant issue so you don't have to waste time fighting a losing battle with treatments that don't solve the problem. We can get you back to living ant-free in no time. 
Moisture Control In Bolivia
Excess moisture in your crawl space or basement may not be something you worry about. But excess moisture should be a concern and can cause major issues. It can lead to structural damage to your home and health problems for you and your family.
Our experts specialize in moisture control. We provide the highest quality dehumidifiers, and use a variety of techniques to control moisture, including:
Crawl space encapsulation and sanitation

Moisture barriers

Fungus remediation

Debris removal

Insulation repair
If you are worried about moisture in your crawl space or basement, contact us today. We can eliminate your moisture issue and all the concerns that come with it to make sure your home is safe for you and your family.