Pest Control In Holly Ridge, NC
Just because you don't see any bugs, doesn't mean that they aren't living in your home—they prefer to hide in out-of-the-way spots where you can't find them. When you hire Bug-N-A-Rug Exterminators, our highly-trained technicians will locate pests in their hiding places and evict them for good!
We offer same-day and next-day pest control treatments for:
Roaches
Spiders
Ants
Earwigs
Flies
Beetles
Bees
And more!
 
Image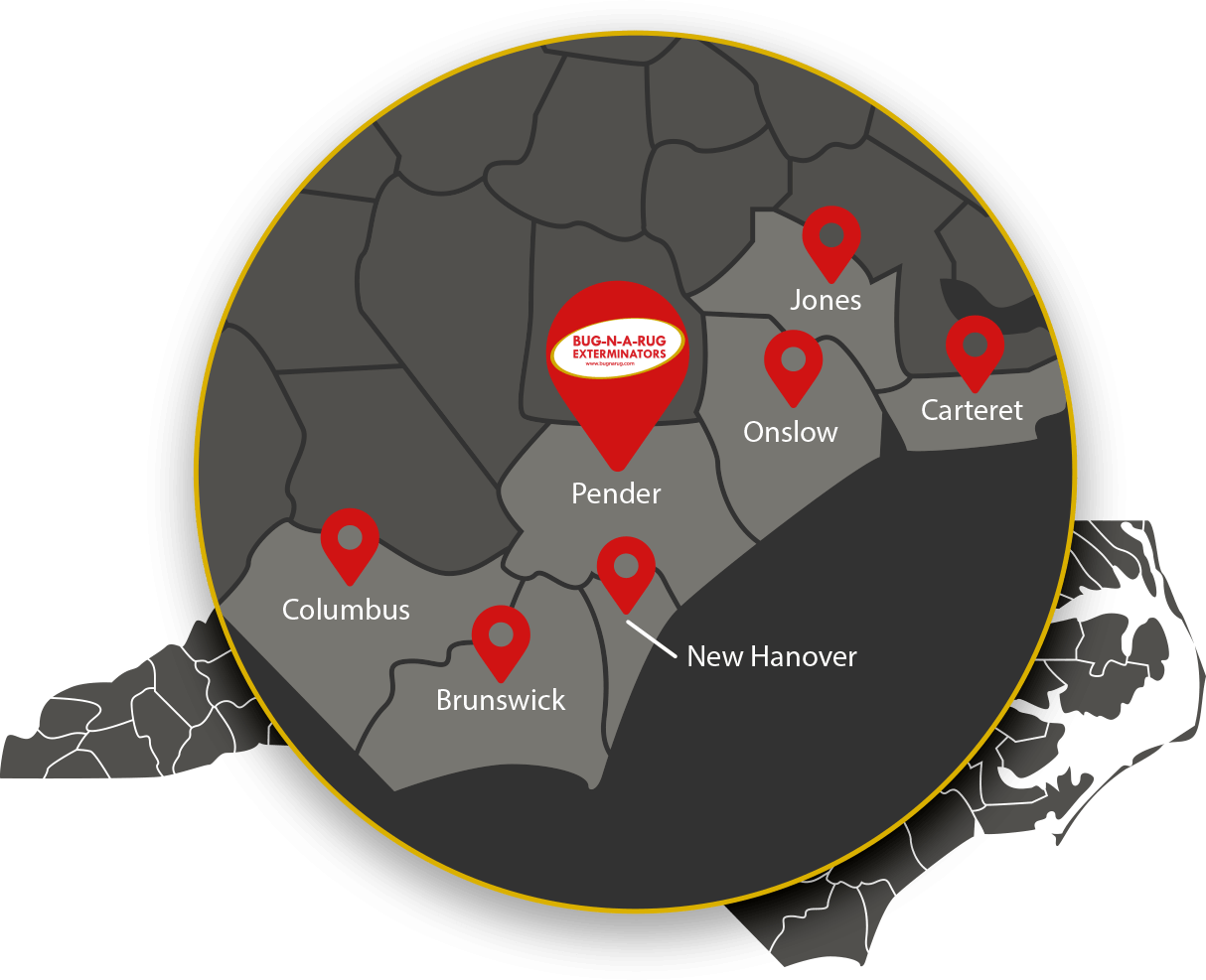 Customized Pest Services to Fit Your Needs
No job is too big or too small for Bug-N-A-Rug Exterminators. If you need pest control in Holly Ridge, we have services to fit your needs in one of our many pest protection packages. Should pests reappear between quarterly treatments, we will come back and *re-treat for free.
When our exterminators in Holly Ridge come to your home, they will:
Conduct a complete pest inspection

of your property to identify what pests are a problem and where they are entering.

Tailor a treatment plan

to your needs.

Strategically apply treatments indoors and outdoors

for maximum effectiveness.

Use reduced-risk products

to keep your family safe.

Guarantee that an initial service fee is not added

to the charge for the first visit.

And much more!
Cutting-Edge Pest Control Practices
At Bug-N-A-Rug we believe in providing you with the best quality pest control at a good value. Even though we have over 25 years of experience, our staff keeps up with the latest pest control methods and explores new technologies to find ways to continuously improve our pest services. We pride ourselves on being able to adapt our business to best serve our customers.
Bed Bug Treatment In Holly Ridge
Bed bugs can be a total nightmare. Once your home has been exposed, they can be hiding anywhere inside your house. Professional treatment is the only bed bug removal that is effective. Our expert bed bug control in Holly Ridge can bring your home back to normal and allow you to sleep peacefully again.
When you partner with us for bed bug services, you can expect:
A thorough bed bug inspection

to assess your infestation.

Treatment plans

tailored to your home and family.

Effective heat treatments

, that are safe for your family and pets

.

Guaranteed results

or *free re-treatments.

And so much more!
Termite Control In Holly Ridge
A termite infestation can be a huge issue because these pests eat what your home is made of—wood. You may have a problem, even if you don't see any of the common signs, such as discarded wings, buckling floors, hollow-sounding wood, peeling paint, or mud tubes. Restore your peace of mind and protect your biggest investment with our termite treatment in Holly Ridge.
Our termite treatment plans offer:
A free termite inspection

of your home and surrounding property to assess the extent of the problem and identify any damages.

Many termite removal and protection options

, including one-time termite services and long-term termite monitoring.

Termite baiting using Trelona bait stations

to wipe out the original termite colony.

And more!
Testimonials
Read What Our Clients Are Saying