Pest Control In Holly Ridge, NC
Holly Ridge in the Greater Wilmington area, known for our beautiful year-round warm temperatures, is a wonderful place to raise a family. However, our close proximity to the ocean and increased humidity levels can present unique pest-related issues. It's important to maintain a proactive approach against pests to protect your home and commercial spaces. That's where we come in. Bug-N-A-Rug is proud to provide extensive and effective care to both residential and commercial properties, ensuring that your family and community stays safe with our environmentally friendly treatment solutions. 
Aside from Holly Ridge, we also provide our customized pest services in Hubert, Sneads Ferry, Topsail Beach, and throughout Onslow County.
Image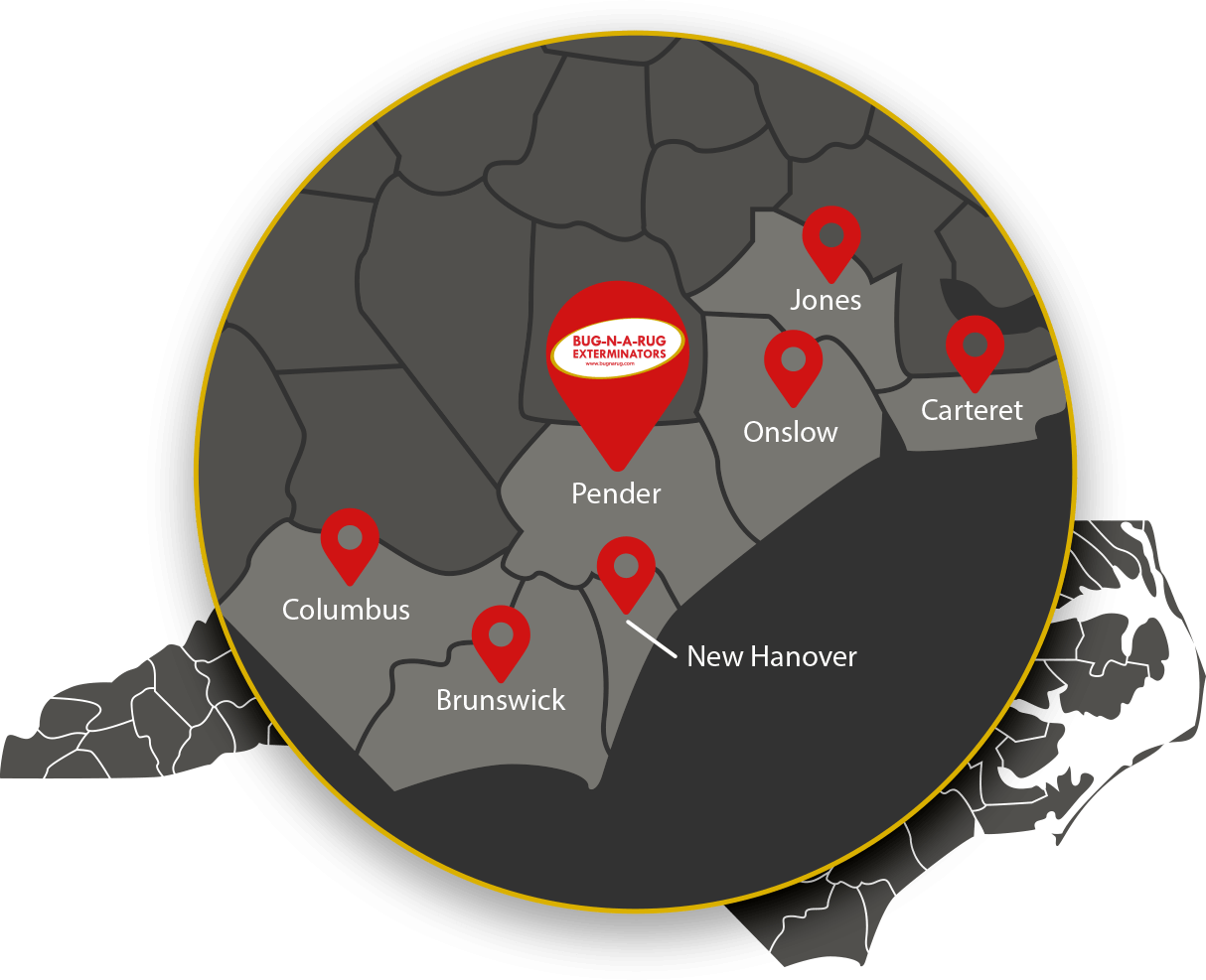 Home Pest Control In Holly Ridge
Backed by over 25 years of experience, our team of professionals has kept Coastal Carolina safe for decades. With our highly trained staff, always educated on the latest treatment technologies, and our application of the most effective products, we're proud to provide the best pest control services in Holly Ridge. Call us today and receive a free home evaluation.
Residential Pest Control in Holly Ridge 
At Bug-N-A-Rug, we pride ourselves on providing superior pest control services in Holly Ridge to keep you and your family safe at home. DIY treatments are often messy and ineffective, needing multiple applications to only get you minimal results. Instead, trust our team of exterminators in Holly Ridge for a customized treatment plan tailored to your home's needs! 
Our family-friendly products, same-day service, and no initial service fee guarantee will make sure that your home will be treated from the inside out as soon as possible without the inflated price!
When you partner with us for residential pest control services in Holly Ridge, you can expect:
A detailed inspection of your home for signs of pest activity.

Pest identification to determine what species are in the area, where they're hiding, and how they gained access into your home.

A customized treatment plan tailored to you and your family's needs.

Exterior treatments to create a protective barrier, keeping critters away.

Targeted indoor treatment with an emphasis on entry points and common nesting and hiding spaces.

Free re-treatments if pests come back after we treat the area.
Commercial Pest Control In Holly Ridge, NC
Pest removal on your own at home can be difficult but when it comes to a commercial property, trying to get rid of pests alone can be detrimental to your business. Not only can these critters damage your inventory but also they can put the health of your customers and employees at risk. We understand that maintaining your reputation as a business owner and keeping your community safe is your top priority. That's our mission as well. That's why we believe it's crucial to sign up for our ongoing commercial pest control services in Holly Ridge.
We're a locally owned and operated business ourselves. We make sure that we treat homes and commercial properties in Holly Ridge with the care that we'd provide to our own business. With our customized services and comprehensive protection guaranteed, we provide effective care against a multitude of pests with services that are tailored specifically to your property's needs
Ant Control In Holly Ridge, NC
Ants are small insects that live and work together in massive underground colonies. Although these tiny pests typically live outdoors, they often move into Holly Ridge properties while searching for an easily accessible food source to bring back to their colonies. To avoid finding ants in your home or business, keep the following ant-prevention tips in mind:
Remove potential food sources by storing leftovers in airtight containers, picking up uneaten pet food, keeping your garbage cans sealed, and cleaning crumbs off of your floors and counter surfaces.

Minimize sources of excess moisture by trimming thick foliage away from your foundation, clearing debris from your gutters, repairing leaking fixtures, and draining excess water from your lawn. 

Eliminate all entry points by sealing gaps in your foundation, installing door sweeps on your exterior doorways, and replacing your weather stripping. 
The best way to eliminate ants from your Holly Ridge home or business is by contacting Bug-N-A-Rug Exterminators. We're ready to solve your pest problems and ensure they never return. 
Bed Bug Treatment In Holly Ridge
Having a bed bug infestation is an absolute nightmare. Bed bug services are imperative to stop them from spreading throughout your home. You can find them in your carpeting and baseboards and even inside electrical outlets! Contact the experts for quality bed bug treatment in Holly Ridge to stop these pests in their tracks.
When you partner with us for bed bug control in Holly Ridge, you can expect:
A detailed inspection to determine where the bed bugs are in your home.

Family-friendly heat treatments. 

Treatment plans tailored to your needs

Free re-treatments.

And more!
Termite Control In Holly Ridge
Termites are known for causing billions of dollars of damage to properties annually.  When you partner with us for termite control in Holly Ridge, you'll receive the most effective termite protection in Coastal Carolina! Termites move quickly, devouring wood in your home 24 hours a day. That's why it's best to contact the experts as soon as possible before the damage gets out of hand. Book a free termite inspection with us today!
Our termite treatment in Holly Ridge includes:
A thorough home inspection to determine the rate of infestation and a damage assessment.

Recurring treatment options as well as one-time services

Long-term protection with termite baiting solutions and liquid treatments.

Our termite-free guarantee!

And more!
Mosquito Control In Holly Ridge
What is the most annoying pest you can think of? Many people throughout the United States agree that mosquitoes are some of the most frustrating and annoying insects found around residential and commercial properties. These two-winged insects belong to a family of small flies and are known for feeding on the blood of humans and animals. Mosquitoes have narrow bodies, six thin legs, and a long piercing proboscis used to drink blood. 
 
After being bitten by a mosquito, many people experience an itching sensation and the formation of a small welt around the bite site. This is because mosquitoes inject a small amount of saliva into your bloodstream when they bite, which prevents your blood from clotting and allows mosquitoes to feed more easily. Unfortunately, the problems mosquitoes cause don't stop at peppering your skin with itchy red welts. Mosquitoes are also known for spreading a wide range of life-threatening diseases, including malaria, West Nile virus, and yellow fever. 
 
To reduce mosquito populations around your Holly Ridge home or business, the professionals at Bug-N-A-Rug Exterminators provide outstanding mosquitoes control services. We utilize environmentally sensitive practices to eliminate mosquitoes without harming people, animals, or the surrounding environment. Turn to Bug-N-A-Rug Exterminators today for help with your mosquito control problems. 
Testimonials
Read What Our Clients Are Saying