What kind of pest problem are you having?Select all that apply.
Pest Control In Hubert, North Carolina
Hubert is a quiet, welcoming community located on the eastern edge of Onslow County, about 11 miles away from Jacksonville. To protect your home or business from the many pests that live in our area, the technicians at Bug-N-A-Rug Exterminators provide excellent pest control services and prevention methods. Since 1996, we have been addressing pest problems of residents in our service area. Whether you're looking for generalized services or ongoing treatments, you can count on Bug-N-A-Rug Exterminators to provide the pest control services you need. Reach out to us today to learn more about our residential and commercial pest control options.
Image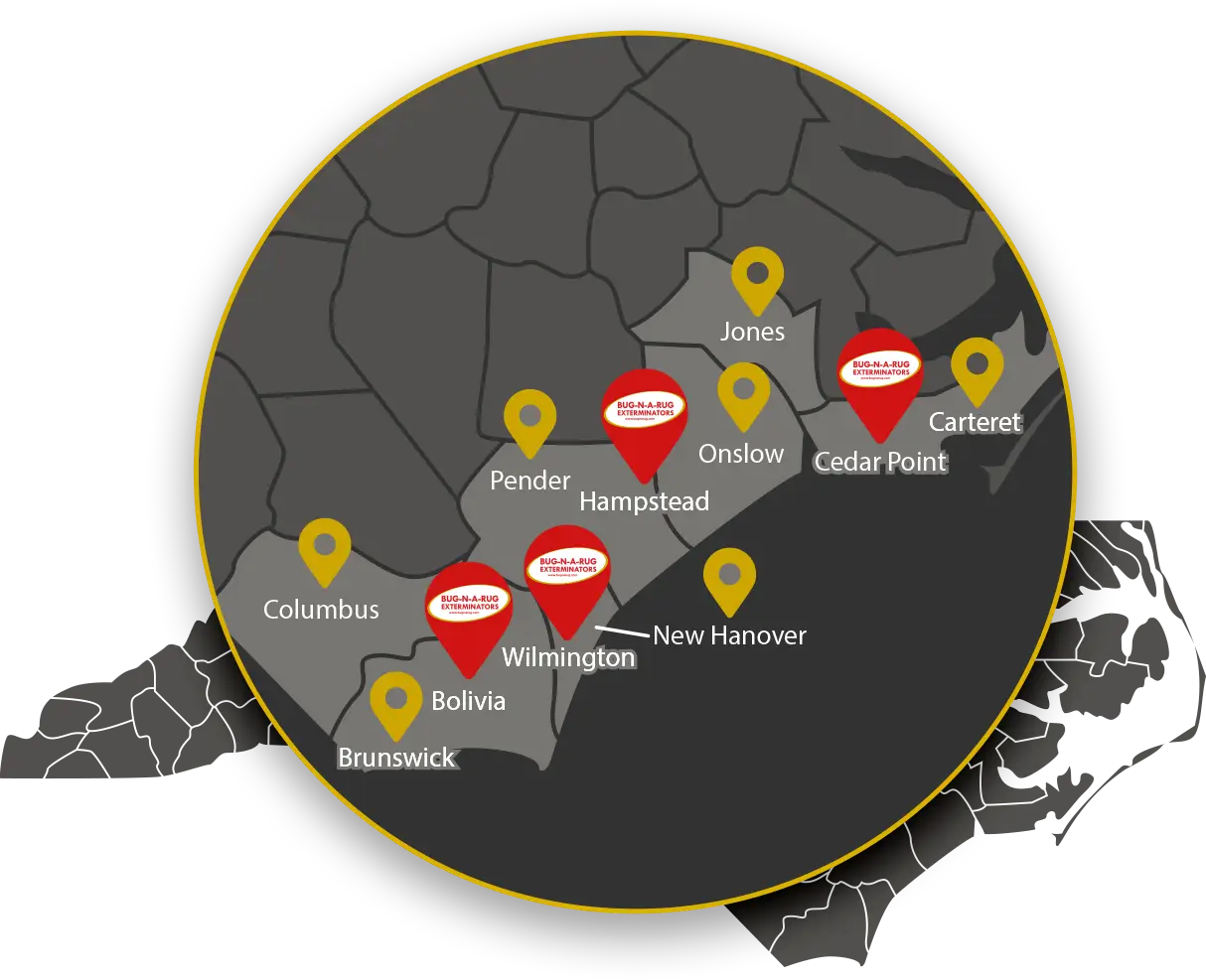 Home Pest Control In Hubert, NC
For nearly two decades, the professionals from Bug-N-A-Rug Exterminators have been serving the communities of Wilmington and the surrounding Brunswick County area. We're proud to protect your Hubert home and family from the area's toughest pests by utilizing advanced treatment methods and ongoing pest management strategies. Our goal is to implement effective home pest control services that will keep your residential property free of pests throughout every season. And, because we care about protecting the environment as well as your home and family, we offer eco-friendly pest control options. Our eco-friendly services have a low environmental impact and are safe to use around children and pets. Give us a call today for more information about how we keep Hubert homes pest-free.
Commercial Pest Control In Hubert, NC
Running a successful business requires a lot of money, hard work, and effort. And when problems occur within your commercial facility, they take your attention away from the things that help your business succeed. Invading pests cause many problems for business owners. Not only are they distracting, but they can also damage your property, spread harmful diseases, and drive away your loyal customers. Thankfully, there's a way to stop pest problems before they begin. At Bug-N-A-Rug Exterminators, we provide comprehensive commercial pest control services to take care of your pest control needs once and for all. We understand that every business is unique, which is why we customize our commercial pest control solutions to target and eliminate your specific pest problems. Don't wait for pests to take over your commercial facility and give your Hubert business a bad name. Instead, turn to the skilled pest professionals here at Bug-N-A-Rug Exterminators for commercial pest control solutions that get the job done right.
Bed Bug Control in Hubert
Even if you've never dealt with bed bugs in your Hubert home or business, you've probably heard about what a nightmare it is to try and get rid of them. Bed bugs are small, reddish-brown insects that feed on human blood. They get from one area to another by crawling onto the bags and belongings of unsuspecting individuals and will infest any building they end up in. Although bed bugs are not considered dangerous pests, they do pose many problems for home and business owners alike. The best way to handle a bed bug infestation is with the help of the highly-trained pest technicians here at Bug-N-A-Rug Exterminators. Advantages of professional bed bug control services from Bug-N-A-Rug Exterminators include:
We have the skill and expertise needed to accurately identify the presence of bed bugs on your property.
We have a deep understanding of bed bugs and how to get rid of them.
We utilize a proven heat treatment called thermal remediation to eliminate bed bugs in all stages of life.
We have over 20 years of experience and are a trusted bed bug control provider throughout the state of North Carolina and beyond.
To eliminate bed bugs from your Hubert home or business, you need professional bed bug control services from Bug-N-A-Rug Exterminators. Get in touch with our skilled technicians today to get started.
Minimize The Mosquitoes On Your Hubert Property
Mosquitoes are annoying pests that seem to appear out of nowhere as soon as the weather warms up in the spring and summer. They use a long, piercing proboscis to feed on the blood of humans and animals, leaving behind itchy red welts in the process. Unfortunately, itchy bites aren't the only problem mosquitoes cause. Mosquitoes spread a wide variety of dangerous diseases, including malaria, dengue, and West Nile virus. To minimize the mosquito populations around your Hubert property, keep the following mosquito prevention tips in mind.
Keep your gutters clean and free of debris.
Eliminate puddles and other sources of standing water.
Dump out items that may collect water, such as buckets, flowerpots, and tarps.
Trim your lawn short regularly.
Replace the water in your birdbaths every few days.
Although prevention tips are helpful, the most effective way to control and eliminate mosquitoes is with ongoing mosquito treatments from Bug-N-A-Rug Exterminators. Contact us today to learn more about our mosquito control services.