What kind of pest problem are you having?Select all that apply.
Pest Control In Pender County, NC
Pender County, NC, is a beautiful place to visit, live, and work. Our proximity to the gorgeous Atlantic coastline gives us endless access to adventure, and it makes sense why tourists love to explore our community all year long. There are some other visitors, however, that aren't quite so welcome. Pest activity is a year-round occurrence here in North Carolina, and that means your property is at risk of experiencing a pest infestation. If you're looking for year-round pest control services for your Pender County home or business, look no further than Bug-N-A-Rug Exterminators.
 
We are a family-owned and operated company that places a great deal of importance on the health and wellbeing of our clients, as well as the nature that surrounds us. We have been serving the greater Wilmington metro area since 1996, and we're proud of the work that we do. Our "Green Pest Control options" offer environmentally friendly solutions and our customized pricing is catered to fit your needs. Contact us today to set up your free home evaluation.
Situated just north of Wilmington, Pender County is home to suburbs like St. Helena, Hampstead, Atkinson, and Watha. Additionally, the county provides some of coastal North Carolina's most beautiful outdoors with Holly Shelter Game Land and Northeast Cape Fear River. With conditions that are mild yet have scatterings of humidity and rain, Pender County properties may easily find themselves invaded by pests. At Bug-N-A-Rug Exterminators, we work with local homeowners and businesses to find pest control solutions that work for them and their budgets. If you'd like to learn more about our services as well as receive your free, no-obligation inspection, contact us today.
Image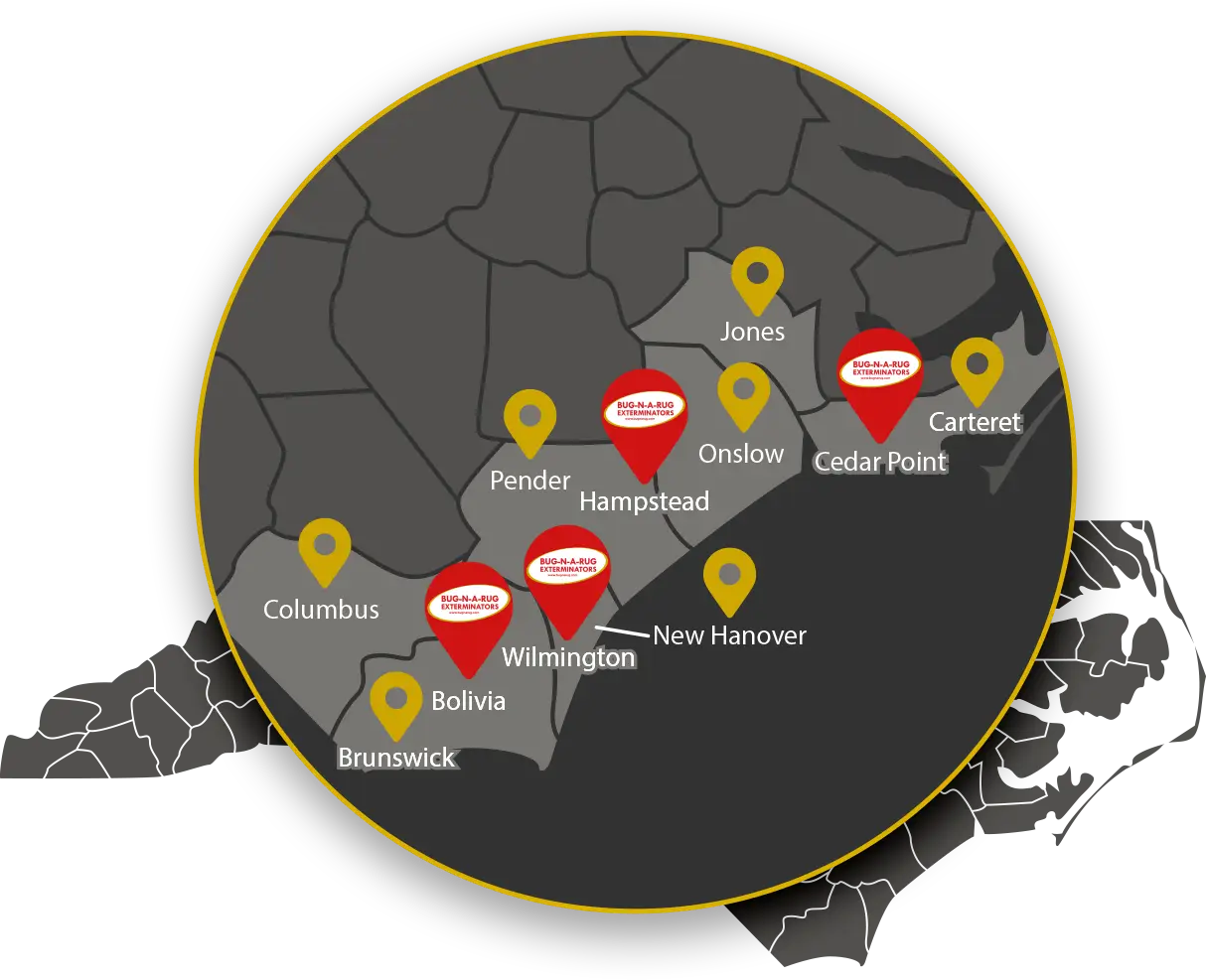 Residential Pest Control In Pender County, NC
If you own a home in Pender County, pest activity is a legitimate concern. The best way to protect yourself from the dangers of an infestation is to call on the team of experts at Bug-N-A-Rug Exterminators. Our residential pest control services are available on a monthly, bi-monthly, or quarterly basis, and we're ready to work with you to come up with a customized treatment plan that fits your needs.
We treat your property from the inside out, making sure all pest activity is exterminated once and for all. We also offer real estate inspections and pre-build treatments for new construction. From cockroach extermination and control to baiting and gel methods, we take care of your home from top to bottom, putting in place any of the necessary structural modifications to keep pests away moving forward. Give us a call today to discuss your residential pest control needs.
Your Pender County home is your safe place, but when pests threaten to invade it at any given time, you need a team of professionals to make sure that doesn't happen. At Bug-N-A-Rug Exterminators, we've been the trusted local pest experts for more than 20 years, and with good reason. We're a family business that is dedicated to keeping the homes of our community safe and pest-free, with honest and friendly business practices. All of our staff is thoroughly trained and we offer eco-friendly solutions to ensure your complete safety. Whether you're looking for ongoing pest management to keep our seasonal invaders or you need to get rid of an active pest problem, we will be there for you. To receive your free, no-obligation inspection, contact us today.
Commercial Pest Control In Pender County, NC
When it comes to commercial pest infestation, there is a lot at stake. Infestation causes widespread contamination and large-scale structural damage. In order to protect not only your reputation but also the health and safety of your customers and employees, it's important to rely on regular pest control services from the professionals at Bug-N-A-Rug Exterminators.
 
No matter what kind of pest situation you're dealing with in and around your commercial facility, we can help. Our commercial pest control services cover a wide range of businesses, offering complete extermination, prevention, and maintenance for the long-term protection of your business. Our skilled pest technicians treat your property with the most up-to-date technologies and eco-friendly treatment options, and our team works hard to strategically develop a treatment plan catered to meet your needs. Contact us to schedule your initial inspection right away.
For more than 20 years we've been providing the businesses of Pender County with premier pest control that is tailored to their specific needs. As a family-owned business, we place a significant emphasis on always providing our customers with the very best service. To us, this means always acting with honesty and integrity, using the latest technologies and best practices, and finding a solution for every budget. At Bug-N-A-Rug Exterminators, we keep local businesses pest-free all year long with preventive measures as well as corrective services. We believe that local businesses are the lifeblood of our community, and at Bug-N-A-Rug Exterminators, it's our mission to keep them safe from pests. If your company could benefit from ongoing pest control solutions, contact us today!
Mosquito Control In Pender County
You can lather on the mosquito repellent, light a bunch of citronella candles, and wear clothing treated with permethrin or DEET, but still, mosquitoes sometimes manage to make their way to you anyway. They use their elongated mouthpart to pierce your skin and suck out your blood, but the truth is, they can leave us with much worse than an itchy bite.
 
As vector pests, mosquitoes are capable of transmitting a long list of diseases, some of which include malaria, tularemia, West Nile, chikungunya, dengue, encephalitis, yellow fever, and Zika. These are serious health conditions that should be prevented at all costs. The safest, most effective method of mosquito control is comprehensive treatment from the professionals. Bug-N-A-Rug Exterminators eliminates all problem areas and signs of these vector pests. Get in touch with us today to get started.
Ant Control In Pender County
When ants infest, they do so in large numbers. If you want to be proactive in your efforts to reduce ant attractants around your property, it's important to be diligent in your prevention efforts. Here are some precautions you can take to minimize your exposure to ant activity:
Maintain a high level of cleanliness and practice proper sanitation. That means cleaning up spills and crumbs, keeping food in tightly sealed containers, and wiping down counters, sticky jars, and residue. Take your trash out on a regular basis, and make sure it is kept outside in a lidded bin.
Eliminate standing water and any sources of excess moisture. Repair leaky pipes, faulty faucets, and malfunctioning drains. Use a dehumidifier in damper areas of the house like basements, crawl spaces, and attics. Maintain functional downspouts and gutters to keep water flowing away from the foundation.
Eliminate all access points, sealing all cracks and crevices around the outside of the home. Keep branches, trees, and bushes well-trimmed and directed away from the house.
While this is a great place to start in your ant control efforts, your best bet is still ongoing services from the pest experts. For comprehensive ant prevention services that protect your property all year long, Bug-N-A-Rug Exterminators is the way to go. We are experienced in the large-scale identification and elimination of ant colonies, and we're ready to help. Set up your inspection today!
Termite Control In Pender County
Termites are any property owner's worst nightmare, whether you're looking to buy or you're looking to protect property that you already own. Each year, termites cost American homeowners five billion dollars in damages, with the average Pender County homeowner spending $3,000 to fix a termite problem. Don't let this happen to you; here are a few things that you need to know about keeping termites away:
When using mulch around the perimeter of your property, always maintain at least a four-inch barrier between it and your home.
Store all firewood at least 20 feet away from your home.
Fix any issues with moisture as well as any water damage that may have happened in your walls.
Seal up the cracks and crevices around your home and opt for weatherstripping and door sweeps to fill any difficult gaps.
Keep your grass short, mowing it often.
Check your roof for leaks regularly.
Contact a pest professional!
With help from Bug-N-A-Rug Exterminators, termites don't have to become a problem. But if you are dealing with termite damage, you can contact us for the complete removal of an active colony. Either way, we have you covered. Contact us today for more information.
Moisture Control In Pender County
While moisture may not seem like a pest itself, these types of issues can certainly lead to many pest problems for Pender County property owners. Some of the dangers that moisture can bring to your property are:
Termites. One of the biggest moisture-seekers is damp wood termites. They're attracted to wood that's been left vulnerable due to moisture issues or that has fungus. If you're looking to keep termites out of your property, deal with moisture.
Cockroaches. While cockroaches can live for up to a month without food, they can only last about a week without water. So when moisture issues, like hidden leaks, are happening, you not only risk attracting cockroaches but also keeping them around.
Spiders. These pests not only seek moisture themselves when the outdoor conditions become too harsh, but so many of the pests that they eat are drawn into homes because of moisture issues. Think of ants, gnats, flies, and cockroaches in this instance.
Rodents. Mice and rats look for three main things when finding a property to invade: food, moisture, and shelter. One of the key ways to keep them out is to make sure that your attics, basements, and crawl spaces are well-ventilated and free from humidity.
Don't let moisture take over your property and cause pest problems that could otherwise be avoided. Contact Bug-N-A-Rug Exterminators today for more information on keeping your home safe from moisture. 
Cities We Service In Pender County: