What kind of pest problem are you having?Select all that apply.
Pest Control In Kure Beach, North Carolina
Kure Beach, NC, is a beautiful beach town right on the North Carolina coastline. Along Cape Fear River, our climate is relatively mild all year long, and we experience significant humidity and rainfall. This makes Kure Beach a pleasant destination for not only human visitors, but also nuisance pests. Yes, pest infestation is common in Kure Beach. These intruders find the climate irresistible; they don't call this pleasure island for nothing!
 
It's important to remember that you're not alone when it comes to pest infestation. Bug-N-A-Rug Exterminators services all of New Hanover County with year-round pest control solutions. We are a family-owned and operated company that has been serving the greater Wilmington metro area since 1996. Our "Green Pest Control options" provide environmentally friendly solutions that are safe for you, your loved ones, and mother nature. Call us today to set up your complimentary home evaluation.  
Image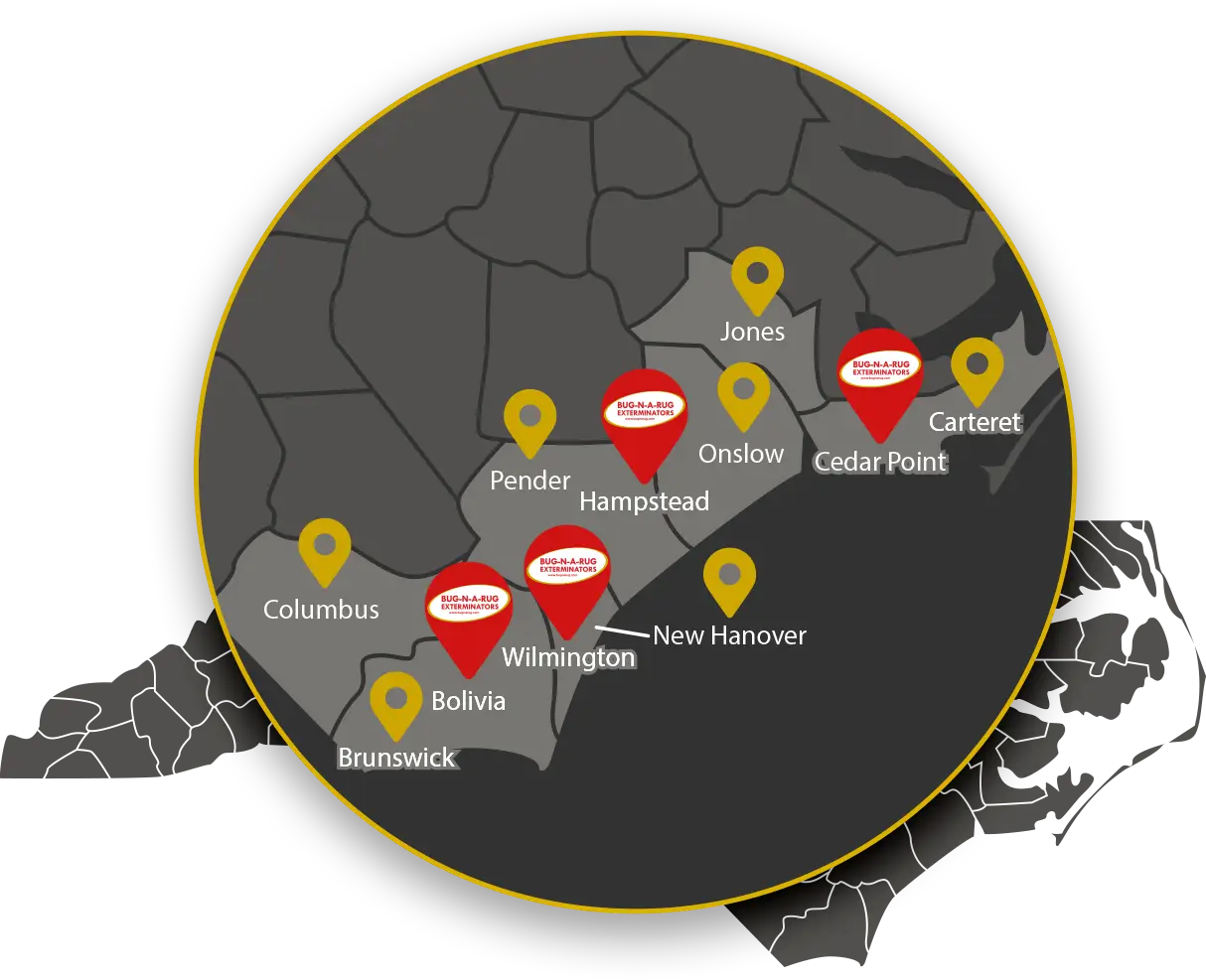 Home Pest Control In Kure Beach, NC
If you love the beach, Kure Beach is an idyllic place to own a home. Your home is brimming with sources of food, water, and shelter, and that trifecta is music to a every pest's ears. Every house is susceptible to pest infestation. That's why you need our residential pest control services.  Our treatments provide complete protection against common North Carolina pests.
Exterior services cover:
Crawl space, vents, and weep holes

Foundation perimeter

Eaves

Patios, decks, and porches

Driveways and walkways

Yard, flower beds, bushes, and landscaping
 Interior services cover:
Cracks and crevices

Kitchens, bathrooms, and utility areas

Pipe fittings under sinks

Electrical outlets and wall voids

Entry points (doors, windows, fireplaces, etc.)

Appliances (stove, dishwasher, fridge, washer, dryer, etc.)

Trash receptacles and garbage areas

Attic and crawlspace

Garage and shed
No matter what your residential pest control needs are, the team at Bug-N-A-Rug is ready to help. We block off entry points, use baiting and gel methods, and implement necessary habitat modifications to keep pests off your property. If you're in need of a real estate inspection or pre-build treatments for construction, give us a call. Our treatments are available on a bi-monthly or quarterly basis, and we work with you to customize the services to fit your exact needs. Whether you're looking for Wilmington pest control or pest control in Kure Beach, Bug-N-A-Rug has you covered!
Commercial Pest Control In Kure Beach, NC
If you own a business in Kure Beach, you know the importance of upholding a good reputation. There's nothing like a pest infestation to take down your good name and put you out of business. That's why you need professional assistance from Bug-N-A-Rug Exterminators. Our commercial pest control services provide year-round coverage for many common pests, such as:
Ants

Bed bugs

Earwigs

Hornets

Mosquitoes

Old house borer beetles

Powder post beetles

Roaches

Rodents

Silverfish

Spiders

Stored-product pests

Termites

Wasps

Wildlife
Contact us today to discuss your specific commercial pest control needs. In order to protect not only your reputation but also the health and safety of your customers and employees, you need regular pest control services. We're here to help. Call today.
Moisture Control In Kure Beach
There are a lot of reasons why you need to prioritize moisture control in and around your Kure Beach home. The first thing to consider is the fact that moisture-pests will flock to the area in search of sources of water. When you have moisture problems in your home, moisture-seeking pests find their way inside and plant the seeds for a large-scale infestation.
 
Moisture-damage can also destroy the structure of your home. As water damages wood and erodes the construction over time, the structural integrity of the building is shot. Another reason to take moisture control seriously is the fact that excess moisture leads to the growth of fungi and mold spores. Mold infestation can be seriously threatening to your health and require professional mold remediation services to be completely eradicated.
 
Contact us today to discuss your moisture-control needs. The best way to approach a moisture problem is to be proactive. That means there's no time to waste. Give us a call and we'll get started.
Termite Control In Kure Beach
In order to effectively avoid termite damage, you need to be able to detect termite activity. If you want to accurately identify these wood-eating pests, you need to know what they look like and you need to know common signs of their activity. Here are some indications that termites have infested your property:
Cracks and crevices along the foundation and perimeter.

Discarded wings on the floor near doors and windows.

Gallery tunnels in the ground traveling to openings along your foundation.

Maze-type designs in wooden items.

Painted walls that are peeling and bubbling.

Signs that look like water damage.

Small entry holes in drywall through which they tunnel.

Swarmer termites flying around looking for nesting spots.

Walls and ceilings that are buckled and warped.

"White ants" in the soil, which are really worker termites.

Wood that sounds hollow when tapped on.

Wood-to-soil contact and damp, damaged, or weakened wood.
To protect your property from the detriments of termite damage, it's important that you seek professional termite control services. We identify all termite activity and attractants and then eliminate them. We can also put in place preventative measures to ensure a termite-free property, moving forward. Contact us today to schedule your initial inspection.
Bed Bug Control in Kure Beach
Don't let bed bugs ruin your sleep any longer! Our professional bed bug control service in Kure Beach is here to help you get rid of these pesky pests. With our same-day bed bug inspection and family-friendly treatments, you can enjoy a peaceful night's sleep once again. Say goodbye to bed bugs with our high-intensity heat treatment, the most effective method that is also safe for your family, pets, and your home.
Benefits of choosing our bed bug service:
Same-day bed bug inspection to quickly assess and address the problem
Family-friendly treatments that prioritize the safety of your loved ones
High-intensity heat treatment that eliminates adult bed bugs, nymphs, and eggs
No need to throw out your mattress or deep clean your home
Fast and effective solutions to provide lasting protection
Affordable rates to make bed bug removal accessible to everyone
Don't let bed bugs take over your home. Contact our trusted bed bug exterminators in Kure Beach today and regain control of your sleep environment.
Mosquito Control in Kure Beach
Say goodbye to the annoyance and health risks of mosquitoes with our top-notch mosquito control service in Kure Beach, NC. Our team of expert exterminators is here to help you reclaim your outdoor space and enjoy the warm weather without worrying about mosquito bites.
Here's what you can expect when you choose our mosquito control service:
Free inspection: Our team will visit your property and assess the severity of the mosquito infestation. We'll identify problem areas and determine the best course of action for effective mosquito control in Kure Beach.
Fogging: We use state-of-the-art fogging techniques to target and eliminate adult mosquitoes on contact. Our fogging treatment is highly effective and provides immediate relief from mosquito bites.
Family-friendly treatment: We understand the importance of the health and safety of your loved ones, which is why we use environmentally-sensitive practices that won't harm the surrounding ecosystems or pose any risks to you and your family.
Larvicides in targeted areas: To truly break the mosquito breeding cycle, we apply larvicides to targeted areas where mosquitoes lay their eggs. By eliminating mosquito larvae, we're able to significantly reduce the number of mosquitoes in your surroundings.
Don't let mosquitoes ruin your outdoor fun. Take control of your space and protect your loved ones with our reliable mosquito treatment and prevention services. Experience the difference of our expertise and commitment to quality.