What kind of pest problem are you having? Select all that apply.
Pest Services in Wilmington
No matter how clean you keep your home, nuisance pests will always try to get inside. The free food, numerous hiding places, and comfortable conditions are simply too much for them to say no to. So when they do get indoors, getting rid of them yourself can be a huge undertaking. Pest control in Wilmington is our focus, and Instead of going it alone, look to the experts at Bug-N-A-Rug Exterminators to keep you safe from:
Fleas

Mosquitoes

Rodents

Silverfish

Termites

And more
Image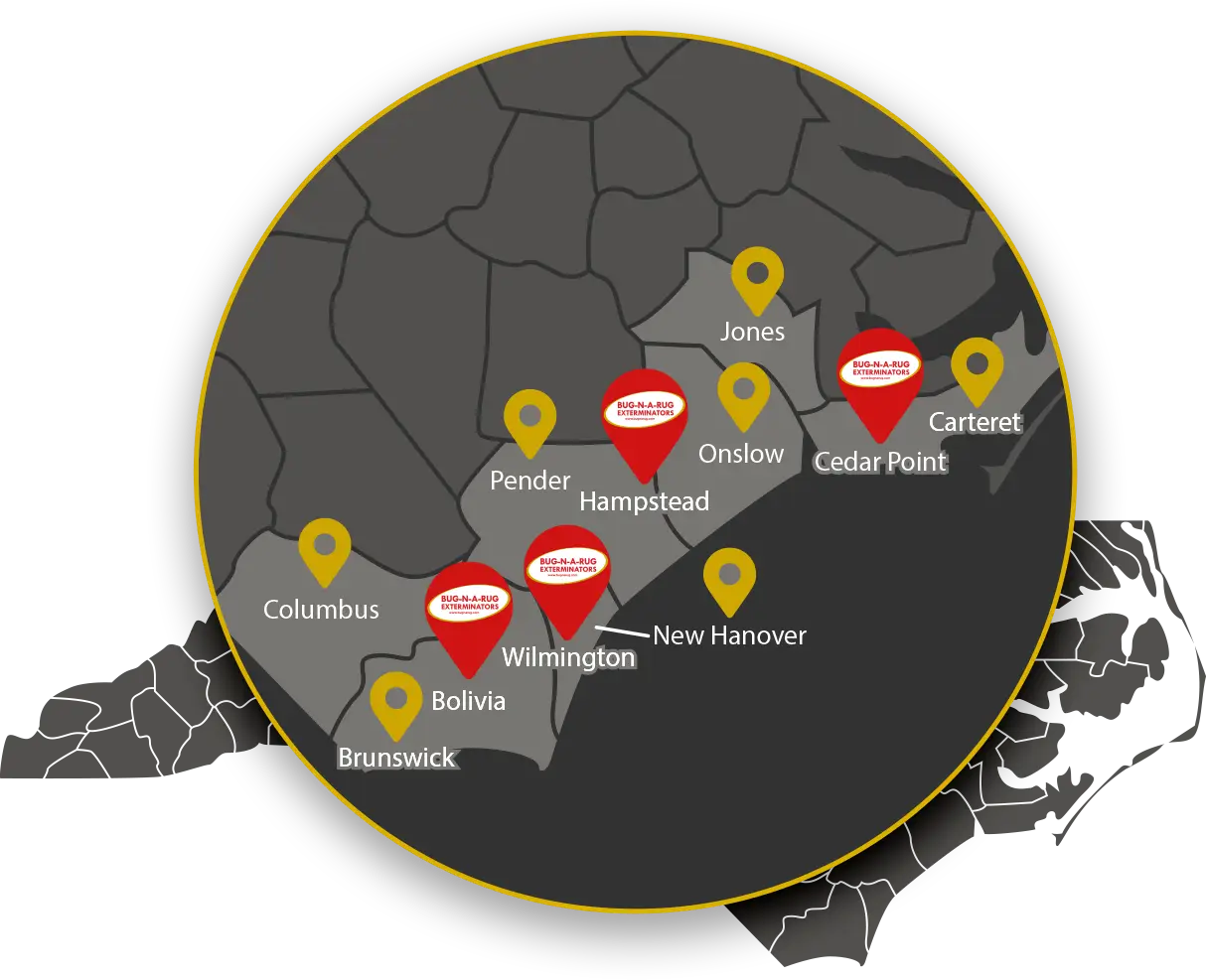 North Carolina's Best Exterminators 
Even a small pest infestation requires high-quality, hands-on care. And when you sign up for our pest services in Wilmington, that's exactly what you'll get! With multiple packages and an ever-evolving slate of specials available, there's always a plan that works for you. You can count on our exterminators to provide:
A comprehensive interior and exterior home inspection to determine your specific needs.

Indoor and outdoor treatments to swiftly resolve even the most severe infestations. 

Family and eco-friendly pest control products.

Quarterly treatments for year-round protection.

Free callbacks between services if pests return.

And more! 
Available Same-Day Pest Service
We completely understand that living alongside household pests is an unpleasant, stressful situation. Why then, should you have to wait around for days on end when you need help now? We can't think of a particularly good reason why, so we work around your schedule with our available same-day and next-day service! Don't wait to get rid of pests and give us a call today. 
Bed Bug Treatment in Wilmington
When it comes to a resource as precious as your sleep, you can't afford to compromise. So when a bed bug infestation strikes, you need to resolve it as quickly as possible. Here at Bug-N-A-Rug Exterminators though, bed bug treatment in Wilmington is one of our specialties. These stubborn, bloodsucking pests are nearly impossible to get rid of on your own, so book the best service for your home and family. Our service includes:
A full in-home inspection from a local expert.

Treatment plans that work around your needs.

Available liquid, chemical and heat treatments.

Guaranteed long lasting relief. 

And much more!
Termite Control in Wilmington
Termites are a homeowner's worst nightmare and there are plenty of good reasons for that. Five billion reasons, to be more precise as nationwide, they cause more than $5 billion in home damages every year. Our termite treatment in Wilmington is the most effective way for you to protect your home from wood destroying insects. Don't wait until the damage is done and book a FREE home termite inspection today!
Our termite control services include:
A top-to-bottom home inspection to assess the extent of your home's infestation and any related damages. 

Available recurring treatments or one-time termite services.

Long term home protection with trelona bait stations. 

A wide variety of termite treatment options to meet your needs. 

And more!
Mosquito Control in Wilmington
We all look forward to summer and spending countless hours outside – until an inevitable swarm of mosquitoes drives us to take shelter in our homes. You can try smelly sprays, ineffective candles, and DIY foggers, but for long-lasting mosquito removal, the experts at Bug-N-A-Rug Exterminators have your back. Our professional treatments will clear mosquitoes from your yard within hours and provide relief that lasts for weeks.
When you trust us for mosquito control in Wilmington, you will receive:
An extensive property evaluation

by our friendly and knowledgeable mosquito exterminators.

Mosquito removal using eco-friendly treatments

that protect the local ecosystems.

Reduction of mosquito breeding grounds

wherever possible.

Expertly applied insecticides that

eradicate mosquitoes in all stages of their life cycle

.
Local Mosquito Services
At Bug-N-A-Rug we have been combating pests, such as mosquitoes, in the state of North Carolina for over 25 years. Our mosquito exterminators are equipped with the latest tools, products, and knowledge to provide the best and most effective service possible.
Forward-Thinking Pest Services
Here at Bug-N-A-Rug Exterminators, we're always looking ahead to achieve the best results for you. Our talented and highly-trained exterminators love putting new products and technologies to the test to find out what works. Innovation is a powerful weapon in the fight against nuisance pests. That's exactly why we're always trying to put the latest and most cutting-edge methods to work in your home. Choose the pest control company that's always striving for the best and start with your free quote today.
Other Areas We Service:
Not only do we service Wilmington, but we service quite a few surrounding cities to bring quality pest control services to those who need it!