What kind of pest problem are you having?Select all that apply.
Pest Control In Beaufort, North Carolina
Protect your Beaufort home or business from the many destructive and nuisance pests that live in our area by partnering with the local pest control professionals here at Bug-N-A-Rug Exterminators. We have been providing high-quality pest control services for residential and commercial properties for over 20 years. Our pest control experts have the knowledge, skill, and experience necessary to deal with a wide range of common pests, including bed bugs, termites, rodents, cockroaches, and many more. When pests threaten the well-being of your Beaufort property, Bug-N-A-Rug Exterminators has your back. We are ready to provide effective residential and commercial pest control services you can count on. 
Image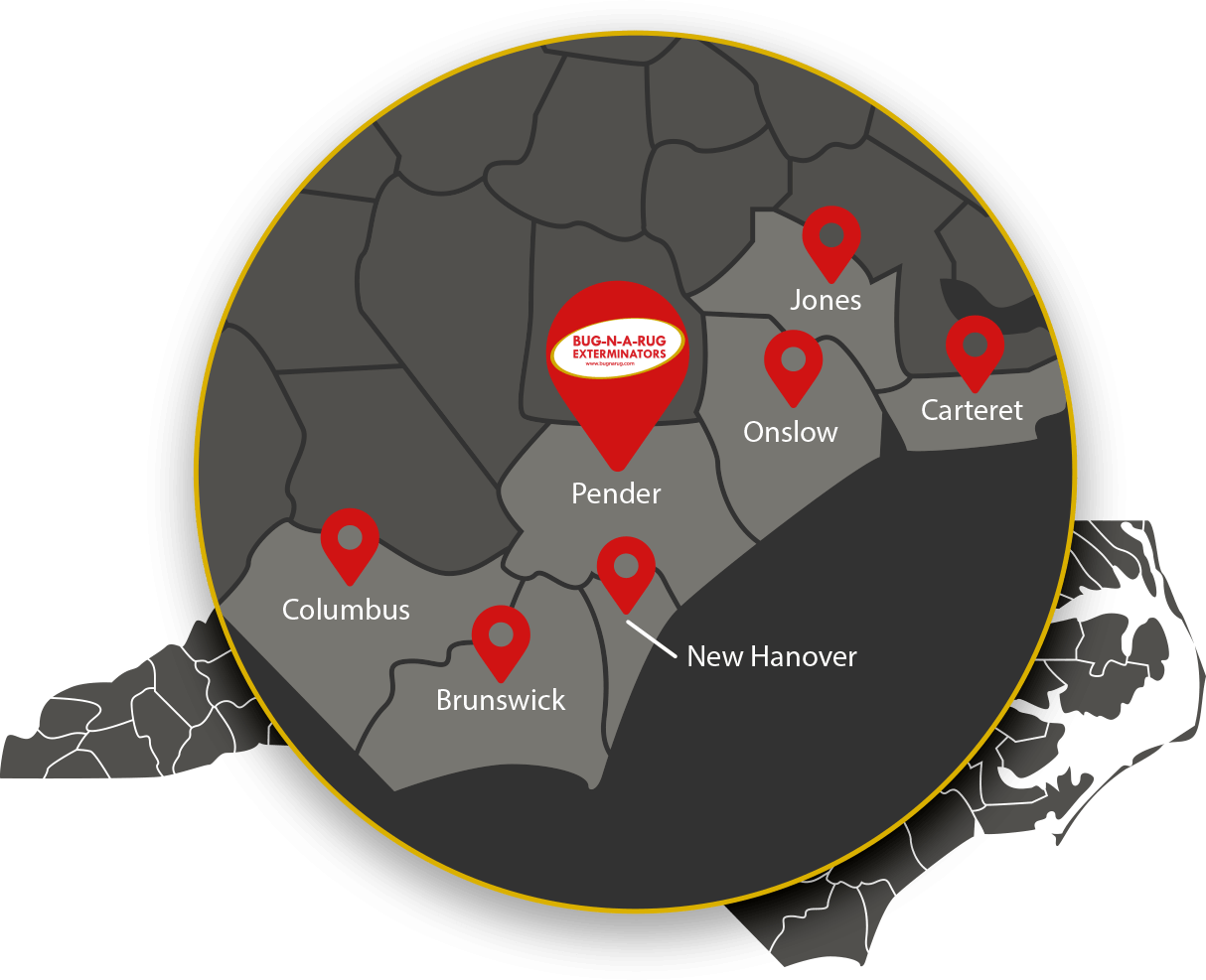 Home Pest Control In Beaufort, NC
Bug-N-A-Rug Exterminators is committed to providing effective residential pest control services. As a family-owned and operated pest control company, we understand the importance of protecting your Beaufort home and family from pests that can cause damage, contaminate food, and spread diseases. We offer everything from specialized pest programs to eco-friendly treatments. No matter what you need, you can rely on us to combat pest threats year-round. Our home pest control process includes exterior treatments, de-webbing services, interior treatments, and identification of problem areas. Get in touch with Bug-N-A-Rug Exterminators today for more information about what our home pest control plans involve.
Commercial Pest Control In Beaufort, NC
Through Integrated Pest Management (IPM) and the use of high-quality pest products, Bug-N-A-Rug Exterminators keeps annoying, disease-spreading, and destructive pests out of your Beaufort business. We work hard to customize our commercial pest services to fit your exact needs. Our licensed pest experts will eliminate current pest pressures and apply treatments to prevent pest infestations in the long run. Reach out to Bug-N-A-Rug Exterminators today to learn more about how our commercial pest process works. 
Termite Control In Beaufort
At first glance, a few tiny white insects around your Beaufort property might not seem like a big deal. After all, there will always be insects that live in your lawn without causing any harm to your home or business. Unfortunately, those tiny white pests aren't just any insects—they're termites. And without the right protection, termites can cause major structural damage that can cost hundreds or even thousands of dollars to repair. Each year, termites are responsible for costing United States property owners approximately 5 billion dollars. To avoid the devastating effects that termite infestations can cause, keep these termite prevention tips in mind:
Remove wooden debris from your lawn, including dead trees, logs, fence posts, and stumps.
Repair faulty plumbing and leaks in your piping, drains, and faucets.
Watch out for signs of termite activity, such as mud tubes, swarmers, and shed wings.
Clear your gutters to ensure water is directed away from your property.
Cut weeds, tree branches, shrubs, and other vegetation away from your foundation.
Eliminate all sources of excess water.
Termite infestations are frustrating and can cause a lot of stress. The best way to control and prevent termites is with effective termite treatments from Bug-N-A-Rug Exterminators. Give us a call today to learn more about how we can help. 
Bed Bug Treatment In Beaufort!
Bed bugs get their name from their habit of feeding on human blood while people are asleep in their beds. These nocturnal pests are found in just about every area that humans gather such as airports, offices, schools, movie theatres, and even public transportation. Bed bugs travel from one place to another by crawling onto clothing, bags, luggage, and other belongings, which are then brought into Beaufort homes and businesses. They are reddish-brown in color and have round, flat bodies that resemble the shape and size of an apple seed. After feeding, bed bugs appear more swollen and redder in color. No matter where you live, bed bugs can live there too. Bed bugs are found in all 50 states and are a major problem for homeowners and business owners. The best way to prevent a bed bug infestation is to avoid bed bugs entirely. Implement these bed bug prevention tips to avoid finding these blood-feeding pests in your Beaufort property:
Inspect your sleeping quarters when staying in a hotel or at a friend's house. Check the mattresses for eggs, bloodstains, and bed bugs themselves. 
Be very careful when you purchase secondhand furniture, as bed bugs could be hiding within it.
Store your clothing in airtight bags when you travel to make your clothing less accessible to bed bugs.
Vacuum your carpets and furniture on a regular basis to pick up stray bed bugs that might have managed to invade. 
Bed bug infestations are difficult to prevent and next to impossible to remove without the help of a professional. The pest experts at Bug-N-A-Rug Exterminators are equipped to handle bed bug infestations of any size. We provide effective bed bug heat treatments that will eliminate bed bugs in every stage of life. Contact Bug-N-A-Rug Exterminators today to get started. 
Testimonials
Read What Our Clients Are Saying