What kind of pest problem are you having?Select all that apply.
Effective Pest Control In Onslow County!
Comprising Jacksonville, Richlands, Holly Ridge, and part of Surf City, Onslow County is a coastal area of the Tar Heel State. As with much of our state, it's known for the colonial-era buildings, deep ties to agriculture, and hot, humid weather. While they contribute to our rich history, all of these aspects also mean that our area can be a hotspot for pests. To keep your property protected, you need to take steps early to ward off pests, rather than wait until they're already a problem before you concern yourself with them. Learn how you can take preventative measures and how professionals offer you the best chances of truly eliminating an infestation if one happens.
Image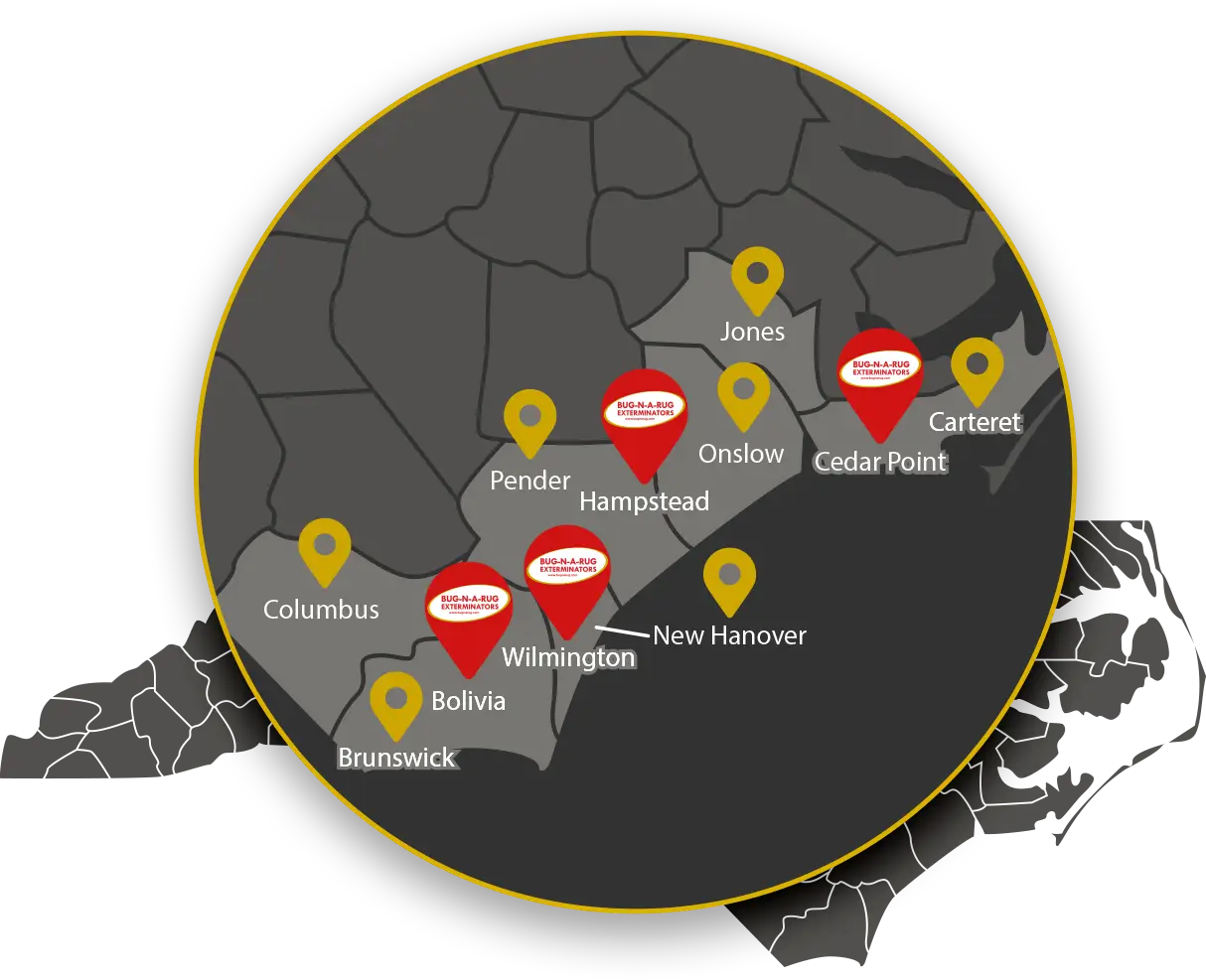 Home Pest Control In Onslow County, NC
Pest populations in your home are a problem nobody wants but that is more common than people realize. The reason for this is that the creatures we think of as pests are attracted by the everyday activities in our houses. They want the food stored in our pantries, the moisture found in our pipes, and the shelter in our storage spaces and inner walls. That's why, if you don't take steps to prevent them from getting in, pests are practically guaranteed. Turning to pest professionals early is never a bad idea. Not only can experts help you quickly eliminate pest problems, but we can also help you prevent them in the first place. At Bug-N-A-Rug Exterminators, we utilize this effective control process:
Inspections: In order to tell what level of pest control you need -- from preventative to targeted -- we inspect your property for signs of pests or attractants. This helps us tailor solutions to your home and budget.
Fast Treatments: Our trucks can pump our environmentally safe treatments out in 35 minutes or less, saving you time and ensuring that the problem is quickly eliminated.
Targeted Pest Control: Some pests require more specific treatments, and some homes require additional services. That's why we offer additional services that account for every situation.
Keep pests out of your Onslow County home by turning to At Bug-N-A-Rug Exterminators today.
Commercial Pest Control In Onslow County, NC
You don't trust just anyone with the safety and health of your business. It's natural to be a hands-on manager and investor of your commercial property. But where pests are concerned, do-it-yourself is a recipe for disaster. Every day business owners don't have the time to deal with all the little things necessary to keep their property safe from an infestation. But when pests make it inside, they can quickly lead to other, more costly problems. That's why it's a better idea to go with professional pest control right off the bat. Experts can protect you from pest invasions before they have a chance to lead to property damage, disease, or other issues. Here's why you can trust At Bug-N-A-Rug Exterminators:
Locally Owned: Our business is locally owned and operated. We treat North Carolina properties right because we take pride in communities that work together.
Customized Services: We also don't try to lump all our services together like other, bigger companies. We offer personalized services that ensure you get the right pest control for your property.
Comprehensive Protection: Our treatments are effective against a wide range of pests, so you know that your business is protected against it all.
Don't sweat it when it comes to pests in your Onslow County business. Turn to Bug-N-A-Rug Exterminators.
Termite Control In Onslow County
If you wait until you have termites before you worry about them, it's probably too late to avoid the property damage they cause. The signs of termites are often subtle until the last minute, and the last minute can include huge costs and even structural collapses. This is why it's imperative that you address the factors that attract termites and leave you vulnerable to infestations. Here's where you should start:
Moisture Control: Not only are all kinds of pests attracted to moisture, but water damage around your property can also open up new access points that make it easier for pests like termites to tunnel inside your structures.
Exterior Access: Speaking of access points, you should also be sure to regularly inspect your exterior walls and foundation for cracks or holes that tiny insects like termites can easily crawl through.
Inspections & Treatments: The best way to ensure that you're keeping up with all these aspects is to have experts come and inspect your property thoroughly. While you're at it, why not let professionals treat your home or business with effective solutions that ward off termites in the first place?
For true protection from termites in Onslow County, contact Bug-N-A-Rug Exterminators today.
Moisture Control In Onslow County
While pests themselves are what everyone worries about, it's really the things that draw them to a property in the first place that people should spend more time thinking about—for instance, moisture. Most people know that moisture can lead to water damage. But they don't often think about how that water damage opens up new access points to your interior walls for pests to utilize. To make matters worse, pests are attracted to moisture from the get-go, which means they will naturally be drawn to places made vulnerable by moisture damage. This is what makes proper moisture control such an essential part of pest control. This is also why professional pest control companies like Bug-N-A-Rug Exterminators specialize in preventing moisture buildup and inspect for signs of moisture damage. Let us inspect your property to ensure you don't have unaddressed issues that could lead to pest problems and expensive property damage. Contact Bug-N-A-Rug Exterminators today.
Cities We Service In Onslow County: