What kind of pest problem are you having?Select all that apply.
Pest Control In Morehead City, NC
Whatever you're looking for in a place to live, Morehead City has something for you. If you like the beach, fishing, outdoor activities, water sports, arts, culture, great food, or just beautiful scenery, you can find it here. What you can also find in our beautiful coastal town is pests.
That's where we come in. We are Bug-N-A-Rug Exterminators and we have been serving the pest control needs of North Carolina since 1996. Our goal has always been to provide service that people can count on at fair prices. We are constantly learning and evolving in our pest control strategies to make sure that we can give our customers the best service the industry can offer. 
Image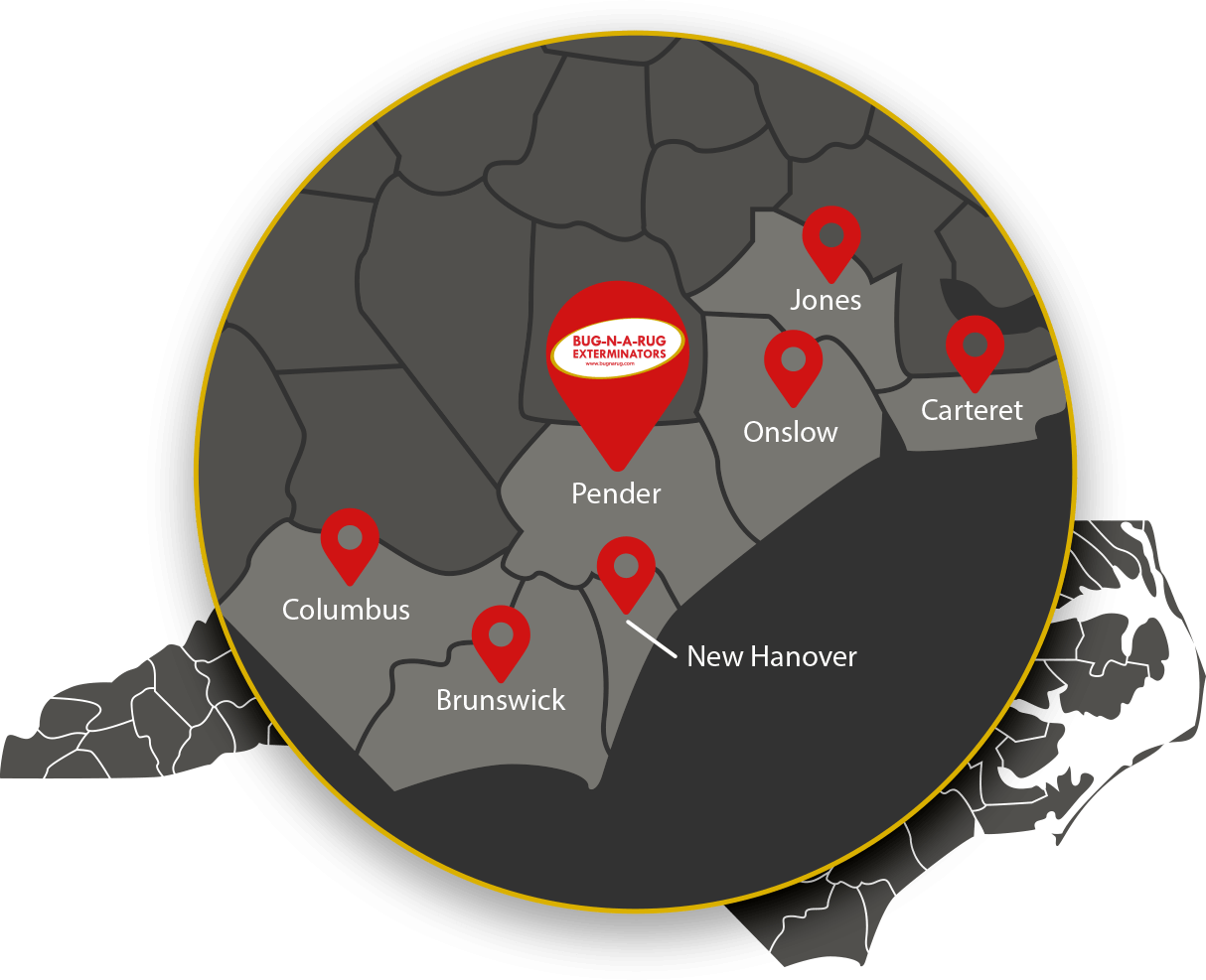 Home Pest Control In Morehead City, NC
You try to protect your home as much as possible. You use an alarm system to protect it from burglars, shutters to protect it from hurricanes, and paint and water sealant to protect it from the elements. You should also be protecting it from pests.
At Bug-N-A-Rug Exterminators, we protect your whole home, inside and out. Here are some of the services we provide, starting with the interior:
Crack and crevice injections

Treating around pipes and outlets

Entry point treatment, including doors, windows, fireplaces, etc.

Treating around appliances

Inspection and treatment of attics

Treating trash cans, garbage receptacles, and storage areas

Garage treatment including spider web removal, rodent prevention, and wasp nest removal

Use of bait and gel treatments where needed
We are just as thorough on the exterior, where we treat:
Crawl spaces, vents, and weep holes

Foundations,

Flower beds, bushes, and landscaping connected to the home

Driveway and walkway joints

Fire ant mounds

Patios, decks, and porches
Whatever your home pest control needs, we have them covered. Contact us today and let us keep your home pest-free so you can live worry-free. 
Commercial Pest Control In Morehead City, NC
As a business owner, you do everything you can to keep things running smoothly. You try to anticipate problems and find the solution before they happen. By working with us for commercial pest control, you can eliminate the issue of pests in your building before it ever happens.
We want to be your first and only choice for commercial pest control in Morehead City. Here are just a few of the reasons to trust us to keep your business protected:
20+ years of experience

Highly trained technicians using the latest technology and tools

We treat a wide variety of pests

A+ rating from the BBB

Members of the National Pest Management Association and the North Carolina Pest Association

Customized plan for each business, offering unique services and pricing based on your needs
Let us get to work protecting your business from pests and give you one less thing to worry about on a daily basis. 
Ant Control In Morehead City
Nothing ruins a fun day playing in the backyard quicker than stepping in an ant pile. Suddenly, you're covered in these little pests. Even after you get them all off you, you're left with painful bites and red welts all over your legs.
If this has ever happened to you, you want to make sure it doesn't happen again. As soon as you see the first pile in the backyard you want it gone. The internet is full of DIY spray recipes and various powders you can make with household items that promise to solve your ant problem. And while some may kill a few ants, they will miss a lot more, and never get to the root of the problem.
Trained pest professionals like our licensed technicians at Bug-N-A-Rug Exterminators can quickly identify the species of ant and develop a treatment plan that is guaranteed. When it comes to ants in your backyard, don't take a chance; call the professionals immediately for ant control.
Termite Control In Morehead City
There is nothing like the word "termites" to scare homeowners. These pests can do thousands of dollars in damage before you even know you have a termite problem. With your home at risk of termite damage, it is important to have a professional termite control plan.
We can develop a plan to eliminate any termites that are currently in your home and keep them from coming back. Here are some of the treatment options that we use to keep your home safe:
Liquid treatment to build a protective barrier around your perimeter

Injections directly applied to nesting areas

Bait stations set up around the perimeter of your home

Bora-Care treatment for new construction projects
We can also provide Wood-Destroying Insect (WDI) Reports before you buy a home. Whatever your termite needs are, let us use our many resources to keep your home safe from termites and save you money.
Testimonials
Read What Our Clients Are Saying