What kind of pest problem are you having?Select all that apply.
Pest Control in Morehead City, NC
Bugs in your home aren't just a nuisance–the health of you and your family can be threatened by the diseases they may carry. And once they are in, they are tough to get out. Our experienced team of exterminators at Bug-N-A-Rug has the latest pest control methods and technologies to send pests packing in no time!
We have pest control services available for:
Roaches

Spiders

Ants

Earwigs

Flies

Beetles

Bees

And more!
Image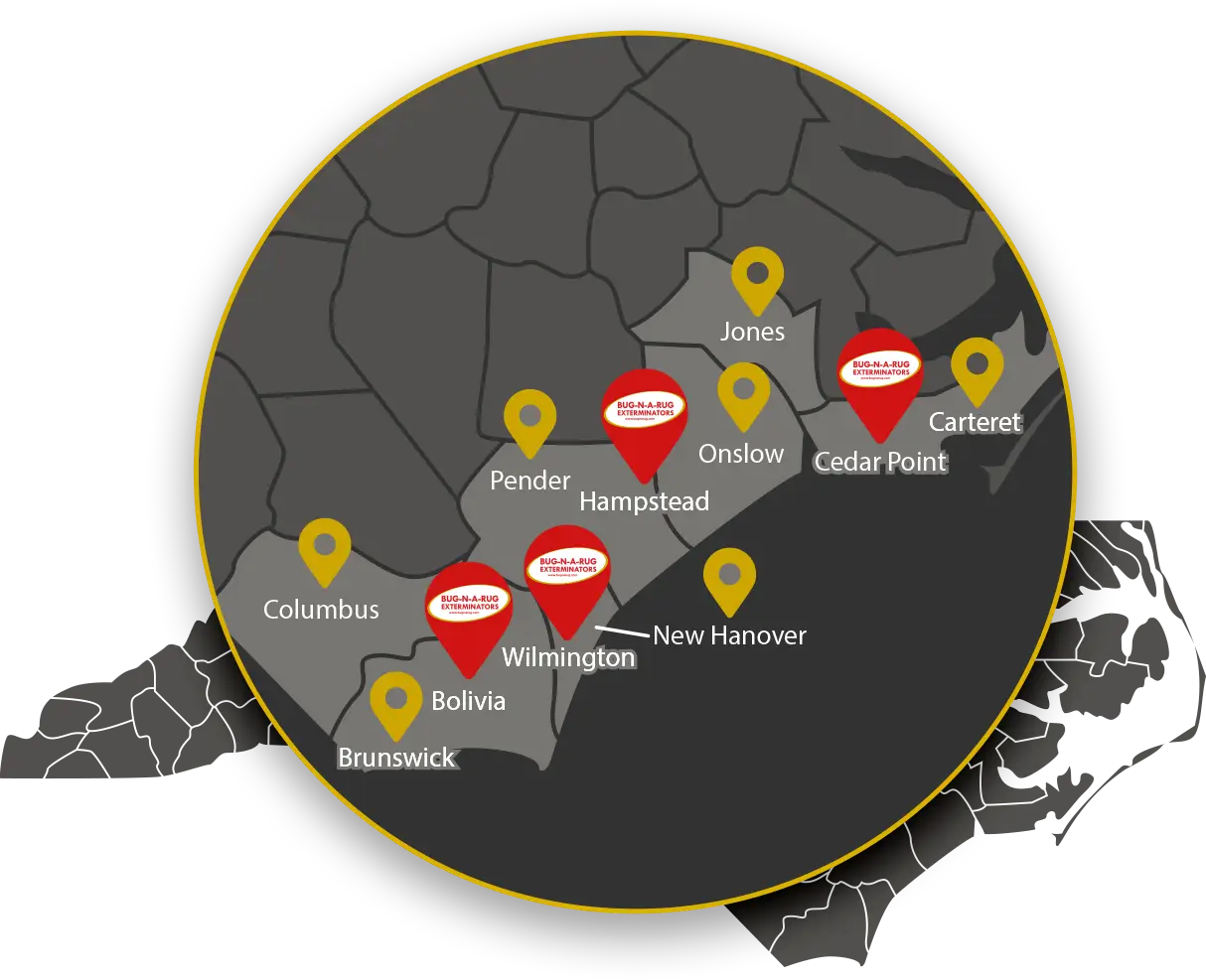 Pest Treatments You Can Rely On
To quickly address your pest control needs, we offer same-day and next-day service, as well as a wide variety of pest protection packages to fit your needs. Unlike other companies, we will not add an initial service fee to your first visit. With quarterly treatment plans, we provide re-treatments for free if the pests return. 
When you use our pest services in Morehead City, you can expect our courteous exterminators to:
Complete a thorough pest inspection

to fully assess your infestation.

Customize a treatment plan

for your home.

Apply treatments both indoors and outdoors

, as necessary to solve your pest problem.

 Keep your family safe with

reduced-risk products

.

And so much more!
The Customer is Our Priority
With over 25 years in the business, we offer outstanding value. We have been recognized as one of the Top 100 pest control companies in the United States by Pest Control Technology Magazine every year since 2020. We are constantly evolving our business to better serve our customers.
Bed Bug Treatment In Morehead City
Not much makes your skin crawl like the thought of bed bugs. Even though they are not known to spread diseases, the fact that they attack at night while we sleep is enough to make you uncomfortable! Professional bed bug control is the most efficient way to return to sweet dreams.
When you trust us for bed bug removal and treatment in Morehead City, we will:
Conduct a complete bed bug inspection

to find their hiding places.

Customize treatment plans

for your unique situation.

Use advanced treatments, such as heat

, that are safe and effective.

Offer guaranteed results

or *free re-treatments.

And much more!
Termite Control In Morehead City
A termite infestation is a serious business and a year-round threat here in North Carolina. Each year, termites cause over $5 billion in damages in the United States alone! It sounds scary, but our expert termite exterminators are here to help you rest easy and protect your home.
Our range of termite removal and protection services in Morehead City include:
A comprehensive termite inspection

to assess your infestation and identify any damages to your home.

An individually-customized treatment

plan

.

One-time termite services

, if indicated.

The option of

long-term termite monitoring

.

Highly effective termite baiting with Trelona bait stations

to wipe out the original termite colony.

And more!
Mosquito Control in Morehead City
Take a stand against mosquitoes and reclaim your property. Trust our mosquito control experts in Morehead City to provide effective solutions and make a difference in your daily life. Our services include the following: 
Free Inspection: Our expert exterminators will evaluate your property to identify problem areas and the severity of the mosquito infestation, ensuring we provide tailored solutions.
Fogging: We use advanced fogging techniques to effectively eliminate adult mosquitoes on contact, providing immediate relief from these pesky insects.
Family Friendly Treatment: Our mosquito control in Morehead City ensures the safety of your loved ones, using environmentally-sensitive practices that won't harm surrounding ecosystems.
Targeted Larvicides: We'll eliminate mosquito breeding areas and treat targeted spots with larvicides, disrupting their breeding cycle and reducing the number of mosquitoes in your area.
Seasonal Protection: Our team will return regularly to ensure you're protected from mosquitoes all season long, giving you peace of mind and a mosquito-free environment.
Say goodbye to itchy bites, sleepless nights, and the constant annoyance of buzzing in your ears. Our mosquito prevention strategies are designed to restore your peace of mind.