What kind of pest problem are you having?Select all that apply.
Pest Control In Belville, North Carolina
Belville is a small, friendly town in Brunswick County and is part of the Wilmington, NC metropolitan area. To ensure your Belville home or business remains free of pests throughout the entire year, the professionals here at Bug-N-A-Rug Exterminators offer a variety of effective residential and commercial pest management options. Serving the communities of Wilmington and the surrounding areas, Bug-N-A-Rug Exterminators is proud to provide superior protection against all kinds of common pests. Whether you're looking for general pest maintenance or specialty treatments to target a specific pest problem, we have you covered. If you're ready to experience a life without pest problems, give a call to the professionals here at Bug-N-A-Rug Exterminators.
Image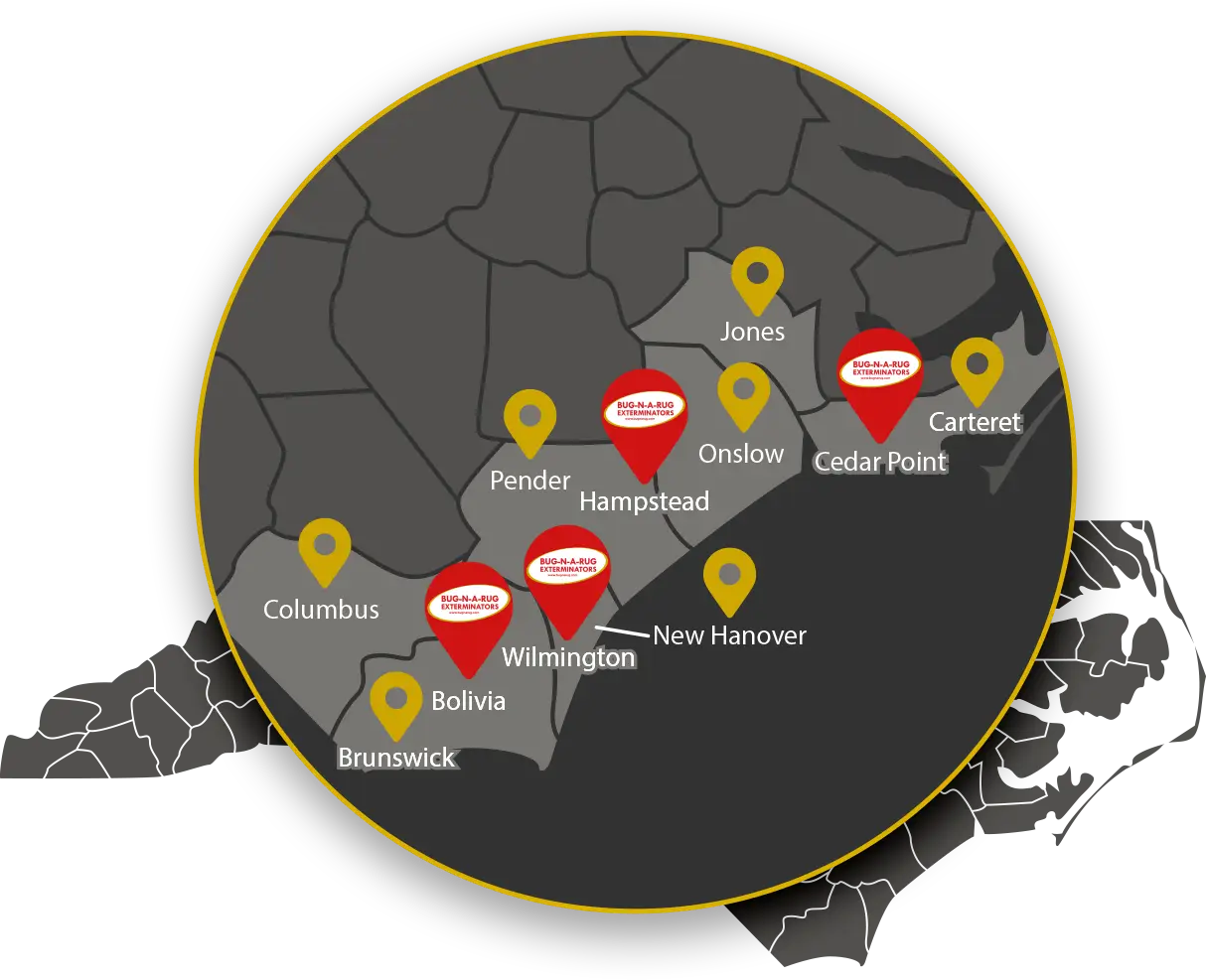 Home Pest Control In Belville, NC
When pests enter your Belville residential property, they're not just a threat to your property, they're also a threat to your family. Between causing damage, contaminating food items, and spreading dangerous diseases, pest infestations are a serious cause for concern. The most effective way to rid your home of pests and prevent them from returning in the future is with an ongoing residential pest control plan from Bug-N-A-Rug Exterminators. Our residential pest control plans include both interior and exterior treatments, depending on the needs of your home and family. In addition to our general pest control services, we also provide eco-friendly options that are safe to use around children, pets, and individuals with respiratory issues. Take back your home from pests by reaching out to Bug-N-A-Rug Exterminators today!
Commercial Pest Control In Belville, NC
Pest infestations have a devastating impact on the success of your business. Not only are pests capable of damaging important equipment and destroying property, but they can also spread a wide variety of diseases and drive away your loyal customers. Keep your Belville commercial facility free of destructive and disease-spreading pests by partnering with the skilled pest management professionals here at Bug-N-A-Rug Exterminators. Our commercial pest control plans are customized to fit the unique needs and regulations of your business, no matter what type of business you own. Whether you're looking to keep your restaurant, school, or healthcare facility free of pests, you can count on Bug-N-A-Rug Exterminators to get the job done right. With over 20 years of experience in the pest control industry and a commitment to protecting people and properties from pests, we have what it takes to provide excellent pest control services every time. Don't wait for pests to ruin your reputation and get in the way of your business's success. Instead, contact Bug-N-A-Rug Exterminators for excellent commercial pest control services you can trust.
Ant Control In Belville
Ants are one of the most common pests to invade Belville homes. These small, social insects thrive in our warm, humid weather and are always searching for new sources of food. When it comes to dealing with ants around your residential property, here's what you should know:
Eliminating an ant colony is more difficult than you might think. Some ant species will split their colonies in half if they perceive a threat, which creates an even bigger problem than what you started with.
Ants are typically outdoor pests but will move indoors to forage for food. One of the best things you can do to minimize ant populations around your home is to remove food sources, such as crumbs, pet food, and open garbage cans.
Ants live in colonies divided by a caste system. Worker ants forage for food and build their nests, soldier ants defend the colony, and reproductives are responsible for expanding the colony.
To protect your Belville property from ants and other common household pests, turn to the professionals here at Bug-N-A-Rug Exterminators. We'll work with you to find the right solution for all your pest control needs.
Termite Control In Belville
Belville is home to many different types of pests, but termites are one of the most destructive. These tiny, social insects live together in large colonies and are capable of causing significant damage to the structure of your home within a relatively short period of time. Each year, termites cost United States property owners about 5 billion dollars, which is more than the damage caused by floods, fires, and earthquakes combined. To avoid attracting termites to your Belville home, implement the following termite prevention tips.
Reduce excess moisture. Repair leaking pipes, replace water-damaged wood, clear debris out of your gutters, and install dehumidifiers to eliminate excess moisture build-up.
Eliminate entry points. Seal gaps in your foundation and exterior wall to prevent termites from gaining access to the structure of your home.
Get rid of food sources. This includes tree stumps, logs, old fence posts, fallen trees, and other wooden debris.
Keep an eye out for termite activity. Signs of termite activity include mud tubes, discarded wings, and swarmers.
When it comes to keeping termites away from your Belville property, your best option is professional termite control services from Bug-N-A-Rug Exterminators. We have what it takes to identify, eliminate, and prevent termite infestations year-round. Get in touch with us today for more information about our termite treatments.
Bed Bug Control in Belville
Sleep peacefully again with Bug-N-A-Rug Exterminators, your trusted bed bug control service in Belvile. Our same-day bed bug inspection and family-friendly treatments will get rid of bed bugs for good. Our bed bug treatments include:
Same-day bed bug inspection to quickly assess the extent of your infestation and provide immediate relief.
Family-friendly bed bug treatments that are safe, efficient, and affordable, ensuring the well-being of your loved ones.
Experience the power of our high-intensity heat treatment, reaching 140 degrees Fahrenheit to eliminate adult bed bugs, nymphs, and eggs in just 8 hours.
Sleep soundly, knowing your home is free from bed bugs. Trust Bug-N-A-Rug Exterminators, your reliable bed bug exterminator in Belville. Act now and unlock the power of our knowledge and expertise.
Mosquito Control in Belville
Why settle for temporary relief when you can have long-lasting mosquito control in Belville? Our expert exterminators are here to provide comprehensive solutions to keep your home and family safe from those pesky insects. Here's how our service can make a difference:
Free Inspection: Our team will thoroughly evaluate your property, identifying problem areas and determining the severity of the mosquito infestation. With this detailed assessment, we can tailor a treatment plan that caters specifically to your needs.
Fogging: We use a highly effective fogging technique that eliminates adult mosquitoes on contact. This powerful method ensures immediate relief from these annoying insects, allowing you to enjoy your outdoor space without any worries.
Family-Friendly Treatment: Our environmentally-sensitive practices prioritize the safety of your loved ones. We use products that are gentle on the environment and won't harm surrounding ecosystems. Rest assured that our treatments are designed with your family's well-being in mind.
Larvicides in Targeted Areas: To prevent mosquitoes from breeding and multiplying, we apply targeted larvicides. By addressing the problem at its source, we disrupt the mosquito's breeding cycle, significantly lowering their population in your area.
Why wait for mosquitoes to ruin your outdoor fun? Take control of your surroundings and protect your family with our professional mosquito control in Belville. Experience the difference for yourself – contact us today for a free inspection!