What kind of pest problem are you having?Select all that apply.
Pest Control In Wrightsville Beach, North Carolina
No one wants to find pests in their home! And while DIY pest solutions might get rid of the pests temporarily, they don't address the source of the infestation. That's why our professional exterminators don't just focus on getting rid of pests that are already infesting your home, but also on pest exclusion to prevent critters from getting in again!
Image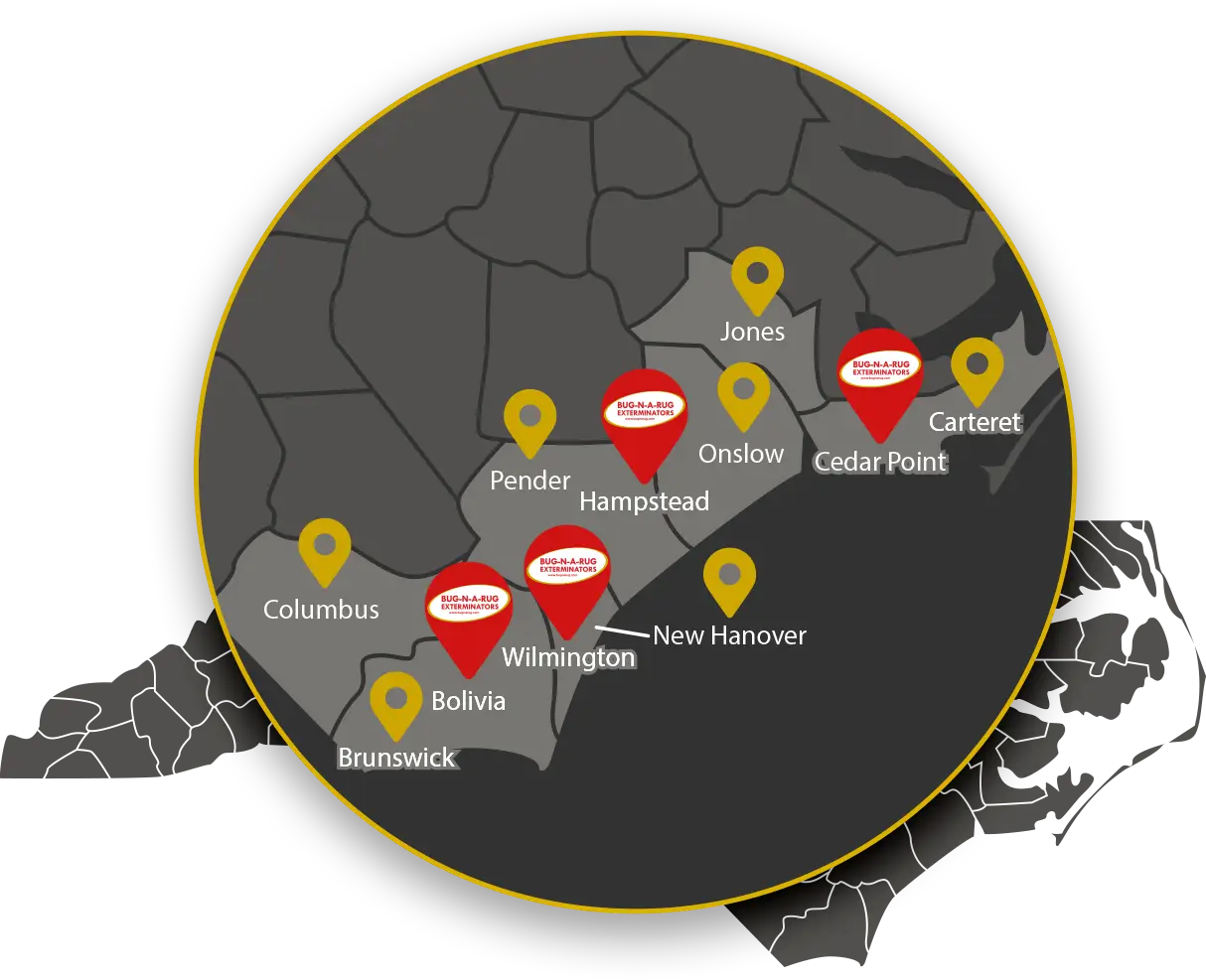 Personlized Pest Treatments For Proven Results
Our expert exterminators work hard to ensure our customers have the best experience, brought to you by efficiency, transparency, reliability, and the latest technology on the market. From start to finish, we'll craft a personalized experience that suits you best.
In fact, we are proud to offer our same-day services for a wide variety of critters, including:
Spiders

Ants

Earwigs

Flies

Beetles

Bees

And more!
When you choose our pest services at Wrightsville Beach, you'll receive:
A detailed pest inspection.
Indoor and outdoor treatments, tailored to your unique situation.
Tried and true methods that are not only effective but safe for the family.
Recurring services to keep pests out for good.
One-time treatments, without the commitment. 
Complimentary retreatments if pests return.
Same-day service, when you need it most.
Schedule Your Free Pest Inspection Today!
Bed Bug Treatment In Wrightsville Beach
Contrary to common belief, bed bug infestations aren't necessarily a sign of cleanliness. In fact, even the cleanest homes can fall victim to bed bug infestations through used clothes, furniture, heavy travel, and more. But once these critters have infested your home, it is nearly impossible to get rid of all the adult bed bugs and their eggs. That's why our bed bug treatment focuses on removing all insects for good!
Our bed bug control in Wrightsville Beach consist of:
A comprehensive bed bug inspection

to expose their hiding places.

A customized bed bug removal plan

, crafted specifically for you.

Treatment methods that are safe for the family and effectively remove all bed bugs.

Free retreatments

if the bugs return.
Termite Control In Wrightsville Beach
We understand that termites are extremely dangerous and destructive pests, which is why we offer an array of services, including termite monitoring, termite baiting, and termite removal. Our team has perfected methods that have proven to be reliable, give you the results you need, and do so while keeping your loved ones safe. When we visit your home for a termite inspection, we'll make sure you're covered and set up for success!
Recognizing Common Signs of Termite Infestations
Termites have the potential to cause a lot of damage to your home, oftentimes without your knowledge. It's important to seek professional termite treatment before the infestation worsens, as these pests can leave behind thousands of dollars worth of destruction if left unnoticed. If you suspect a termite infestation, look out for these common signs:
Discarded wings:

When termites lose their wings, they often leave behind piles near windows and doors.

Mud tunnels:

These cylindrical tubes act as a mode of transportation for termites to travel to your home from the ground, and can be found in your foundation. 

Peeling paint:

When termites are near, they can release excess moisture in your walls. This causes your paint to peel and resembles water damage.

Hollow wood:

When termites eat at your wood, you are usually left with a center that sounds hollow and empty.

Buckling floors:

When termites cause structural damage, your floors can be left looking uneven, cause buckling, and can sound squeaky.
Commercial Pest Control In Wrightsville Beach, NC
If you own a business in Wrightsville Beach, it's crucial to have a pest control plan set in place. Our commercial pest control services cover a wide range of businesses, offering complete extermination, prevention, and maintenance for the long term protection of your business. From schools and healthcare facilities to restaurants and retail shops, we cover a long list of common pests.
No matter what type of business or commercial facility you run, we're ready to help. Our main goal is to make your property pest-free, preventing pest activity for years to come. Don't risk your reputation. Don't risk the health of your customers and employees. Call us today to receive pest control in Wilmington and the surrounding areas. 
Mosquito Control in Wrightsville Beach
Are mosquitoes ruining your summer fun in Wrightsville Beach? Don't let those pesky bugs keep you indoors any longer. Our professional mosquito control service can help you take back your outdoor space. Here's what we offer:
Free inspection: Our expert exterminators will evaluate your property to identify problem areas and determine the severity of the mosquito infestation.
Fogging: We target mosquitoes at their source, disrupting their breeding cycle and actually lowering the number of mosquitoes flying around and mosquito larvae, not just repelling them.
Family friendly treatment: We use environmentally-sensitive practices that won't harm surrounding ecosystems, making it safe for your family and pets.
Larvicides in targeted areas: We eliminate mosquito breeding areas and places with standing water, discouraging mosquitoes from laying eggs.
Wrightsville Beach's warm climate and sparkling waters can attract hordes of mosquitoes, making mosquito control in Wrightsville Beach a must. Our mosquito treatment can help you enjoy your outdoor activities again, without worrying about insect bites.