What kind of pest problem are you having?Select all that apply.
Pest Control In Wrightsville Beach, North Carolina
Wrightsville Beach is a lovely place to live for so many reasons. We're lucky enough to be located right along the Atlantic Coastline. We love fishing, gardening, and spending time outside taking in the salty sea air. We're surrounded by water with Banks Channel, Motts Channel, and Lee's Cut. We're a gem in New Hanover County, and local residents and business owners aren't the only ones who think so.
 
Pests are drawn to this area as well. They thrive in locations with a lot of water, making us extremely susceptible to infestation. Bug-N-A-Rug Exterminators is here to help. We're a family-owned and operated company that has been servicing the greater Wilmington metro area since 1996. We're proud members of the NPMA (National Pest Management Association) and the North Carolina Pest Association. Our Green Pest Control options offer environmentally friendly solutions, and our customized pricing is catered to fit your needs. Call us today for a free home evaluation.
Image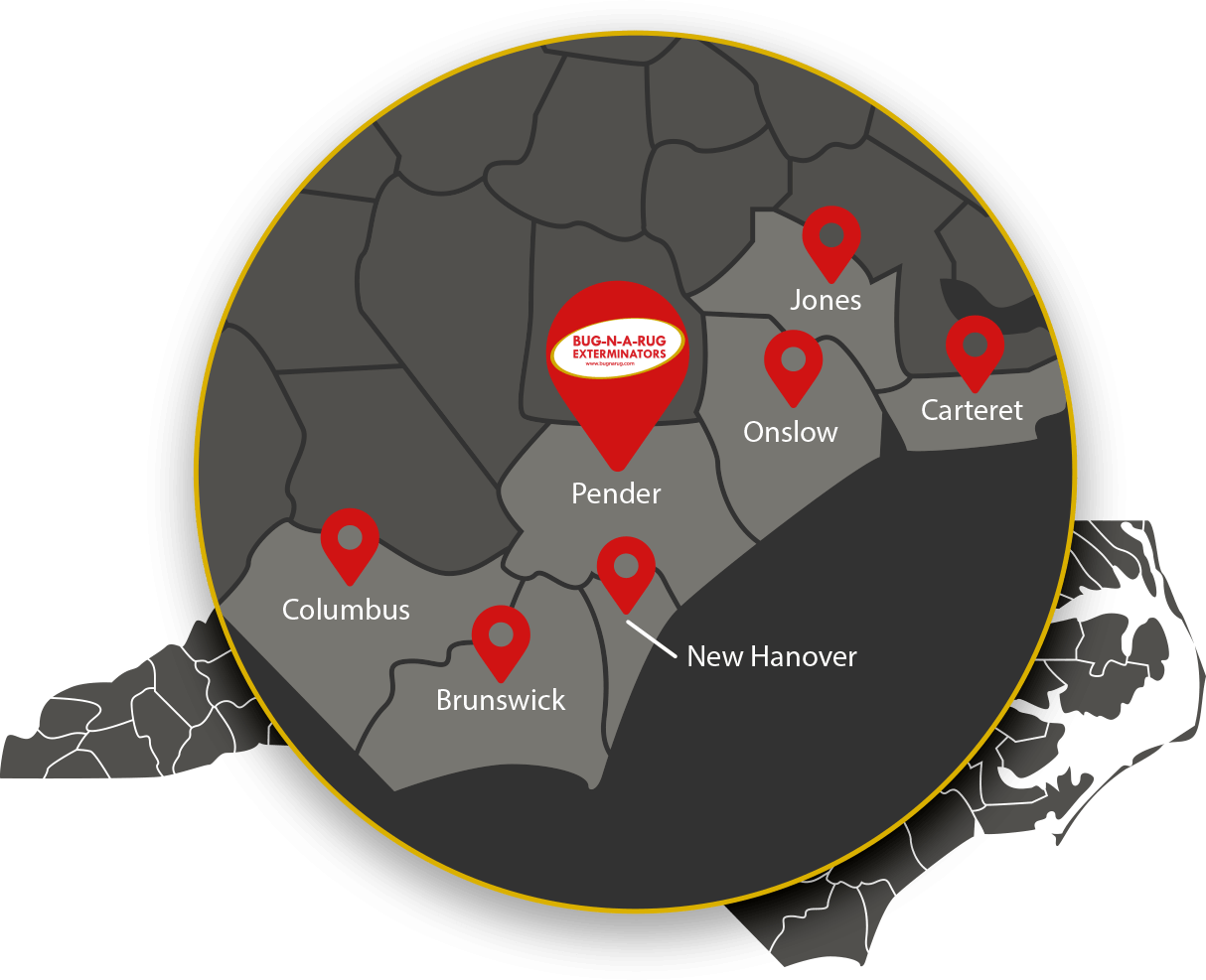 Home Pest Control In Wrightsville Beach, NC
Owning a home has so many wonderful benefits, but it's not without its headaches and concerns. One of these migraine-inducing issues is pest infestation, and Bug-N-A-Rug is ready to help. Our residential pest control services are available on a monthly, bi-monthly, or quarterly basis, and we're ready to work with you to come up with a customized treatment plan that fits your needs. Whether you're looking for Wilmington exterminators or Wrightsville, we have you covered!
 
Our exterior treatments cover a wide range of vulnerable areas, making sure to block off all entry points and make the necessary habitat modifications to keep pest activity at bay. Our exterior services cover:
Crawl space, vents, and weep holes
Foundation perimeter
Eaves
Patios, decks, and porches
Driveways and walkways
Yard, flower beds, bushes, and landscaping
Our interior treatments are just as thorough and effective. From cockroach extermination and control to baiting and gel methods, we take care of the inside of your home from top to bottom. Our interior services cover:
Cracks and crevices

Kitchen, bathrooms, and utility areas

Pipe fittings under sinks

Electrical outlets and wall voids

Entry points (doors, windows, fireplace, etc.)

Appliances (stove, dishwasher, fridge, washer, dryer, etc.)

Trash receptacles and garbage areas

Attic and crawlspace
Contact us to discuss your residential pest control needs. We also offer comprehensive real estate inspections as well as pre-built treatments for construction. Prevention is the best approach to pest control, and we're ready to get to work.
Commercial Pest Control In Wrightsville Beach, NC
If you own a business in Wrightsville Beach, it's crucial to have a pest control plan set in place. Our commercial pest control services cover a wide range of businesses, offering complete extermination, prevention, and maintenance for the long term protection of your business. From schools and healthcare facilitates to restaurants and retail shops, we cover a long list of common pests, including:
Ants

Bed bugs

Earwigs

Hornets

Mosquitoes 

Old house borer beetles

Powder post beetles

Roaches

Rodents

Silverfish

Spiders

Stored product pests

Termites

Wasps

Wildlife
No matter what type of business or commercial facility you run, we're ready to help. Our main goal is to make your property pest-free, preventing pest activity for years to come. Don't risk your reputation. Don't risk the health of your customers and employees. Call us today.
Bed Bug Control In Wrightsville Beach
Bed bugs are nuisance pests that hitchhike into your Wrightsville Beach home. Once inside, they're impossible to manage without the help of a professional. Fortunately, there are three practical precautions you can take to mitigate your risk of bed bug infestation: 
Bed bugs tend to hide in the cracks and crevices of your clutter, so keeping a clean, tidy space goes a long way in preventing bed bugs. This includes regularly washing and drying your bedding, linens, and clothing on high heat to kill off bed bug activity.

Get protective encasements for your mattress and box spring. This prevents bed bugs from entering and also keeps existing bed bugs from escaping and spreading your infestation.

Whenever you bring new items into your home, make sure to do a thorough inspection, checking for any signs of bed bug activity. Notably, watch out for used furniture, secondhand clothing, and luggage.
Termite Control In Wrightsville Beach
Termites can cause large scale, irreversible damage that can become quite costly. It's important to know the signs of termite infestation to identify any termite activity and take immediate action. The sooner you tackle an infestation, the better your chances are of saving your home or business.
Consider the following indications of termite activity:
Cracks and crevices along the foundation

Discarded wings on the floor near doors and windows

Droopy drywall

Gallery tunnels (mud tubes) in the ground

Hollow sounding wood

Swarmer termites flying around looking for food and nesting spots

"White ants" in the soil, which are worker termites

Windows and doors that are stuck

Wood to soil contact and damp, damaged or weakened wood
To protect your property from the perils of termite infestation, call in the professionals at Bug-N-A-Rug Exterminators. We're experienced in the identification and elimination of termite colonies, implementing preventative measures to protect your home or business moving forward. Contact us today to discuss your specific pest control needs. It's never too early to take precautions against termites. 
Testimonials
Read What Our Clients Are Saying