Image

Reclaim Your Home With Our Humane Animal Removal!
Wildlife Control in Wilmington and the Surrounding Areas
Here on the Carolina Coast, we're blessed with an abundance of fascinating and charismatic local wildlife. But even the most enthusiastic of us don't want wild animals getting into our homes, especially rodents. Occasionally, their search for food and shelter, or even just their curiosity, might lead them indoors. 
When that happens, you can count on us to deliver swift relief from:
Rats

Mice

Squirrels

Snakes

Opossums

Raccoons

Bats

And more!
Get Rid of Intrusive Wildlife Today
When wild animals get inside, the consequences can be severe if they're not dealt with quickly. That's why we're proud to offer available same-day service for fast relief without the hassle and headaches you simply shouldn't have to endure.
Safe, Effective, and Dependable Wildlife Removal
Wild animals getting into your home can be a nerve-wracking experience, to say the least. That's why we've designed our wildlife control in Wilmington to restore, protect, and preserve your peace of mind. With highly-trained and experienced exterminators and more than 25 years of local experience backing us up, you can trust us to deliver the swift results that you and your loved ones deserve.
Our wildlife removal services include:
A free inspection

of your home and the surrounding area. 

Customized wildlife prevention and treatment plans

which adapt to your unique needs.

Exclusion services

to prevent wild animals from coming back. 

Protection from animal-borne diseases

like the dreaded Rabies virus.

Free re-treatments

if you aren't satisfied with our work. 

And much more!
Book Your Free Inspection Today!
Rodent Control in Eastern North Carolina
Rodents don't belong in the house! That's why we take a careful, thorough, and holistic approach to ridding your home of rats, mice, squirrels, and other rodents by conducting detailed inspections and developing personalized plans based on our findings. 
The longer an infestation persists, the harder it will be to dislodge, so don't wait to give us a call as soon as you notice any of the following signs of rodents in your home:
Rustling, scratching, or chewing noises

coming from behind your walls.

Strange or uncharacteristic pet behavior or injuries

without obvious explanation.

Missing foodstuffs or bite marks

on food packaging. 

Shredded paper or cardboard,

which could be a sign that rodents are nesting.

Grease marks

on walls or baseboards.

Mouse or rat footprints

, particularly around food storage areas.

Unpleasant odor

s coming from difficult-to-access areas of your home.   

Live specimens

.
Contact Us Now To Get Started!
No Initial Fees or Hidden Charges
Both in the Carolinas and beyond, it seems like so many pest control companies shamelessly nickel and dime their customers as a matter of policy. Not us, though! At Bug-N-A-Rug Exterminators, we believe in transparency and will never charge you any hidden or initial fees on any of our services. Our prices are upfront and clear so you'll always know exactly what you're paying for every time. 
Image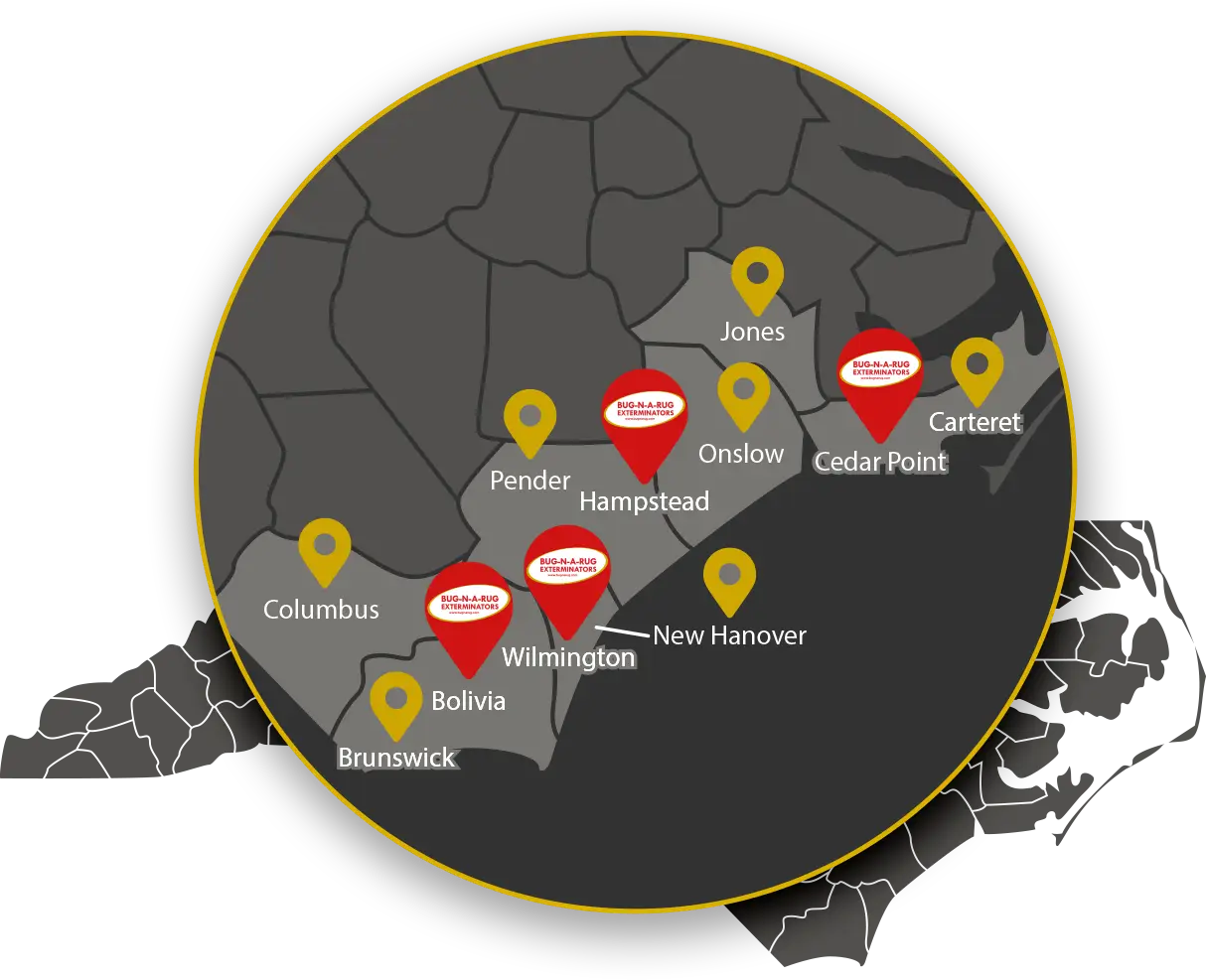 Local Pest Control Experts
Areas We Service in North and South Carolina
The Carolinas, while a wonderful place to live and raise a family, has no shortage of pest-related challenges. Fortunately, we're here to meet your every need, offering comprehensive and accessible service across the Coastal Carolinas. Whether you're looking for pest, termite, or mosquito control, we have you covered!