What kind of pest problem are you having? Select all that apply.
Pest Control In Topsail Beach
While a wonderful place to live and to put down roots, the North Carolina coast is no stranger to household pests. At times, it seems like these nuisance bugs will stop at nothing to make our homes theirs, meaning that you need the experts on your side if you want to keep them outdoors. Fortunately, we at Bug-N-A-Rug Exterminators are here to protect your home from:
Ants

Bed Bugs

Cockroaches

Fleas

Mosquitoes

Rodents

Silverfish

Spiders

Stinging Insects

Termites

And many others!
Aside from Topsail Beach, we also provide our exception pest control services in Holly Ridge, Jacksonville, Swansboro, and other neighborhoods throughout Onslow County.
Image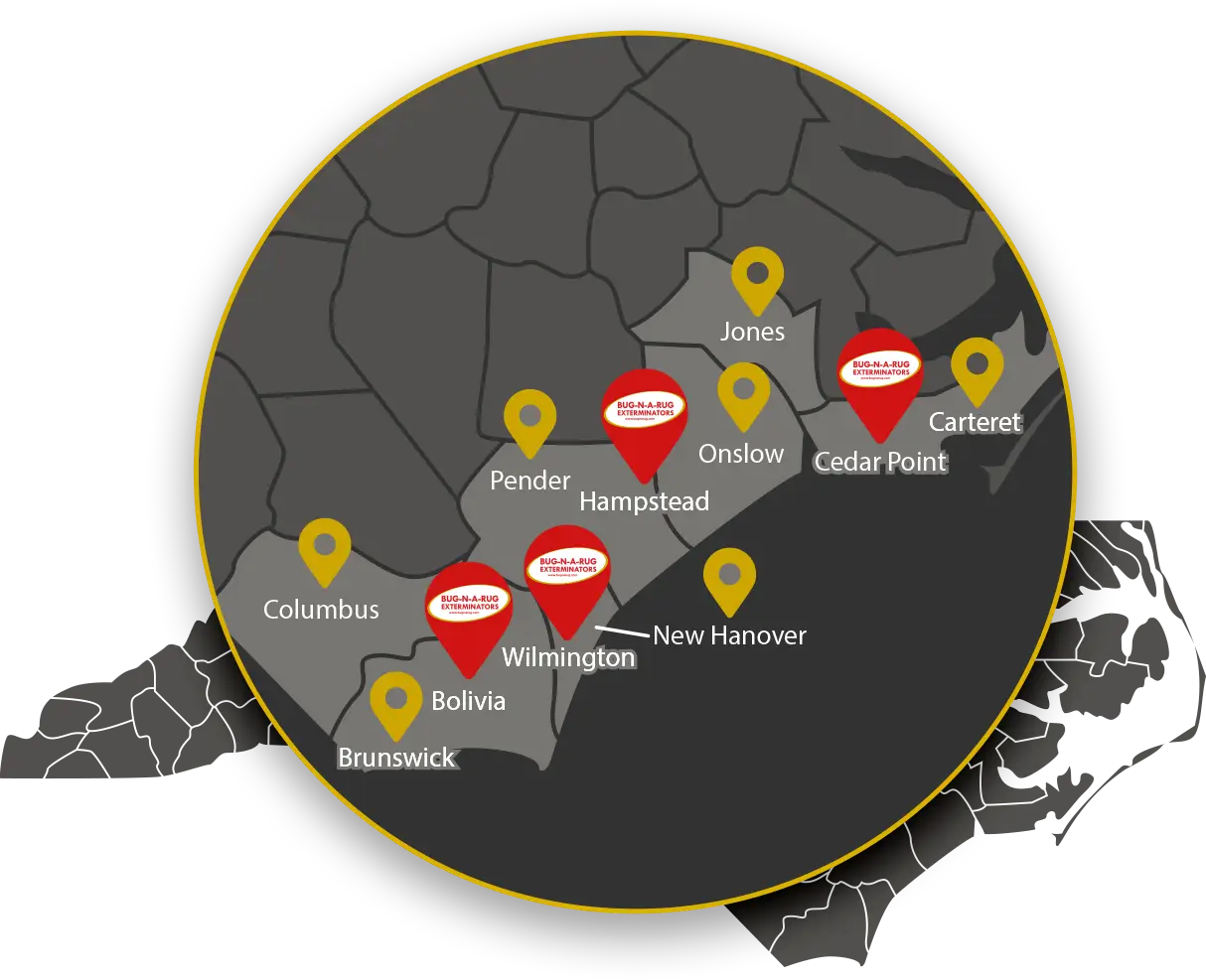 Innovative Pest Treatments In Topsail
Bug-N-A Rug Exterminators was founded on a fundamental belief that pest control could be better, safer, and more effective. To this day, their idea is at the very core of our service and has manifested in a spirit of innovation that colors everything we do. We're proud to be the first to put new methods and technologies to the test to give you the best pest control in Topsail Beach. On top of that, our service includes: 
Interior and exterior home pest inspections

from the area's most dependable exterminators.

Custom-designed indoor and outdoor pest treatments

to get rid of active pests and prevent them from coming back.  

Family and environmentally-friendly service

for your peace of mind.

Free callbacks

if pests return between appointments. 

Quarterly treatments for the year-round relief you deserve.

Contractless plans and one-time treatments.

And more! 
Get Relief When you Need it
Who wants to live in a pest-filled home? We're guessing you don't. Why then, do so many pest control companies make you wait for days on end to get help? At Bug-N-A-Rug Exterminators, we avoid that altogether with our available same-day and next-day service! Get the relief you need on your schedule and book your service with us today. 
Termite Control in Topsail Beach
If you don't like termites, we understand completely. Their aggressive and destructive reputation is well-deserved, as is fear and anxiety that they cause in homeowners nationwide. Annually, termites are responsible for more than $5 billion in home damages and they aren't picky about who's house they'll invade. Given that, you can't afford to settle for anything less than that absolute best termite treatment in topsail beach!
With our service, you can expect:
A

detailed home termite inspection

to determine the extent of your termite infestation and any related damage. 

Available

one-time termite treatments or recurring services

.

Subtle trelona bait stations strategically installed for long-lasting protection.  

And more!
Bed Bug Treatment in Topsail Beach
Anyone who's spent even a single night in a home with bed bugs knows that getting rid of them as quickly as possible is critical if you ever want to sleep soundly again. Small, stubborn, and notoriously difficult to deal with, bed bugs can strike at any time and have tremendous potential to negatively impact your life. If they do sneak indoors though, you can feel confident that we'll do the job right. Here at Bug-N-A-Rug Exterminators, out bed bug treatment in Topsail Beach includes:
Our bed bug services includes:
A

dependable and thorough bed bug inspection

of your home to identify every affected room.

Minimally invasive bed bug heat treatments

which are safe for your family, pets and your home!

The

long-lasting relief

and peace of mind you deserve.

And much more!
Mosquito Control in Topsail Beach
Tired of having your outdoor gatherings ruined by mosquitoes? Smelly bug sprays, candles, and wristbands only give so much protection. It's time to get professional help from the experts at Bug-N-A-Rug Exterminators. We'll give you same-day mosquito control, so you can enjoy your time outdoors to the fullest. 
Here's what to expect from our mosquito control in Topsail Beach: 
A comprehensive inspection by our mosquito exterminators and treatment based on the severity of the population.

Removal of adult mosquitoes, as well as treatment of breeding areas, such as stagnant water. 

Environmentally sensitive treatments.

Treatment plans with recurring services that keep you safe all summer long.
Mosquito Protection in Topsail Beach 
It's easy to see mosquitoes as just an annoyance, but they can also spread harmful diseases to you and your family. The best way to prevent diseases, such as West Nile virus and Zika virus, is to seek out professional protection from these pests. Don't wait--get expert mosquito removal from Bug-N-A-Rug Exterminators, and keep your family safe today.
Your Satisfaction Guaranteed!
At Bug-N-A-Rug Exterminators, your complete satisfaction is our top priority. It's this dedication to quality service that has made us one of the most trusted names in North Carolina and gives us such a high customer retention rate. In fact, more than 75% of our clients have been with us for over three years! We're looking forward to working in and around your home for years to come so don't hesitate to schedule your free inspection today.