What kind of pest problem are you having?Select all that apply.
Pest Control in Leland
Even the most fastidious homeowner will eventually have to deal with a pest infestation. It's an unfortunate reality but nuisance bugs and other unwanted home invaders excel at getting indoors. And while they bring stress and anxiety with them, you're not alone when it's time to get rid of pests for good. Sign up today and we'll protect your home from:
Ants

Bed Bugs

Cockroaches

Fleas

Mosquitoes

Rodents

Silverfish

Spiders

Stinging Insects

Termites

And many more!
Image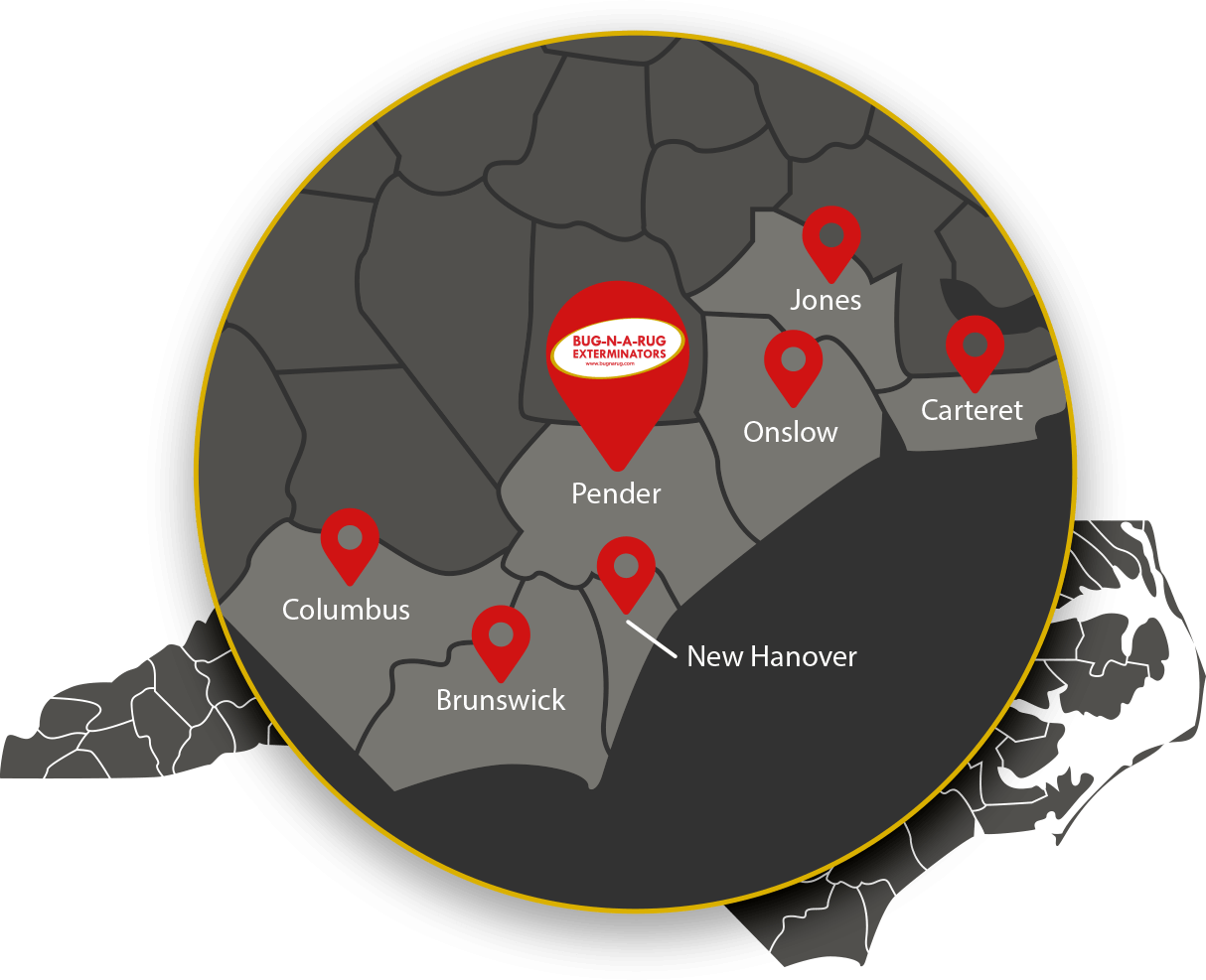 Trust our Innovative Exterminators
Here at Bug-N-A-Rug Exterminators, we pride ourselves on our spirit of innovation. We're always the first to field test the latest, most cutting-edge pest control technologies and put them to work for our customers. So when you find yourself the victim of an infestation, look to our pest control in Leland to give you back your home! With us on your side, you can expect:
A full indoor and outdoor pest inspection from a local expert.

Comprehensive interior and exterior treatments to resolve even the most severe infestation quickly.  

Family and eco-friendly products for your safety and peace of mind.

Quarterly treatments that provide year-round relief.

And more! 
Get Quick Relief From Pests on Your Schedule 
At Bug-N-A-Rug Exterminators, we think that you should be able to get the relief you need whenever you need it. So to help you get rid of pests on your schedule, we offer both same-day and next-day service depending on your needs. Don't wait around for days on end in a home full of pests. Instead, choose the company that works around you. 
Termite Treatment in Leland
Life is full of challenges both large and small, so the last thing you need are termites making a meal out of your home. Termites though, are a voracious and determined pest, responsible for over $5 billion in home damages each year. Knowing that, why would you entrust your home to anyone but the very best? Our termite treatment in Leland provides your home with the year-round protection that you deserve, so book your service today to receive:
An expert assessment of the termite population and level of existing damage in your home. 

One-time or recurring services depending on your unique needs.

Trelona bait stations for reliable, long-lasting protection. 

Flexible and customizable treatment options available. 

And more!
Bed Bug Treatment in Leland
After a long day, there's nothing better than a good night's sleep. Bed bugs however, excel at disrupting your rest. So when these nasty little bloosucking pests turn up in your home, you need to get rid of them as fast as possible in a way that lasts. Our bed bug treatment in Leland provides you with the relief that you and your loved ones need. Take back your rest and let us help you get rid of bed bugs for good!  
Our bed bug includes:
A

detailed home bed bug inspection

from a local exterminator.

Minimally invasive bed bug heat treatments

which are safe for family, pets and your home!

Long term relief guaranteed

or we'll come back!  

And much more!
Take Advantage of our Free Callbacks
With years of experience backing up our service, we've seen it all when it comes to pest control. We understand that household pests are nothing if not stubborn. That's exactly why we aren't done working for you once we leave your home. In fact, if pests return between our quarterly services, we'll come straight to your home to get rid of them at no extra cost to you. You deserve a pest control company that won't stop working for you and at Bug-N-A-Rug Exterminators, that's exactly what you'll get!
Testimonials
Read What Our Clients Are Saying