Pest Control In Myrtle Beach, South Carolina
Myrtle Beach is a city and vacation resort along the Atlantic coast of South Carolina. Lined with arcades, souvenir shops, and restaurants this city is a destination for many pests as well as people. Bug-N-A-Rug Exterminators offers effective, efficient, and eco-friendly pest control services to protect your Myrtle Beach home or business. We are committed to protecting people and property from pests that are not only a nuisance but also destructive and dangerous. Our local pest experts understand how frustrating pest infestations can be. We make it our number one goal to deal with pest problems so that you can focus on other, more important aspects of your life. Contact Bug-N-A-Rug Exterminators today to learn more about the residential and commercial pest control programs we have to offer. We're happy to provide affordable and effective pest control services year-round. 
Image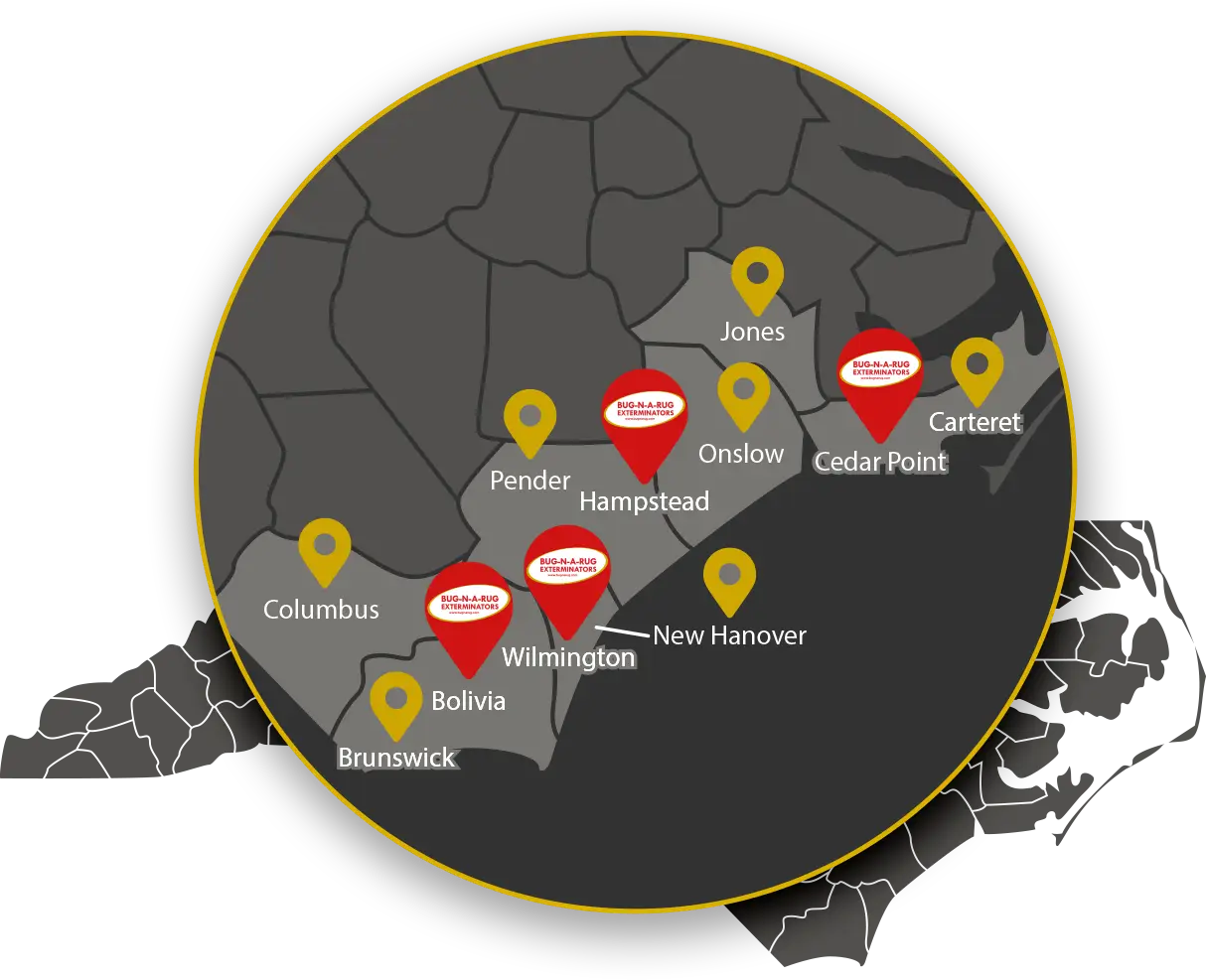 Home Pest Control In Myrtle Beach, SC
Bug-N-A-Rug Exterminators has been committed to helping homeowners protect their homes and families from pests for over 20 years. A family-owned and operated company, we are aware of how important it is to keep pests that can spread diseases, endanger your family, and damage your property out of your Myrtle Beach home. Our residential options include general pest management, moisture control, and termite treatment services. We also offer eco-friendly treatment options that are safe for you, your family, and your pets. Keep unwanted pests away from your property with a little help from the pest technicians at Bug-N-A-Rug Exterminators. We're ready to provide year-round home pest control services you can count on. 
Commercial Pest Control In Myrtle Beach, SC
Just one cockroach spotted by your customers can put your business reputation at risk. At Bug-N-A-Rug Exterminators, we believe that pests should be handled with a zero-tolerance policy. No matter what type of pests get into your commercial facility, they have the potential to cause a lot of problems for your Myrtle Beach business. Using Integrated Pest Management (IPM) strategies and advanced pest control treatments, the professionals at Bug-N-A-Rug Exterminators can put a stop to destructive, dangerous, and disease-spreading pests. With our skilled pest technicians on the job, you can rest assured that existing pest problems will be dealt with and no pests will infest your commercial property in the future. Pests can drive away your customers and prevent your business from becoming successful. When you turn to Bug-N-A-Rug Exterminators for commercial pest control, you can depend on us to protect your Myrtle Beach property from all kinds of pest threats. Give us a call today for more information about our customized commercial pest solutions.
Moisture Control In Myrtle Beach
When you own a residential property here in Myrtle Beach, you want to keep it clean, well-kept, and free of problems. At face value, it might not seem like a big deal if a bit of moisture builds up in your crawl spaces or wall voids. Unfortunately, this couldn't be further from the truth. During warm weather or seasons with excessive rainfall, condensation and moisture tend to build up in crawl spaces. Once there it can seep into the wood and insulation. Without the right help, this excess moisture can lead to serious problems in your Myrtle Beach home. These problems include:
Structural damage
Unnecessary expense for repairs
Insulation dampness
Musty smells
Mold and mildew growth
Reduced air quality
Health issues
High humidity
Pest infestations
The best way to combat moisture problems is with professional moisture control services. Bug-N-A-Rug Exterminators is fully-equipped with the skills and tools needed to resolve any moisture control issues in your Myrtle Beach home. Contact us today for more details about our moisture control services. 
Mosquito Control In Myrtle Beach
No one has ever walked out into their lawn and thought, "I really enjoy sharing my property with mosquitoes." Let's face it, everyone hates mosquitoes. Not only are mosquitoes annoying and irritating, but they're also downright dangerous. Mosquitoes are responsible for spreading a wide range of diseases, including malaria, yellow fever, Zika virus, and chikungunya. Each year, about 1 million people die of mosquito-borne illnesses. Minimize your mosquito exposure with a few of these mosquito prevention tips: 
Wear insect repellent when you spend extended periods of time outdoors.
Avoid going outdoors during dawn and dusk when mosquito activity is highest. 
Wear light-colored clothing.
Remove standing water from your property.
Dump out items that may collect water, such as buckets and flowerpots.
Cut thick foliage and weeds away from your property.
Reduce excess moisture.
Professional mosquito control services from Bug-N-A-Rug Exterminators are the best way to protect your Myrtle Beach property. Get in touch with us today to schedule your no-obligation inspection.