What kind of pest problem are you having?Select all that apply.
Pest Control In Jacksonville, NC
Located on the coast, the seaside oasis of Jacksonville is a lovely place to live or visit. Our ocean breezes, picturesque beaches, and abundant parks make residents enjoy living and playing in this city. However, in spite of its charm, Jacksonville does harbor some unwanted pests. When there's so much to do, nobody wants to worry about rodents, mosquitoes, termites, or other unwanted visitors plaguing their home or business. That's why it's important to work with the professionals at Bug-N-A-Rug Exterminators.
Bug-N-A-Rug is dedicated to keeping Jacksonville homes and businesses free of bugs and other unwanted pests, regardless of the season. We pride ourselves on our great customer service, prompt treatments, and budget friendly residential and commercial pest control options. Don't worry about pests in your home or business for another minute - we have you covered.
Outside of Jackson, we also provide our professional pest control in Swansboro, Trenton, Holly Ridge, and throughout Onslow County.
Image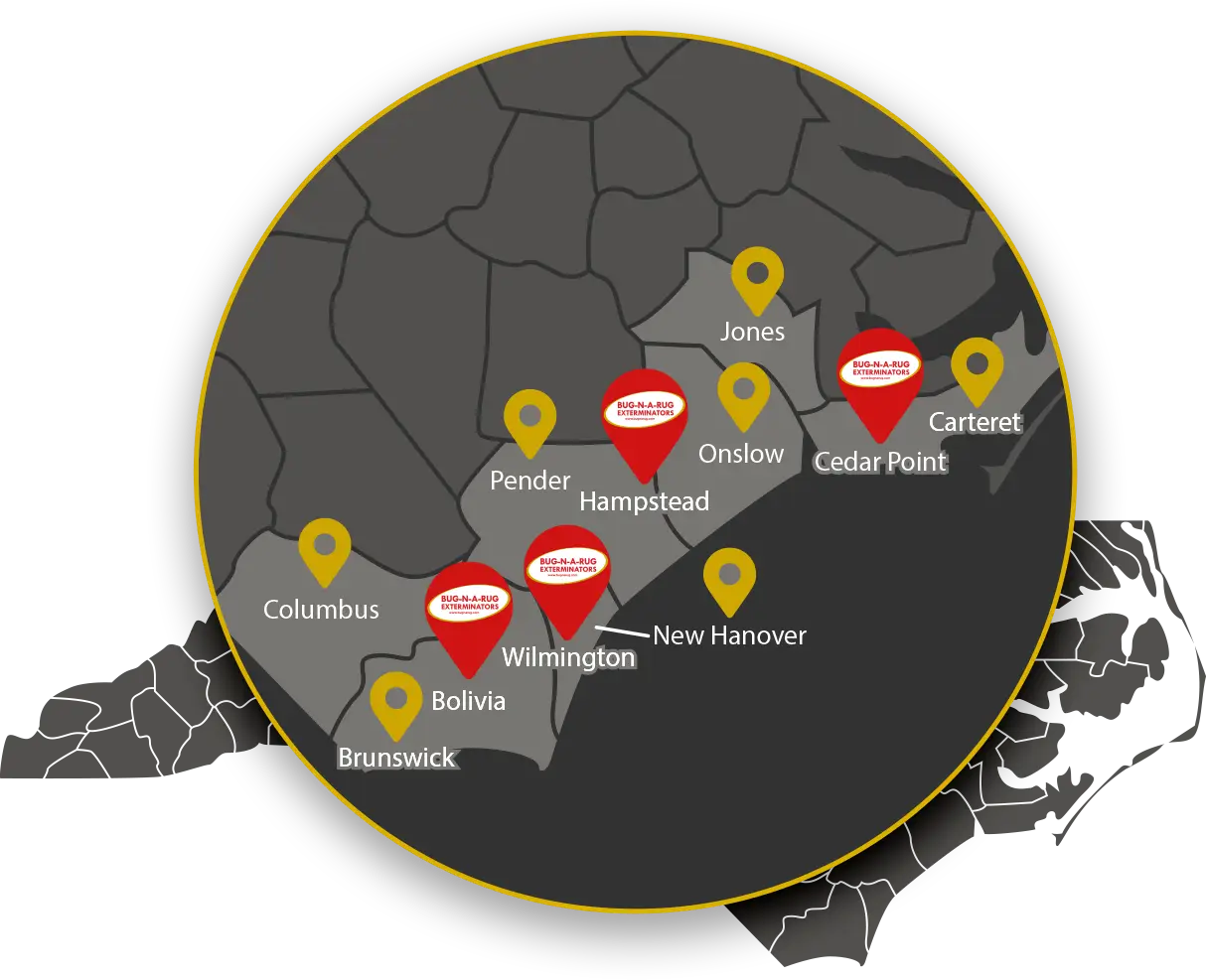 Safe and Effective Pest Treatments
If you're worried about pest control in your Jacksonville home, we will design a plan that suits your unique needs. We practice safe and eco-friendly pest treatment so that your family and the environment won't be exposed to harmful chemicals. We tailor all of our plans to fulfill your individual needs. Our experienced and licensed exterminators will use effective products and equipment to treat your home. We offer monthly, bi-monthly, and quarterly treatment options that treat both the interior and exterior of your home.
Inside your home, we will thoroughly inspect and treat areas for unwanted pests and complete a complete crack and crevice injection in areas where there's elevated pest activity. We make sure that every area of your house is covered including entry points, electrical appliances, attics, and basements.
Pest problems begin outside. Therefore, we will also treat the exterior of your house to limit pest activity around the perimeter of your home or in your yard. We apply a liquid or granular treatment to keep pests away, then focus on sealing up entry points to prevent unwanted bugs and rodents from getting inside. We also inspect and treat your lawn to ensure that fire ants aren't a problem around your Jacksonville home.
The residential pest control services we offer are safe, effective, and budget-friendly. We offer free at-home evaluations to determine which pest control plan is best for you and your family. From there, we will work swiftly and within your schedule to make sure we handle your Jacksonville pest control service correctly. Contact us today to schedule your free in-home evaluation!
Commercial Pest Control In Jacksonville, NC
If you own a business or commercial property, you know how important it is to keep your facility free and clear of pest activity. Nothing will ruin your reputation faster than rumors of a rodent or bug infestation. That's why the experts at Bug-N-A-Rug offer commercial pest control options to keep your facility pest free. Whether you own or manage an office building, a restaurant, an apartment complex, or a retail shop, we have the experience and expertise to handle your pest problems efficiently and discreetly.
Depending on your individual needs, we will come up with a solution to your problem. We treat the exterior and interior of your building to not only eliminate current pest activity, but to keep pests away from your property for good. As always, our products are safe, effective, and eco-friendly so that you don't have to worry about using harmful chemicals on your commercial property. Reach out to us today to speak with a professional about your commercial pest control options!
Moisture Control In Jacksonville, NC
Here in Jacksonville, we love the smell of the salty sea air. However, the added humidity that comes with living on the coast can bring about unwanted consequences inside of your home or business causing unwanted moisture problems. Not only will increased moisture levels cause unwanted mold and mildew, but it is also an invitation for unwanted pests, particularly dangerous ones like termites, cockroaches, rodents. Furthermore, if left untreated, moisture will cause expensive damage to your home and unwanted health problems for your family members or employees.
Fortunately, our professionals at Bug-N-A-Rug know how to make sure that your home stays dry. We use the latest in moisture control equipment to ensure your crawlspace and the rest of your home or facility is dry and protected from moisture damage. If you suspect has unwanted moisture, contact our professionals at Bug-N-A-Rug today. We will conduct a free inspection and create a moisture treatment plan to solve all of your moisture issues.
Termite Control In Jacksonville, NC
If you're concerned about termites, our experts at Bug-N-A-Rug offer a free home evaluation to make sure you don't have to worry about the financial burden that comes from an out-of-control termite infestation. Our termite treatment plans ensure the protection of your home from current nests and from future ones.
We have two decades of experience dealing with termites and other unwanted pests, and we've done our research to ensure that we use up-to-date, safe, eco-friendly, and effective methods for termite control. Specifically, we use industry-leading Trelona© products to treat your infestation.
If you're worried about a termite infestation or suspect that you already have one plaguing your Jacksonville home, contact the professionals at Bug-N-A-Rug today. We will work with your schedule and your budget to find the solution that solves all of your termite problems.
Tips To Keep Unwanted Pests Away!
Bug-N-A-Rug offers monthly, bi-monthly, and quarterly treatment plans that will solve all of your pest control problems. However, there are some preventative measures that you can take to keep pests out of your Jacksonville home or business:
Caulk and seal – Caulk your windows and seal your doors. Make sure screens don't have holes in them.

Door sweeps – Use these on your doors to help keep pests from crawling under the tiniest of openings.

Keep your home or business facility clean – This may sound simple enough, but bugs gravitate towards human food and dirt. A clean home gives them less of a reason to come inside.

Lawn Care – Bugs first congregate outside the home. While this is where they are supposed to live, certain lawn areas can hold small puddles of water and allow mosquitoes to breed. Additionally, an unkempt lawn may attract other pests such as fire ants or rodents.

Clean Your Gutters – Leaves and dirt attract animals and bugs to nest and grow near your home. Keeping your gutters clean will prevent unwanted critters from making their way inside.

Cracks – Repair the cracks in your home's exterior. Sealing these areas will keep both unwanted water and pests out your home or business.
No matter the season or your situation, Bug-N-A-Rug will help you solve all of your pest problems. Call us today at (910) 254-9443 and we will connect you with a professionally trained technician that will come to your home or business when it is most convenient for you to conduct a free evaluation.