What kind of pest problem are you having?Select all that apply.
Pest Control In Atkinson, North Carolina
Atkinson is a small town in Pender County, located about 25 miles away from Wilmington, North Carolina. To protect your Atkinson home or business from the wide variety of nuisance and dangerous pests in our area, it's important to implement ongoing pest management services from a trusted pest control provider. At Bug-N-A-Rug Exterminators, we've made it our top priority to provide excellent services that will keep your residential or commercial property free of pests. We have over 20 years of experience providing exceptional pest control solutions for residents in Wilmington and the surrounding communities. We're proud to protect people and properties by utilizing advanced treatments and proven methods of pest prevention. Say goodbye to insects, spiders, rodents, and other pests when you partner with the professionals at Bug-N-A-Rug Exterminators today.
Image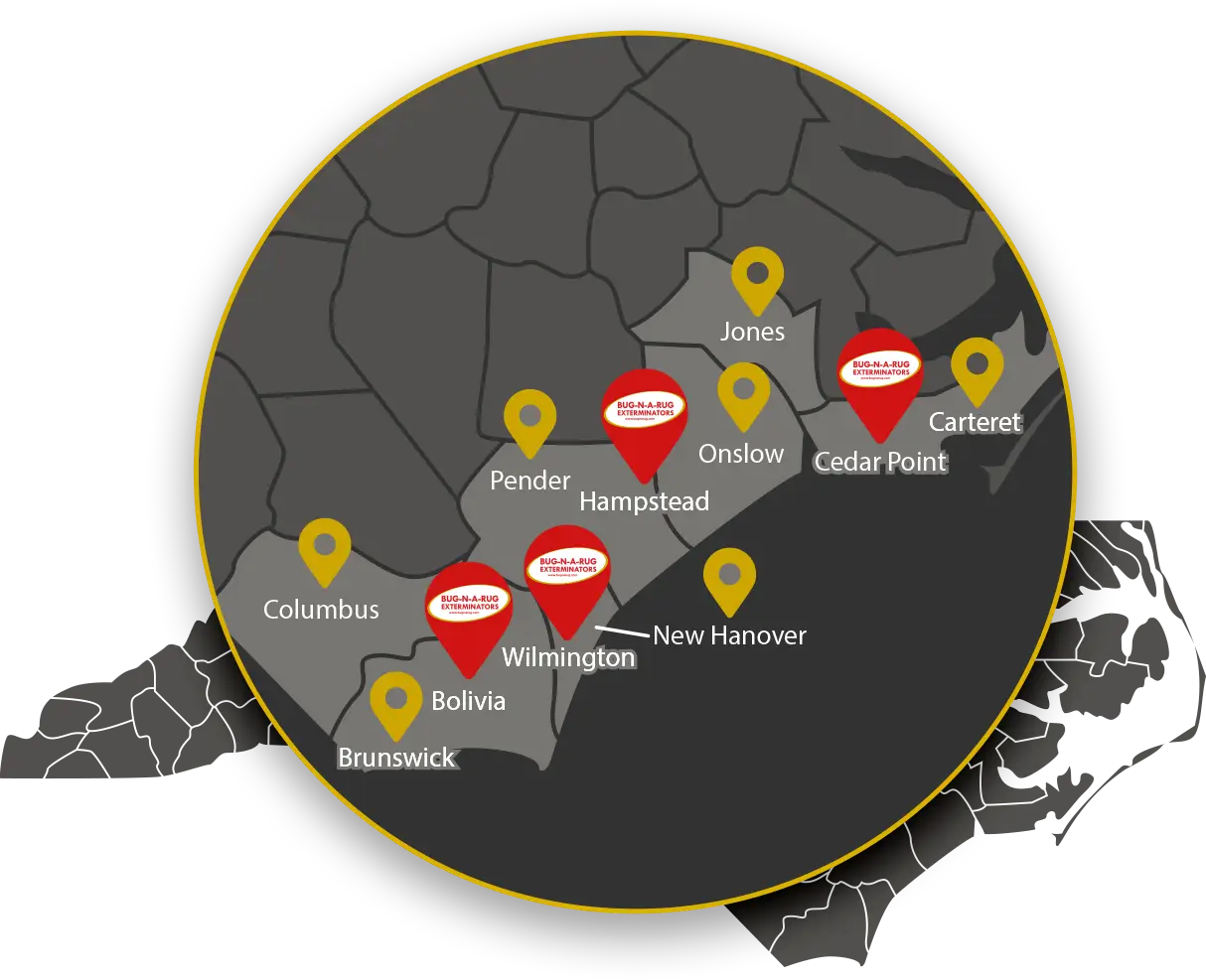 Home Pest Control In Atkinson, NC
You should feel relaxed and comfortable in your Atkinson home. But when pests invade your residential property and threaten your peace of mind, they make your home an uncomfortable place to live. Pests introduce harmful bacteria, endanger your family, and destroy personal belongings. The most effective way to eliminate and prevent pests year-round is with professional home pest control services from Bug-N-A-Rug Exterminators. We offer monthly, bi-monthly, and quarterly treatments based on the needs of your home and family. No matter if you're looking for pest control services in Hampstead or Atkinson, we're here for you! Through excellent treatments and pest management techniques, we protect Atkinson homes and families from pests throughout the entire year. Reach out to us today for more information about our residential pest control process.
Commercial Pest Control In Atkinson, NC
Pests in your commercial facility are a recipe for disaster. Not only can they cause damage to important equipment and destroy property, but they can also spread a wide range of diseases and scare away your customers. The best solution to commercial pest problems is professional pest control services from Bug-N-A-Rug Exterminators. We have a deep understanding of area pests and how to keep them out of your Atkinson business. Our goal is to offer a customized commercial pest control solution that eliminates all of your pest problems at their source. Get in touch with Bug-N-A-Rug Exterminators today to find out how we protect businesses from pests.
Ant Control In Atkinson, NC
Ants are one of the most common household pests. They live in large nests and work together to feed, build, and protect their colonies. Most ant species live outdoors but will venture into Atkinson homes and businesses when they forage for food. Avoid attracting ants to your property by implementing the following ant prevention tips.
Store your food items in airtight, sealed containers and keep your cupboards organized.
Seal gaps and crevices around your foundation and install weather stripping on your doors and windows.
Never leave uneaten pet food out overnight.
Keep your garbage cans sealed and take out the trash regularly.
Ant prevention tips are helpful, but they aren't a replacement for professional ant control services. The best approach to protecting your Atkinson property from ants and other pests is with complete pest protection from Bug-N-A-Rug Exterminators. Don't hesitate to contact our skilled pest technicians today for immediate assistance with all of your pest control needs.
Bed Bug Treatment In Atkinson
Bed bugs are small, parasitic insects that feed on human blood. They have flat, oval bodies and resemble the shape and size of an apple seed. Although bed bugs are not dangerous pests, they cause many problems when they get into Atkinson homes. Bed bug infestations can lead to increased stress, paranoia, anxiety, and a lack of sleep. In severe or prolonged cases of infestation, bed bugs can even cause anemia in some individuals, which is a condition where the body doesn't produce enough healthy red blood cells to carry oxygen throughout your tissues. Unfortunately, bed bug infestations are difficult to prevent and nearly impossible to get rid of. When it comes to figuring out whether or not you need professional bed bug control, it's important to learn how to identify the presence of bed bug activity in your Atkinson home. Signs of bed bug activity include:
Small specks of bed bug fecal matter on your box springs, mattress, and sheets
Bloodstains on your bedding, clothing, and furniture, left behind after bed bugs finish feeding
Bed bug eggs, shed skins, and dead bed bugs around your sleeping areas
A strong odor that smells like coriander and grows stronger as the infestation worsens
Itchy red bite marks without an identifiable cause, arranged in rows or clusters on your skin
If you notice any signs of bed bug activity in your Atkinson home, don't hesitate to reach out to the technicians here at Bug-N-A-Rug Exterminators. We provide several pest control options, including bed bug treatments. Reach out to us today to get started.