What kind of pest problem are you having?Select all that apply.
Pest Control In Loris, North Carolina
Loris, North Carolina is located right on the Atlantic coastal plain, very close to the South Carolina state line. We enjoy a humid, subtropical climate all year round, meaning our summers are hot and our winters are windy and cold. Pests love this kind of climate for the abundance of precipitation, so Loris homes and businesses are, unfortunately, at risk of pest infestation.
 
Bug-N-A-Rug Exterminators provides Horry County and the surrounding areas with environmentally friendly "Green Pest Control" services. We are a family-owned and operated company that believes in continued education. We are always updating our technologies and broadening the skill sets of our certified technicians so that they can solve any pest problem. Since 1996, we've been a trusted source for quality pest control in the greater Wilmington area. Call us today for a free home evaluation. We offer custom pricing to suit your specific situation; let's get started.
Image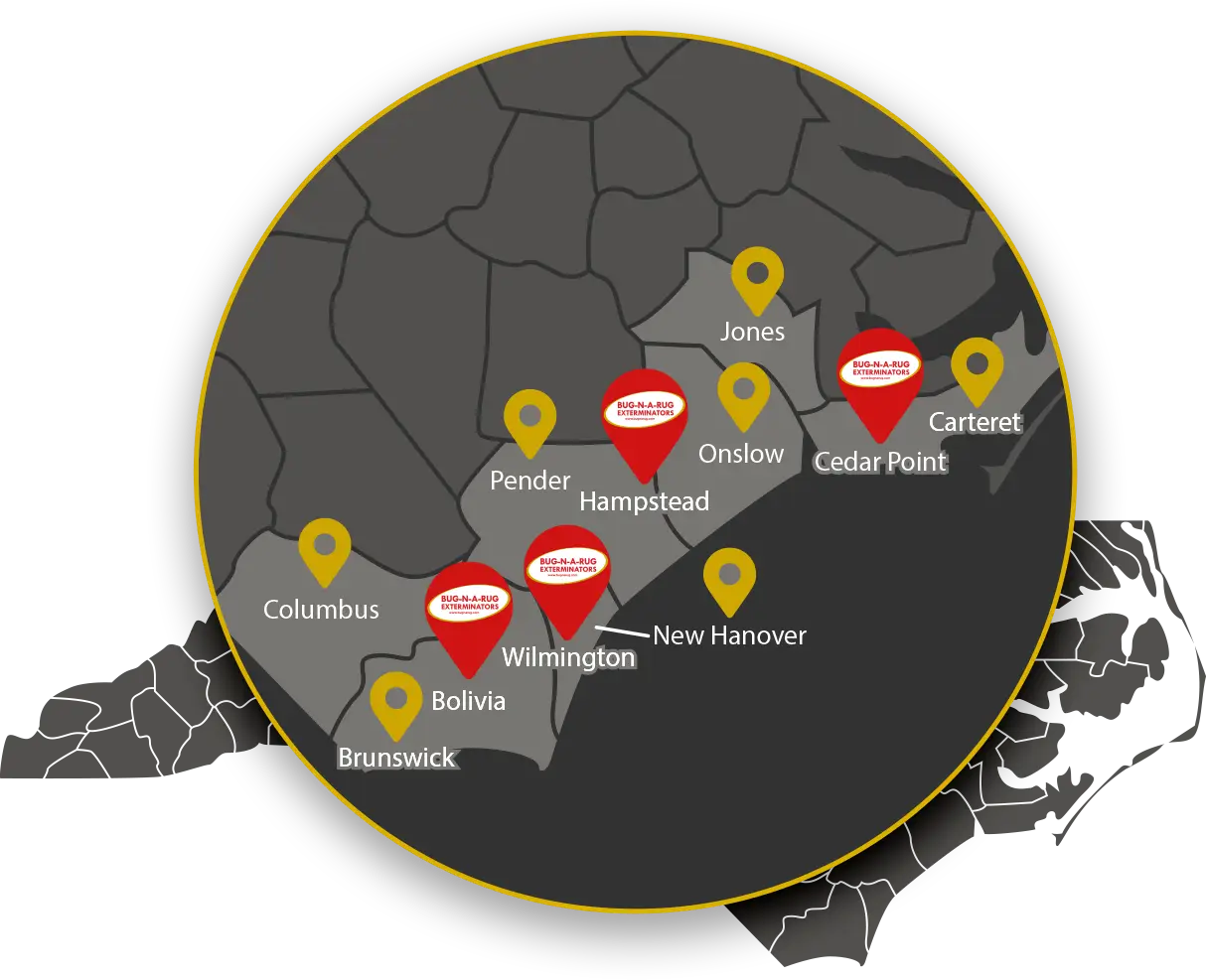 Home Pest Control In Loris, NC
If you're looking to protect your home and your family from the terrors of pest activity, we're here for you. Our residential pest control services are available on a monthly, bi-monthly, or quarterly basis, covering both the exterior and interior of your home for the most thorough treatment possible.
 
Exterior Treatments: 
Crawl space, vents, and weep holes
Foundation perimeter
Eaves
Patios, decks, porches
Driveways and walkways
Yard & all flower beds, bushes, and landscaping
Interior Treatments:
Cracks and crevices
Kitchen, bathrooms, utility areas
Pipefittings under sink
Electrical outlets and wall voids
Entry points (doors, windows, fireplace, etc.
Applicants – stove, dishwasher, fridge, washer, dryer
Trash receptacles and garbage areas
Attic and crawlspace
Garage and shed
From cockroach extermination and control to customized bait stations and gel methods, we've got you covered. We also offer comprehensive real estate inspections for new homeowners and pre-build treatments for new construction. Contact us today for a personalized quote.  
Commercial Pest Control In Loris, NC
No matter what type of business you're dealing with, pest control is an absolute must. Nothing destroys a company's reputation quite like a pest infestation. Imagine a hairy rat running through your restaurant or a cringe-worthy cockroach scurrying across a guest's hotel bed. No one wants that. Our commercial pest control services cover a wide range of businesses. From schools and restaurants to healthcare facilities and warehouses, we're here to help. We provide reliable coverage from a long list of common pests, including:
Ants

Bed bugs

Earwigs

Hornets

Mosquitoes

Old house borer beetles

Powder post beetles

Roaches

Rodents

Silverfish

Spiders

Stored product pests

Termites

Wasps

Wildlife
The team at Bug-N-A-Rug Exterminators works with you to come up with the right treatment plan catered to the needs of your business. Our custom pricing allows us to personalize each of our treatments and to optimize our service offerings to make them work for you. Call us for an estimate. We're happy to discuss our commercial pest control solutions and how they can be of service to your business.
Moisture Control In Loris
All homes and businesses need to have a normal level of humidity to stay comfortable, but what happens when there's too much? Moisture problems are common for North Carolinians and may seem relatively harmless. After all, it's just water. It can, however, be rather destructive. Consider the following list of potential consequences from excess moisture in and around your home:
Rotting wood

Corroded insulation

Weakened structure of the home

Peeling, chipping, and cracking paint

Household dust leading to allergies and asthma

Growth of microorganisms that threaten your health

Damaged possessions from condensation
For quality moisture control throughout the year, Bug-N-A-Rug Exterminators is the way to go. Our licensed technicians identify all problem areas and then put in place the necessary repairs and modifications to keep moisture damage from reoccurring. Contact us today to discuss your moisture control needs.
Mosquito Control In Loris
Not only do mosquitoes give us nuisance bites that we itch and scratch relentlessly, but they're also capable of spreading disease. That's right, these bloodsuckers transmit a slew of vector-borne illnesses. That's why it's crucial to do everything you can to minimize your exposure to these harmful pests. Here are some methods of prevention:
Apply insect repellent before heading outdoors.

Eliminate standing water sources (buckets, birdbaths, tires, pets' water bowls, etc.).

Keep doors and windows shut as often as possible.

Maintain well-trimmed grass and vegetation.

Repair any screens that have been damaged or ripped.

Use window and door screens to prevent entry.

Wear clothing treated with DEET and permethrin.

Wear long pants and long sleeves when possible.
The best way to protect yourself and your loved ones from the dangers of mosquitoes is to enlist the help of the professionals. Bug-N-A-Rug Exterminators' year-round mosquito control solutions offer guaranteed elimination of all mosquito activity, nests, and conducive conditions. Call us today to discuss your options for mosquito control.