What kind of pest problem are you having? Select all that apply.
Pest Control In St. James, NC
Just when you thought that your home was safe and sound, along come nuisance pests to ruin everything. But just because you're suffering through an infestation doesn't mean that you're alone at least, not when you have Bug-N-A-Rug Exterminators on your side! You can count on our team to keep your home free of:
Ants

Bed Bugs

Cockroaches

Fleas

Mosquitoes

Rodents

Silverfish

Spiders

Stinging Insects

Termites

And many others!
Image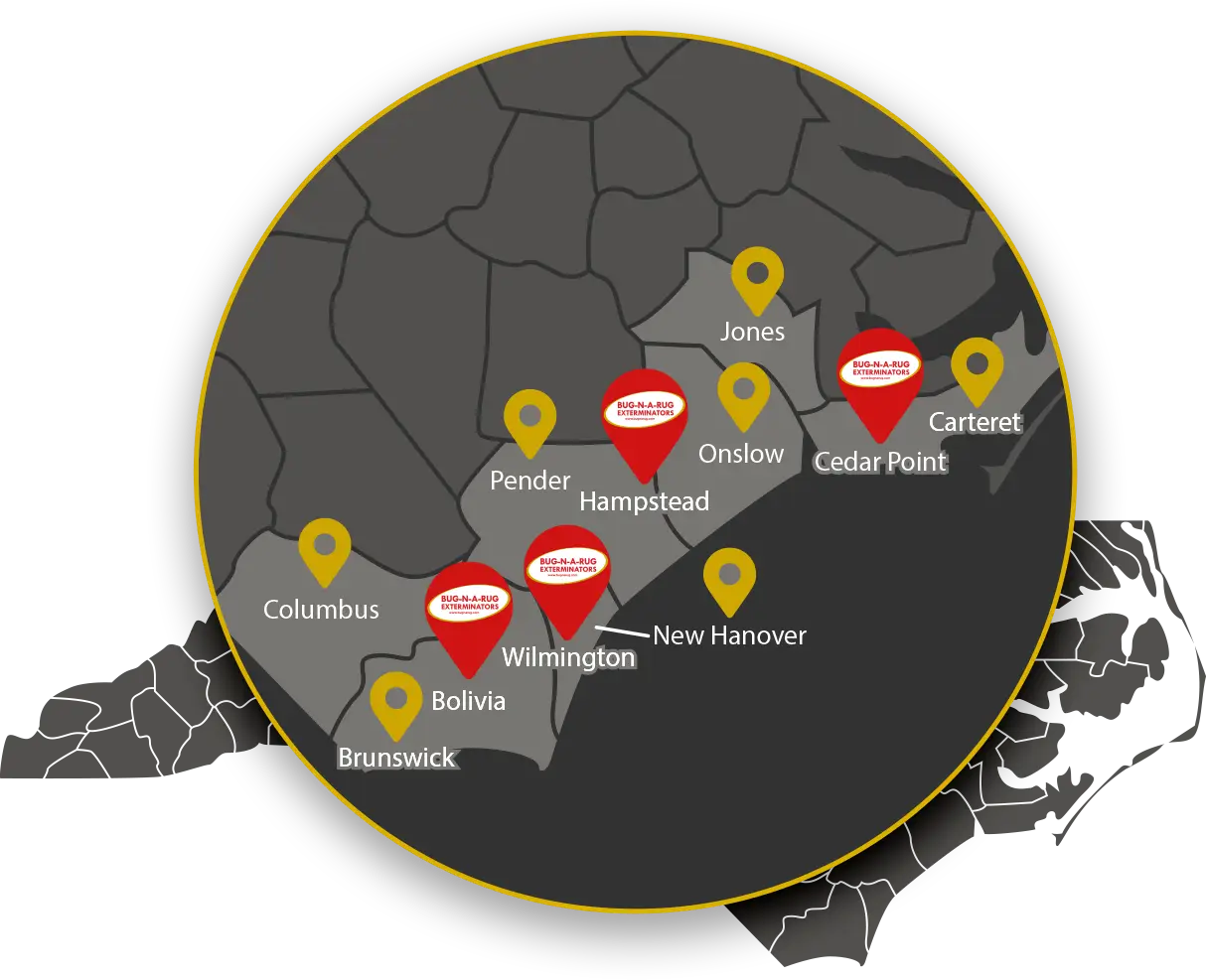 Pest Exterminators You Can Count On
Whether you're dealing with a large or a small pest infestation, having the experts working for you makes all the difference. Our pest control in St. James is provided by North Carolina's most trusted exterminators. Discover the difference that highly-trained technicians can make for you and let us go to work for you today! When you work with us to get rid of pests in your home, you can expect:
Full interior and exterior inspections to accurately diagnose your pest control needs.
Indoor and outdoor treatments from expert exterminators.
Available same-day and next-day service.
Eco-and family-friendly products for your safety and peace of mind.
Quarterly treatments to keep your home safe all year.
Multiple available plans as well as one-time services. 
Take Advantage of our Free Callbacks and Retreatments
Even once we leave your home, we aren't done working for you and we're always here to provide you with the service you deserve. If pests come back between our quarterly treatments, just give us a call and we'll return to perform any necessary retreatments at no additional cost to you! We take keeping your home pest-free seriously and are ready to go to work for you at a moment's notice.  
Termite Control in St. James, NC
There's no shortage of annoying pests in the world but only termites turn your home into a snack. Needless to say, this makes them uniquely hazardous when they get inside. Across the nation, these famously destructive insects cause over $5 billion in damage each year. But with Bug-N-A-Rug Exterminators working for you, your house will be kept safe. Our termite control in St. James is your ticket to a safe and secure home that you can count on to stay that way for years to come. 
Our termite treatment services includes:
A thorough termite inspection to find out the extent of your home's infestation and any termite-related damages. 

Available recurring or one-time termite service depending on your needs. 

Long-lasting protection with our low-profile trelona bait stations. 

A wide variety of available treatment options at your fingertips. 

And more!
Bed Bug Treatment in St. James, NC
After a long and difficult day, you've earned a restful night's sleep. But when you're battling bed bugs in your home, quality sleep isn't happening anytime soon. Don't worry though, because you're in good hands with Bug-N-A-Rug Exterminators. Our bed bug treatment in St. James is reliable, safe, and flexible, giving you optimal results, no matter the severity of your infestation. Once we go to work in your home, you can expect:
A thorough in-home inspection from a local expert.

Available heat, liquid, and chemical treatments depending on your needs and preferences. 

Fast and lasting results guaranteed.

And so much more!
Mosquito Control in St James, NC
Between mosquitoes' constant whine and itchy, red bites, they send you running for cover to avoid being bitten. It's enough to make you want to spend the entire season inside. Fortunately, Bug-N-A-Rug Exterminators offers proven mosquito control, allowing you to reclaim your backyard within hours of treatment. With our 25-years of experience, we have the expertise to handle even the toughest mosquito infestation.
When you partner with us for mosquito control in St. James, you can count on:
A

thorough inspection of your yard

by our friendly mosquito exterminators.

Eco-friendly treatments

that target both adult mosquitoes and their larvae, but don't impact the local ecosystems.

Elimination of mosquito breeding grounds

, including standing water.

One-time and season-long mosquito removal

depending on your needs.
Forward-Thinking Pest Control
At Bug-N-A-Rug Exterminators, our spirit of innovation and experimentation is a big part of what sets us apart from the competition. Our exterminators are always putting the latest, most cutting-edge technology to the test and discovering the best ways to give you a pest-free home. Don't settle for a pest control company that won't put the very best to work for you and schedule your first service today!