Image

Get Same-Day Relief With Our Local Pest Control Services!
Pest Control in Eastern North Carolina
Are you looking for a reliable pest control service in your area? Look no further than Bug-N-A-Rug! We understand how uncomfortable it can be to have pests in your own home – that's why we strive to provide comprehensive pest elimination services within 24 hours. Our technicians are trained to identify and eliminate pests of all types, giving you peace of mind that your home is free from pesky intruders.
We use a combination of both traditional and modern methodologies to eliminate pests in the most efficient and effective manner possible. Our technicians take the time to inspect your home and treat every nook and cranny, ensuring that all pests are out for good. We also offer preventive services to help keep future pest invasions at bay.
Our Pest Control Packages
Immediate Relief from a Variety of Pests
Pests often make their homes in hard-to-reach areas of your home, like inside wall voids, under appliances, and in the attic. This makes it difficult to locate pests and even harder to treat them. Rather than struggle with ineffective and messy store-bought treatments, trust the professionals here at Bug-N-A-Rug Exterminators in Wilmington, NC.
Our same-day pest control will protect your home from:
Get A Free Pest Inspection Today!
Effective Family-Friendly Pest Treatments
You deserve a pest-free home and we're dedicated to helping you achieve it. Our pest control is both effective and safe—safe for the environment, children, and pets! Our family-friendly products will eliminate pests from every corner of your home, giving you the relief you deserve without any worry.
When you trust us with all your pest control needs, we will:
Carefully inspect your home, searching every nook and cranny for signs of pest activity.
Identify the type of pests present, where they're hiding, and how they're getting inside.
Create a custom treatment plan based on the needs of your home and family.
Treat the exterior of your home to create a protective barrier and prevent future infestations.
Strategically treat indoors, focusing on entry points and common hiding places.
Re-treat for free if pests persist after our visit.
No Initial Service Fees
Some pest control companies overwhelm you with initial fees, inflating their so-called affordable prices. Here at Bug-N-A-Rug, we'll never do that. In fact, we don't have any initial service fees! All you have to pay for is the service itself—nothing more and nothing less. You can always trust we're giving you a fair price.
Image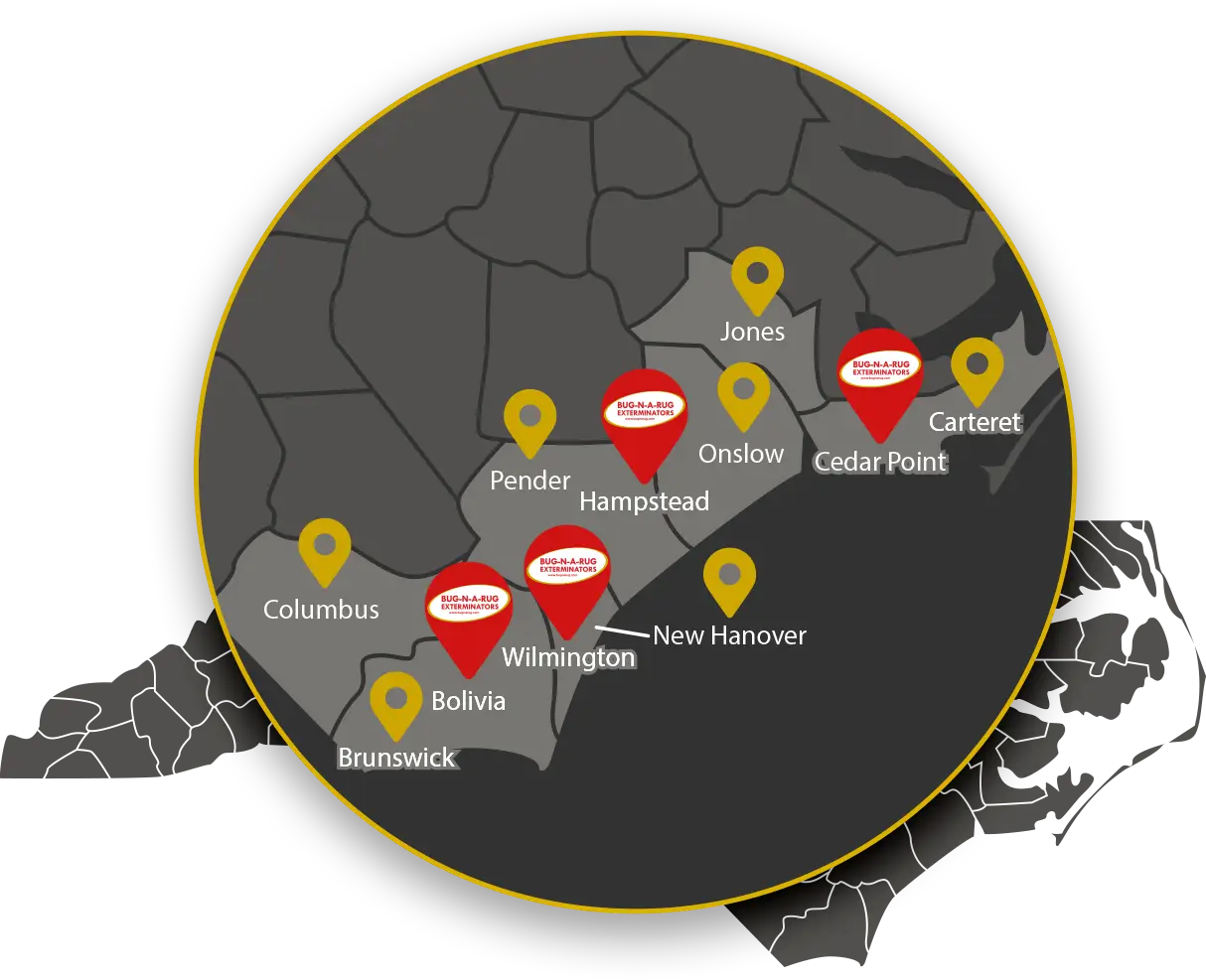 Local Pest Control Experts
Areas We Service in North and South Carolina
The Carolinas, while a wonderful place to live and raise a family, has no shortage of pest-related challenges. Fortunately, we're here to meet your every need, offering comprehensive and accessible service across the Coastal Carolinas. Whether you're looking for pest, termite, or mosquito control, we have you covered!