Image
Same-Day Treatments For Quick Bed Bug Relief!
Bed Bug Treatment Near Me
Sharing your home with bed bugs can be a real nightmare. These pests reproduce quickly, spread throughout your entire home, and make it difficult to get a peaceful night's sleep. For relief you can trust, choose Bug-N-A-Rug Exterminators. We use advanced treatments to safely remove all traces of bed bugs and give you the relief you deserve.
It's time you take back your sleep from bed bugs, contact the professionals here at Bug-N-A-Rug Exterminators!
About Our Bed Bug Services
While it may be tempting, throwing out your mattress won't solve your bed bug problem. That's because these pests also infest other furniture and carpeting, as well as hide along baseboards, behind picture frames, and inside electrical outlets. For total elimination, you need professional bed bug treatment.
Depending on your specific needs, your bed bug treatment may include:
A t

horough inspection of your home

to search for bed bugs.

Family-friendly heat treatment

that raises the temperature of your home to 140 degrees Fahrenheit.

*Free retreatments if bed bugs do return!
*We offer free retreatment within 30 days of the thermal remediation service—not pesticide treatments—after which we offer a deductible for infestations past that point. However, it is a case-by-case basis, as the deductible changes depending on the situation.
How Our Bed Bug Heat Treatments Work
Our heat treatment removes bed bugs in as little as 8 hours. It works by raising the temperature of your home to 140 degrees Fahrenheit, which is hot enough to eliminate adult bed bugs, nymphs, and eggs by drying them out. This method is both effective and minimally invasive, so you don't have to move around furniture or deep clean your home. This is the most effective bed bug removal method that is also safe for your family, pets, and your home!
Signs of a Bed Bug Infestation
Bed bugs are mostly nocturnal and extremely good at hiding, so they can be easy to miss. Fortunately, they leave behind signs of their presence. Once you know what to look for, you'll be able to recognize the signs of a bed bug infestation and get professional help before things get too out of control. We offer bed bug treatment in Wilmington and surrounding areas.
Signs of bed bug activity include:
Small, red bites on parts of your skin that's not covered by your pajamas.

A musty smell that's similar to a wet towel, but with no obvious source.

Bed bug skins or discarded eggshells.

Rust-color stains on your bedding.
If any of these sound familiar, or if you see actual bed bugs in your home, give us a call at 919-250-9809 to schedule an inspection.
Image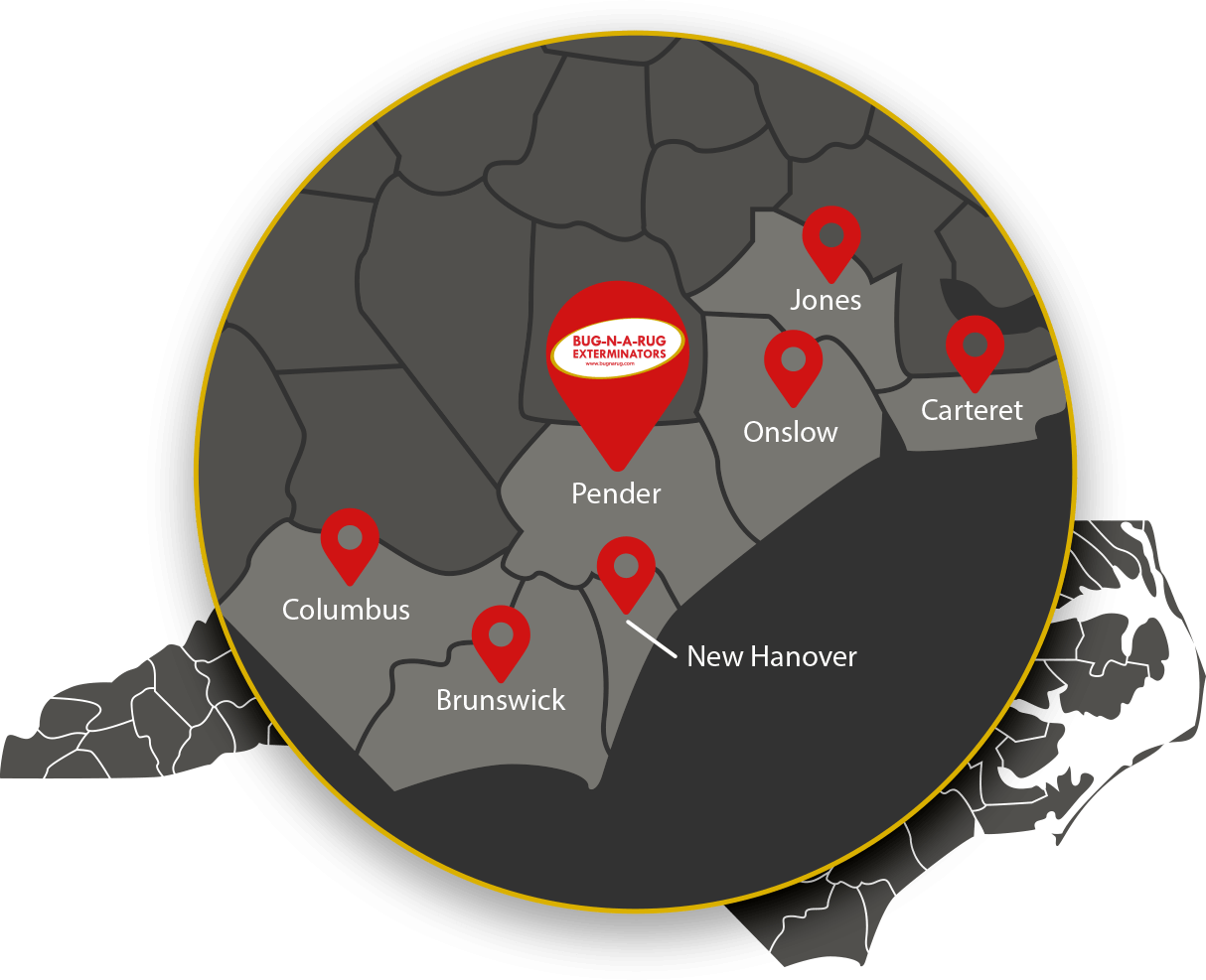 Local Pest Control Experts
Areas We Service in the Coastal Carolinas
The Greater Wilmington Area, while a wonderful place to live and raise a family, has no shortage of pest-related challenges. Fortunately, we're here to meet your every need, offering comprehensive and accessible service across Coastal Carolinas. Whether you're looking for pest control in Wilmington, or surrounding areas, we have you covered!
Testimonials
Read What Our Clients Are Saying