What kind of pest problem are you having?Select all that apply.
Pest Control In Carolina Beach
You've finally escaped to the beach and gotten your dream home by the water. But while you may have left your mainland concerns behind, household pests are still a problem. Make your beach house perfect and pest free with the experts at Bug-N-A-Rug Exterminators and we'll keep your home free from:
Ants

Bed Bugs

Cockroaches

Fleas

Silverfish

Stinging Insects

Termites

And many others!
Image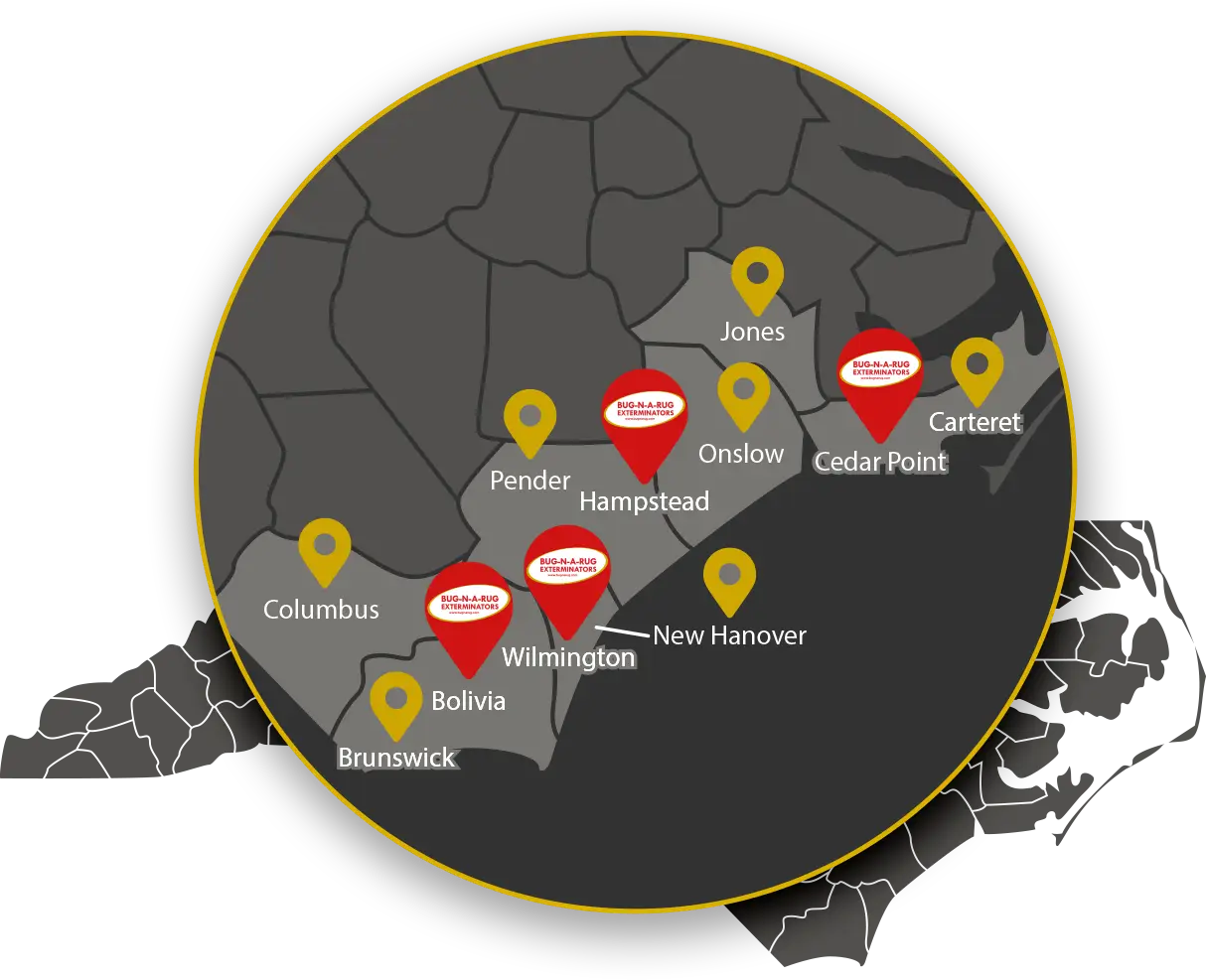 Innovative and Effective Pest Control Services
Here at Bug-N-A-Rug Exterminators, our pest control in Carolina Beach is constantly pushing the boundaries, all with the goal in mind of giving you the results you deserve. We're always first in line to field test the latest methods and to put the most cutting-edge technologies to work for you. With experienced technicians, a spirit of innovation, and a dedication to customer service, you can count on us to do the job right every time. 
Our pest control includes:
Interior and exterior pest inspections

to determine your pest control needs and risk factors.

Custom-designed pest treatments

in and around your home.  

Family and eco-friendly services

for maximum safety and peace of mind.

Quarterly treatments

to give you year-round relief.

Free callbacks

if pests return between service dates.

Contractless plans

and available

one-time treatments

.

And more! 
Same-Day Pest Control Services
In this day and age, you can get more or less anything you want whenever you want it. So why should pest control be any different? At Bug-N-A-Rug Exterminators, it's not! With our available same-day and next-day service, you can get rid of pests in your home on your schedule. Don't settle for anything less and get our highly-trained Carolina exterminators to help you keep your home pest free. 
Termite Control in Carolina Beach
Even here on the beach, termites are a threat. In fact, they find the area's warm, humid conditions both comfortable and attractive. Given their ability to cause serious damage to even a well-maintained home, you need an expert on your team to help you avoid costly repairs. But with our termite control in Carolina Beach, you can expect:
A full termite inspection

and assessment of any existing damage. 

North Carolina's

most trusted team of termite exterminators

. 

Available

one-time termite treatments or recurring services

.

Safe, effective, and discrete termite bait stations

for year-round protection.  

And more!
No one should live with the fear of termite damage taking away their peace of mind! Contact Bug-N-A-Rug and our certified technicians will take care of the rest!
Carolina Beach Bed Bug Control
A quality night's rest isn't too much to ask for. Annoyingly though, no one ever mentioned that to bed bugs. Notorious for their ability to disrupt your life, these tiny parasitic bloodsuckers leave behind itchy bites, unpleasant smells, and an unshakable feeling of anxiety whenever they get indoors. Before you check into a hotel though, give our one time bug treatment in Carolina Beach a try! We'll give you back a clean, restful, and stress-free home by:
Conducting

a thorough and detailed bed bug inspection

of your home.

Proving

safe, minimally-disruptive, and highly effective treatments

in each affected room. 

Offering a variety of treatment methods including our

family-friend heat treatments

. 

Guaranteeing the

long-lasting relief

you need.

And much more!
It's time for you to take back your home from bed bugs with the help of the experts from Bug-N-A-Rug! 
Your Satisfaction Guaranteed!
Whether you're looking for an exterminator in Wilmington, or in Carolina Beach, at Bug-N-A-Rug Exterminators, our job isn't done until you're happy and your home is pest-free. With our free callbacks and dedication to customer service, we're proud to have established one of the highest levels of customer loyalty in the pest control industry! Indeed, more than 75% of our existing clients have been with us for over 3 years. We're looking forward to welcoming you to our ever-expanding family so book your service today to get started.