What kind of pest problem are you having?Select all that apply.
Pest Control In Cape Carteret, North Carolina
Cape Carteret, NC, is right along the state's southern coast. We enjoy the nearby water of the Bogue Sound and our climate is pleasant all year long. Where better to settle down and make a home? Obviously, Cape Carteret homeowners and business owners agree with this sentiment, but they're not the only ones. Pests, too, find Cape Carteret irresistible. That's why we experience pest infestation all year long. And that's where we come in.
Image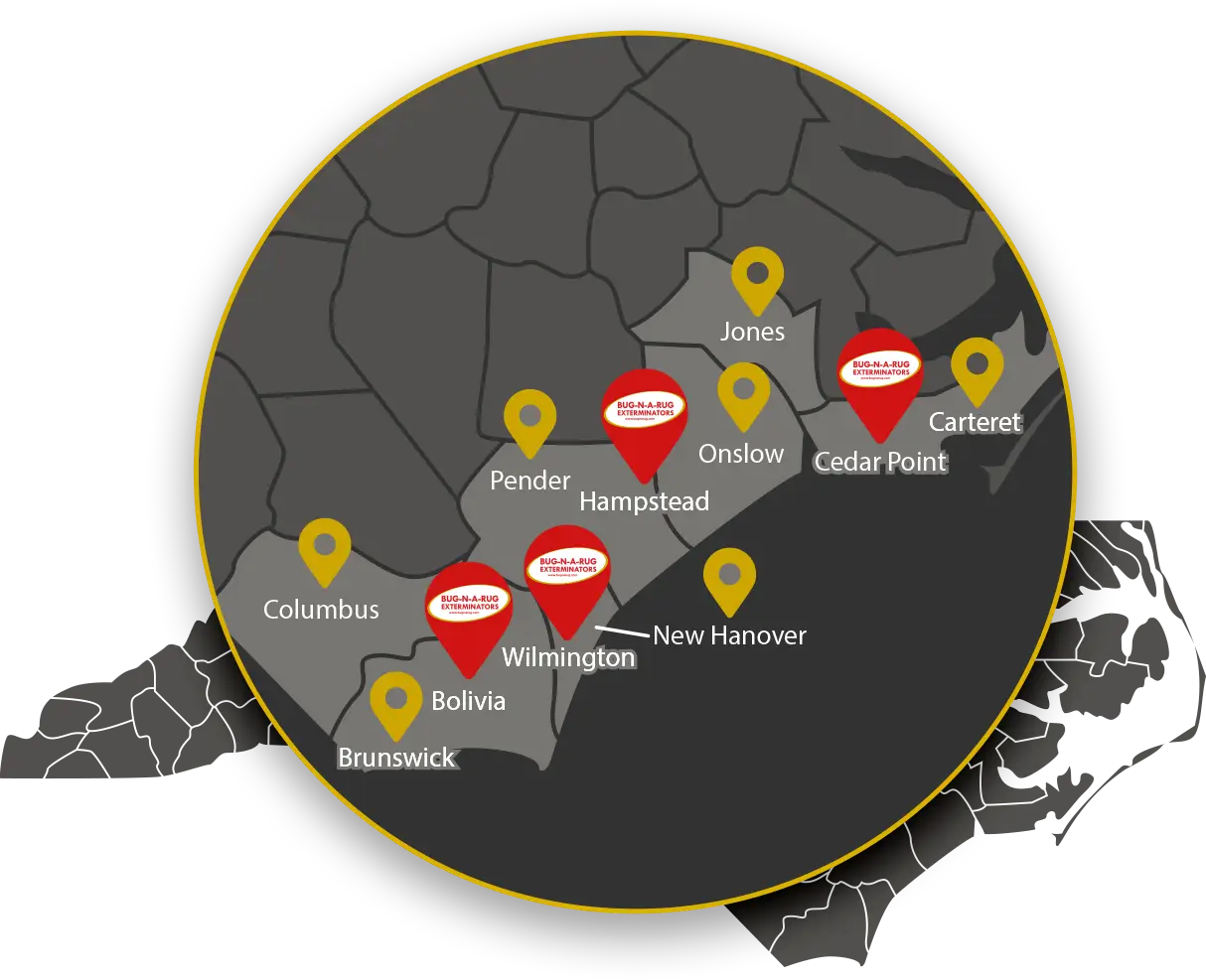 Home Pest Control In Cape Carteret, NC
The coast of North Carolina is such a beautiful location to own a home, but the presence of pests, unfortunately, takes away from that beauty. If you want year-round protection from pest infestation, you've found it. Bug-N-A-Rug Exterminators provides residential pest control services that you can count on. We treat your property from the inside out, making sure all pest activity is exterminated, year-round.
Exterior:
Crawl space, vents, and weep holes
Driveways and walkways
Eaves
Foundation perimeter
Patios, decks, and porches
Yard, flower beds, bushes, and landscaping
Interior:
Cracks and crevices
Kitchen, bathrooms, and utility areas
Pipe fittings under sinks
Electrical outlets and wall voids
Entry points (doors, windows, fireplaces, etc.)
Appliances (stove, dishwasher, fridge, washer, dryer, etc.)
Trash receptacles and garbage areas
Attic and crawlspace
Garage and shed
Beginning with a thorough inspection, we identify all points of entry, nesting and breeding sites, and conducive conditions. We then work with you to come up with the right treatment plan for your situation. From blocking off access points and making necessary habitat modifications, to total pest extermination using baiting and gel methods, we've got you covered. We also offer real estate inspections and pre-build treatments for new construction. 
Bug-N-A-Rug Exterminators has been servicing all of Carteret County and the surrounding communities in the greater Wilmington metro area since 1996. We are a family-owned and operated company that places great importance on the health and well being of our clients and the nature that surrounds us. Our "Green Pest Control options" offer environmentally friendly solutions that guarantee safety on all levels. Contact us today to set up your free home evaluation.
Commercial Pest Control In Cape Carteret, NC
Owning a business involves so many moving parts. The last moving part you want to deal with is a creepy, crawling pest that is likely indicative of a larger infestation. Bug-N-A-Rug Exterminators offers complete commercial pest control services that protect a wide range of businesses from common North Carolina pests, including:
Ants
Bed bugs
Earwigs
Hornets
Mosquitoes
Old house borer beetles
Powder post beetles
Roaches
Rodents
Silverfish
Spiders
Stored-product pests
Termites
Wasps
Wildlife
No matter what kind of pest situation you're dealing with in and around your commercial facility, we can help. Our services are available on a monthly, bi-monthly, or quarterly basis, and we customize each of our treatment plans to meet the needs of our clients. Call us today and we will schedule your complimentary inspection.
Bed Bug Control In Cape Carteret
The best way to deal with a bed bug infestation is to avoid having one in the first place. There are many preventative measures you can take to avoid bed bug activity, but sometimes these little bloodsuckers manage to get inside anyway. If they do, it's important that you know how to identify them. Here are some of the major bed bug characteristics that you should be aware of:
Elongated mouthpart
Mahogany brown color
Oval-shaped body
Six legs
Size of an apple seed
Up to 1/4 inch long
Wingless
Because bed bugs are so small and they typically only feed at night while we are asleep, it's very difficult to catch them in the act of feeding. While feeding, their bodies become engorged and turn to a deep purple-red color. If you detect bed bug activity, the best thing you can do is contact the team at Bug-N-A-Rug Exterminators. Our pest experts will identify all areas of infestation and then treat your property extensively until it is completely free of bed bugs. Contact us today to discuss your bed bug control needs.
Termite Control In Cape Carteret
Termite activity can be absolutely devastating, this much is clear. But how much do we really know about these wood-eating pests? What makes them capable of causing such widespread damage and what should we know when it comes to termite prevention? Well, here's a good place to start. The following three facts are good to keep in mind when it comes to effective termite control.
Termites feed on items with cellulose. This includes wood, cardboard, plant matter, drywall, dead trees, and many other food sources. These detritus feeders can damage your personal belongings and threaten the structural integrity of your home.
When termites infest, they can destroy insulation and filter systems. In doing this, they contaminate the air quality and this can cause severe asthma attacks and allergic reactions that can become quite serious if left untreated.
Most homeowner's insurance plans don't cover termite damage. This means you're on your own when it comes to writing that check. Termites cost US home and business owners an average of $5 billion every year. This includes termite prevention costs as well as repair costs from termite damage.
The best way to protect your Cape Carteret home and/or business from the detriments of termite damage is to call in the professionals. The team at Bug-N-A-Rug Exterminators is experienced in detecting and eliminating termites from all kinds of properties, and we offer follow up maintenance services that guarantee protection all year long.
Mosquito Control in Cape Carteret
Say goodbye to pesky mosquitoes with our expert mosquito control in Cape Carteret! Our professional exterminators offer a range of services to keep your family protected all season long. Here's what you can expect:
Free inspection to identify your property's problem areas and infestation severity
Fogging to eliminate adult mosquitoes on contact and discourage breeding
Family-friendly treatment using environmentally-sensitive practices
Targeted larvicide application to eliminate mosquito larvae in breeding areas
Living in Cape Carteret's humid climate and near marshy areas creates a need for seasonal mosquito control. Don't suffer from itchy bites and potential disease transmission anymore. Let our mosquito treatment and prevention methods provide you with comfort and peace of mind. Trust us to use safe practices that won't harm surrounding ecosystems.