What kind of pest problem are you having?Select all that apply.
Effective Pest Control In Brunswick County, NC
Brunswick County is a large county located in the southernmost part of North Carolina. Our area boasts of beautiful oak trees and has many unique beach towns and islands. To keep pests away from your Brunswick County home or business, the professionals at Bug-N-A-Rug Exterminators provide a wide range of general and specialized pest control services. Whether you own a residential or commercial property, we have the experience, skills, and high-quality products necessary to protect it from all kinds of common area pests. We've been proud to provide superior pest control services in Wilmington and the surrounding areas since 1996. If pests are causing problems in and around your Brunswick County home or business, don't hesitate to contact Bug-N-A-Rug Exterminators today. 
Image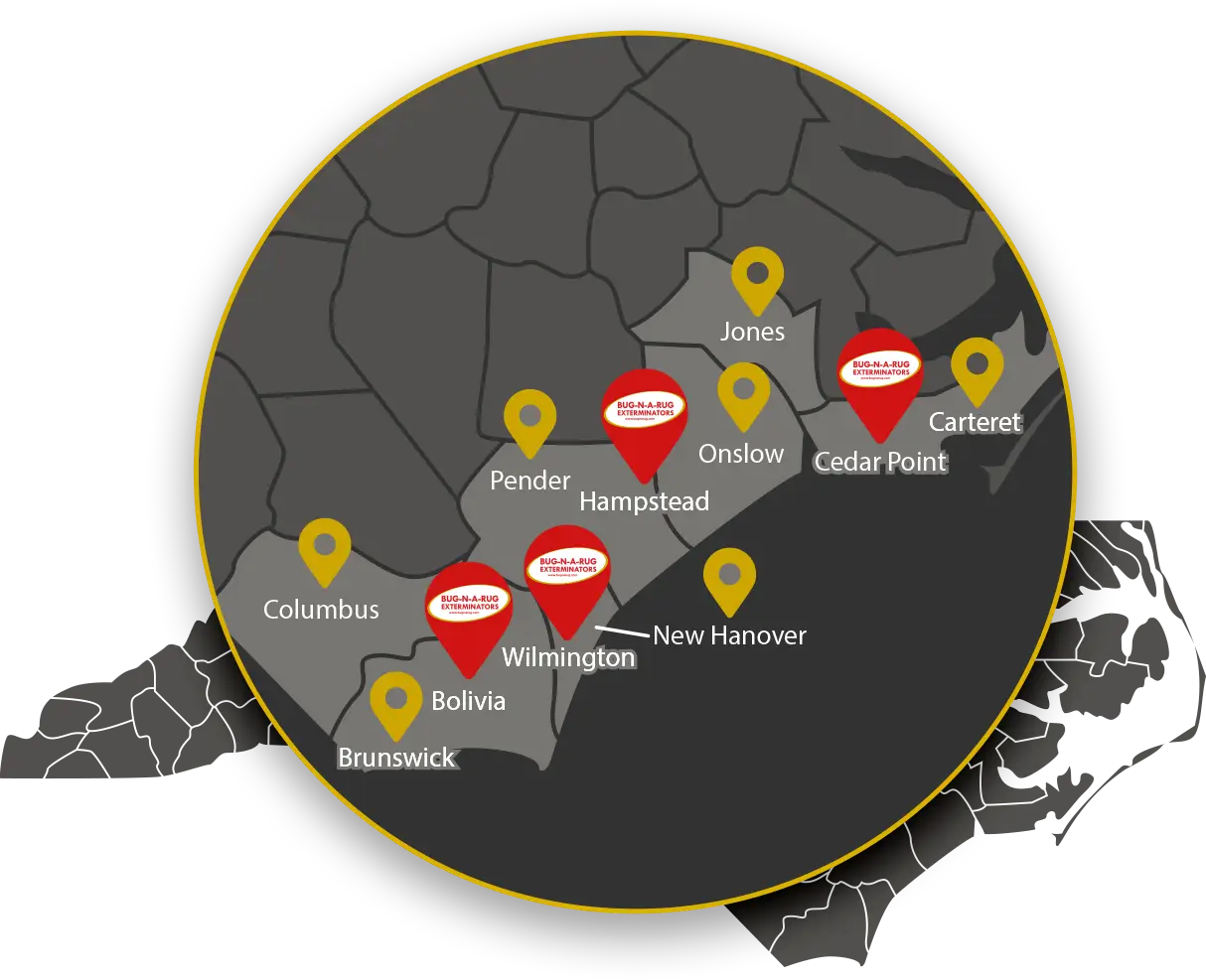 Residential Pest Control
Situated on the coast of North Carolina, Brunswick County encompasses some of Wilmington's most sought-after suburbs and oceanfront communities. Areas like Varnamtown, Bald Head Island, Ocean Isle Beach, and South Brunswick provide some of the state's most desirable destinations for seasonal travelers as well as year-round residents. Conditions in the area hit peak temperatures, humidity, and rainfall during the summer months while remaining comfortable for the rest of the year. With this climate, many people flock to the area for outdoor leisure activities like fishing, golfing, and tennis, however, many pests are attracted to the area for the same reason. 
At Bug-N-A-Rug Exterminators, we've been the trusted name in local pest control since 1996. Our family-owned and locally-operated business is geared at providing customers with value-driven services that are designed to meet all of their specific needs. For more information on how we can keep pests out of your home or business, contact us today and schedule your free, no-obligation inspection. 
When you team up with Bug-N-A-Rug Exterminators for residential pest control you can expect the following:
A thorough interior and exterior home pest inspection to determine your specific needs.
Indoor and outdoor pest treatments to swiftly resolve even the most severe infestations. 
Family and eco-friendly pest control products.
Quarterly pest treatments for year-round protection.
Free callbacks between services if pests return.
And more! 
Commercial Pest Control In Brunswick County
Your Brunswick County business isn't a place for pests. Pests can threaten the health of your customers, damage your inventory, and harm your reputation. Keep pests out of your commercial property by partnering with Bug-N-A-Rug Exterminators. We have the experience needed to provide superior pest control services in a wide variety of business industries, including restaurants, schools, healthcare facilities, and more. All of our commercial pest control solutions are eco-friendly and can be customized to meet the needs of your unique pest situation. Don't wait, give a call to Bug-N-A-Rug Exterminators to ensure your Brunswick County business is free of pests, year-round.
Your business is your livelihood, and at Bug-N-A-Rug Exterminators, we're focused on keeping it that way. For more than two decades, we've been working with local businesses to keep them pest-free and open for business. Everything we offer commercial customers is completely tailored to your needs, from treatment options to schedule — we do it all to your specifications. Our process is thorough and yields results, which is why businesses continue to trust Bug-N-A-Rug Exterminators with their pest needs, but that's not all. As a locally-owned business ourselves, we believe in serving the greater Wilmington community, and taking care of its businesses is a key component to that. To learn more about how we can keep your business free from pests and to schedule your free inspection, contact us today.
Ant Control In Brunswick County
Ants are one of the most common property-invading pests. There are more than 12,000 identified species of ants living throughout the world, but only a few species are known to invade residential and commercial properties. The most common ants found here in Brunswick County include pavement ants, odorous house ants, Argentine ants, and acrobat ants. These tiny insects live in large colonies and typically live outdoors. If you've started seeing ants crawling around in your Brunswick County home or business, there's a good chance that they've located an easily accessible food source that they can lead their colonies to. To avoid attracting ants to your property, keep these ant-prevention tips in mind:
Seal cracks and crevices around the exterior of your property and foundation. 

Pick up leftover pet food at night.

Keep your property clean by wiping down your counters, sweeping your floors, and vacuuming regularly to pick up crumbs.

Store food items in sealed containers or the refrigerator.

Reduce sources of excess moisture around your property.
Although prevention tips can help, the most effective way to keep ants out of your Brunswick County home or business is with the help of the pest professionals here at Bug-N-A-Rug Exterminators. We will work with you to identify the source of your ant problems and implement a pest control program to keep ants away year-round. Don't wait for ants to invade your property. Turn to Bug-N-A-Rug Exterminators for high-quality pest control solutions.
Termite Control In Brunswick County
Termites are small white insects that are known for causing major destruction in homes and businesses across the world. In the United States, termites are responsible for causing billions of dollars worth of damage each year. Termites thrive in our warm, humid climate and are active year-round. Keeping termites out of your Brunswick County home or business is not an easy task, especially when you consider the fact that termites are silent invaders. Termites can invade your property and cause significant damage without being detected. Unfortunately, this is why many termite infestations are only discovered after extensive structural damage has occurred. Bug-N-A-Rug Exterminators provides several termite treatments based on your specific needs and budget. Our termite control services include:
Thorough inspections to identify if termites are already active in or around your Brunswick County property.

Injections that will be applied directly into termite colony nesting sites.

Traditional liquid termite treatments to create a protective barrier around the perimeter of your property. 

Trelona bait stations placed strategically around the exterior of your property. 

Bora-Care treatments for new construction that treat the wood used to build your home.
Termite control and prevention is best left to the professionals here at Bug-N-A-Rug Exterminators. Get in touch with us today to learn more about how we can protect your Brunswick County home from termites and other pests. 
Bed Bug Treatment In Brunswick County
Just thinking about bed bugs is enough to make your skin crawl. They are an elusive pest that spends most of their time hiding inside sofas or mattresses, waiting until nightfall to feast on humans. Because they do the majority of their feeding at night, spotting a bed bug problem may prove difficult for some Brunswick County homeowners. Here are a few telltale signs that you might have a bed bug problem in your home:
The presence of bed bugs themselves

Rust-colored stains on your sheets and bed linens

Byproducts like eggs, eggshells, nymphs, and pepper flake-like feces

A musty odor

Waking up covered in large, itchy welts
Bed bugs can grow into a very large problem for Brunswick County homeowners, especially if not dealt with properly. If you suspect the presence of this pest in your home, don't try to fix it yourself; contact Bug-N-A-Rug Exterminators for professional help. Learn more about our bed bug treatment today. 
Mosquito Control In Brunswick County
Your Brunswick County yard is one of your favorite places; it's where you can relax and enjoy a nice day or have a gathering. However, with mosquitoes constantly hanging around, those experiences are a lot less pleasant. Here are a few tips to keeping them away so you can take back your home:
Remove all areas of still water, look to birdbaths, flowerpots, kiddie pools, grill covers, and water bowls.

Limit the amount of time you spend outside during dusk and dawn.

Opt for scent-free personal products like shampoo, soap, and laundry detergent.

Wear light-colored clothing, particularly in the form of long pants and long-sleeved shirts.

Use citronella-scented items or plant citronella.

Call the professionals!
Keeping mosquitoes off of your Brunswick County property can prove difficult. They are attracted to so many factors and characteristics that humans naturally possess, like blood type and sweating, so trying to limit these can feel restrictive. That's why the most effective form of defense from mosquitoes is with professional assistance from the team at Bug-N-A-Rug Exterminators. Contact us today for more information on our seasonal mosquito treatments. 
Cities We Service In Brunswick County: