What kind of pest problem are you having?Select all that apply.
Pest Control in Boiling Springs Lakes, NC
Almost every homeowner will experience unwanted pests at one point or another. Make sure you're prepared with Bug-N-A-Rug! Our services combine proactive and reactive treatments to give you the best results possible, but you don't have to take our word for it. 
We offer free re-treatments for any issues between scheduled services, so you never have to worry about household pests sneaking in. In fact, with our pest services, you'll be protected from the following:
Roaches

Spiders

Ants

Earwigs

Flies

Beetles

Bees

And more!
Image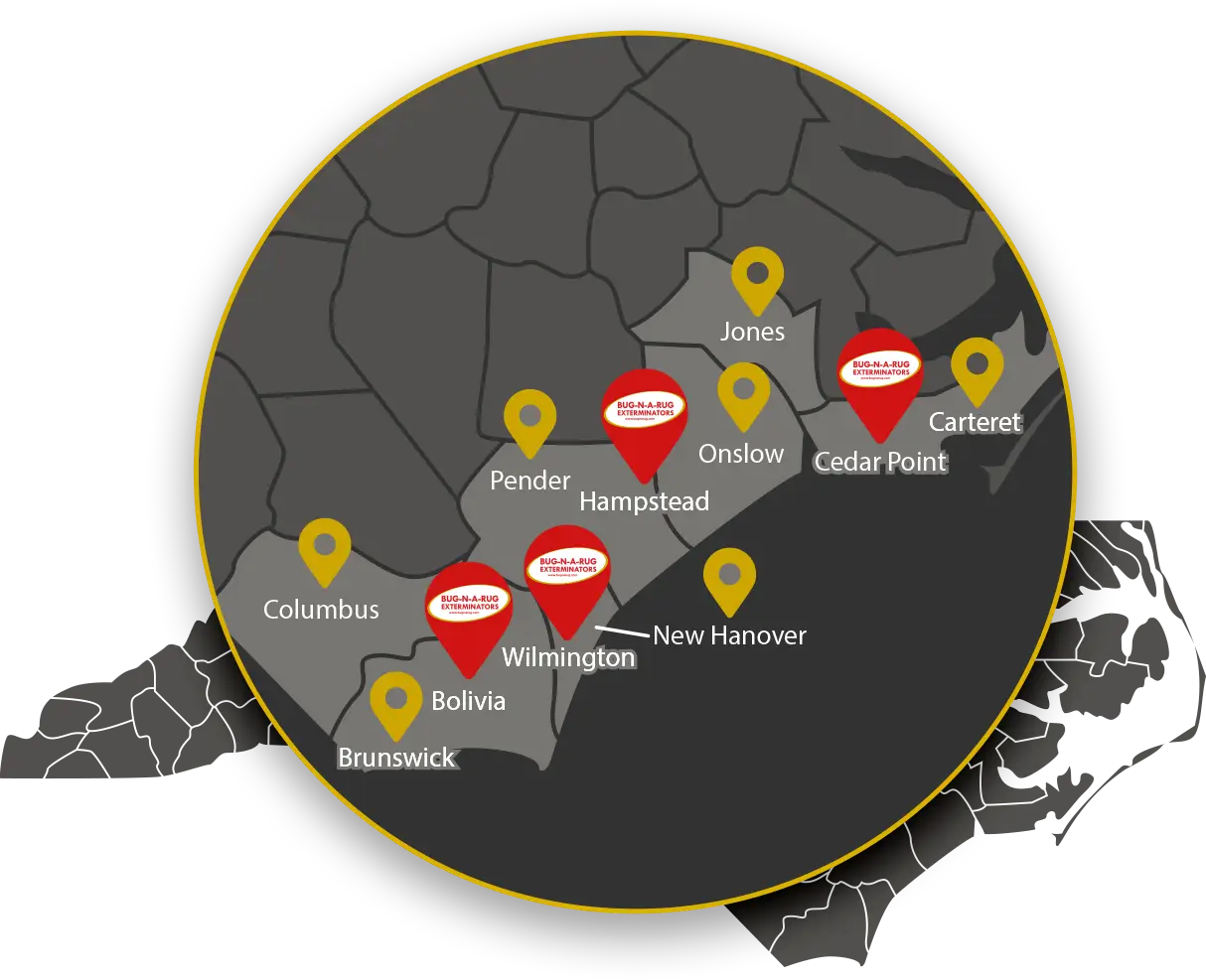 Home Pest Control In Boiling Spring Lakes, NC
Do-it-yourself treatments might seem like the easy relief you're looking for, but they're often ineffective because they don't eliminate pests at their source. Our pest control in Boiling Springs Lakes is different. We take the time to understand your home, looking for the entry points and hiding places that pests are using. This lets us get to the root of your pest problem and give you better results than DIY options ever could!
Our pest control includes:
A thorough inspection of your home

to search for signs of pests.

Personalized treatment plans

based on your unique needs.

Exterior treatments

to create a protective barrier around your home.

Targeted indoor treatments

to focus on potential entry points.

Free re-treatments

if pests persist after our visit.
Save Money with No Initial Fees
Unlike some companies that inflate their prices with overwhelming fees, Bug-N-A-Rug is actually affordable! We don't have any initial service fees, so all you pay for is the service itself. When you work with us, what you see is what you get—just how it should be!
Termite Control in Boiling Springs Lakes
Mud tubes, frass, and hollow-sounding wood are all telltale signs of a termite infestation, but they aren't always easy to notice. Termites invade quietly, giving them plenty of time to wreak havoc on your home and cause thousands of dollars in damages. To eliminate termites and prevent future infestations, trust our termite control in Boiling Springs Lakes. We'll prevent further damage to your home, save you money, and give you back peace of mind!
When you choose our termite treatment, we will:
Inspect your home

for signs of termite activity.

Tailor our treatment plan

based on the severity of the infestation.

Eliminate termites

with liquid treatments.

Install Trelona bait stations

for long-term protection.

Give you our termite-free guarantee

, which includes free re-treatments.
Bed Bug Treatment in Boiling Springs Lakes
No matter how neat and tidy your space is, you're still at risk for bed bugs. These pests can hitchhike into your home on furniture, your clothes, and inside luggage. Once bed bugs are inside, the only way to eliminate them is with professional bed bug treatment in Boiling Springs Lake. We offer a combination of services, including heat treatments that give you results in as little as 8 hours.
Depending on your needs, our bed bug treatment can include:
A careful inspection

to determine what rooms are affected.

Family-friendly heat treatments

to quickly eliminate bed bugs.

Traditional liquid treatments

to target specific areas.

Free re-treatments

if bed bugs come back after thermal remediation.
Mosquito Control In Boiling Spring Lakes
There are no pests quite as annoying as mosquitoes. These insects are small, thin flies that feed on the blood of warm-blooded animals. They are capable of ruining outdoor gatherings and events, leaving itchy welts on your skin, and disturbing your guests.
The problems that mosquitoes cause don't stop at being a nuisance. Mosquitoes are known to carry and transmit numerous diseases that can cause lifelong health issues. Some of the diseases mosquitoes can spread include West Nile virus, chikungunya, malaria, dengue, and yellow fever.
Mosquitoes are common pests that can become a major problem throughout the summer months. To reduce mosquito populations around your Boiling Spring Lakes property, reach out to Bug-N-A-Rug Exterminators for mosquito treatments and prevention services. We're ready to assist you with all of your pest control needs. 
Commercial Pest Control In Boiling Spring Lakes, NC
The technicians here at Bug-N-A-Rug Exterminators protect Boiling Spring Lakes businesses from pests by utilizing the strategies of Integrated Pest Management (IPM). Our commercial pest control programs provide business owners:
Customized treatments based on your individual needs.
Accurate identification of current pest threats.
The elimination of current pest problems.
The implementation of proven methods to curb future pest activity.
Pests don't belong inside your commercial facility. With Bug-N-A-Rug Exterminators by your side, we'll protect your Boiling Spring Lakes business from pests throughout every season. Learn more about our customized commercial pest control plans by giving us a call today.