What kind of pest problem are you having?Select all that apply.
Pest Control In Boiling Spring Lakes, North Carolina
Are you tired of dealing with pests that can cause damage and stress in your Boiling Spring Lakes home or business? Do you wish there was an affordable, effective, and eco-friendly way to manage pest problems without disrupting your daily schedule? If so, Bug-N-A-Rug Exterminators has you covered. We provide year-round residential and commercial services designed to control and eliminate pests of all shapes and sizes. 
With the certified pest experts here at Bug-N-A-Rug Exterminators on the job, you never have to worry about mice in your kitchen or cockroaches in your basement. When it comes to the protection of your Boiling Spring Lakes home or business, trust the pest control provider with over 20 years of experience in the pest control industry. Give us a call today to learn more about our extensive list of effective pest control services.
Image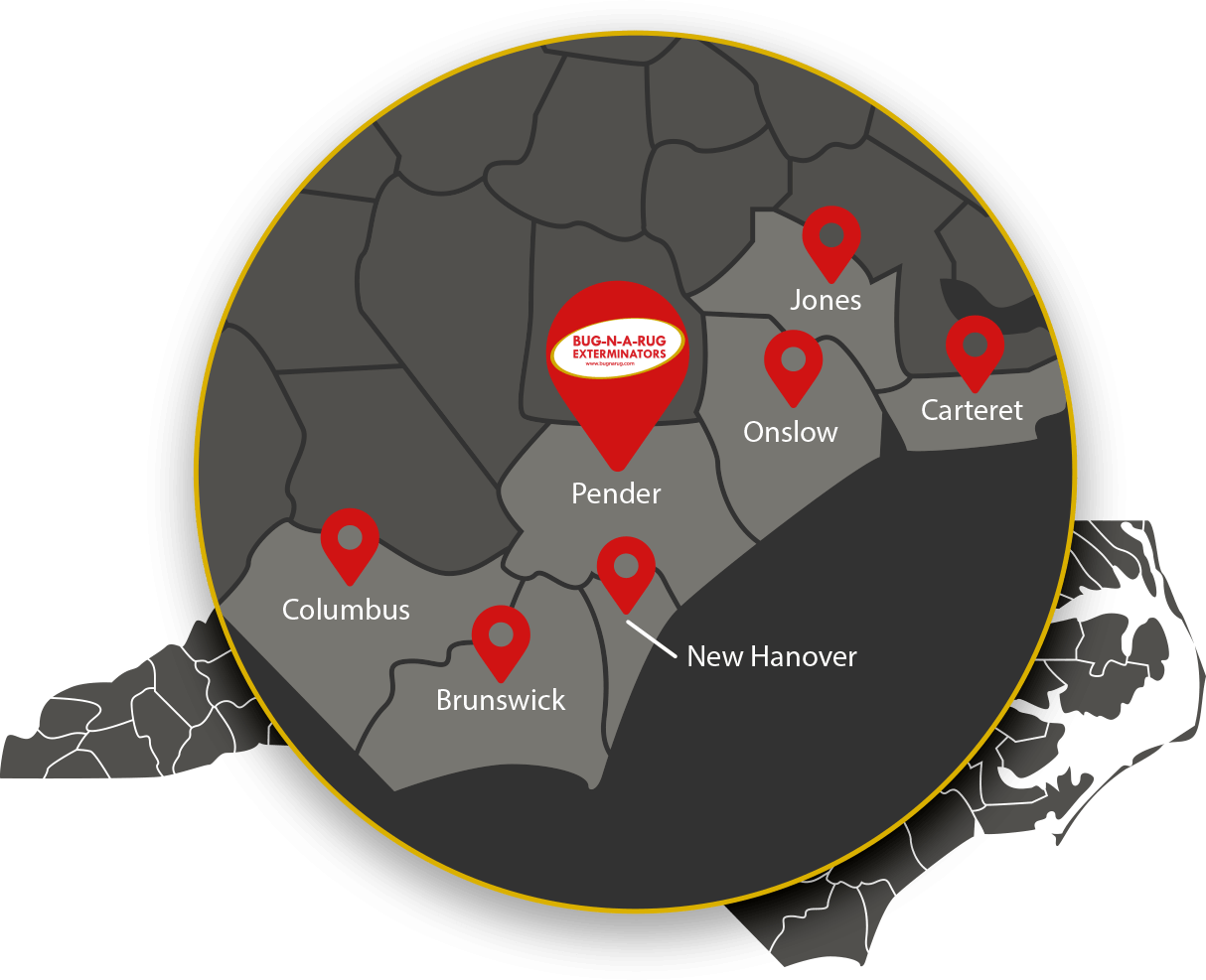 Home Pest Control In Boiling Spring Lakes, NC
It's not easy to keep dangerous and nuisance pests away from your Boiling Spring Lakes residential property. Without the protection of a year-round home pest control plan, controlling and preventing pest problems can feel like a never-ending task. However, when you turn to the pest experts here at Bug-N-A-Rug Exterminators with your pest control needs, you can rest easy knowing that we'll take care of pest problems for you.
Our home pest control plans combine eco-friendly services with industry-leading pest control techniques to ensure your residential property remains free of pests year-round. If you have a pest problem, Bug-N-A-Rug Exterminators has a solution. Get in touch with us today to find out the services we include in our home pest control plans. 
Commercial Pest Control In Boiling Spring Lakes, NC
The technicians here at Bug-N-A-Rug Exterminators protect Boiling Spring Lakes businesses from pests by utilizing the strategies of Integrated Pest Management (IPM). Our commercial pest control programs provide business owners:
Customized treatments based on your individual needs.
Accurate identification of current pest threats.
The elimination of current pest problems.
The implementation of proven methods to curb future pest activity.
Pests don't belong inside your commercial facility. With Bug-N-A-Rug Exterminators by your side, we'll protect your Boiling Spring Lakes business from pests throughout every season. Learn more about our customized commercial pest control plans by giving us a call today. 
Ant Control In Boiling Spring Lakes
Here in Boiling Spring Lakes, ants are one of the most common pests found on residential and commercial properties. There are more than 12,000 identified species of ants in the entire world, although only about 1,000 ant species are found here in the United States.
Ants are social insects that live in large colonies. Their colonies consist of three main castes — queens, males, and workers. Ant infestations occur when a scout ant finds an easily accessible food source on your property and uses pheromones to lead the rest of their colony into your Boiling Spring Lakes home or business. Utilize a few of these ant prevention tips to prevent ants from invading your residential or commercial property:
Like many insects, moisture attracts ants. Reduce moisture in and around your property by repairing leaks, installing dehumidifiers, and clearing debris from your gutters to ensure water flows away from your foundation. 
Many potential food sources can attract ants. Avoid attracting ants to your property by picking up pet food at night, keeping your garbage cans sealed, and cleaning crumbs off your counters. 
One of the best ways to prevent ant infestations is by sealing off all possible entry points, including gaps around your foundation, cracks underneath your doors and windows, and openings made for utilities. 
If you're ready to take action against ants before they have the chance to enter your Boiling Spring Lakes property, reach out to Bug-N-A-Rug Exterminators today. We offer several eco-friendly ant control options and solutions.
Mosquito Control In Boiling Spring Lakes
There are no pests quite as annoying as mosquitoes. These insects are small, thin flies that feed on the blood of warm-blooded animals. They are capable of ruining outdoor gatherings and events, leaving itchy welts on your skin, and disturbing your guests.
The problems that mosquitoes cause don't stop at being a nuisance. Mosquitoes are known to carry and transmit numerous diseases that can cause life long health issues. Some of the diseases mosquitoes can spread include West Nile virus, chikungunya, malaria, dengue, and yellow fever. To help minimize your mosquito exposure, consider utilizing a few of the following mosquito prevention tips:
Try to avoid going outside during the evening and early morning when mosquitoes are most active.
Wear light-colored clothing outdoors.
Keep excess moisture around your house to a minimum.
Remove sources of standing water where mosquitoes can lay their eggs. 
Cut thick brush and foliage away from your property.
Keep your gutters free of debris.
Wear insect repellent when you spend time outdoors.
Mosquitoes are common pests that can become a major problem throughout the summer months. To reduce mosquito populations around your Boiling Spring Lakes property, reach out to Bug-N-A-Rug Exterminators for mosquito treatments and prevention services. We're ready to assist you with all of your pest control needs. 
Testimonials
Read What Our Clients Are Saying