What kind of pest problem are you having?Select all that apply.
Pest Control In Conway, NC
The community of Conway, NC, has friendly energy. We are a people-oriented neighborhood where caring about each other comes second nature. The town is so great, in fact, that local pest populations are eager to make themselves a part of the community. Year-round pest activity means that our Conway properties are susceptible to pest infestation, and that can cause some very big problems. If you want to guard your Conway home or business from infestation, It's important to seek out professional help. The most effective way to protect yourself is by calling in a team of experienced pest professionals.
 
The team at Bug-N-A-Rug Exterminators is here to help. We are a family-owned and operated company that places great importance on the health and wellbeing of our clients and the nature that surrounds us. We are proud to offer "Green Pest Control" options that prioritize eco-friendly solutions that are safe for you, your family, and the environment we live in. Call us to hear more about our residential pest control services and how they can be beneficial to you
Image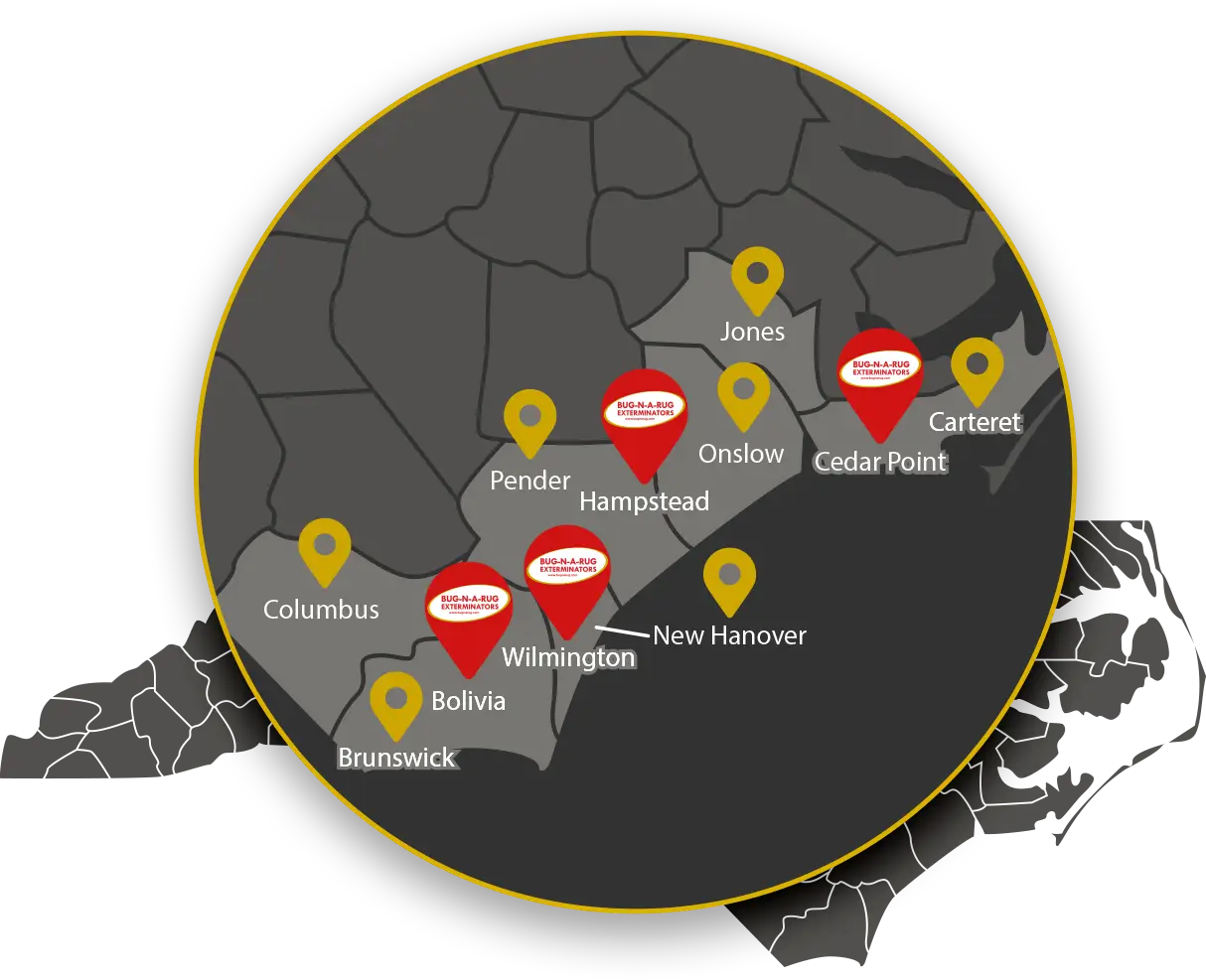 Residential Pest Control In Conway, North Carolina
Conway is a great place to live, but that doesn't mean we're immune to pest infestation. Pests are a year-round problem that all homeowners should know about. Infestation can cause a lot of damage and contamination, which seriously compromises the health and safety of you and your loved ones. The best way to protect yourself and your family is to rely on the pest experts. Bug-N-A-Rug Exterminators is your local source for home pest solutions.
 
We're proud to offer complete residential pest control services that Conway homeowners can count on. From blocking off access points and making necessary habitat modifications, to total pest extermination using baiting and gel methods, we do it all. Our treatments are available quarterly, bi-monthly, or monthly and we always work closely with our clients to develop the perfect plan of approach for their particular problem. Contact us today to set up your free home evaluation.
Commercial Pest Control In Conway, North Carolina
Pest infestation is a nightmare no matter where it happens, but there's something particularly hellish about a commercial pest infestation. Pests threaten every aspect of your business and on a very large scale. They cause serious structural damage and contamination, compromising everyone inside of the building.  In order to protect not only your reputation but also the health and safety of your customers and employees, it's crucial to secure ongoing pest control services.
 
Bug-N-A-Rug Exterminators provides quality commercial pest control services to protect Conway business owners from harm. We are experienced in the effective inspection, identification, and removal of commercial pest activity, and we're here to work with you to deliver the best possible results. Our skilled pest technicians treat your property with the most up to date technologies and eco-friendly treatment options. Give us a call to speak to one of our pest experts about our service offerings and custom pricing options.
Mosquito Control In Conway
Most of us associate mosquitos with the itchy bites they give us, which are undoubtedly unpleasant and uncomfortable. However, these notorious insects may be more dangerous than you think. Mosquitoes are vector pests, which means they can transmit diseases from host to host. If mosquitoes bite an infected host, they pick up whatever disease that host is infected with, and then pass it on to their next host. So, if you are bitten by an infected mosquito, you are exposed to a long list of vector-borne illnesses, such as malaria, Zika, and West Nile, just to name a few.
 
The best way to protect your property from mosquito activity is by calling on the pest professionals at Bug-In-A-Rug Exterminators. Our mosquito abatement and prevention services are guaranteed to keep you protected from these harmful vector-pests throughout the year. Call us today to learn more.
Bed Bug Treatment In Conway
There are a lot of things that make bed bugs upsetting. One of the main reasons is the fact that they're nocturnal, meaning they only do their feeding at night, while we're asleep. The idea of bed bugs lurking close by, ready to latch onto you and feed on your blood, is more than disturbing. If you're wondering how to detect bed bug activity, there are a few common signs to be aware of.
 
Bed bugs leave eggshell cases discarded around hiding areas. They also leave red, blood stains and rusty, dark excrement spots on bedding, sheets, and linens. Another telltale sign is waking up with red bites that appear to be in a liner formation. If you suspect any bed bug activity in your home and/or business, contact us as soon as possible. Bug-N-A-Rug Exterminators offers complete bed bug control and extermination services that bring you a safe, pest-free space where you can sleep through the night.
Termite Control in Conway
Protecting your home from destructive termites is essential, especially in Conway's humid climate. At Bug-N-A-Rug Exterminators, we offer a comprehensive termite control service in Conway that includes:
Family-and-pet-friendly termite treatments: Our experienced termite exterminators use safe and effective treatments to eliminate termites without harming your loved ones.
Ongoing termite control, monitoring, and prevention: We don't just get rid of termites once; we provide continuous monitoring and prevention to ensure they never come back.
Comprehensive termite inspections: Our thorough termite inspections identify any signs of activity or damage, allowing us to tailor our treatment based on the severity of the infestation.
Trelona bait stations: We strategically install Trelona bait stations around the perimeter of your home to attract and eliminate termites.