What kind of pest problem are you having?Select all that apply.
Pest Control in Hampstead
Pest infestations are one of the most annoying aspects of owning a home. Try as you might to keep them outdoors though, every now and then they'll sneak inside. And when they do, your house doesn't feel quite like a home anymore. It's times like that where our pest control in Hampstead can help you get rid of: 
Ants

Bed Bugs

Cockroaches

Fleas

Mosquitoes

Rodents

Silverfish

Spiders

Stinging Insects

Termites

And others
Image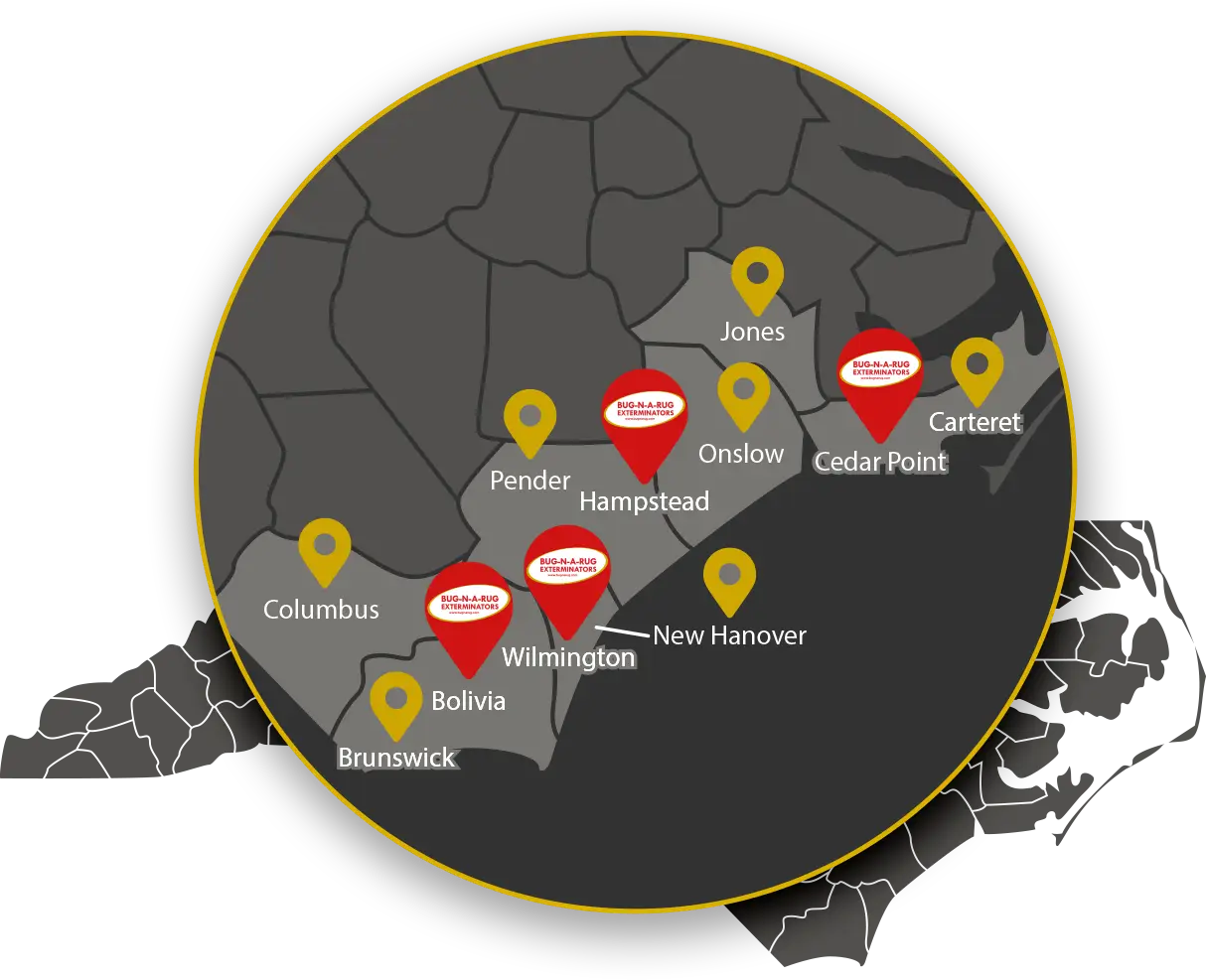 Pest Exterminators You can Depend on
Here at Bug-N-A-Rug Exterminators, two things set us apart - our outstanding team and our spirit of innovation. With North Carolina's most rigorously-trained exterminators, armed with cutting-edge pest control technology, even the most stubborn home invaders don't stand a chance. Don't settle for anything except the absolute best for your home and give us a call today to receive: 
A detailed interior and exterior home inspection.

A custom-designed plan to address your specific needs. 

Effective and reliable indoor and outdoor treatments. 

Quarterly service to ensure year-round protection.

Free callbacks if pests come back between service dates.

Contract-free options.

And so much more! 
Safe and Family-Friendly Pest Service
As anyone who's ever lived with a pest infestation can attest, there's more than enough stress to go around without having to worry about your loved ones' safety. We take your family's well being seriously and design our service to maximize both your peace of mind and health. Every pest control product and technique we use is family and eco-friendly, giving you the results you need while still maintaining a safe, healthy living space.
Bed Bug Treatment in Hampstead
Among nature's most pernicious and least-popular pests, bed bugs have more than earned their bad reputation. After all, these tiny bloodsucking insects make getting a good night's sleep impossible! Naturally, an infestation can feel like the end of the world but with the right team on your side, even a severe one can be taken care of quickly. At Bug-N-A-Rug Exterminators, our bed bug treatment in Hampstead works by:
Starting with a full home bed bug inspection from a qualified professional. 

Utilizing state of the art bed bug heat treatments which are safe for your family, pets and home!

Minimally invasive treatments. 

Keeping bed bugs from coming back, ensuring long-lasting relief.

And more!
Termite Treatment in Hampstead
Just hearing the word, "Termites," is enough to make most homeowners nervous. Here at Bug-N-A-Rug Exterminators, we think that's perfectly reasonable. Nationwide, termites are directly responsible for more than $5 billion worth of home damage each year, so it's understandable that you want them out of your house as quickly as possible. With our termite treatment in Hampstead working for you, that's precisely what you can expect!
Our termite control services includes:
A full assessment and termite inspection to see the extent of your home's termite population and related damages. 

A personalized treatment and termite removal plan based on our findings

Available spot treatments or recurring service depending on your needs. 

Strategically placed bait stations for long-lasting relief. 

A wide variety of control options available. 

And more!
Mosquito Control in Hampstead
Nobody likes mosquitoes. Not only do they give us itchy bug bites and invade our outdoor space, but they also spread dangerous diseases like malaria, the West Nile virus, and the Zika virus. Bug-N-A-Rug Exterminator has 25 years of experience providing same-day mosquito exterminator services to protect you and your family. We remove the pests and ensure they stay away so you can enjoy your backyard safely and comfortably. 
When you work with us, our mosquito exterminators will: 
Determine the severity of the mosquito infestation in your area.

Use safe, eco-friendly treatments for mosquito removal.

Eliminate mosquito breeding areas, such as standing water.

Use insecticides to get rid of adult mosquitoes and larvae. 

Regular check-ins to ensure the mosquitos stay out.
Get Mosquitos Out Today
You shouldn't have to deal with mosquitos alone, and that's why we're here. We know nobody wants to deal with a mosquito infestation, but mosquitoes can be persistent. That's why we offer our special buy four, get one free mosquito treatment. Don't let mosquitos ruin your outdoor fun–let us help you!
Choose our Same-Day Service For Quick Relief
Why should you have to live with pests in your home for any longer than absolutely necessary? We can't think of a reason why. Rather, we think you should expect a pest control company to give you the help you need quickly and on your schedule. That's why we proudly offer available same-day and next day service to deliver lasting results on your schedule. Don't work with anyone that won't put you first and book your first service from Bug-N-A-Rug Exterminators today!