Image
Protect Your Customers and Your Reputation!
It takes a lot of time, effort, and money to run a successful business. Any problems that occur divert your attention away from making your business a success, which costs you additional time, effort, and money. Luckily, pest problems are something you can stop before they begin. Bug-N-A-Rug Exterminators provides commercial pest control services that will get current infestations under control and prevent future ones from occurring.
Commercial Pest Control in Wilmington and the Surrounding Areas
At Bug-N-A-Rug Exterminators, we realize that your business has unique pest control needs. You may be dealing with an active infestation, or you may simply want preventative services. You may have a small budget, or you may be able to spend a bit more for comprehensive coverage.
Whatever the situation is for your business, Bug-N-A-Rug Exterminators can help. We customize every commercial plan to suit your specific needs and budget.
Some of the pests we treat for include bed bugs, ants, mosquitoes, roaches, rodents, spiders, termites, powder post beetles, old house borer beetles, silverfish, earwigs, stored product pests, wasps, hornets, and wildlife.
Facilities We Service
Among others, we service the following facilities.
Schools
The students in your care are there for an education, but their health and safety must be your top priority. Keeping them safe starts with a pest-free environment. Bug-N-A-Rug Exterminators can help make that a reality at your school.
Healthcare
When patients come to you with compromised immune systems, you can't take any chances that your facility is unsanitary. Protect it from illness-spreading pests by getting commercial pest control from Bug-N-A-Rug Exterminators.
Restaurants
Your restaurant must maintain strict sanitary codes to ensure the safety of your customers, but a pest infestation threatens your restaurant's success. Protect it by partnering with Bug-N-A-Rug Exterminators for your commercial pest control needs.
Why Choose Bug-N-A-Rug For Your Commercial Pest Control Needs?
If pests are threatening your business, you know you must take quick action to eliminate them. But, choosing a pest control company can be difficult. You want a company that will deliver on what they promise. You can trust Bug-N-A-Rug Exterminators.
We have over 20 years of experience treating North Carolina pest problems.
We are family-owned and operated, and we prioritize customer service.
We have highly-trained technicians that use the most up-to-date technology and tools.
We treat a wide variety of pests.
We customize our services to meet your specific needs.
We customize our pricing based on each unique pest control plan.
We have an A+ rating from the Better Business Bureau.
We are Brunswick County Chamber of Commerce members.
Education is a priority for us, and we are always learning about the latest advances in our industry.
We are members of the National Pest Management Association and the North Carolina Pest Association.
Your North Carolina Business Matters To Us
At Bug-N-A-Rug Exterminators, we understand the many pressures faced by businesses every day. You do not need the added stress of a pest infestation threatening your success. Let Bug-N-A-Rug protect your business from pests. As fellow local business owners, we care about the success of your business and will do everything in our power to keep it pest-free.
What's included in this service
Image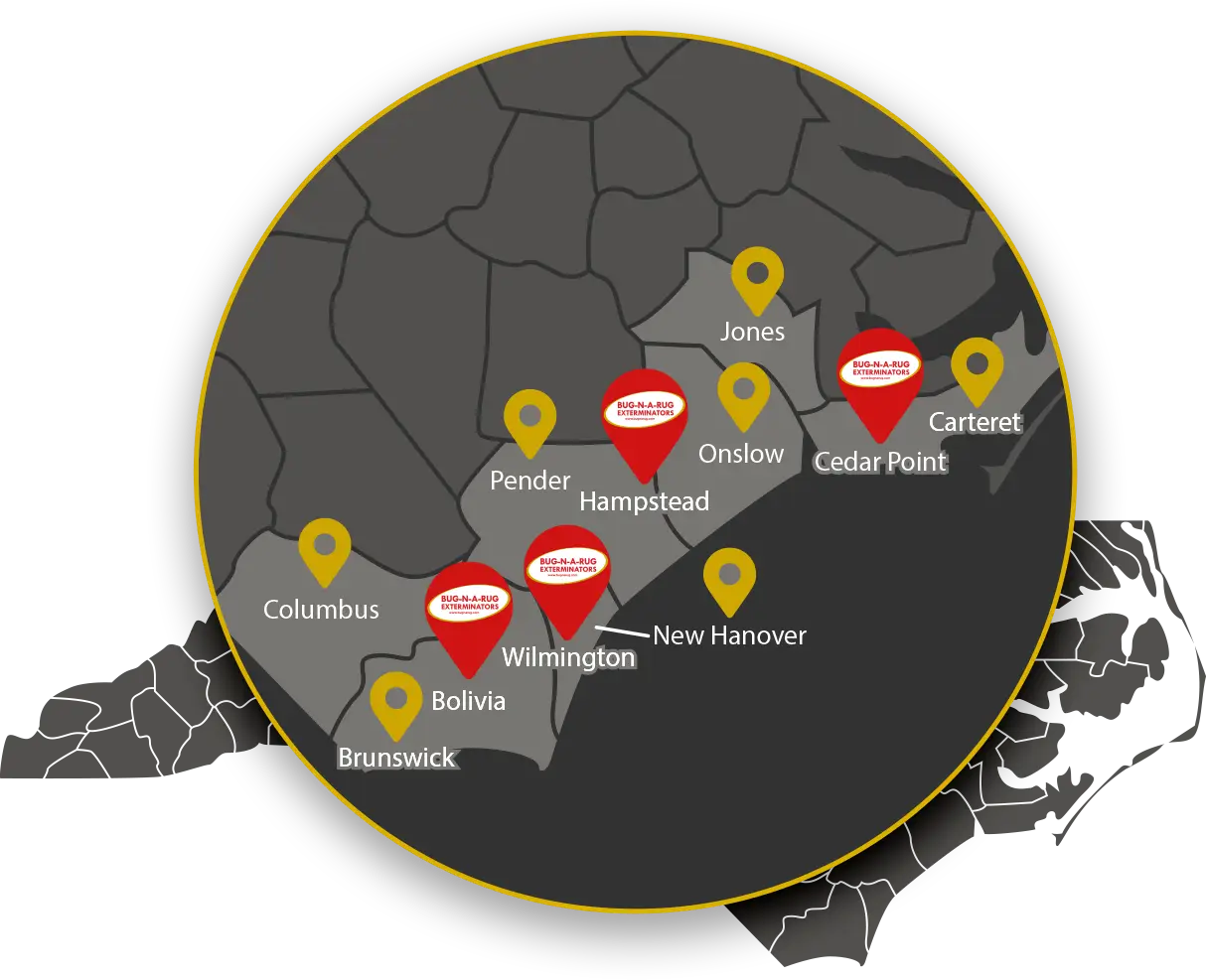 Local Pest Control Experts
Areas We Service in North and South Carolina
The Carolinas, while a wonderful place to live and raise a family, has no shortage of pest-related challenges. Fortunately, we're here to meet your every need, offering comprehensive and accessible service across the Coastal Carolinas. Whether you're looking for pest, termite, or mosquito control, we have you covered!