Effective Pest Control In Chadbourn, North Carolina
Here in Chadbourn, NC, we've got a humid, subtropical climate. That means our summers are hot, our winters are mild, and unfortunately, our conditions are conducive to pest activity all year long. Soon pest activity could elevate to a full-blown infestation, and you don't want to handle that alone. But don't worry, because we're here to walk you through it.
 
Bug-N-A-Rug Exterminators offers complete pest control services to all of Columbus County and the surrounding communities across the greater Wilmington area. We are a family-owned and operated company that has been providing "Green Pest Control" since 1996. We value the use of environmentally friendly pest solutions that not only protect you and your loved ones but also protect the world we live in. Contact us today to set up your complimentary home evaluation.
Image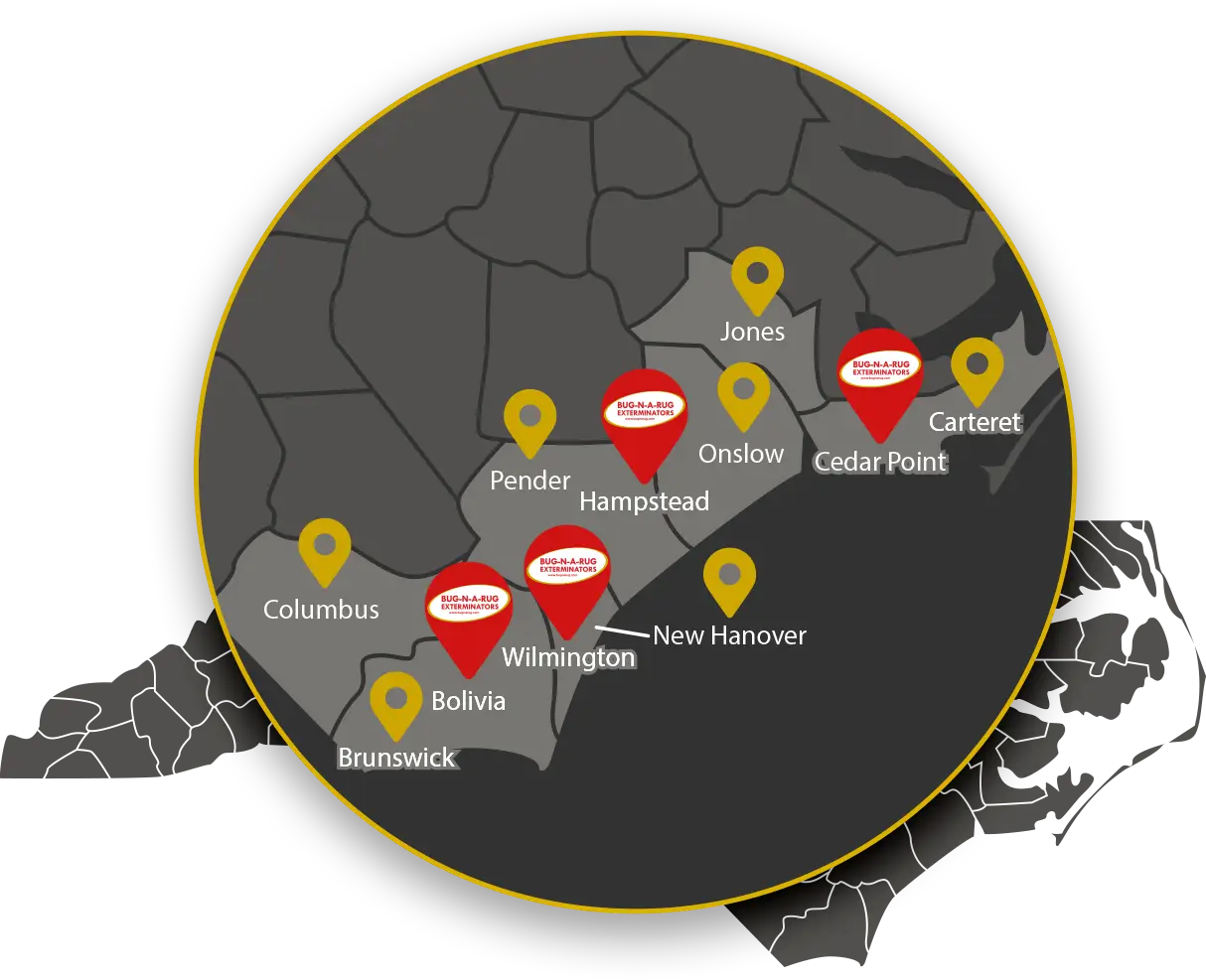 Residential Pest Control In Chadbourn, NC
Residential Pest Control In Chadbourn, NC
In order to protect your Chadbourn home from a pest infestation, you can use the help from the pest experts at Bug-N-A-Rug Exterminators. We offer comprehensive residential pest control services that provide year-round protection from common North Carolina pests. Our services are available on a monthly, bi-monthly, or quarterly basis, and we customize every treatment to fit the specific needs of our customers. We cover both the exterior and interior of your home, treating vulnerable areas such as:
Exterior Treatments
Crawl space, vents, and weep holes
Driveways and walkways
Eaves
Foundation perimeter
Patios, decks, and porches
Yard (flower beds, bushes, landscaping)
Interior Treatments
Appliances (stove, dishwasher, fridge, washer, dryer)
Attic and crawlspace
Cracks and crevices
Electrical outlets and wall voids
Entry points (doors, windows, fireplaces)
Garage and shed
Kitchen, bathrooms, and utility areas
Pipe fittings under sink
Trash receptacles and garbage areas
From cockroach extermination to ant control and bed bug inspection, we do it all.  We also offer comprehensive real estate inspections and pre-build treatments for new construction so you can go into your new home knowing it's free from infestation. Call us to hear more about our residential pest control services and how they can be beneficial to you and your loved ones.  
Commercial Pest Control In Chadbourn, NC
Pest activity threatens your Chadbourn business in a variety of ways. For one thing, there's your reputation. Nothing can ruin a good reputation like a pest infestation. Pests can cause widespread contamination and put the health and safety of your employees and customers in danger. You need professional pest protection from Bug-N-A-Rug Exterminators. We offer commercial pest control services that cover your business from year-round invaders, such as:
Ants
Bed bugs
Earwigs
Hornets
Mosquitoes
Old house borer beetles
Powder post beetles
Roaches
Rodents
Silverfish
Spiders
Stored-product pests
Termites
Wasps
Wildlife
Whatever type of business you're in, we can help protect your facility from infestation. From warehouses and healthcare facilities to schools and restaurants, we're here to help and we have the proven experience to deliver the lasting results you deserve. Our skilled pest technicians will treat your property with the most up to date technologies and eco-friendly treatment options. Call us today for a consultation.
Ant Control In Chadbourn
When ants infest, they do so in large numbers. Their populations grow so quickly that the situation becomes unmanageable. You need to be diligent in your efforts to prevent ant activity. If you want to reduce ant attractants around your property, the following precautions can prove effective:
Maintain a high level of cleanliness and practice proper sanitation. That means cleaning up spills and crumbs, keeping food in tightly sealed containers, wiping down counters, sticky jars, and residue. Take your trash out on a regular basis, and make sure it is kept outside in a lidded bin.
Eliminate standing water and any sources of excess moisture. Repair leaky pipes, faulty facets, and malfunctioning drains. Use a dehumidifier in damp areas of the house like basements, crawl spaces, and attics. Maintain functional downspouts and gutters to keep water flowing away from the foundation.
Eliminate all access points. Seal all cracks and crevices around the outside of the home. Keep branches, trees, and bushes well-trimmed and directed away from the house.
This is a great place to start in your ant control efforts. For comprehensive ant prevention services that protect your property all year long, Bug-N-A-Rug is the way to go. We are experienced in the large-scale identification and elimination of ant colonies, and we're confident that we'll deliver lasting results.
Bed Bug Treatment In Chadbourn
You try to have a good night, you try your best to sleep tight, but what about those bed bugs? It's not as simple as not letting them bite. They're sneaky bloodsuckers. It's hard to detect an infestation, but here's a good place to start. If you find any of the following, it's indicative of a bed bug problem:
Red or brown spots on your bedding and linens (stains left behind from a nightly feeding)
Rusty, dark excrement and fecal spots on your linens, mattresses, clothing, and walls
Tiny eggshells and shed skins around their hiding areas
Your best protection from bed bug activity is to contact the professionals. The team at Bug-N-A-Rug has extensive experience in bed bug removal and prevention. Not only will we catch them and get rid of them, but we'll work with you throughout the year to make sure they stay away for good. Call us today.