Image
Same-Day Termite Treatments For Quick Protection!
Termite Control in Wilmington and the Surrounding Areas
Despite their small size, termites can cause large amounts of damage to your home. In fact, these destructive insects are responsible for over $5 billion in damages to homes in the United States every year. At Bug-N-A-Rug Exterminators, we understand the importance of protecting your home from destructive termites. That's why our comprehensive termite control services in Wilmington are designed to keep these insects away for good. Our experienced technicians use a combination of advanced treatments and prevention methods to rid your property of any current infestations and prevent future ones from occurring. With our help, you can rest assured that you're doing everything you can to keep your home safe and sound.
If you think termites have invaded your home or want to protect it from future invasions, don't hesitate to contact Bug-N-A-Rug Exterminators. Our knowledgeable team is here to provide you with the expert termite control services you need to keep your home in top shape.
About Our Termite Services
Thanks to our warm summers, mostly mild winters, and humid climate, termites are a year-round problem in North Carolina. This means homeowners have to be extra vigilant about protecting their homes because a termite infestation can happen at any time. While that may sound overwhelming, our termite exterminators in Wilmington are here to take care of all the hard work for you.
When you partner with us for termite control in Coastal Carolina, we will:
Provide a thorough termite inspection, searching your house for signs of termite activity

and damage.

Use our findings to

tailor treatment based on the severity of the infestation

.

Apply liquid treatments that eliminate the pest

, preventing them from causing further damage.

Install Trelona bait stations

around the perimeter of your home.

Receive our pest-free guarantee!
Get 50% off your first service
Customer Financing or Payment Plans
When it comes to customer financing, we understand how important it is to make sure that your customers can access the payment plans they need. That's why we offer a variety of financing options to meet their needs. Our third-party company provides flexible financing options ranging from $1,500-$25K and repayment terms that are tailored to each individual's financial situation.
Types of Termites in North Carolina and South Carolina
There are over 2,000 different species of termites in the world. Luckily, there are only two types that are common in the Carolinas: Eastern subterranean termites and Formosan termites. Each species requires different treatments, so we tailor our approach based on species we find in your home.
Eastern Subterranean Termites
Eastern subterranean termites make their colonies underground and can contain hundreds of thousands of insects. These pests have to stay moist, otherwise their bodies will dry out and they'll die. If they live above ground, subterranean termites create distinctive mud tubes to protect themselves from the open air. They also never sleep, allowing them to constantly eat away at your home and quickly cause significant damage.
Formosan Termites
Formosan termites are also a type of subterranean termites, however, they are more destructive and aggressive than the Eastern subterranean termites. Formosan colonies are substantially larger with several million termites. These high numbers allow them to destroy structures even faster than other species. Their colonies are both above and below ground, making them especially tricky to eliminate.
HAVE QUESTIONS? GIVE US A CALL
Signs of a Termite Infestation in Your Wilmington Home
Termite infestations are so devastating because they're difficult to identify—you'll likely never see actual termites unless you catch them while they're swarming in the spring. Because of this, most people don't realize they have a problem until their home is already damaged. To help protect your home, look out for these warning signs:
Discarded wings: After termites swarm, they lose their wings. This results in piles of them that are often near windows and doors.
Buckling floors: Damage to the subfloor and structural supports of your home can cause buckling, uneven, and squeaky floors.
Hollow-sounding wood: Termites often eat the middle of wooden structures, leaving behind a shell that looks like normal wood but sounds hollow when tapped.
Peeling paint: Termites introduce excess moisture behind your walls, which causes peeling paint that looks similar to water damage.
Mud tubes: These thin, cylindrical tubes act like highways that allow termites to travel from the ground to your home. They're often found on the foundation.
If you notice any of these signs, call us at 910-250-9809 right away to schedule a termite inspection. One of our termite exterminators will inspect your home to confirm the presence of the pest, then create a custom treatment plan to eliminate them.
Why You Need Professional Termite Control
When termites invade your home, the damage they cause can be severe and expensive to repair. That's why termite control is so important. An infestation needs to be handled quickly and professionally in order to prevent further problems from occurring.
Professional termite specialists have the experience and knowledge needed to identify the pest and put a termite control plan in place. These experts can advise you on the best termite extermination methods to ensure that they are eliminated from your home and prevent further activity.
DIY termite treatments are available, but they're often not as effective as professional termite control solutions. We do not recommend using DIY methods on an infestation. Professional termite treatments are designed to target termites specifically and eliminate them from your home in the most efficient manner possible.
If termites have invaded your home, contact a professional termite treatment specialist right away for an inspection.
Our Termite Control Guarantee
When it comes to termites in your house, you want to know they're gone for good. That's why our termite treatment comes with our termite-free guarantee! If pests return after we treat your home, let us know and we'll re-treat at no additional cost.
Image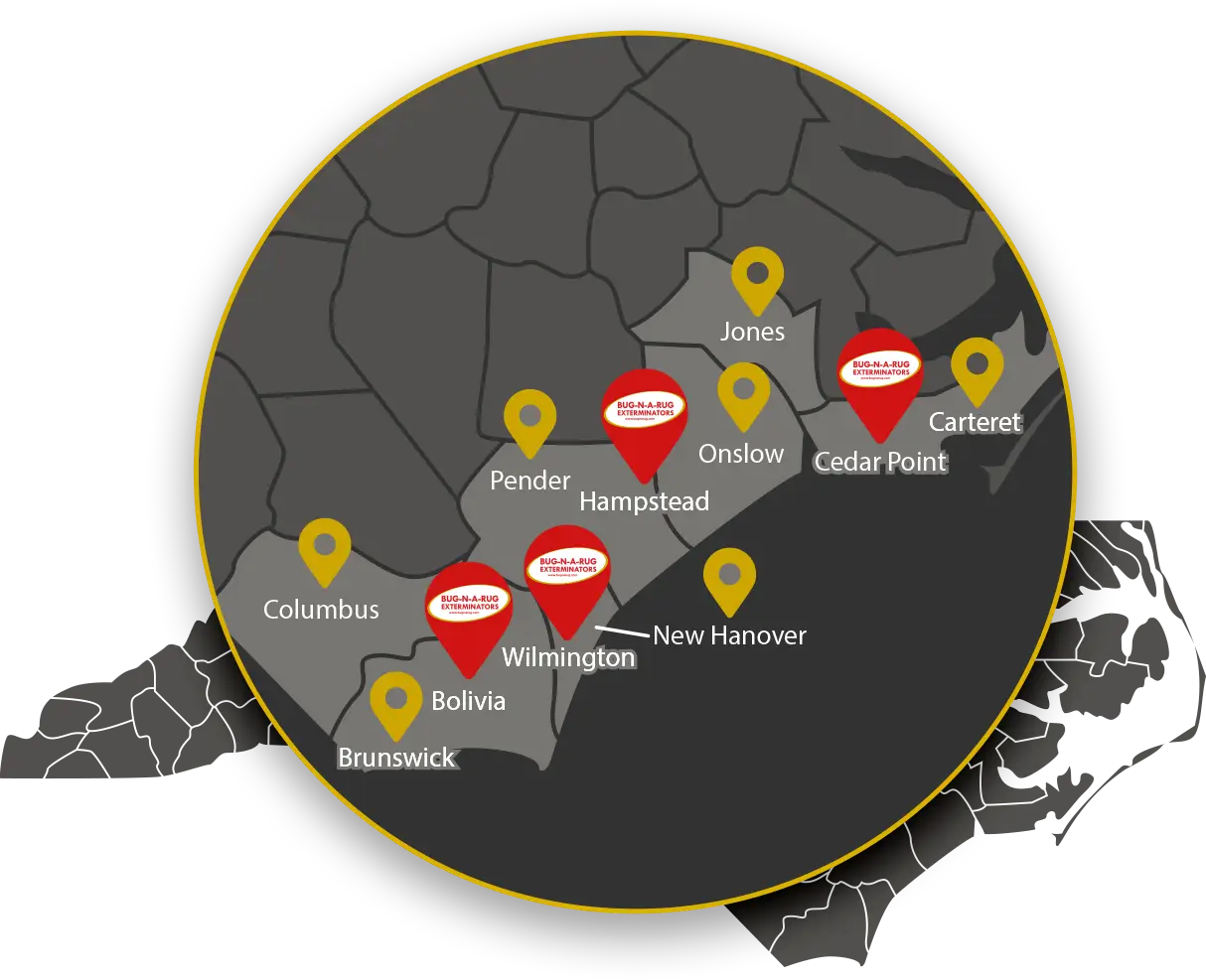 Local Pest Control Experts
Areas We Service in North and South Carolina
The Carolinas, while a wonderful place to live and raise a family, has no shortage of pest-related challenges. Fortunately, we're here to meet your every need, offering comprehensive and accessible service across the Coastal Carolinas. Whether you're looking for pest, termite, or mosquito control, we have you covered!