What kind of pest problem are you having?Select all that apply.
Pest Control In New Hanover County, NC
Here in New Hanover County, NC, we're lucky enough to spend our days right along the beautiful Atlantic coastline. Our proximity to the water means increased moisture levels all year round, and that means increased levels of pest activity. In order to effectively protect our homes and businesses from the detrimental effects of pest infestation, the smartest thing to do is rely on a team of highly qualified pest professionals.
 
Bug-N-A-Rug Exterminators has been servicing all of New Hanover County and surrounding communities across the greater Wilmington metro area since 1996. We pride ourselves on our "Green Pest Control" options, prioritizing environmentally friendly pest solutions that are safe for you, your loved ones, and the ecosystem we live in. We regularly educate our staff on the most up-to-date technologies and the most effective new treatments to make sure we're providing our customers with the absolute best pest control solutions on the market. Call us today for a free home evaluation.
Image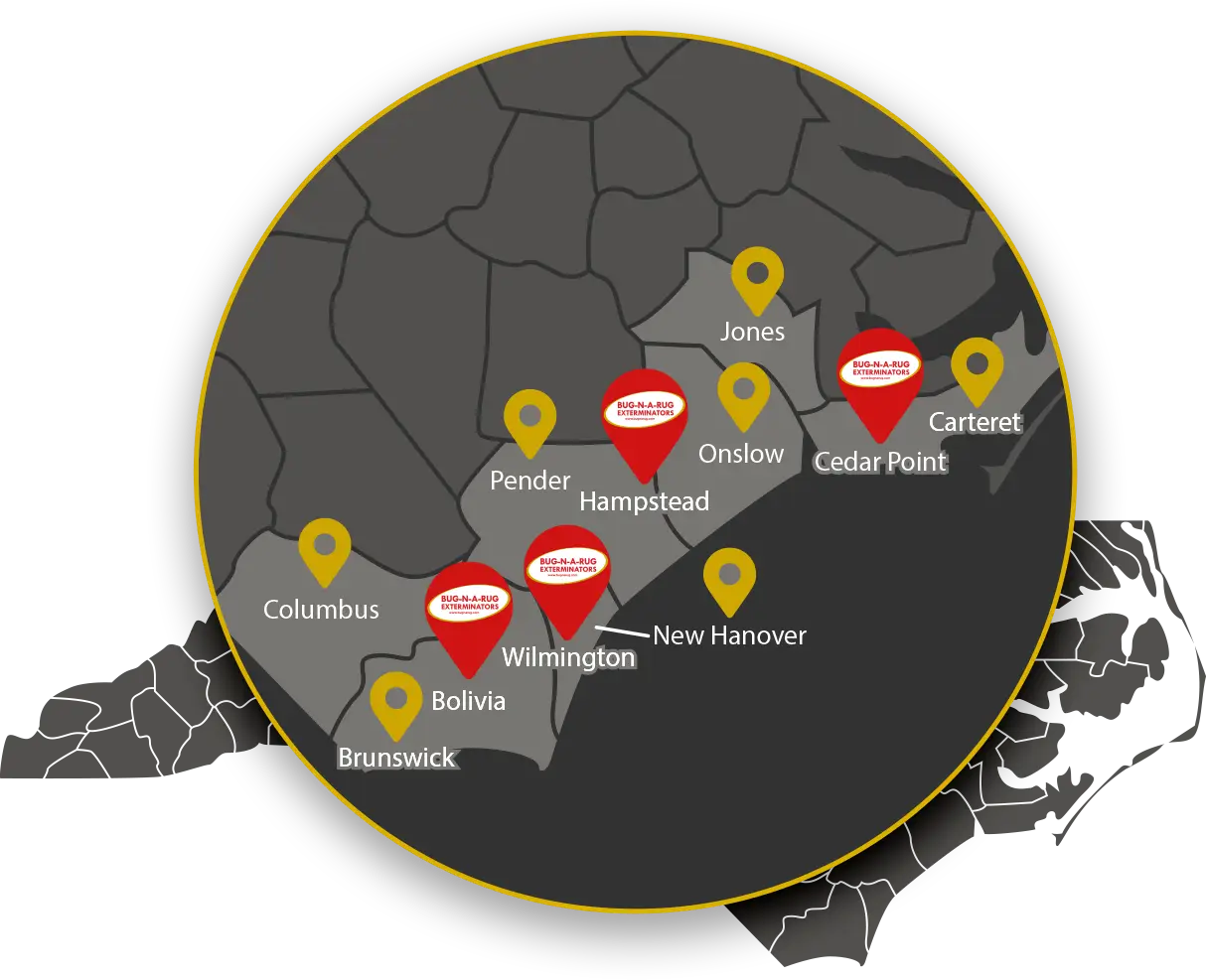 Residential Pest Control In New Hanover County, NC
Household pest infestation puts you and your loved ones in jeopardy, which is why you need comprehensive pest protection from the professionals. Bug-N-A-Rug Exterminators provides residential pest control services that you can count on. From blocking off access points and making necessary habitat modifications, to total pest extermination using baiting and gel methods, we've got you covered.
Our treatments are available quarterly, bi-monthly, or monthly, and we always work closely with our clients to develop the perfect plan of approach for their particular problem. Our team of pest professionals also conducts comprehensive real estate inspections, and we offer pre-build treatments for new construction. Whatever kind of household pest problem you're dealing with, give us a call today. We will set up an initial inspection and get the ball rolling.
Commercial Pest Control In New Hanover County, NC
As a business owner, maintaining a glowing reputation is extremely important if you want your business to survive. There's nothing like a pest infestation to take down your good name and put you out of business. Bug-N-A-Rug Exterminators offers comprehensive commercial pest control services that provide complete coverage for a long list of North Carolina pests.
 
No matter what kind of business you run, pest activity is a threat, and we're ready to help. From warehouses and healthcare facilities to schools and restaurants, we're here to protect you, and we have the proven experience to deliver the lasting results you deserve. Our services are available on a monthly, bi-monthly, or quarterly basis, and we always customize each of our treatment plans to meet the needs of your business and your facility. Our main goal is to make your property pest-free, preventing pest activity for years to come. Reach out to us today for a detailed quote and we will get your initial inspection on the calendar right away.
Bed Bug Treatment In New Hanover County
 you want to avoid bed bug activity in your New Hanover County home or business, it's important to be proactive in your approach. The following precautionary methods can make a big difference in reducing your chances of experiencing a bed bug infestation:
Check all items for bed bugs before bringing them into your home. This is especially important when it comes to luggage and secondhand clothing and furniture.

Reduce clutter around the home, as bed bugs love to hide in the cracks and crevices of your stuff.

Regularly wash and dry all linens, bedding, and clothing on high heat to kill off any bed bug activity.

Steam clean upholstery, curtains, and other stationary fabric items that bed bugs can easily latch onto.

Use mattress and box spring encasements to prevent any bed bugs from getting in or out. Bed bugs that are already in your mattress will eventually die off from starvation.
The most effective way to protect your home from the horrors of a bed bug infestation is to contact the professionals. The team at Bug-N-A-Rug Exterminators has extensive experience in the successful detection and elimination of bed bug activity. Call us today to get started.
Mosquito Control In New Hanover County
We all know that mosquitoes give us nuisance bites that itch incessantly, but what else do we really know about them? As property owners, it's important to be aware of certain mosquito behaviors so that you can effectively guard your home and/or business from the possibility of infestation. Here are three interesting facts to keep in mind:
The first ten days of a mosquito's life cycle are spent in water. Eggs are laid in water, and in order for the eggs to hatch into larvae, they need to feed on organic matter found in sources of standing water. 

We may only think of them as parasites, but mosquitoes generally feed on fruit and plant nectar. In fact, that's all the male mosquitoes feed on. Only female mosquitoes bite humans, as they need the protein in our blood to help along the development of the eggs. 

Mosquitoes have receptors on their antennae that allow them to smell the carbon dioxide in a human's breath. Our skin also produces odors through sweat that act as a trail for mosquitoes. They follow the scent and they find their dinner (our blood).
The most effective way to deal with mosquitoes on your New Hanover County property is to contact the team at Bug-N-A-Rug Exterminators. We offer complete mosquito control and abatement services that give you the year-round protection that you deserve, guarding you against these parasitic pests moving forward. Call us today.
Cities We Service In New Hanover County: