What kind of pest problem are you having?Select all that apply.
Same-Day Pest Control In Atlantic Beach, SC
Atlantic Beach, SC, is a beautiful piece of the South Carolina coast, right by Myrtle Beach. Nicknamed the "Black Pearl," Atlantic Beach is filled with African American culture and historical significance. However, it's also filled with local pest populations like termites, ants, spiders, rodents, and many others. When these invaders get into your property, they wreak havoc in every possible way, and that's why we recommend securing professional pest services.
 
Welcome to Bug-N-A-Rug Exterminators, your local source for quality pest solutions. Our family-owned and operated company has been servicing homes and businesses throughout Atlantic Beach and the surrounding areas since 1996. Our "Green Pest Control options" offer environmentally friendly solutions that guarantee safety on all levels. Whatever kind of pest problem you're up against, you're not in it alone. Call us today to schedule your free home evaluation.
Image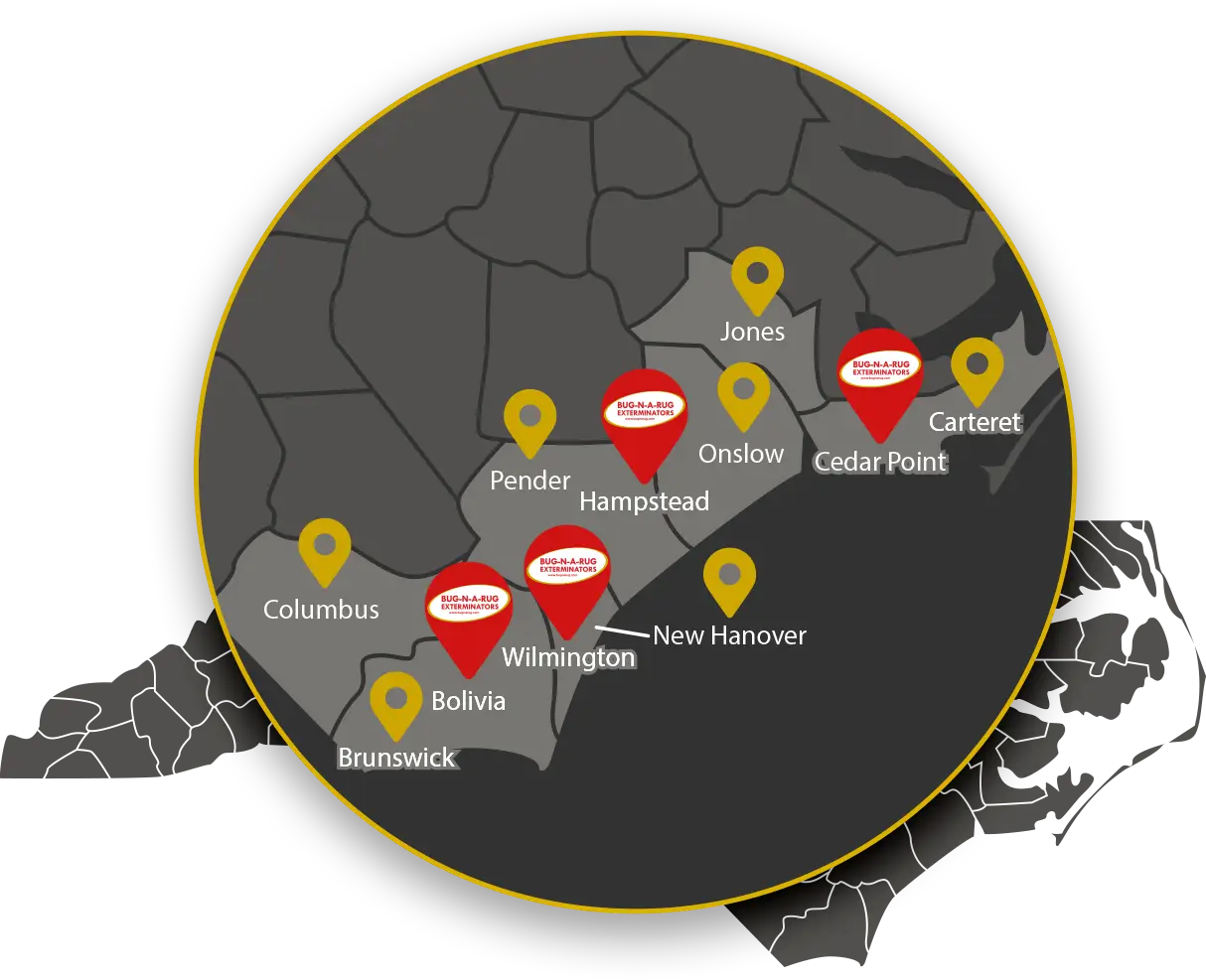 Residential Pest Control In Atlantic Beach, SC
Bug-N-A-Rug Exterminators are here to protect Atlantic Beach homeowners from household infestation. Our residential pest control services are available on a monthly, bi-monthly, or quarterly basis, and we're eager to work with you to come up with a customized treatment plan that fits your needs. 
 
We always work closely with our clients to develop the perfect plan of approach for their particular problems. Bug-N-A-Rug Exterminators offers residential pest control services that thoroughly cover both the exterior and interior of your home. Our treatments include:
Exterior eaves, patios, decks, and porches.
Crawl spaces, vents, and weep holes.
Foundation perimeter.
Driveways and walkways.
Yard & all flower beds, bushes, and landscaping.
Interior cracks and crevices.
Kitchens, bathrooms, utility areas.
Pipe fittings under the sink.
Electrical outlets and wall voids.
Entry points (doors, windows, fireplace, etc.
Applicants – stove, dishwasher, fridge, washer, dryer, etc.
Trash receptacles and garbage areas.
Attic and crawlspace.
Garage and shed.
From blocking off entry points to using baiting and gel methods, we use trusted methods and effective habitat modifications to keep pests off your property for good. With a strong focus on employee training, we give our team members continued education to deliver the most updated technologies in the industry. By broadening the skill sets of our certified technicians, we're able to deliver pest-free conditions that last. In addition to our basic home pest services, we also offer real estate inspections and pre-build treatments for new construction. Call today for a detailed service quote.
Commercial Pest Control In Atlantic Beach, SC
Running a business is no walk in the park, but things become much harder to manage when pests enter the picture. Pest infestation is a huge threat, and if you want to protect your employees, your customers, and your reputation, it's imperative to get professional pest services. We provide commercial pest coverage from a long list of common area intruders, some of which include bed bugs, earwigs, ants, cockroaches, termites, spiders, wildlife, silverfish, stinging insects, rodents, and many others.
 
No matter what business you run, it's a good idea to secure extensive pest protection. Our commercial pest control services cover a wide range of businesses, offering complete extermination, prevention, and maintenance for the long-term protection of your business. From healthcare offices and storage warehouses to restaurants, food services, and schools, the team at Bug-N-A-Rug Exterminators is here to help you. 
 
We're proud members of the NPMA (National Pest Management Association) and the North Carolina Pest Association, bringing you the most up-to-date pest technologies and eco-friendly treatment methods. Get in touch with us today to discuss your commercial pest control needs, and we'll get the ball rolling right away.
Ant Control In Atlantic Beach SC
When ants get onto your property, they spread rapidly, and it can be tough to control ant activity once it's already begun. That's why it's a good idea to be proactive in your ant prevention efforts. Here are five tips for keeping your Atlantic Beach property free from ant infestation: 
Get rid of sources of standing water, and repair leaky pipes, faucets, and drains.
Maintain functional downspouts and gutters to keep water flowing away from the foundation.
Promptly clean up spills and crumbs, and wipe down counters, sticky jars, or residue, etc.
Take out the garbage regularly and keep it outside stored in a lidded trash can.
Use a dehumidifier in damper areas of the house like basements, crawl spaces, and attics.
Even after implementing these preventative measures, it's still challenging to control an ant infestation. The best way to go is to get regular services from the pest professionals. Call Bug-N-A-Rug Exterminators today for all your ant control and prevention needs. We're here to help.
Termite Control In Atlantic Beach, SC
Upon discovering termite activity around your Atlantic Beach home or business, there undoubtedly is a lot running throughout your mind. Sorting through the chaos can be overwhelming, but there are certain things you should definitely avoid doing. Here's what not to do if you see termites around your property:
Flood them out with homemade pesticides and repellents (which can be harmful to humans and pets).
Pour a white vinegar solution or a soapy water solution on active areas and visible hot spots.
Perform selective spot treatments that only address one area, never the infestation at large.
Utilize foggers and termite bombs that only cover one area rather than the whole infestation.
Place termite-infested items outside to bake in the sun, hoping the heat will kill off all termite activity.
Now that you know what not to do, we'll tell you what you should do. The smartest and most efficient way to deal with a termite infestation is to call in the pest professionals. Bug-N-A-Rug Exterminators are eager and ready to help you rid your property of these wood-eaters once and for all. Call today to get started.
Bed Bug Control in Atlantic Beach, SC
Are bed bugs invading your home and disrupting your sleep? Don't worry, our expert team of bed bug exterminators in Atlantic Beach, SC is here to help. We offer a comprehensive bed bug control service that will quickly and effectively get rid of bed bugs, allowing you to enjoy a peaceful night's sleep once again.
Here's why you should choose us:
Same-day bed bug inspection: We understand the urgency of the situation, which is why we offer same-day inspections. Our team will thoroughly inspect your home to identify any bed bug infestations and provide you with a detailed report.
Family-friendly bed bug treatments: Your family's safety is our top priority. That's why we use family-friendly treatment methods that are effective in eliminating bed bugs without putting your loved ones at risk. Our experienced team will tailor the treatment to your specific needs, ensuring maximum effectiveness.
High-intensity heat treatment: Our high-intensity heat treatment is the most effective method for eliminating bed bugs. By raising the temperature of your home to 140 degrees Fahrenheit, we can quickly and efficiently kill adult bed bugs, nymphs, and eggs. This method is safe for your family, pets, and your home.
Mosquito Control in Atlantic Beach, SC
Don't let mosquitoes ruin your outdoor fun in Atlantic Beach, SC. Our professional mosquito control service is here to help. With our expertise, we'll create a mosquito-free environment so you can enjoy your time outside without any worries.
Why choose our mosquito control in Atlantic Beach?
Free inspection: Our experts will evaluate your property to identify problem areas and the severity of the mosquito infestation.
Fogging: We use fogging techniques to eliminate adult mosquitoes on contact, providing immediate relief.
Family-friendly treatment: Our environmentally-sensitive practices won't harm surrounding ecosystems or pose a risk to your loved ones.
Larvicides in targeted areas: By eliminating mosquito breeding areas and standing water, we disrupt their breeding cycle and reduce the number of mosquitoes flying around.