What kind of pest problem are you having?Select all that apply.
Pest Control In Whiteville, NC
Keep your Whiteville home or business protected from the many pests that also consider our area of the country home by partnering with the experienced pest professionals here at Bug-N-A-Rug Exterminators. Since 1996 we have been providing reliable, affordable, and effective pest control services to cover a wide range of pest control needs.
Whether you need residential pest control, commercial pest control, or specialized pest control services, we have what it takes to get the job done. We are committed to providing complete pest control services that you can count on. Turn to Bug-N-A-Rug Exterminators today to learn how we can stop pests from overtaking your Whiteville home or business. 
Image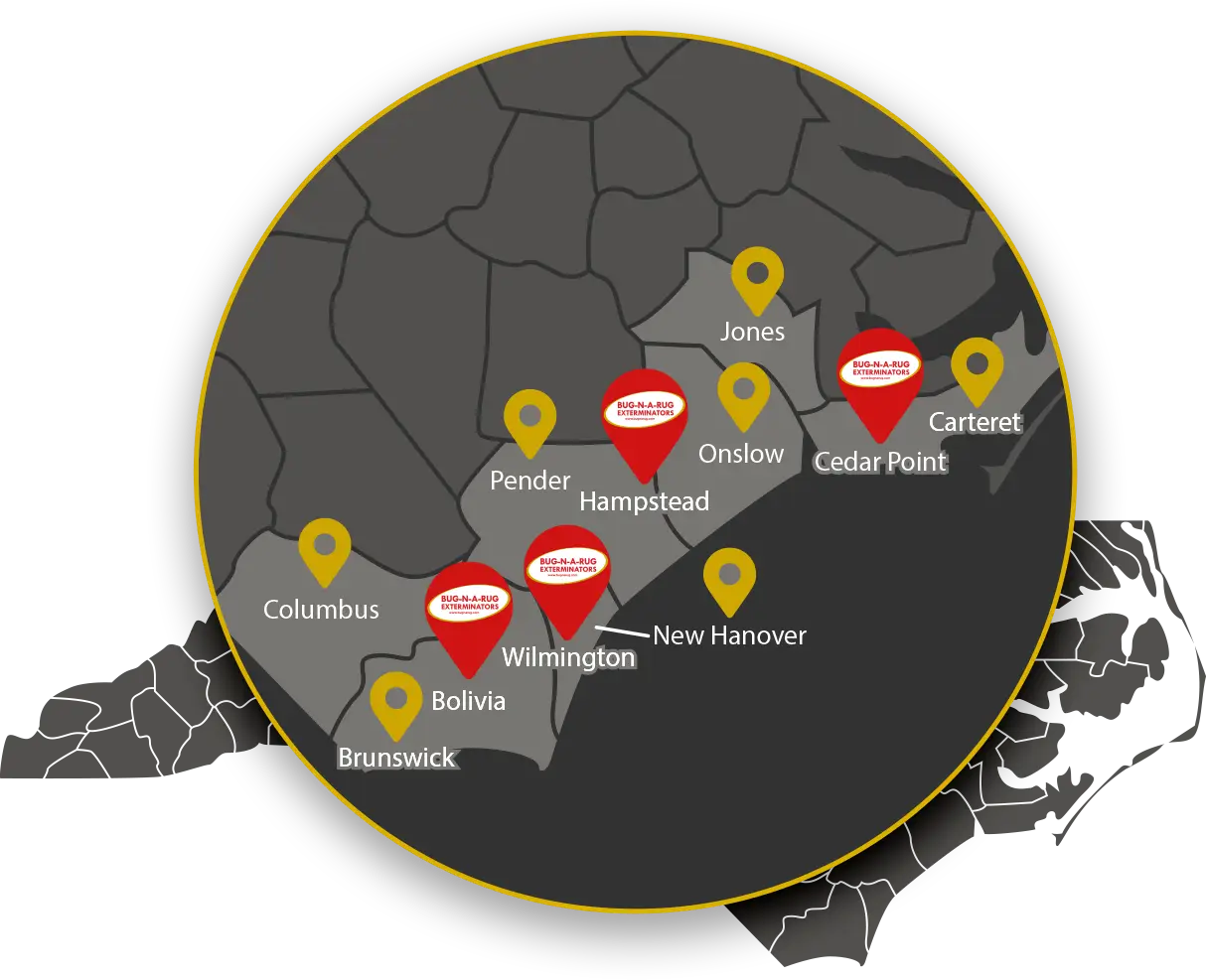 Home Pest Control In Whiteville, NC
Without a home pest control plan in place, pests will always find a way to infest your Whiteville property. At Bug-N-A-Rug Exterminators, we care about keeping you, your property, and your family protected from the many pests that can cause problems in and around your home. As a family-owned pest control provider, we understand that quality customer service is just as important as quality pest treatments. 
 
Whether you're dealing with stinging insects, rodents, termites, ants, cockroaches, mosquitoes, rodents, wildlife pests, fleas, or other pests, our local pest professionals can offer effective treatments to get rid of them. Don't allow pests to invade your Whiteville home and spread diseases to your family. Instead, get in touch with the pest experts here at Bug-N-A-Rug Exterminators today to learn more about our eco-friendly home pest control options.
Commercial Pest Control In Whiteville
Our professionals here at Bug-N-A-Rug Exterminators protect Whiteville businesses from pests. Whether you own a healthcare facility, restaurant, school, or other types of business, we are ready to help. Our highly-trained pest technicians have the experience, skills, and tools necessary to control and prevent pest problems year-round. And, because we understand that every business is unique, we customize our commercial pest control plans to meet your individual budgetary needs.
Pest infestations can threaten the success of your Whiteville business. However, with the pest experts from Bug-N-A-Rug Exterminators on your side, pests don't stand a chance. Give us a call today to get started. 
Moisture Control In Whiteville
During the warmer months or in seasons of excess rain, moisture tends to build up in your crawl spaces and absorb into the insulation and wood. Although a little bit of moisture here and there might not seem like a big deal, the truth is that excess moisture can lead to a lot of problems in your Whiteville home. Some of the issues that occur due to excess moisture include:
Mold and mildew growth

Damage to the structure of your home

Reduced air quality, which can lead to poor health and sickness

High humidity

Insulation damage
Improper moisture control can cause many health issues and damage to your Whiteville property. Also, moisture attracts pests, which means your moisture problem can turn into a pest problem if you're not careful. 
 
The best solution to your moisture issues is moisture control services from Bug-N-A-Rug Exterminators. We provide many moisture control services, including crawl space encapsulation and sanitation, installation of dehumidifiers, insulation repair, and much more. Reach out to us today to schedule your no-obligation inspection or ask about our pest control services. 
Mosquito Control In Whiteville
Mosquitoes are annoying insects that are active from late spring to early fall and are known for causing a lot of problems for homeowners and business owners alike. Although both female and male mosquitoes feed on plant nectar, female mosquitoes need the protein that blood provides in order to nourish their eggs. 
 
No one wants to deal with mosquitoes in their Whiteville yard. Not only are mosquitoes capable of ruining outdoor events, but they also spread a wide variety of dangerous diseases, including malaria, chikungunya, West Nile virus, and dengue.
 
To minimize your mosquito exposure, implement a few of these general mosquito prevention tips:
Keep your gutters cleared of sticks, leaves, and other debris to prevent water build-up.

Trim your lawn short regularly.

Cut back weeds, tall grasses, and overhanging tree limbs back from the exterior of your house.

Repair leaking fixtures and pipes that could contribute to excess moisture.

Remove sources of standing water to prevent mosquitoes from breeding and laying their eggs on your property.
Although mosquito prevention methods can help reduce the mosquito population around your Whiteville home or business, they will never be as effective as professional pest control. The technicians here at Bug-N-A-Rug Exterminators can provide effective mosquito treatments throughout the year when they are most active.
Whether you need monthly treatments or a one-time mosquito service, we've got your back. Contact Bug-N-A-Rug Exterminators to learn more about our mosquito control process.