What kind of pest problem are you having?Select all that apply.
Pest Control In Lake Waccamaw, North Carolina
Here in Lake Waccamaw, we're lucky to live right on the shores of the largest natural freshwater lake in North Carolina. The high levels of precipitation help make for a humid climate, and nothing attracts pests more than moisture. That, as well as food and water. Your Lake Waccamaw property needs dependable protection from pest infestation, and we're here for that very purpose.
Image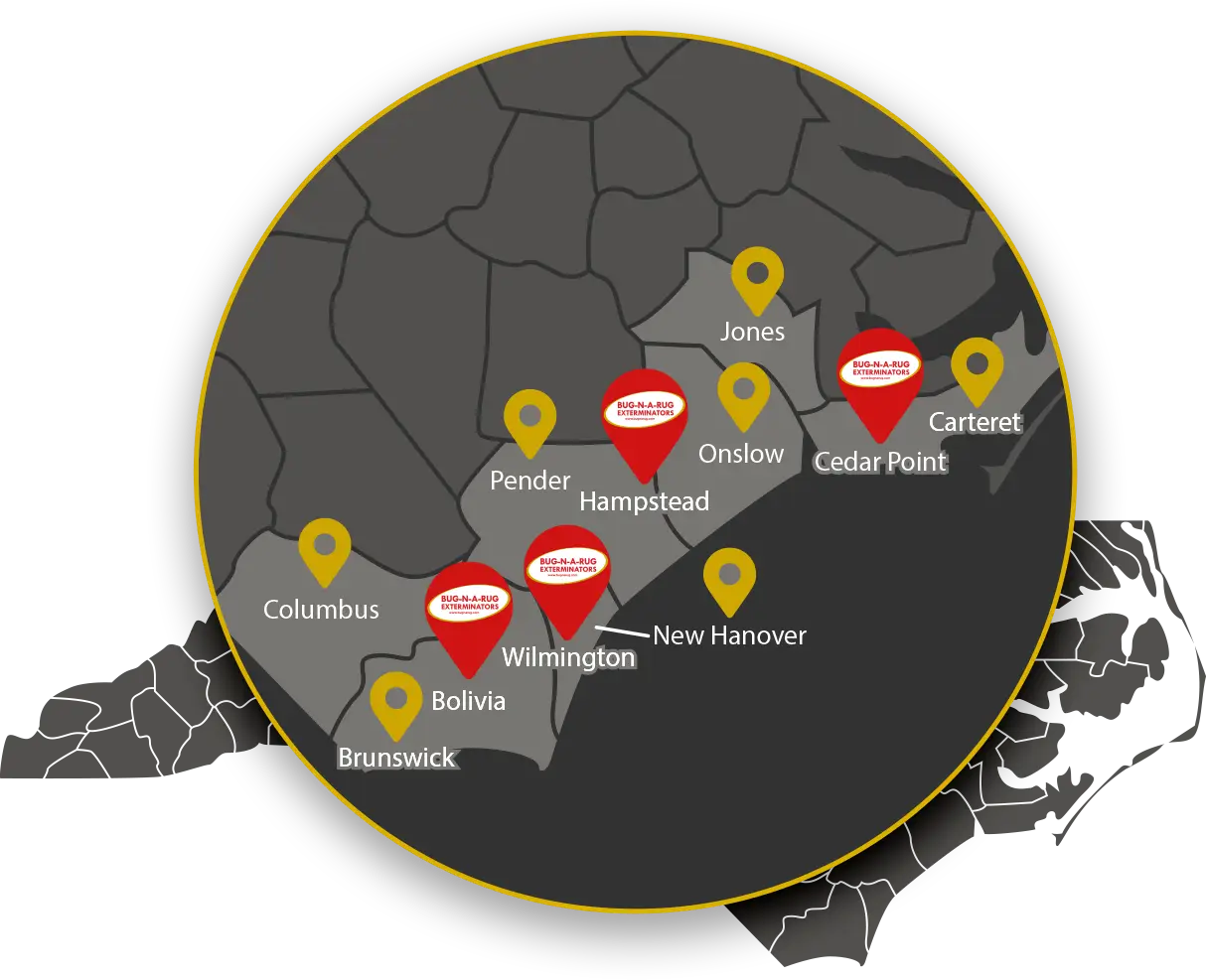 Residential Pest Control In Lake Waccamaw, NC
Having a house on the lake is a dream, but that dream can quickly turn into a nightmare when pests enter the picture. Infestation puts you and your loved ones in jeopardy which is why you need comprehensive pest protection from the professionals. Bug-N-A-Rug Exterminators provides residential pest control services that thoroughly cover both the exterior and interior of your home.
Exterior Treatments
Crawl spaces, vents, and weep holes
Driveways and walkways
Eaves
Foundation perimeter
Patios, decks, and porches
Yard (flower beds, bushes, and landscaping)
Interior Treatments
Appliances ( stove, dishwasher, fridge, washer, dryer, etc.)
Attic and crawlspace
Cracks and crevices
Electrical outlets and wall voids
Entry points (doors, windows, fireplace, etc.)
Garage and shed
Kitchen, bathrooms, and utility areas
Pipe fittings under sink
Trash receptacles and garbage areas
Bug-N-A-Rug Exterminators is a family-owned and operated company that uses "Green Pest Control" solutions to protect Lake Waccamaw homes and businesses from infestation. We are proud to service all of Columbus County and communities all over southeastern North Carolina. Since 1996, we've been using environmentally friendly pest solutions that you can feel good about. Our staff is knowledgeable about the most up-to-date technologies and the most effective new treatments to make sure we're providing the best pest control possible. Call us today to schedule your free home evaluation. We'll walk you through our process and our custom pricing options, and we'll find the best plan of action for you.
Our home pest control services are available on a monthly, bi-monthly, or quarterly basis to accommodate your needs and your schedule. Our team of pest professionals also conducts comprehensive real estate inspections and pre-build treatments for new construction. Call us today to discuss your residential pest control needs.
Commercial Pest Control In Lake Waccamaw, NC
If you own a business in Lake Waccamaw, you know the importance of pest prevention. Once pests enter the premises, your entire operation is put at risk. Your employees, your customers, your property –  pest activity puts all of that in danger, and you need someone to have your back. Bug-N-A-Rug's commercial pest control services protect businesses from common area pests, including:
Ants
Bed Bugs
Earwigs
Hornets
Mosquitoes
Old House Borer Beetles
Powder Post Beetles
Roaches
Rodents
Silverfish
Spiders
Stored-product Pests
Termites
Wasps
Wildlife
Whatever industry you work in, and whatever type of facility you run, we're confident we can help. From healthcare offices and storage warehouses to restaurants, food services, and schools, we've got you covered. Give us a call to speak to one of our pest experts about our service offerings and custom pricing options.
Is Mosquito Control Important In Lake Waccamaw, NC
Here at Lake Waccamaw, we're prone to mosquito activity. These tiny bloodsuckers are looking for a meal, and that meal is you. While the itchy welts are extremely unpleasant, there is a bigger threat at hand. Mosquitoes are vector pests. If a mosquito is infected, it can transmit a variety of diseases to its host:
Chikungunya
Dengue
Encephalitis
Heartworm
Malaria
Tularemia
West Nile virus
Yellow fever
Zika virus
So, it's not all about the itchiness. Mosquito-borne illnesses are more common than you think, and while there are a lot of things you can do to reduce your exposure to them, your best protection is still professional pest control. Our team sprays and treats your property exterior, destroying all mosquitoes in their resting places and protecting your yard from these vector-pests in the future. Give us a call today.
Why You Need To Control Termites In Your Lake Waccamaw, NC Home
Considering the excess moisture levels around the lake, Lake Waccamaw residents have to be especially careful when it comes to termite activity. These tiny wood eaters are attracted to moisture, and water-damaged wood happens to be their favorite meal of all.
 
Termite damage is a serious issue that can cause large-scale destruction to your property. From personal items that hold sentimental meaning to the flower beds in your outside garden, there's no area of your home that termite damage can't affect.
 
Worst of all? Most homeowners' insurance plans don't cover termite damage at all. You heard us right. Without insurance, you're left with a huge bill, not to mention the fear of future termite activity. Fortunately, there are a lot of precautions you can take to prevent termites, but the best thing to do is call in the pros. The team at Bug-N-A-Rug knows termites, and we're here to protect your property from them.