What kind of pest problem are you having?Select all that apply.
Pest Control In Bolton, North Carolina
Bolton is a small town in Columbus County, located about 27 miles outside of Wilmington. At Bug-N-A-Rug Exterminators, we are committed to protecting residents in Wilmington and the surrounding communities by addressing all of your pest control needs. For over 20 years, we have been proud to offer superior protection against pests by utilizing effective treatment methods and prevention strategies. Whether you're looking for general pest management or specialized pest control services, the professionals at Bug-N-A-Rug Exterminators have you covered. Don't wait for invading pests to take away your peace of mind. Instead, turn to Bug-N-A-Rug Exterminators for excellent residential and commercial pest control solutions that will protect your Bolton property year-round.
Image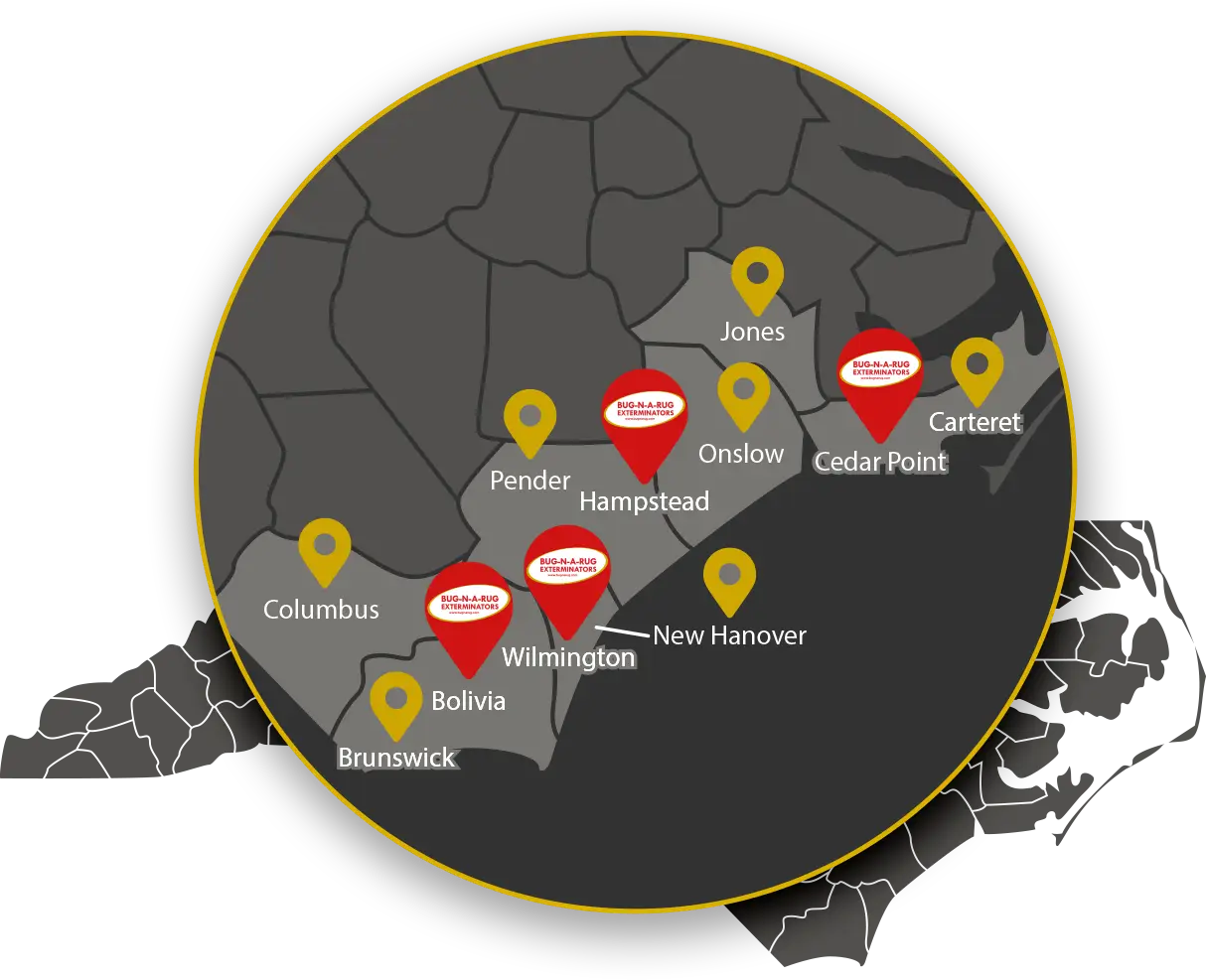 Residential Pest Control In Bolton, NC
When you own a home, it's your top priority to protect it from harm. Unfortunately, when rodents, insects, and other pests invade your residential property, they put your Bolton home and family in harm's way. The most effective approach to keeping your home pest-free is with ongoing residential pest control services from Bug-N-A-Rug Exterminators. Our general pest management services are designed to protect your home from unwanted pest invaders throughout every season. We utilize both exterior and interior treatments to create a protective barrier around your Bolton home that deters and eliminates pests. In addition to our general pest control plans, we also provide eco-friendly pest control options to eliminate pests without harming the environment. At Bug-N-A-Rug Exterminators, we understand how frustrating and stressful a pest infestation is to deal with, which is why we're here to handle all of your residential pest control needs. Get in touch with us today for more information about our residential pest control solutions.
Commercial Pest Control In Bolton, NC
Protecting your Bolton business from pests isn't an easy task, especially with all of the other responsibilities that come with running a successful business. That's why the professionals here at Bug-N-A-Rug Exterminators are proud to handle your pest problems so that you can focus on the needs of your customers. No matter what type of business you own or which pests are causing problems, our experienced pest professionals are ready to provide an unmatched commercial pest control experience. Our commercial pest control plans are customized to meet the needs of your property, budget, and pest situation. Say goodbye to commercial pest problems when you reach out to Bug-N-A-Rug Exterminators today!
Ant Control In Bolton, NC
There are thousands of ant species found throughout the United States. Thankfully, only a few species are known to cause problems in and around Bolton properties. Some ant species cause damage to the structure of your home, while others get into your food items and introduce potential health concerns. Although ants are typically outdoor pests, they often get into homes and businesses while foraging for a source of food to bring back to their colonies. To avoid dealing with the many problems ants cause, it's important to implement active prevention measures.
Seal potential entry points around the exterior of your home, including cracks in your foundation and gaps under your doors and windows.

Keep your property clean and free of crumbs by sweeping your floors, wiping down your counters, and vacuuming your carpets. 

Avoid leaving pet food out overnight.

Keep your pantry organized and store food in airtight containers.

Reduce excess moisture by repairing leaking pipes and installing dehumidifiers.
Prevention tips are helpful, but they're not fail-proof. The most effective way to identify, eliminate, and prevent ant infestations is with a little help from Bug-N-A-Rug Exterminators. Our highly-trained pest professionals have what it takes to develop a treatment plan that works for you. Get in touch with us today to learn more about all of the ant control services we have to offer.
Moisture Control Services In Bolton, NC
It's difficult to believe that a little bit of moisture could threaten your Bolton property. However, excess moisture leads to several problems, such as structural damage, mold and mildew growth, high humidity, damaged insulation, health problems, poor air quality, and pest attraction. During the warmer seasons or heavy periods of rain, moisture tends to build up in hidden areas and soak into the insulation and wooden portions of your Bolton home. To avoid dealing with moisture problems in your residential property, you need professional moisture control services from Bug-N-A-Rug Exterminators. We specialize in a variety of moisture control services, including:
Crawlspace encapsulation & sanitation

Dehumidifiers

Moisture barriers

Debris removal

Fungus remediation

Insulation repair
At Bug-N-A-Rug Exterminators, it's our goal to improve your quality of life by implementing high-quality moisture control services that will remove the moisture and humidity and make your home a healthier environment. If you're experiencing moisture problems in your Bolton home, the professionals here at Bug-N-A-Rug Exterminators can help. Contact us today to get started!
Termite Control in Bolton
At Bug-N-A-Rug Exterminators, we understand the importance of keeping your home safe and sound from termites. With our comprehensive termite control services in Bolton, you can rest easy knowing that we have you covered. Here's what you can expect from our top-notch service:
Ongoing Termite Control, Monitoring, and Prevention: Termites are a year-round problem in Bolton, thanks to its humid climate. Our team provides continuous monitoring and prevention strategies to ensure long-term protection for your home. We'll take care of all the hard work so you can have peace of mind.
Comprehensive Termite Inspections: Our experienced technicians will conduct thorough termite inspections, searching every nook and cranny of your house for signs of termite activity and damage. We tailor our treatment plans based on the severity of the infestation, ensuring effective solutions.
Trelona Bait Stations: We go the extra mile to ensure your property remains termite-free. Our termite control service in Bolton includes the installation of Trelona bait stations around the perimeter of your home. These stations not only eliminate existing pests but also prevent future infestations.
Don't let termites cause damage to your beloved home. Take action now and partner with Bug-N-A-Rug Exterminators, your trusted termite exterminator in Bolton. Our team is dedicated to providing top-quality service and ensuring your home is protected from these destructive pests.
Bed Bug Control in Bolton
Don't let bed bugs ruin your sleep and peace of mind. With Bug-N-A-Rug Exterminators, you can finally get rid of bed bugs for good. Our comprehensive bed bug control service in Bolton is designed to eliminate infestations and provide lasting protection. Here's why you should choose us:
Same-day bed bug inspection: We understand the urgency of dealing with bed bugs. That's why we offer a same-day inspection service to quickly assess the severity of the infestation in your home.
Family-friendly bed bug treatments: Your family's safety is our top priority. We use advanced treatment methods that are effective against bed bugs but safe for your loved ones and pets.
High-intensity heat treatment: Our heat treatment is the most effective way to remove bed bugs. By raising the temperature of your home to 140 degrees Fahrenheit, we can eliminate all life stages of bed bugs, including eggs, in as little as 8 hours.
Imagine the relief of finally being able to sleep soundly without worrying about bed bugs. Our experienced team of bed bug exterminators in Bolton is here to make that a reality. Trust our expertise, and let us take care of the problem for you.