What kind of pest problem are you having? Select all that apply.
Pest Control in Little River
Welcome to Bug-N-A-Rug, your local pest control expert in Little River, South Carolina. With 27 years of experience, our team of exterminators is dedicated to providing same-day service and family-friendly pest control treatments. We offer a wide range of services to keep your home or business pest-free, including:
Residential Pest Control
Commercial Pest Control
Rodent Control
Termite Control
Bed Bug Control
Mosquito Control
And more!
In Little River, the warm and humid climate creates a perfect breeding ground for pests. That's why our team is here to help you keep your property safe and healthy. Our 100% satisfaction guarantee means that you can trust us to get the job done right the first time. Don't let pests take over your home or business – contact us today to learn more about our services and how we can help you.
Image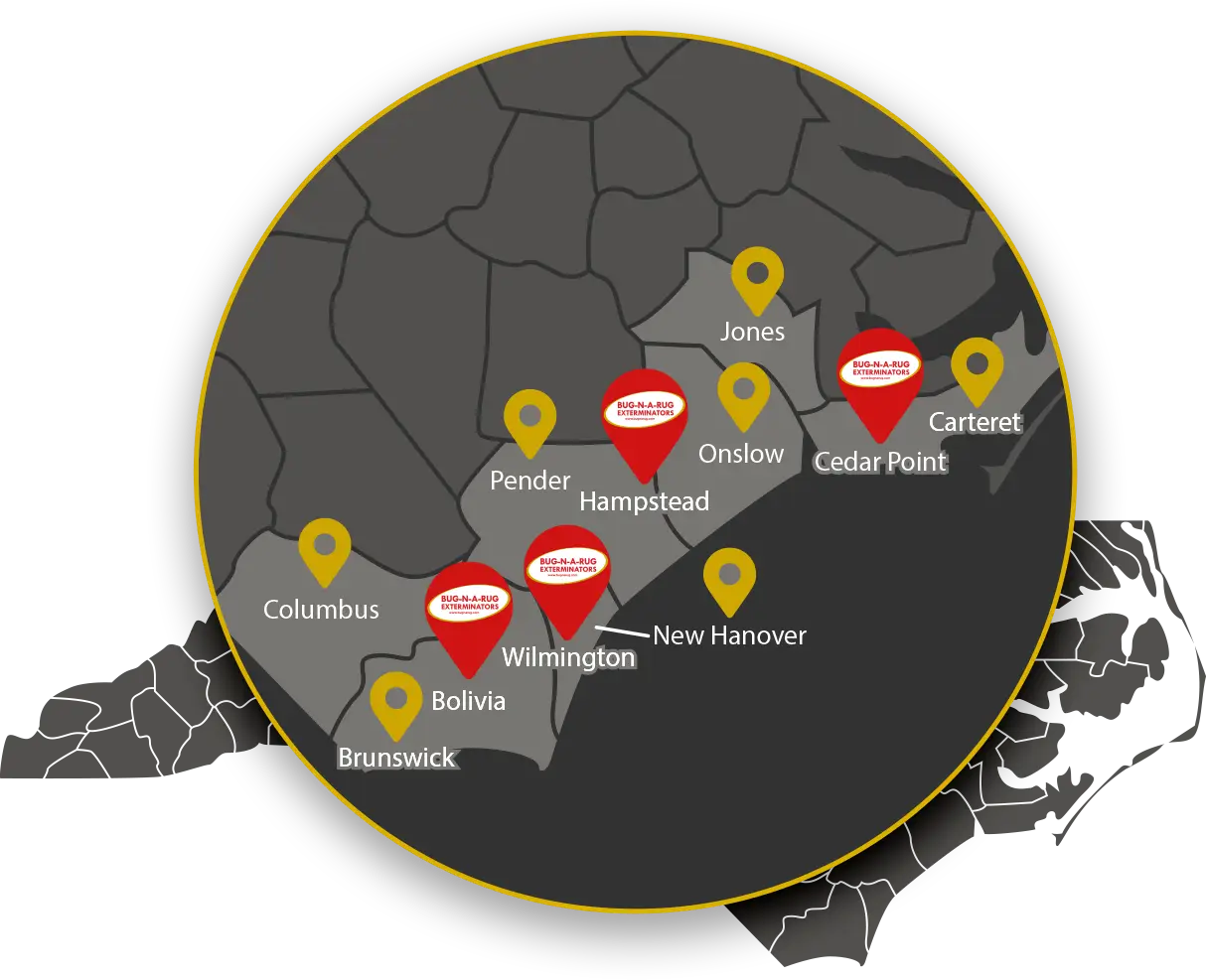 Keep Your Home Free of Pests With Help From A Local Company
Looking for same-day residential pest control in Little River? Look no further than Bug-N-A-Rug! We specialize in eliminating common household pests with our comprehensive general pest control services. Our experienced exterminators are trained to identify and get rid of pests of all types, ensuring that your home is pest-free for the long haul. Plus, our family-friendly treatments are safe for both your family and pets. Here are just a few of the pests we can help you with:
Ants
Roaches
Spiders
Silverfish
Fleas
Moths
And much more!
Don't let pests take over your home. Contact us today to schedule your pest inspection and recurring pest control services. With Bug-N-A-Rug, you can trust that your family and home are in good hands.
Termite Control in Little River
Protect your home from destructive termites with our expert termite control service in Little River, SC. With over 27 years of experience, our termite exterminators are equipped to handle any infestation. We offer:
Family-and-pet-friendly termite treatments to keep your loved ones safe
Ongoing termite control, monitoring, and prevention to ensure long-term protection
Comprehensive termite inspections to catch any infestation early
Installation of Trelona bait stations around the perimeter of your home for added protection
Living in Little River, SC's humid climate means termites are a year-round problem. Don't let these destructive insects cause damage to your home. Let us get rid of the termites for you.
Bed Bug Control in Little River
Are bed bugs keeping you up at night? Let Bug-N-A-Rug Exterminators help you get rid of them for good with our comprehensive bed bug control service in Little River. Here's what we offer:
Same-day bed bug inspection to quickly identify and locate the infestation.
Family-friendly bed bug treatments using advanced methods to eradicate all traces of these pests from your property.
High-intensity heat treatment that eliminates adult bed bugs, nymphs, and eggs in as little as 8 hours.
Don't let bed bugs ruin your sleep any longer. Trust the experienced bed bug exterminator in Little River to provide fast and effective solutions that you can trust. Our heat treatment is safe for your family, pets, and your home. Plus, with our free retreatment guarantee, you can rest easy knowing we've got you covered.
Mosquito Control in Little River
Don't let pesky mosquitoes ruin your outdoor fun. Our mosquito control in Little River offers a comprehensive solution to rid your yard of these annoying insects. Our services include:
Free inspection: We'll evaluate your property to identify problem areas and determine the severity of the mosquito infestation.
Fogging: Our environmentally-sensitive practices won't harm surrounding ecosystems but will eliminate adult mosquitoes on contact.
Family-friendly treatment: Our mosquito treatment is safe for your family and pets.
Larvicides in targeted areas: We'll eliminate mosquito breeding areas and places with standing water, discouraging mosquitoes from laying eggs.
Our mosquito prevention program disrupts their breeding cycle, lowering the number of mosquitoes flying around and mosquito larvae. We return regularly to ensure you're protected from mosquitoes all season long. Don't let mosquitoes ruin your summer fun. 
Rodent Control in Little River
Are rats and mice invading your Little River home? Don't let them take over – call our rodent exterminator in Little River today! We offer a comprehensive rodent control service to prevent infestations from coming back. Here's what we can do for you:
Free rodent inspection to assess the extent of the problem
Interior trapping to get rid of existing rodents
Rodent exclusion to keep them out for good
Recurring or one-time service options to meet your needs
Little River's lush marshes and abundant foliage make it a prime home for rats and mice. But don't let these pests take over – our professional rodent control service can help you take back your home. Plus, with our ongoing service options, you can rest easy knowing that rodents won't be a problem in the future. Trust us to provide effective rodent removal and exclusion services.
Wildlife Control in Little River
Don't let pesky wildlife ruin your peace of mind in Little River. Our wildlife removal service in Little River is designed to prevent and exclude wildlife year-round. We treat for squirrels, snakes, opossums, raccoons, bats, and more!  Our ongoing critter control ensures that animals won't return.
Our wildlife control service includes:
Same-day service for urgent wildlife situations
Customized prevention and treatment plans to fit your unique needs
Humane trapping for safe animal removal
Protection from dangerous animal-borne diseases like Rabies
Free re-treatments if you aren't satisfied with our work
With over 27 years of local experience, our highly-trained and experienced exterminators know exactly how to get rid of unwanted wildlife in Little River. Trust us to restore, protect, and preserve your peace of mind.
Other Areas We Service Outside of Horry County
Our services extend beyond the boundaries of Horry County, so if you're not in Horry County, don't worry - we've got you covered. You can easily find the specific pest control services available near you by navigating below.