What kind of pest problem are you having?Select all that apply.
Pest Control In Cedar Point, North Carolina
Cedar Point is a cozy small town in Carteret County, North Carolina with just under 1500 residents. However, while it makes a comfy spot to live for people, the same factors makes it an appealing place to settle down for pests of all shapes and sizes. 
 
Whether you own a permanent residence in our area or are staying here temporarily, Cedar Point is a beautiful area to live and work. To protect your home or business from the wide range of pests that also live in Cedar Point, partner with the skilled service technicians here at Bug-N-A-Rug Exterminators for effective pest control solutions year-round. Since 1996, we have been addressing the pest problems of Wilmington, NC, and the surrounding communities through the use of high-quality products and proven methods of pest control. If you're ready to bid farewell to dangerous and destructive pests, contact Bug-N-A-Rug Exterminators today for ongoing pest management solutions you can trust.
Image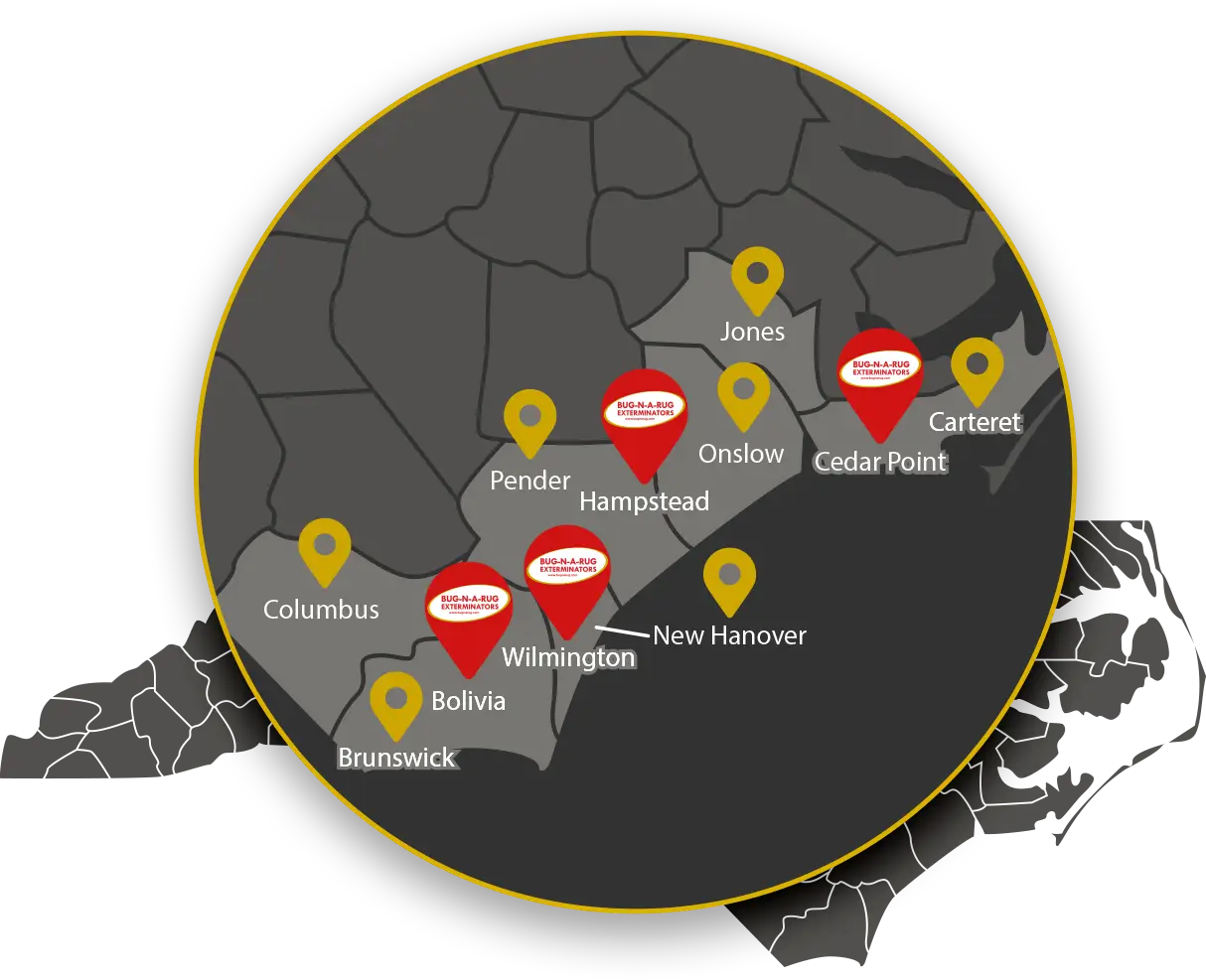 Residential Pest Control In Cedar Point, NC
At Bug-N-A-Rug Exterminators, it's our goal to keep unwanted pests out of your Cedar Point home and away from your family. We design our residential pest control plans to fit the needs of your home, family, and budget. If rodents, ants, bed bugs, spiders, or other pests are causing problems in your home, the professionals at Bug-N-A-Rug Exterminators have what it takes to get rid of them. Invading pests cause unnecessary stress, frustration, and anxiety, which is why we work hard to stop pests before they have the opportunity to get into your Cedar Point home. Don't wait, reach out to Bug-N-A-Rug Exterminators for eco-friendly treatment plans that are safe for you, your family, and your pets.
Commercial Pest Control In Cedar Point, NC
Pest problems don't just affect homeowners; they affect business owners too. When it comes to managing a pest-free environment within your commercial facility, partnering Bug-N-A-Rug Exterminators is your best bet. Whether you're looking for general pest management, prevention services, or help with an active pest infestation, we've got you covered. And, because we understand that every Cedar Point business has unique pest control needs, we provide customized commercial pest control plans based on your specific property, industry, and budget. Contact Bug-N-A-Rug Exterminators for more details about our customized commercial pest control options and solutions. 
Bed Bug Control In Cedar Point, NC
Bed bugs are irritating pests that feed primarily on human blood. Although bed bugs can and do bite other animals, they prefer human blood because we have wide areas of exposed skin. When dealing with bed bugs in your Cedar Point home or business, it's important to learn as much as you can about them. If you suspect bed bugs are living in your property, here's what you should know:
You can't starve bed bugs to death by not sleeping in an infested room. Bed bugs can survive without a blood meal for more than a year or up to 400 days in some cases. 

Bed bugs can only invade homes and businesses with the help of humans. Bed bugs are unable to fly and do not jump. Instead, they get around by hitching rides on the bags, clothing, and belongings of unknowing individuals. 

Have you ever wondered why you don't wake up when bed bugs bite? Bed bugs contain a mild anesthetic in their saliva, which makes their bites nearly painless and allows them to feed more easily.

Bed bugs are found in many areas, not just in and around beds. Bed bugs often hide in electrical outlets, clothes, furniture, and carpeting.
Bed bugs are among the most difficult pests to prevent and eliminate due to their small size and hitchhiking behavior. To remove bed bugs from your Cedar Point property, turn to the professionals here at Bug-N-A-Rug Exterminators. We provide excellent bed bug control services by using a proven heat treatment called thermal remediation. This service eliminates bed bugs in all stages of life within a matter of hours. For more information about our bed bug control services, get in touch with Bug-N-A-Rug Exterminators today.
Ant Control In Cedar Point, NC
Out of the many species of pests that invade Cedar Point homes and businesses each year, ants are among the most common. These small, social insects live and work together in large colonies to build their nests, feed their young, and defend their queen. Most species of ants prefer to live outdoors but will move into Cedar Point properties while foraging for food. And once they find an easily accessible food source, it's unlikely that they'll want to leave. To avoid attracting ants to your home or business, implement the following ant prevention tips:
Pick up uneaten pet food at night. When left unattended, pet food often attracts all kinds of pests, including ants. 

Seal potential entry points around the exterior perimeter of your property. Ants can find their way into your home or business through the smallest cracks around your foundation, doors, and windows.

Keep your property free of crumbs, sticky spots, and food residue. Any amount of food can attract ants into your home or business. 

Store leftover food items in the refrigerator and plastic containers to prevent ants from accessing a source of food. 
Protect your Cedar Point property from ants by working with Bug-N-A-Rug Exterminators to put effective pest control services in place. Give us a call today to get started!
Mosquito Control in Cedar Point
Don't let mosquitoes ruin your summer in Cedar Point! Our mosquito control service is the key to enjoying your outdoor space. Here's what we offer:
Free inspection - Our experts will evaluate your property to identify the problem areas and determine the severity of your mosquito infestation.
Fogging - We'll apply environmentally-sensitive insecticides to eliminate adult mosquitoes and larvae on contact, which will lower the number of mosquitoes flying around.
Family-Friendly Treatment - Our insecticides are safe for families and pets. We'll use practices that won't harm surrounding ecosystems.
Larvicides in targeted areas - We'll eliminate mosquito breeding areas and anywhere with standing water, discouraging mosquitoes from laying eggs.
Cedar Point's climate and geography make it a prime spot for mosquitoes to thrive. Don't wait until they swarm your outdoor space; take action with our mosquito treatment and prevention service. Say goodbye to itchy bites and hello to a bug-free summer!
Termite Control in Cedar Point
Protect your family and home from the destructive forces of termites with our expert termite control service in Cedar Point. At Bug-N-A-Rug Exterminators, we have over 25 years of experience in eliminating termites and preventing future infestations. Here's what we offer:
Family-and-pet-friendly termite treatments: Our advanced treatments ensure that your family and pets are safe while we get rid of termites.
Ongoing termite control, monitoring, and prevention: We offer comprehensive monitoring and prevention services to keep your home termite-free all year round.
Comprehensive termite inspections: Our termite exterminators in Cedar Point provide thorough inspections to identify signs of termite activity and damage.
Trelona bait stations: We install Trelona bait stations around the perimeter of your home to keep termites from causing further damage.
Cedar Point's humid climate creates a need for ongoing termite monitoring, and we're here to provide it. Don't wait until you have a termite problem on your hands. Call us now for a comprehensive termite control service and a pest-free guarantee. Protect your home and family with Bug-N-A-Rug Exterminators.