What kind of pest problem are you having?Select all that apply.
Pest Control In Shallotte, NC
The small town of Shallotte, NC, is a beautiful place that we are lucky to live and work in. The Shallotte River extends south of town, leading into the Intracoastal Waterway and then the greater Atlantic Ocean. Conditions are ideal for year-round visitors, and that includes local pest populations. Pests seek entry into our homes and businesses in order to access sources of shelter, food, and water. This exposes property owners to the nightmare of pest infestation, but luckily, we're here to help.
 
Bug-N-A-Rug Exterminators provides Brunswick County and the surrounding areas with environmentally friendly, "Green Pest Control" services that local homeowners and business owners can rely on. We're a family-owned and -operated company that has been servicing the greater Wilmington metro area since 1996, and we're proud to offer environmentally friendly solutions that guarantee complete safety for our valued customers and the ecosystem we live in. Contact us today to schedule your free home evaluation; we look forward to solving your pest problems, whatever they may be.
Image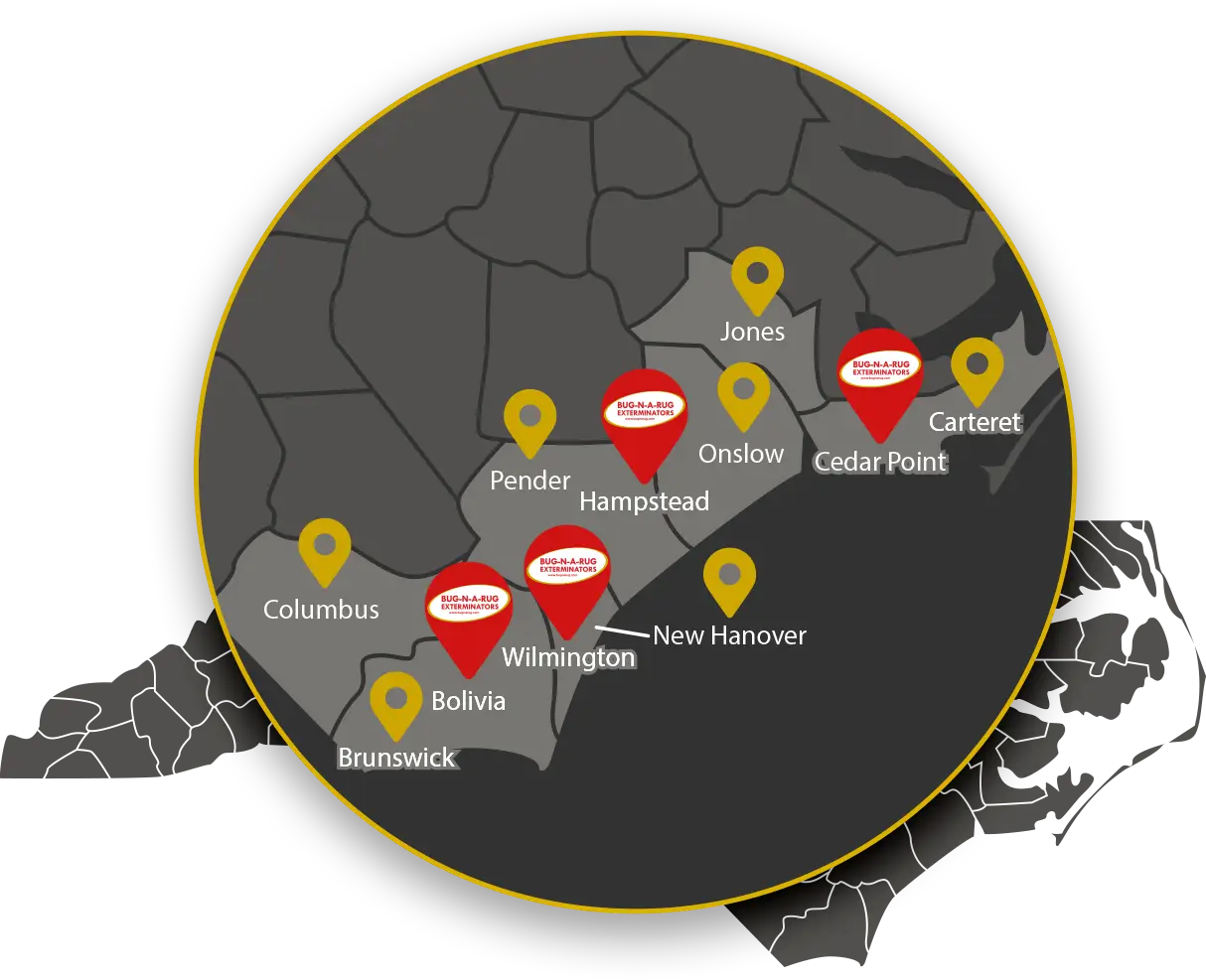 Residential Pest Control In Shallotte
Your Shallotte home is every pest's dream, and if you want to secure reliable protection from household infestation, professional pest control is the way to go. Look no further than the team at Bug-N-A-Rug Exterminators. Our residential pest control treatments are available on a monthly, bi-monthly, or quarterly basis, covering both the exterior and interior of your home for the most thorough treatment possible.
 
Beginning with a detailed inspection, we identify all points of entry, nesting and breeding sites, and conducive conditions. Our treatments cover a wide range of vulnerable areas, making sure to block off all entry points and make the necessary habitat modifications to keep pest activity at bay throughout the year. We also offer comprehensive real estate inspections as well as pre-built treatments for new construction. Whatever pest problem you're dealing with, we're here to help. Give us a call today to get started.
Commercial Pest Control In Shallotte
Pest infestation can wreak havoc on your business in every possible way. It endangers the health and safety of your employees and customers, the integrity of your facility's structure, and your overall reputation. The most effective way to guard your business against pest infestation is by contacting the pest experts. Bug-N-A-Rug Exterminators offers complete commercial pest control services that protect a wide range of businesses from common North Carolina pests
 
From schools and restaurants to healthcare facilities and warehouses, we're here to help. We'll come up with a strategic treatment plan to target the infestation from the inside out. Our custom pricing allows us to personalize each of our treatments and optimize our service offerings to make it work for you. Call us today to further discuss your commercial pest control needs and we will set up an inspection as soon as possible.
Mosquito Control In Shallotte
We all know the particular nuisance of mosquito bites. They're red, itchy, and uncomfortable all around. But the scratching is actually the least of our concerns. As vector pests, mosquitoes have the ability to transmit a long list of diseases through their bite, putting us in danger of contracting some serious health conditions, such as encephalitis, heartworm, chikungunya, dengue, malaria, tularemia, West Nile, yellow fever, and Zika.
 
In order to effectively protect yourself from these parasitic vector pests, it's important to secure dependable mosquito control and prevention services from the professionals. Here at Bug-N-A-Rug Exterminators, our year-round mosquito control and abatement services protect you and your loved ones from mosquito activity, so that you can feel safe all year long. Contact us today to set up your complimentary inspection and we'll get the ball rolling.
Termite Control In Shallotte
Termite damage is costly, it's dangerous, and it's threatening on every possible level. The sooner you're able to detect termite activity, the better your chances are of minimizing the scope of the damage. If you're wondering how to tell whether or not there are termites on your property, there are some common signs that you can keep an eye out for:
Damp, damaged or weakened wood that sounds hollow when you tap on it. Ceilings and walls can buckle, painted walls may bubble and peel, and you'll experience regular signs of water damage.

Mud tubes in the ground traveling to openings along your foundation. You may also find visible cracks and crevices along the foundation.

Swarmer termites that are flying around looking for new places to nest and build a new colony. You may find their wings discarded on the floor near doors and windows.
If you detect any of these indications, you likely have a larger termite infestation on your hands. The best, most effective way to protect your property from termite damage is to secure regular services from a team of qualified pest professionals. Call Bug-N-A-Rug Exterminators today for year-round termite control and prevention solutions.